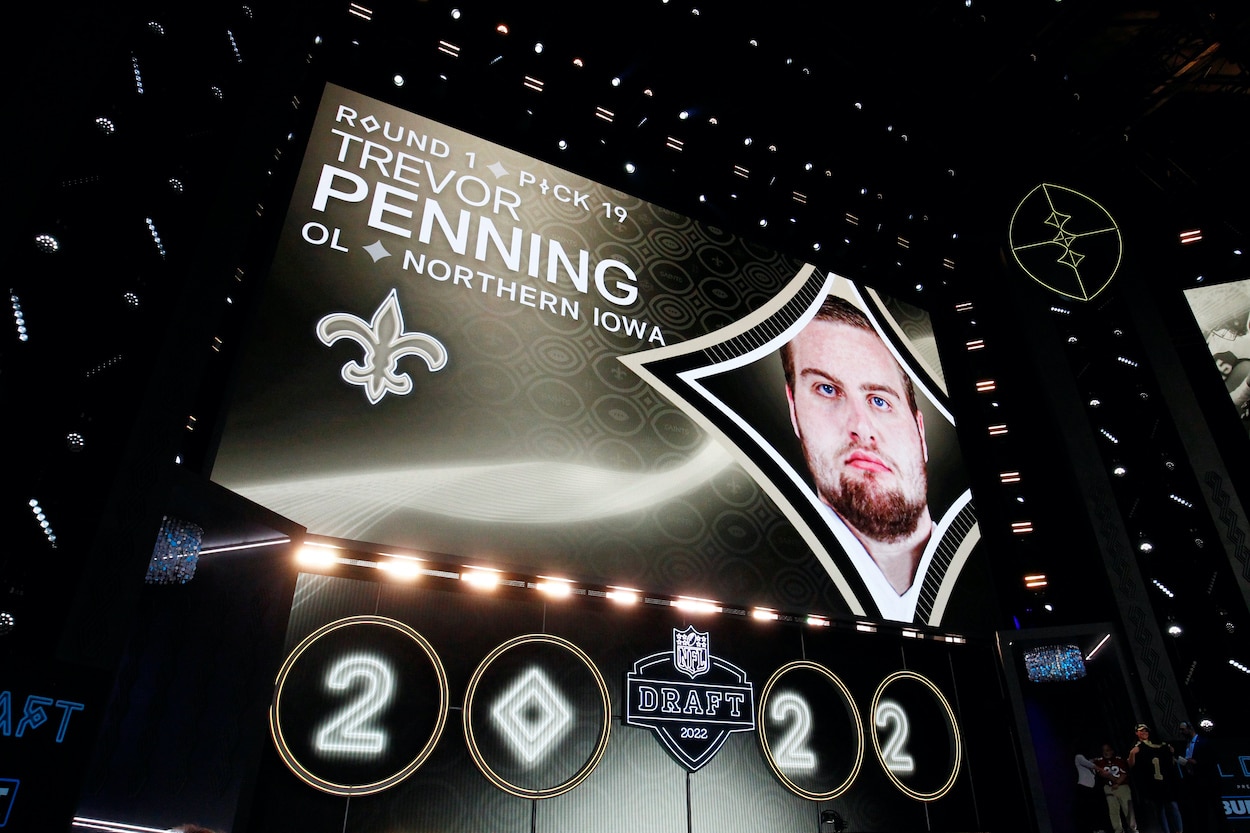 Unearthed Video Helps Explain Saints 1st-Round Pick Trevor Penning's Practice Fights
New Orleans Saints first-round pick Trevor Penning can't stop fighting teammates at training camp and an old interview might explain why.
The New Orleans Saints drafted offensive tackle out of Northern Iowa Trevor Penning at No. 19 overall in the 2022 NFL Draft. So far, the OT has performed well in Saints training camp, with one worrisome exception. He keeps getting in fights with teammates during practice. Now, after an old interview with Penning came to light, it's a little easier to understand why.
Saints OT Trevor Penning likes to assault people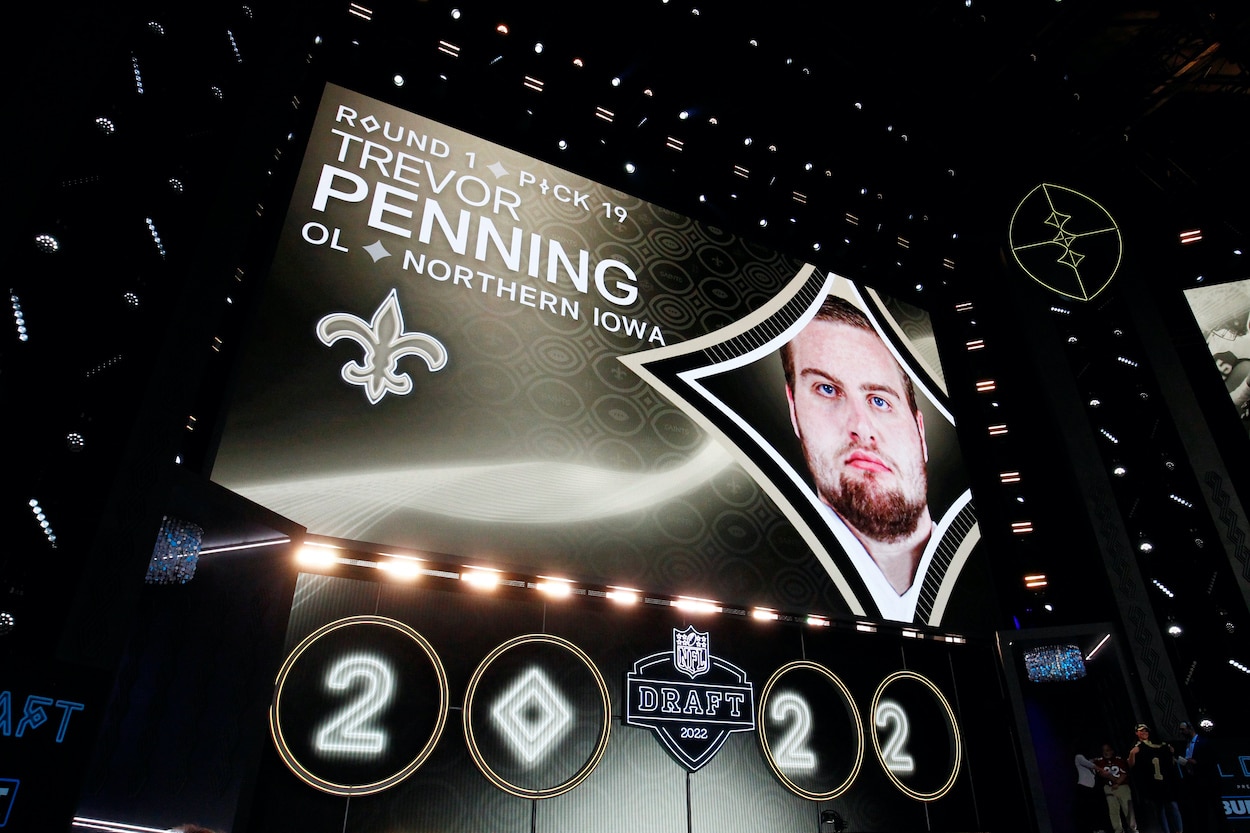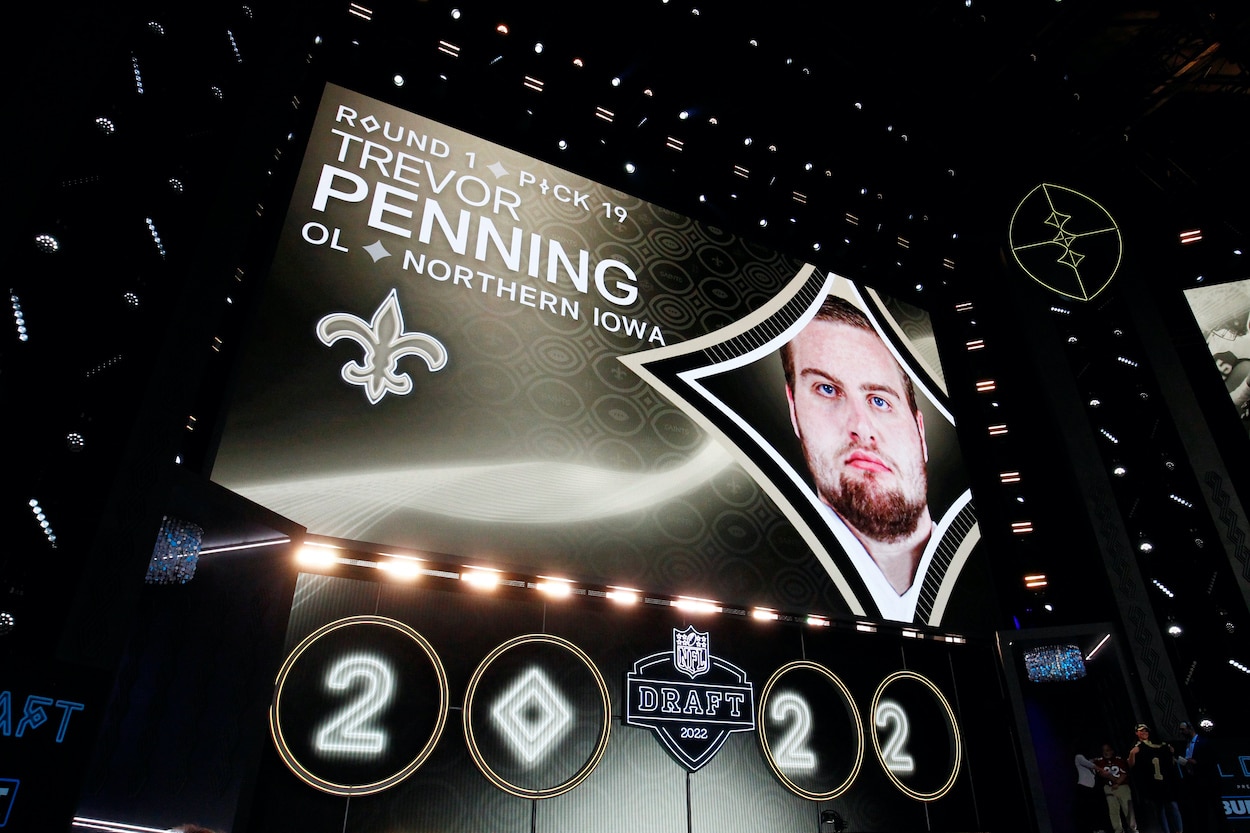 During the 2022 offseason, the New Orleans Saints lost left tackle Terron Armstead to the Miami Dolphins.
Replacing the one-time Pro Bowler became a top priority for the franchise this offseason. It is why general manager Mickey Loomis and new head coach Dennis Allen took Trevor Penning with the Saints' first-round pick.
The 6-foot-7, 329-pound Iowa native started 35 games in college for the Panthers at both left and right tackle. The scouting report on Penning coming out of college was that he has the size and athleticism to succeed in the NFL. But developing his technique to deal with the jump in talent from the FCS to the NFL could take time.
The other thing that pro talent evaluators noted is Penning's mean streak. NFL.com wrote about the offensive linemen, "Penning plays with a level of disgust for anyone lining up against him and seeks out violent block finishes when possible."
This "level of disgust" didn't take long to surface in Saints training camp.
On Wednesday, August 3, Penning made news after he and DT Malcolm Roach got kicked out of practice for fighting. What made this skirmish more notable is that it was the third straight practice that Penning threw down with one of his defensive teammates.
During the previous two practices, Penning fought Saints defensive end Payton Turner and safety J.T. Gray.
According to ESPN, the Saints head coach "loudly addressed the team" after the practice that Penning was ejected from.
"We don't have time for that," Dennis Allen told his team. "I sent two guys in today, and we've got to get our work done. We've got to learn as a team how to compete and how to play and how to practice and push ourselves to the limit but yet not take it over the edge."
Trevor Penning's pugnacious attitude started to make more sense to fans after an old interview of the newest Saints tackle surfaced online.
In the clip, Penning requests that the interviewer asks him what his favorite thing about football is. The voice off-camera obliges, and the Saints rookie responds that the best thing about the game he plays is "legally assaulting the person across from you."
If Penning can harness his aggressive tendencies and play within the rules during games, he could become the rock at LT the Saints drafted him to be. If not, it could be a long, flag-filled season for the first-round pick.
Like Sportscasting on Facebook. Follow us on Twitter @sportscasting19 and subscribe to our YouTube channel.