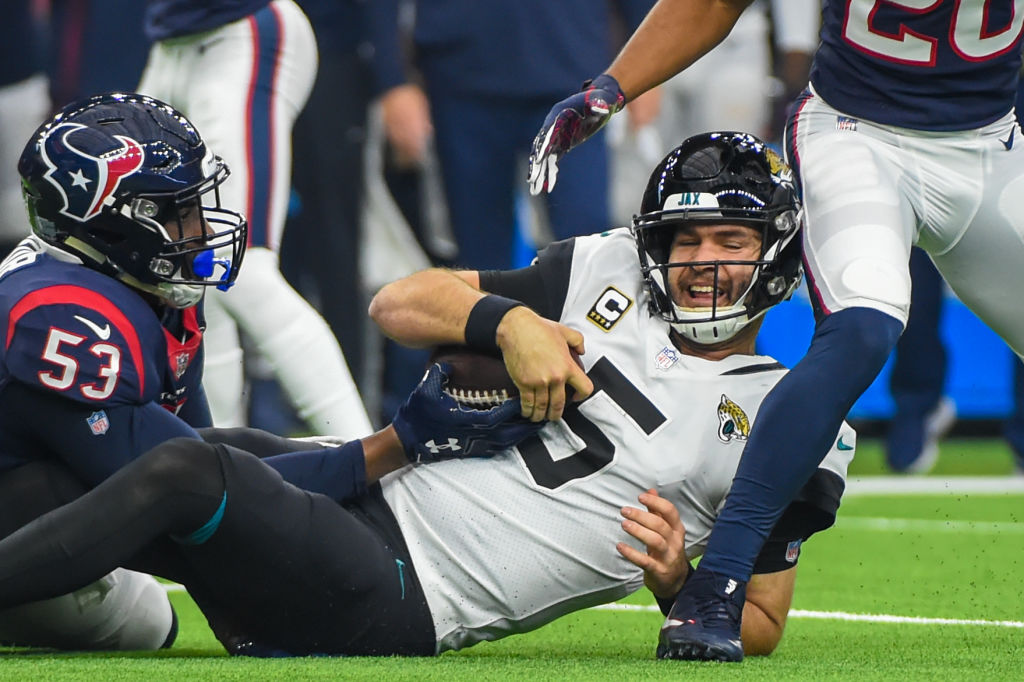 5 NFL Teams That Will Have New Quarterbacks in 2019
NFL teams always are looking for new quarterbacks. Here are the five franchises most likely to have new signal callers in 2019.
The NFL offseason should be a compelling one as teams head into free agency and prep for the NFL draft. With a number of teams needing new quarterbacks, let's take a look at the five franchises that we can assume will have a new signal caller during the 2019 NFL season.
Arizona Cardinals (2018 record: 3-13)
With the No. 1 pick in the upcoming NFL draft, you wouldn't expect Arizona to be in the mix for a quarterback. After all, the Cardinals selected Josh Rosen with the 10th overall pick last year. However, there are reports that new head coach Kliff Kingsbury and general manager Steve Keim could trade Rosen and select a quarterback at the top of the draft.
It would be crazy for them to pass up on one of the defensive studs at the top of the draft for a quarterback, but it is still a possibility. Even if they keep Rosen, there are talented players in the second round of the draft that could become serviceable quarterbacks for many NFL teams.
New York Giants (2018 record: 5-11)
Everyone expected the Giants to select a quarterback in last year's draft as they had the choice between Sam Darnold and Josh Rosen. They surprised many fans by selecting running back Saquon Barkley, but they look smarter because of it. While Darnold and Rosen might still churn out good NFL careers, neither has the upside of Barkley, who is on pace to become a future All-Pro.The Giants' 2018 draft is why they are among the teams searching for new quarterbacks for 2019.
The offense struggled at times last season and Eli Manning is clearly on his last legs, so drafting a quarterback would be the best way to rebuild the franchise. Dwayne Haskins is the consensus top quarterback in this draft and should be available at No 6. for the Giants to pick him up. He threw for 50 touchdowns while leading Ohio State to a Rose Bowl victory over Washington.
Jacksonville Jaguars (2018 record: 5-11)
The Jaguars could be the only team on our list that hits the free agent market with reckless abandon. With Philadelphia rescinding the franchise tag on QB Nick Foles, expect him to be pursued by a number of teams in free agency, including Jacksonville.
Blake Bortles has struggled each of the last two seasons, and while he led the Jags to the AFC Title game in the 2017 season, he had a horrible 2018.
The Jaguars offense couldn't move the ball, and Leonard Fournette looks like a disappointment as a former top-5 pick. Expect Foles to get a big contract offer from Jacksonville in what could be one of the most talked about moves of the offseason.
Miami Dolphins (2018 record: 7-9)
Ryan Tallenhill's time in Miami is over, and the new coaching staff will likely look to the NFL draft to secure their future QB.
The Dolphins are a prime candidate to trade up from their No. 13 spot, with their eyes set on Heisman Trophy winner Kyler Murray. Murray put up an excellent season and should end up as a top-15 pick. If the Dolphins elect to stay put and he isn't available, QBs Drew Lock and Ryan Finley might be on the board.
Washington Redskins (2018 record: 7-9)
With Alex Smith's career in jeopardy, Washington can't start the season with Colt McCoy as their quarterback and expect good things to happen. The expectation is Washington will search for a signal-caller in the draft to be among the teams with new quarterbacks this season.
A few young quarterbacks could be in prime position to go No.15 but our bet is on Daniel Jones out of Duke. His arm strength isn't the greatest, but he is accurate with short and intermediate throws. Look for him to be there when Washington is on the clock and become the first Duke quarterback to be selected in the first round of the draft.
Quarterback carousel in 2019?
So as we look at the upcoming free agent market, which teams do you think will trot out new quarterbacks to start Week 1? Are there teams we missed that might have new quarterbacks to start 2019?