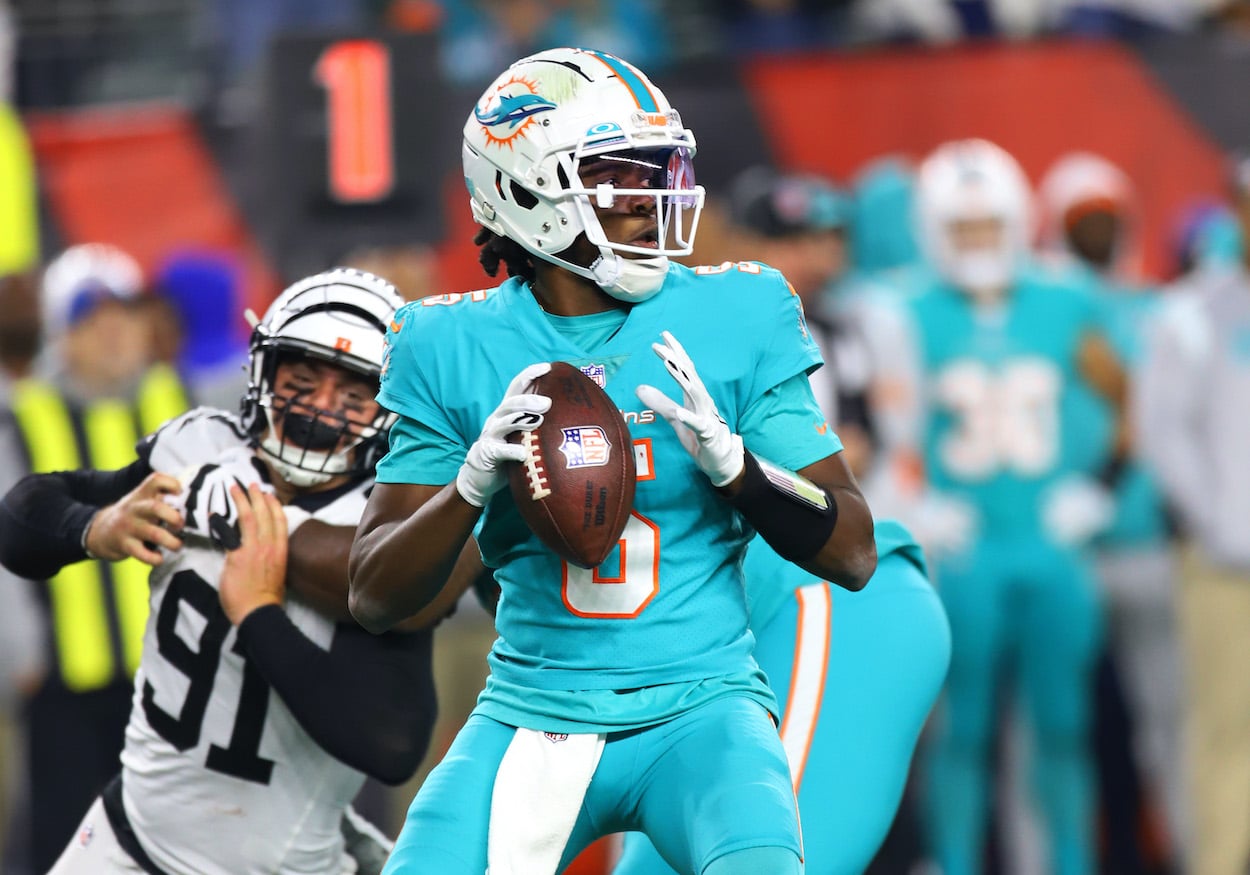 NFL Week 5 Schedule, Odds, and 3 Early Bets You Need to Place to Beat the Line Moves
Place these three Week 5 bets early in the week to beat the line movement.
If you're betting on the NFL on a week-to-week basis, you shouldn't wait until Sunday morning to place all of your wagers. Betting targeted spreads and totals early in the week can create closing line value (CLV) by game time, which will increase your return on investment (ROI) over the course of the season.
Last Monday, I laid out three early bets for Week 4 I thought would move in a specific direction throughout the week. All three achieved CLV by kickoff, and all three cashed easily.
So, let's continue this exercise and look at three more bets you need to place for Week 5 I think will become valuable by Sunday.
NFL Week 5 schedule and odds
Thursday, Oct. 6, 8:15 p.m. ET
Indianapolis Colts at Denver Broncos
Spread: Broncos -3
Total: 43.5
Moneyline: Broncos -174, Colts +146
Sunday, Oct. 9, 9:30 a.m. ET (London)
New York Giants at Green Bay Packers
Spread: Packers -7.5
Total: 41.5
Moneyline: Packers -355, Giants +285
Sunday, Oct. 9, 1 p.m. ET
Seattle Seahawks at New Orleans Saints
Spread: Saints -5.5
Total: 4355
Moneyline: Saints -235, Seahawks +194
Pittsburgh Steelers at Buffalo Bills
Spread: Bills -14
Total: 47.5
Moneyline: Bills -900, Steelers +610
Chicago Bears at Minnesota Vikings
Spread: Vikings -7
Total: 43
Moneyline: Vikings -310, Bears +250
Houston Texans at Jacksonville Jaguars
Spread: Jaguars -7
Total: 44.5
Moneyline: Jaguars -320, Texans +260
Miami Dolphins at New York Jets
Spread: Dolphins -3
Total: 44.5
Moneyline: Dolphins -184, Jets +154
Atlanta Falcons and Tampa Bay Buccaneers
Spread: Buccaneers -8
Total: 48.5
Moneyline: Buccaneers -370, Falcons +295
Detroit Lions at New England Patriots
Spread: Patriots -2.5
Total: 47.5
Moneyline: Patriots -146, Lions +124
Tennessee Titans at Washington Commanders
Spread: Titans -2.5
Total: 43.5
Moneyline: Titans -138, Commanders +118
Los Angeles Chargers at Cleveland Browns
Spread: Chargers -3
Total: 48.5
Moneyline: Chargers -154, Browns +130
Sunday, Oct. 9, 4:05 p.m. ET
San Francisco 49ers at Carolina Panthers
Spread: 49ers -4.5
Total: 40
Moneyline: 49ers -215, Panthers +180
Sunday, Oct. 9, 4:25 p.m. ET
Philadelphia Eagles at Arizona Cardinals
Spread: Eagles -5.5
Total: 49.5
Moneyline: Eagles -255, Cardinals +210
Dallas Cowboys at Los Angeles Rams
Spread: Rams -5.5
Total: 45.5
Moneyline: Rams -270, Cowboys +220
Sunday, Oct. 9, 8:20 p.m. ET
Cincinnati Bengals at Baltimore Ravens
Spread: Ravens -3
Total: 47.5
Moneyline: Ravens -174, Bengals +146
Monday, Oct. 10, 8:15 p.m. ET
Las Vegas Raiders at Kansas City Chiefs
Spread: Chiefs -7.5
Total: 51.5
Moneyline: Chiefs -250, Raiders +285
3 early bets to place for Week 5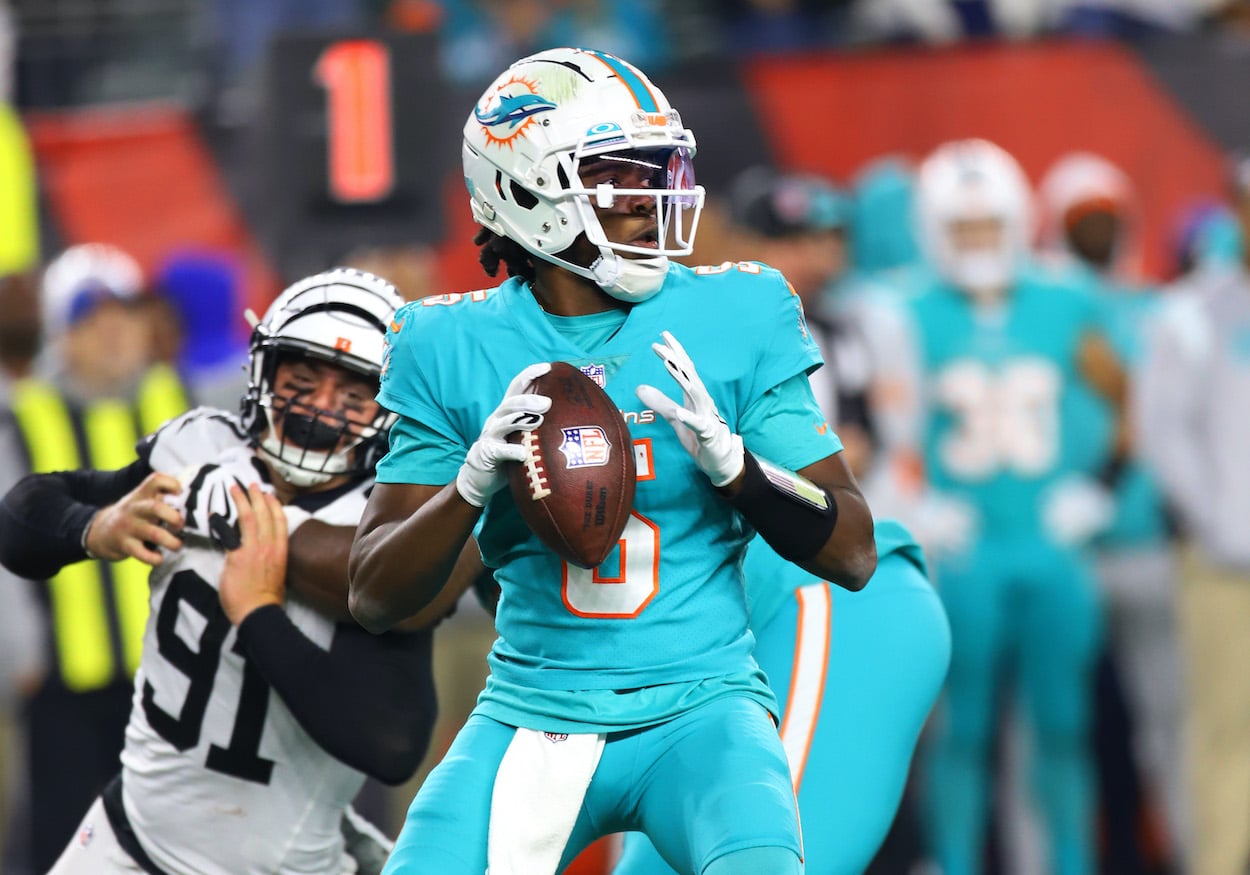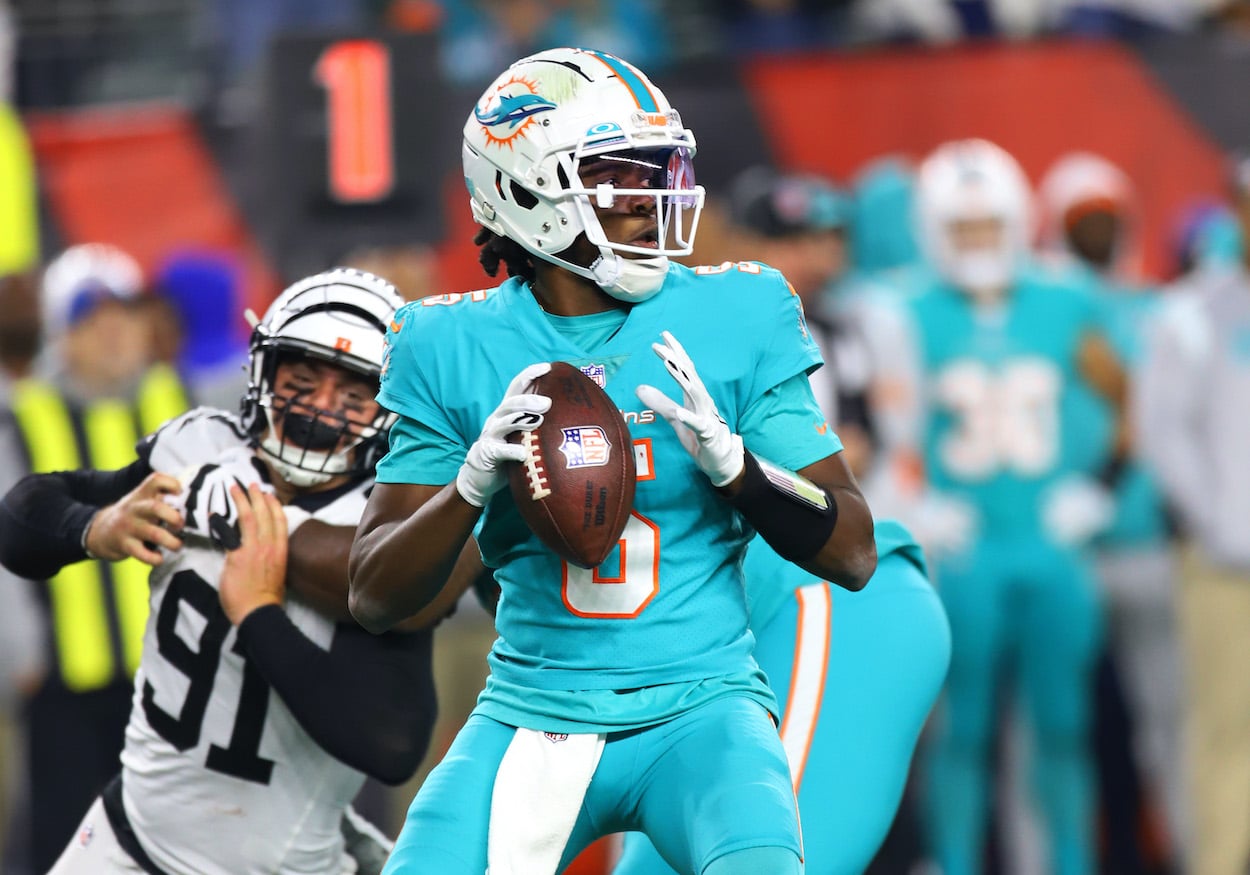 Dolphins -3 at Jets (-118)
The Dolphins are coming off a 27-15 defeat to the Bengals, but that final score doesn't tell the true story of this team. Miami was in a brutal situational spot last Thursday night. It had to travel on a short week, the injury report was littered with impact starters, and Tua Tagovailoa left the game early after suffering a head injury. Tagovailoa likely won't suit up against the Jets, but Teddy Bridgewater is one of the best backup quarterbacks in the NFL.
The difference between these two teams is much greater than three points. This spread should only go up throughout the week.
Bills vs. Steelers under 47.5 (-110)
How many points can the Steelers realistically score in this game? Pittsburgh has scored 20+ points only twice in four weeks, and it needed a defensive touchdown in both games to get there. Going up against a Bills defense that's allowing just over 14 points per game this season, the Steelers might need another pick-six to reach double digits in Buffalo. I think this total will drop by Sunday.
Chiefs -7.5 vs. Raiders (-110)
This spread opened at Chiefs -7, so it's already on the move after one day. I still think -7.5 is going to be valuable by next Monday night. The Chiefs have utterly dominated the Raiders under Patrick Mahomes. Since 2018, Kansas City is 7-1 against Las Vegas while outscoring the Raiders by 19.9 points per game. I wouldn't be surprised if this spread balloons to -9 or -10.
All betting odds courtesy of FanDuel as of 10/3.
Like Sportscasting on Facebook. Follow us on Twitter @sportscasting19.
How to get help: In the U.S., contact the National Council on Problem Gambling helpline at 1-800-522-4700.