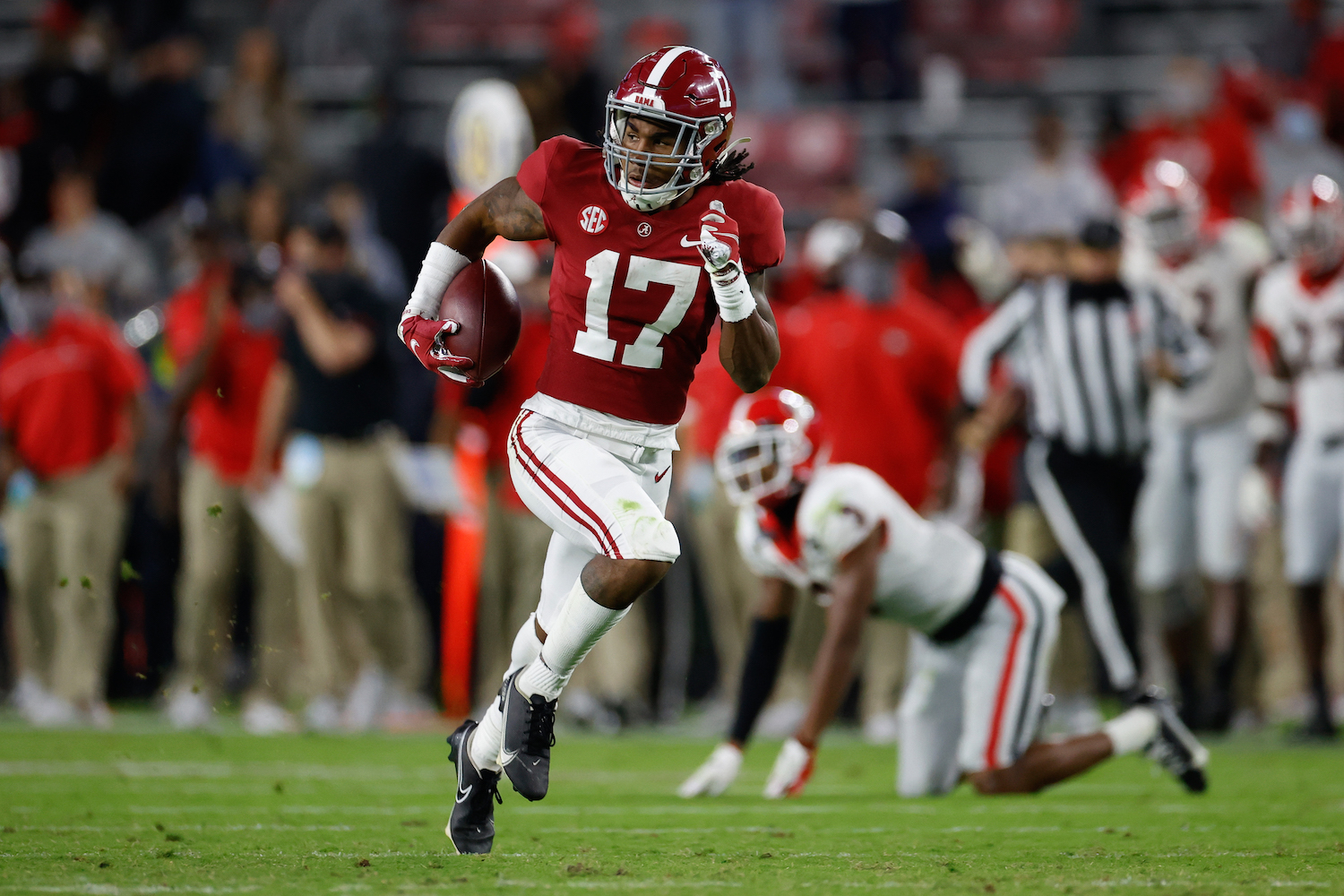 Nick Saban Confirms Alabama Just Suffered a Massive Blow to Its Title Hopes
Nick Saban was hoping to lead the Alabama Crimson Tide to another national title. Those hopes potentially took a massive blow with the loss of a star player.
Nick Saban and the Alabama Crimson Tide have had a top-three scoring offense the last two seasons. This season, four games into the pandemic-shortened schedule, Alabama is ranked second, averaging an impressive 48.5 points per contest. On Saturday, the No. 2-ranked Crimson Tide lost one of the most important pieces of their offense in a game against the Tennessee Volunteers and it could potentially cost them a chance at a national title.
Nick Saban's Alabama Crimson Tide considered title worthy in 2020
The Alabama Crimson Tide entered the 2020 season with the usual high expectations. Despite losing quarterback Tua Tagovailoa, Nick Saban's Alabama offense hoped to improve on last season's 11-2 record with junior quarterback Mac Jones guiding the attack.
Through four games, the Alabama offense hadn't missed a beat under Jones' leadership. The Crimson Tide had racked up four wins in the SEC, including wins over No. 11-ranked Texas A&M and No. 3-ranked Georgia. In both cases, the Alabama offense easily outscored the opponent and, at times, appeared unstoppable. 
The Alabama offense and its 48.5 points per contest was led by running back Najee Harris. The senior Harris has been a dominant force averaging six yards a carry on his way to 499 yards and 11 touchdowns. 
Nick Saban has been impressed with quarterback Mac Jones, who has been stellar to start the season, throwing for 379 yards per game, including 12 touchdowns. His go-to target has been junior wide receiver Jaylen Waddle, who's hauled in 25 catches for 557 yards (22.3 yards/catch) and four touchdowns.   
Jaylen Waddle suffers season-ending injury
On Saturday, the Alabama Crimson Tide visited the Tennessee Volunteers. On the opening kickoff, Jaylen Waddle, who is also a return specialist, suffered an ankle injury on the return. 
The preseason All-America selection limped off the field following the injury, and then the CBS broadcast later showed him being loaded into an ambulance. At the halftime break, Nick Saban surprised Alabama fans with shocking news on Waddle.
"He's out for the year, and it's a shame because he's a great player. It's exciting for college football to see a guy play like that. I hate it that he gets hurt on a play like that. You know, you're not supposed to bring the ball out when you're that deep in the end zone, but he's a great player, so you got to let him use his judgment."
How will Nick Saban adjust the Alabama offense?
With Jaylen Waddle sidelined for the rest of the season, Nick Saban and offensive coordinator Steve Sarkisian have some decisions to make in replacing such a key part of their offensive attack. In the first half, the Alabama offense made some notable adjustments in their star receiver's absence.
Sophomore Slade Bolden, who played both defense and offense and caught just a pair of passes in 2019, entered the contest with no receptions. And he delivered. He had receptions on each of Alabama's first two drives against Tennessee and finished with four catches for 81 yards in the first half. He finished the game with 94 yards. 
Going forward, Nick Saban will need Bolden, John Metchie III, and DeVonta Smith to step up their games out wide. And he'll let Najee Harris be Najee Harris. It will be interesting to see if the wide receiving corps can make up for their lost star in the coming weeks, and more importantly, as the SEC schedule winds down. If they can, it will likely be another college football playoff appearance. If not, it will be a second consecutive season where an injury to a key offensive player derailed the Tide's title hopes. 
All stats courtesy of College Football Reference.