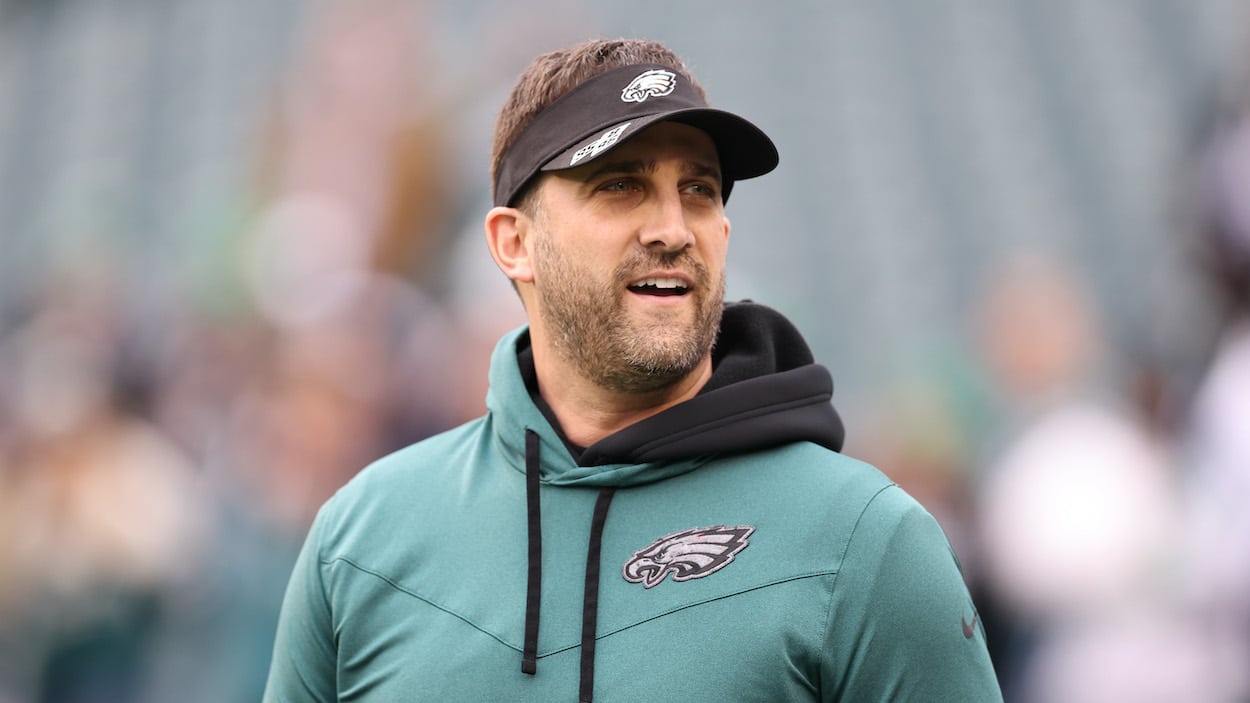 Nick Sirianni Salary: Eagles Coach Not a Highest-Paid NFL Coach Despite Being in Final 4
Here is the reported Nick Sirianni salary with the Eagles and the Nick Sirianni coaching tree, both where he came from and where it could go.
The Philadelphia Eagles tied with the Kansas City Chiefs for the best record in the NFL in 2022 at 14-3. A lot of this is because of head coach Nick Sirianni. The 41-year-old took over the job in 2021 and quickly made his team the class of the NFC. Here we will look at the Nick Sirianni salary this season, where it ranks in the league, and how the coach's success could be the start of a Nick Sirianni coaching tree.
The Nick Sirianni salary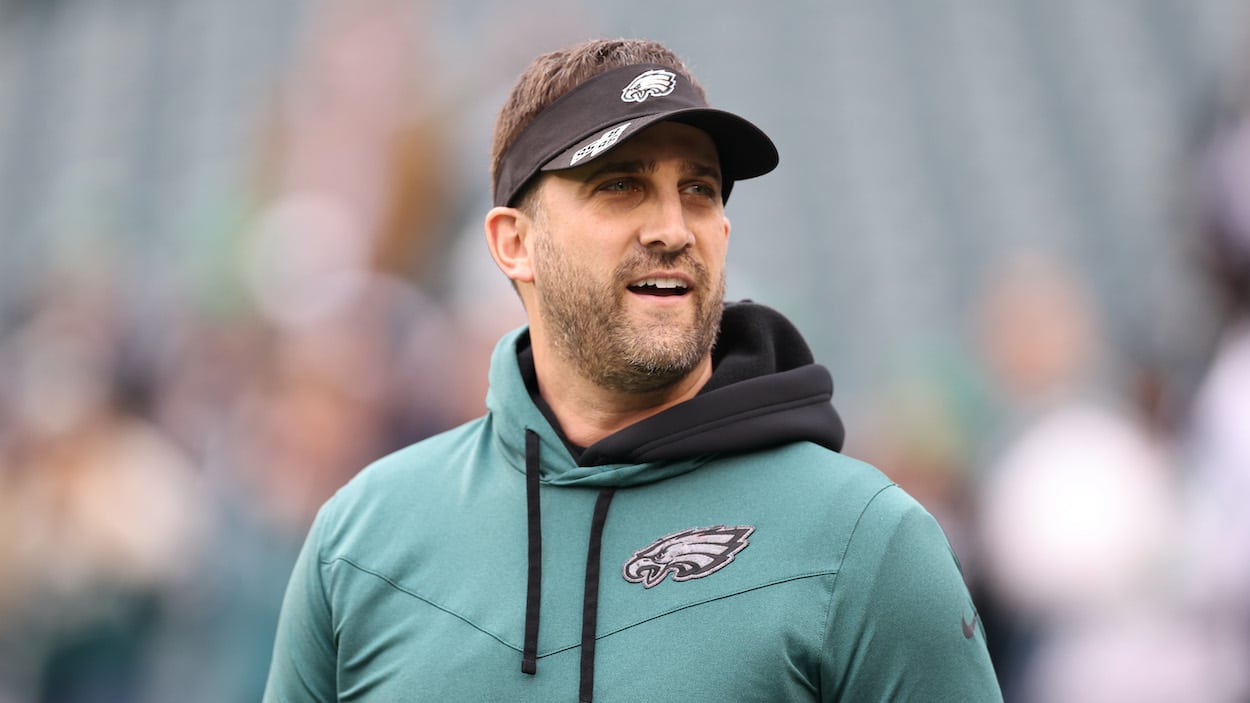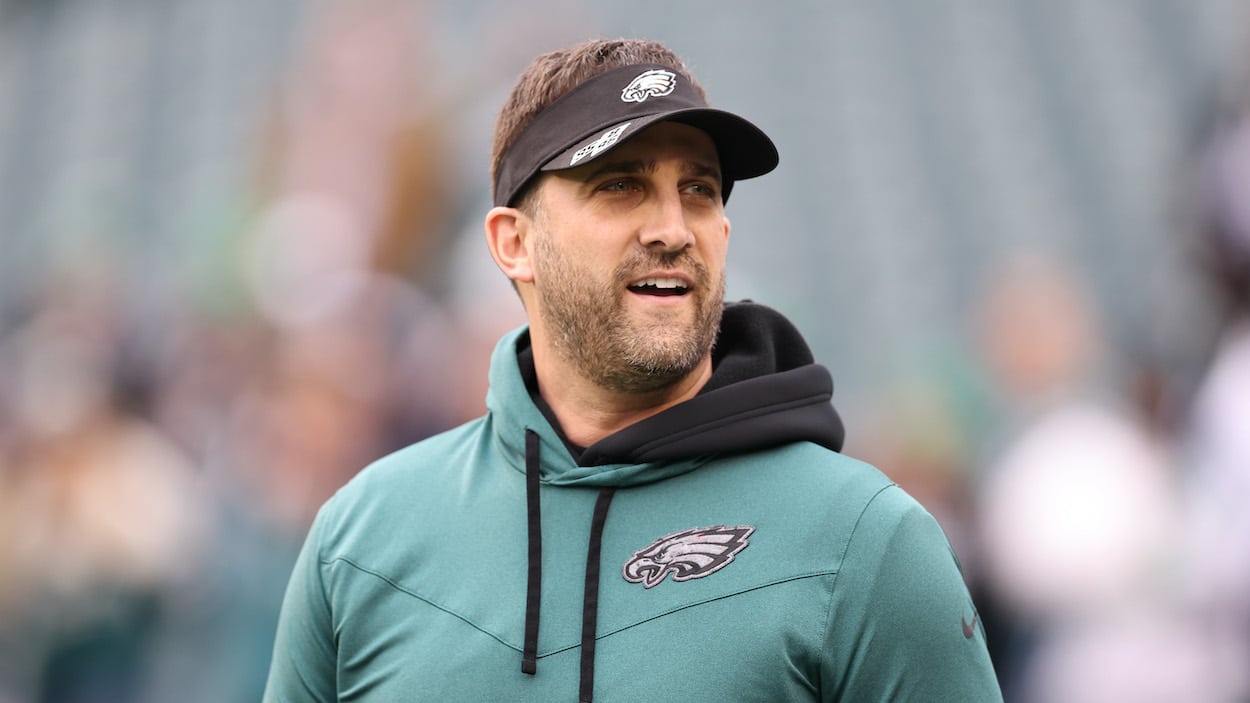 Eagles head coach Nick Sirianni has had an excellent first two years as a head coach. The former Indianapolis offensive coordinator has a 23-11 record through two seasons, for a 67.6% winning percentage.
It's a small sample size, but it puts him among the top 20 NFL coaches who've had at least two seasons in the league. It's also third among all active coaches behind the Minnesota Vikings' Kevin O'Connell (one season, 76.5%) and the Green Bay Packers' Matt LaFleur (four seasons, 71.2%).
For a relatively new head coach, reports are that the Nick Sirianni salary is good but not in the top 10 of NFL coaches.
Coaching salaries aren't generally available to the public, but NBC Sports reports that Sirianni made $6-$7 million last season. That puts the Eagles headman 12th on NBC's list of highest-paid NFL coaches. That top five looks like this:
Sean McVay, Los Angeles Rams: $15-$18 million
Bill Belichick, New England Patriots: $12.5 million
Pete Carroll, Seattle Seahawks: $11 million
Kyle Shanahan, San Francisco 49ers: $9.5 million
John Harbaugh, Baltimore Ravens: $9 million
For comparison, Pro Football Network has different numbers, and its order of highest-paid coaches goes Belichick ($20 million), Carroll ($15 million), McVay ($14.5 million), Mike Tomlin ($12.5 million), Andy Reid ($12 million), and Harbaugh, ($12 million).
Either way, the reported Nick Sirianni salary puts him right on the edge of the top 10 now after Frank Reich (Indianapolis Colts) and Matt Rhule (Carolina Panthers) were fired this season.
Without a raise after this season's success, Sirianni should again drop out of the top 10 for next season, as the Panthers and Denver Broncos are expected to pay their new coaches handsomely.
The Nick Sirianni coaching tree 
In the NFL, it's always interesting to map where head coaches come from. In 2022, older coaching trees — Andy Reid, Bill Belichick — are starting to wind down, and new coaching trees — Sean McVay, Kyle Shanahan — are taking shape.
Sirianni got his first offensive coordinator gig with the Colts under Frank Reich, making him nominally part of the Andy Reid tree (Reid — Doug Pederson — Reich). He also coached under Mike McCoy with the Chargers, who, like Reid, ultimately hails from Bill Walsh.
The Nick Sirianni coaching tree could get planted this offseason.
The Eagles coach tapped Jonathan Gannon (who he coached with in Indianapolis) to run his defense and Shane Steichen as offensive coordinator (who was with him in San Diego/LA). This offseason, the Arizona Cardinals reportedly have interest in Gannon, and Steichen had two interviews with the Colts.  
Whether or not Gannon and Steichen get head coaching jobs this offseason, the Nick Sirianni coaching tree seems certain to get underway soon.