O.G. Anunoby Trade: Betting Odds Predict Raptors F Will Be Moved by the NBA Trade Deadline
It's been a quiet NBA season so far in terms of trades and rumors, but that should change soon with the 2023 NBA trade deadline quickly approaching. The hottest name involved in trade rumors right now has to be Toronto Raptors forward O.G. Anunoby, who's commanding multiple first-round picks in reported negotiations ahead of the Feb. 9 deadline.
The Raptors haven't pulled the trigger on a deal just yet, but if you consult the betting odds, Anunoby will almost certainly be packing his bags and moving to a new city in the next two weeks. So, what is the betting market predicting, and which teams will be involved in the O.G. Anunoby sweepstakes?
Betting odds predict Raptors will move O.G. Anunoby by the NBA trade deadline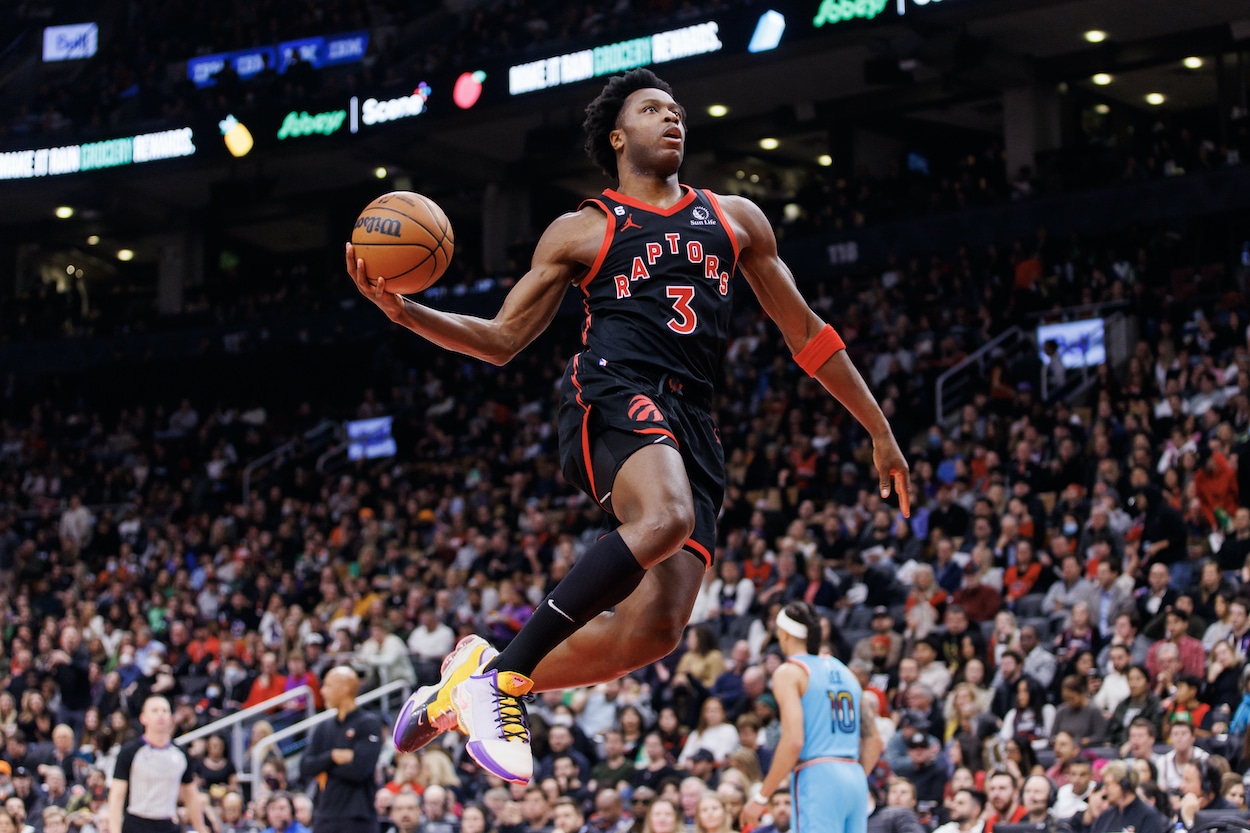 The rumors leading up to the 2023 NBA trade deadline have been quieter than normal, but the Raptors could heat things up if they decide to sell before Feb. 9. Toronto is currently 23-29 and outside of the Eastern Conference playoff picture, so it wouldn't be a surprise if the franchise kick-started a rebuild around Scottie Barnes in the next week or so.
Pascal Siakam, Fred VanVleet, and Gary Trent Jr. have generated interest around the league, but Anunoby might be the most coveted trade piece on the roster. The sixth-year forward is a versatile three-and-d weapon every contender would love to have in the playoffs, and he still has two years remaining on his manageable $72 million deal.
Earlier this week, sportsbooks weren't confident that Anunoby would be on the move. The 25-year-old was +200 on DraftKings to be traded before the deadline, which implies a 33.3% probability. On Tuesday, those odds switched to -500, as pointed out by Sports Illustrated, which implies an 83.3% probability.
If you believe in the adage, "Vegas knows," Anunoby will likely be on the move before the 2023 NBA trade deadline.
Which teams are in the mix for O.G. Anunoby?
At least a handful of teams will be inquiring about Anunoby over the next two weeks. The Memphis Grizzlies make a ton of sense considering their strong start to the season and their surplus of future draft picks. In addition, the Phoenix Suns, Dallas Mavericks, and New York Knicks could make a play for Anunoby ahead of a playoff run.
The Los Angeles Lakers could throw their hat in the ring, too, but they likely don't have the draft capital to make a compelling offer.
According to Bruce Arthur of the Toronto Star, an anonymous team has already offered the Raptors three first-round picks for Anunoby. The price will be steep, but contenders are always willing to pay extra if they believe an addition can lead them to a title.