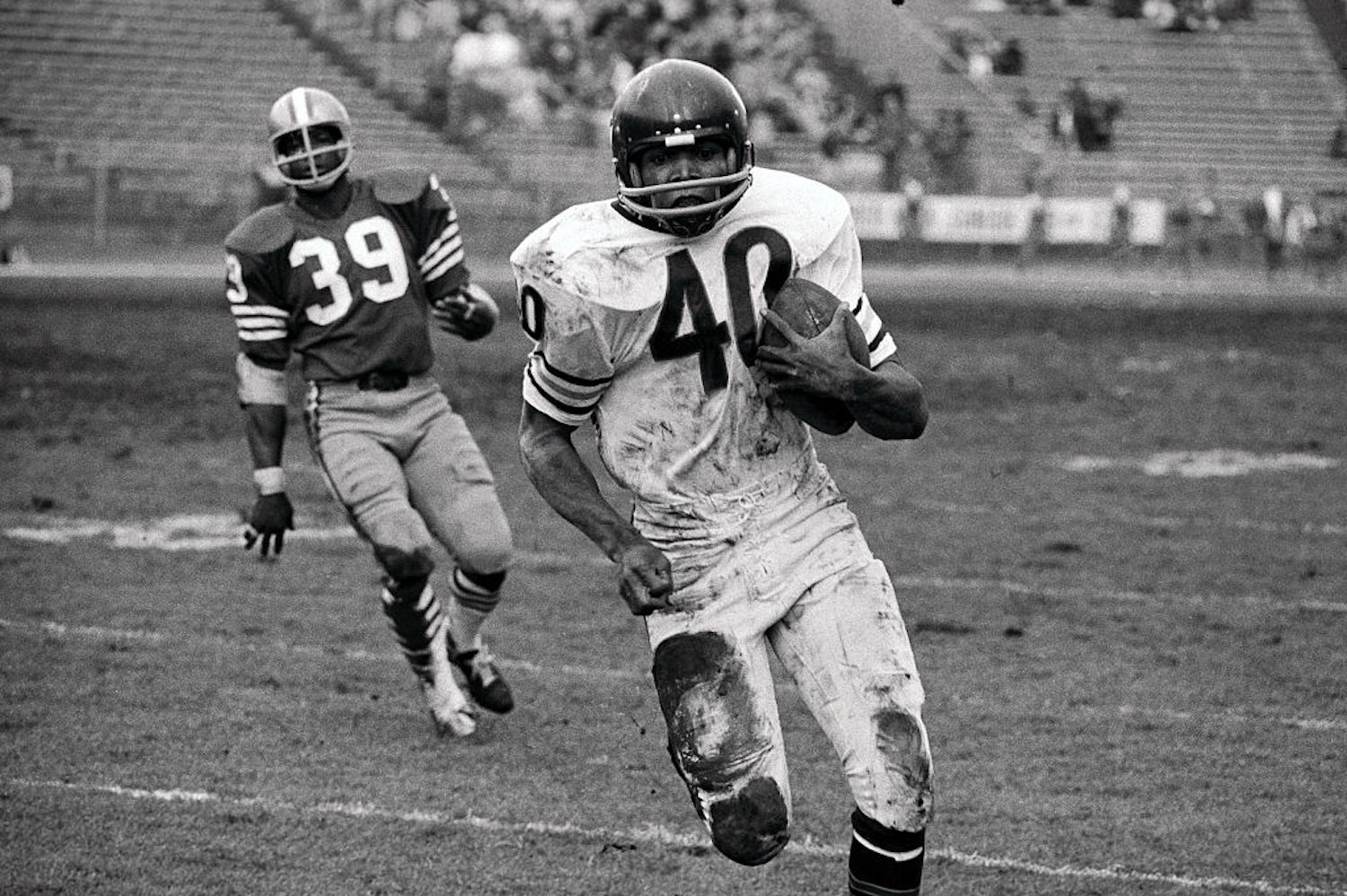 O.J. Simpson Sends Heartfelt Message to Gale Sayers and Calls Him His 'All-Time Favorite Football Player'
O.J. Simpson took to Twitter to send a heartfelt message to the late Gale Sayers and his family after he passed away Wednesday.
On Wednesday morning, the NFL family received the tragic news that Chicago Bears legend Gale Sayers had passed away. He was 77 years old.
Athletes and celebrities of all kinds took to the Internet to celebrate the Hall of Famer's life and honor his memory. One of them was fellow all-time great running back, O.J. Simpson.
Gale Sayers passed away Wednesday at the age of 77
The NFL lost a legend Wednesday morning. Sayers passed away at the age of 77 after a long battle with dementia.
"The NFL family lost a true friend today with the passing of Gale Sayers," NFL Commissioner Roger Goodell said in a statement. "Gale was one of the finest men in NFL history and one of the game's most exciting players. Gale was an electrifying and elusive runner who thrilled fans every time he touched the ball. He earned his place as a first-ballot Hall of Famer. We will also forever remember Gale for his inspiration and kindness. Gale's quiet unassuming demeanor belied his determination, competitiveness and compassion."
Sayers was one of the most electrifying athletes the sport has ever seen. He scored an NFL record 22 total touchdowns as a rookie and made three straight All-Pro teams in his first three seasons as a pro. Injuries cut Sayers' career short, but he was still one of the best running backs to ever play in the NFL.
O.J. Simpson had a special connection to Sayers growing up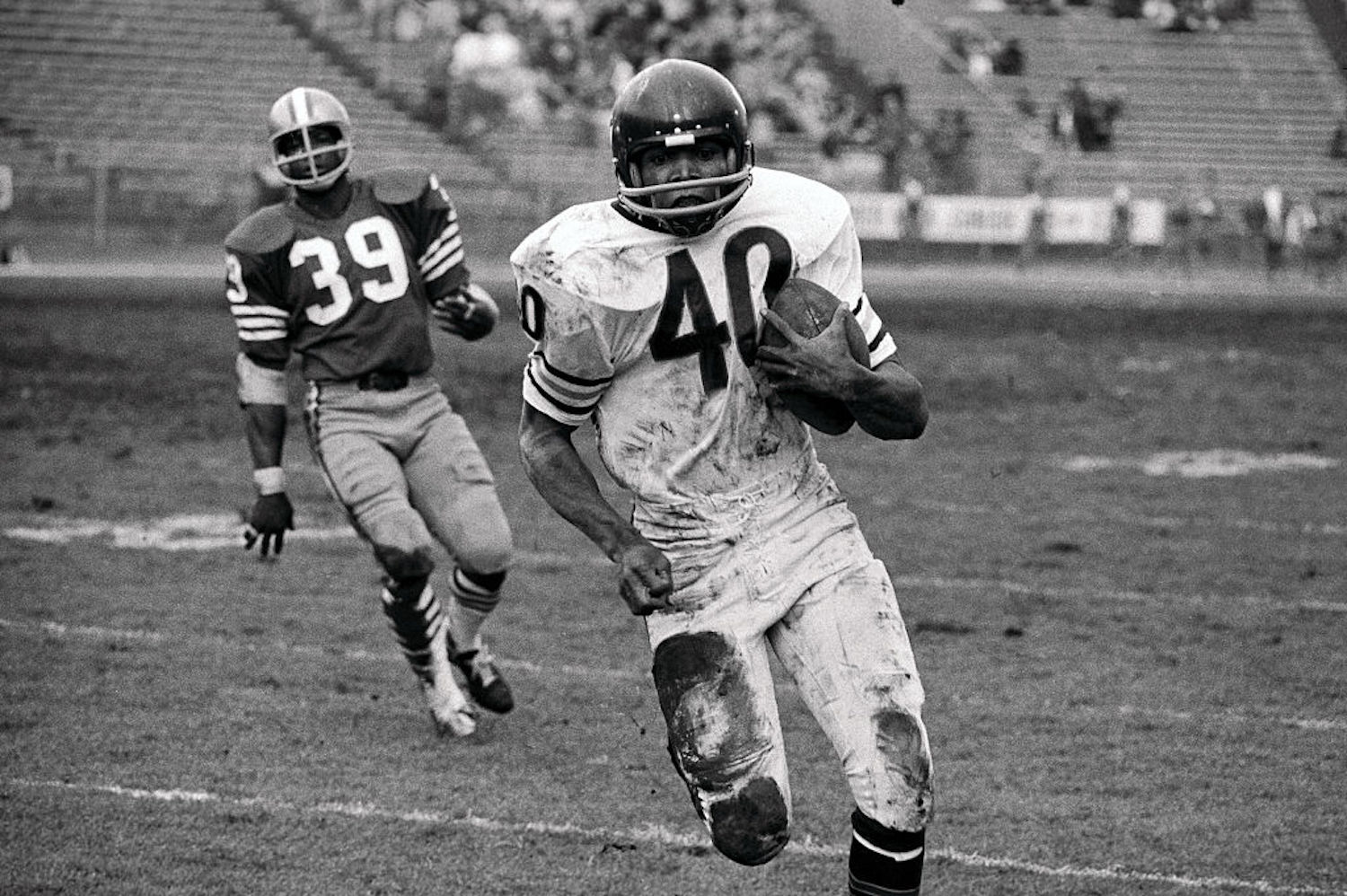 O.J. Simpson, who had a pretty good NFL career himself, idolized Sayers from the moment he saw him run the football. Simpson said he first saw Sayers play when he was at Kansas University, and it took his breath away. He didn't think he could ever do what Sayers could on a football field, and he wanted to be like him.
A day after Simpson was offered a scholarship to play at USC, he watched Sayers score six touchdowns against the 49ers during his rookie year. He followed Sayers all season and watched all of his record 22 touchdowns.
In 1975, Simpson broke that record with 23 touchdowns in a single season, and he said what made it special was that he passed his favorite player in the process.
Simpson sends heartfelt message to Sayers after his death
Sayers was one of Simpson's football heroes, so the news of his death hit him especially hard. Simpson took to Twitter Wednesday to post a video tribute to Sayers after his death.
"I woke up to the sad news today that we lost Gale Sayers," Simpson said in the video. "Now, Gale Sayers was my all-time favorite football player. I've said it often. I've never seen anybody run like him."
Besides his love of Sayers as a player, Simpson respected and admired the person he was off the field. He got choked up a bit as he signed off the video to his followers.
"My condolences to his family," Simpson continued. "God bless you, Gale, and in the words of Bob Hope, 'thanks for the memories.'"