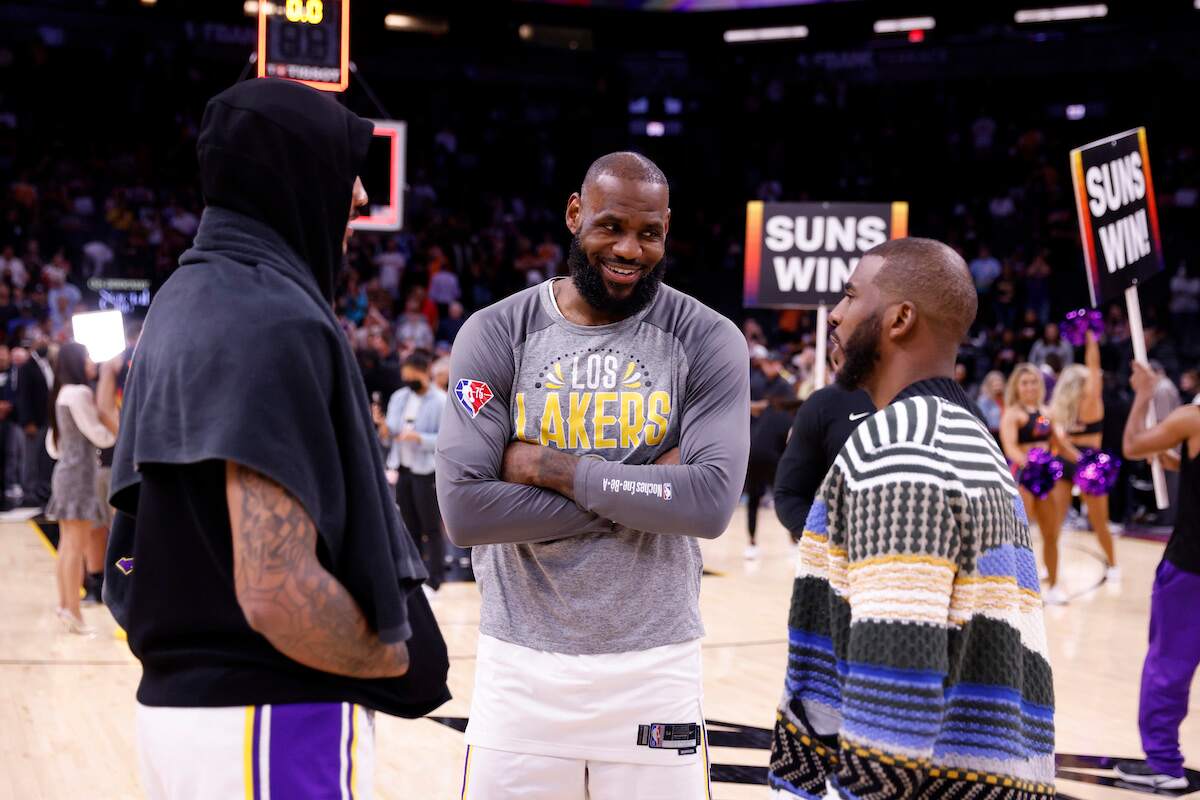 Oldest NBA Player: Who's Beating Father Time in 2023?
Father Time beats every athlete in the end. But the oldest NBA players are the best at dealing with aging.
Unlike in some other sports, NBA players can have a career that lasts until their forties. However, most players will retire before then.
Father Time beats everyone in the end. But, of course, some players are better at dealing with aging than others. Let's look at the oldest NBA players going into the 2023-24 NBA season. 
Oldest NBA player in 2023
NBC Sports reported on the oldest NBA players recently, but a lot has changed since the season ended in June. The Heat's Udonis Haslem, who turned 43 during one of the last games of the playoffs, retired after the season's end.
Four-time champ and finals MVP Andre Iguodala, at 39, is currently without a team and indicated he'll retire soon. Shortly before his 39th birthday, Carmelo Anthony also announced his retirement last season. 
That means LeBron James, at 38, is currently the oldest NBA player on a team. He was born on December 30, 1984, and started his NBA career 20 years ago, back in 2003. Since then, he's become one of the most popular NBA players ever.
The father of three has won four rings, set the all-time scoring record, and done far too many accolades to mention. James has also been injured a lot, and he'll likely retire soon. However, he mentioned he wants to play with his son, so he may not retire for a while, given his son's health issues, which unfolded in late July.
Other old and active NBA players include the 76ers' P.J. Tucker, who's 38 and was born on May 5, 1985. Born one day later, Chris Paul is also 38 and was recently traded to the Warriors. Paul likely hopes to go for a championship with Steph Curry and the rest of the Golden State dynasty.
Almost exactly a year younger, 37-year-old Garrett Temple (born May 8, 1986) got traded to the Raptors earlier this offseason and may have one more chance to prove himself there. Born on June 3, 1986, Al Horford, at 37, is still a productive big man for the Celtics.
Oldest NBA player ever
While it's exceptionally rare for a player like LeBron to remain so good while being so old, there have been much older players in the NBA. For example, Dikembe Mutombo, Vince Carter, and Robert Parish all played in the league up until they were 43, just like Haslem.
Two players stuck around for even longer than that, though. Kevin Willis' career started in 1984. He retired in 2007 at the age of 44.
The oldest NBA player ever played before the merger. Nat Hickey retired at 45 years old, but he was just two days shy of turning 46. He started playing in 1921 and retired in 1948. Interestingly enough, Hickey also played minor-league baseball while competing in the NBA. It's not clear why he retired, but it's likely because his last few games weren't great in terms of his performance.
Oldest NBA rookie ever
On the other side of the spectrum, rookies are usually the youngest players in the NBA, but that's not always the case. Some rookies get recruited from overseas. They can be full-grown adults when they first play a minute in the NBA.
Pablo Prigioni did this. Born in Argentina, he played for several teams until 2012.
At the ripe young age of 35, Prigioni signed a rookie-scale contract with the Knicks, making him the oldest NBA rookie ever. Given his age, he didn't play very long in the NBA. Prigioni ultimately retired in 2017 at the age of 40.