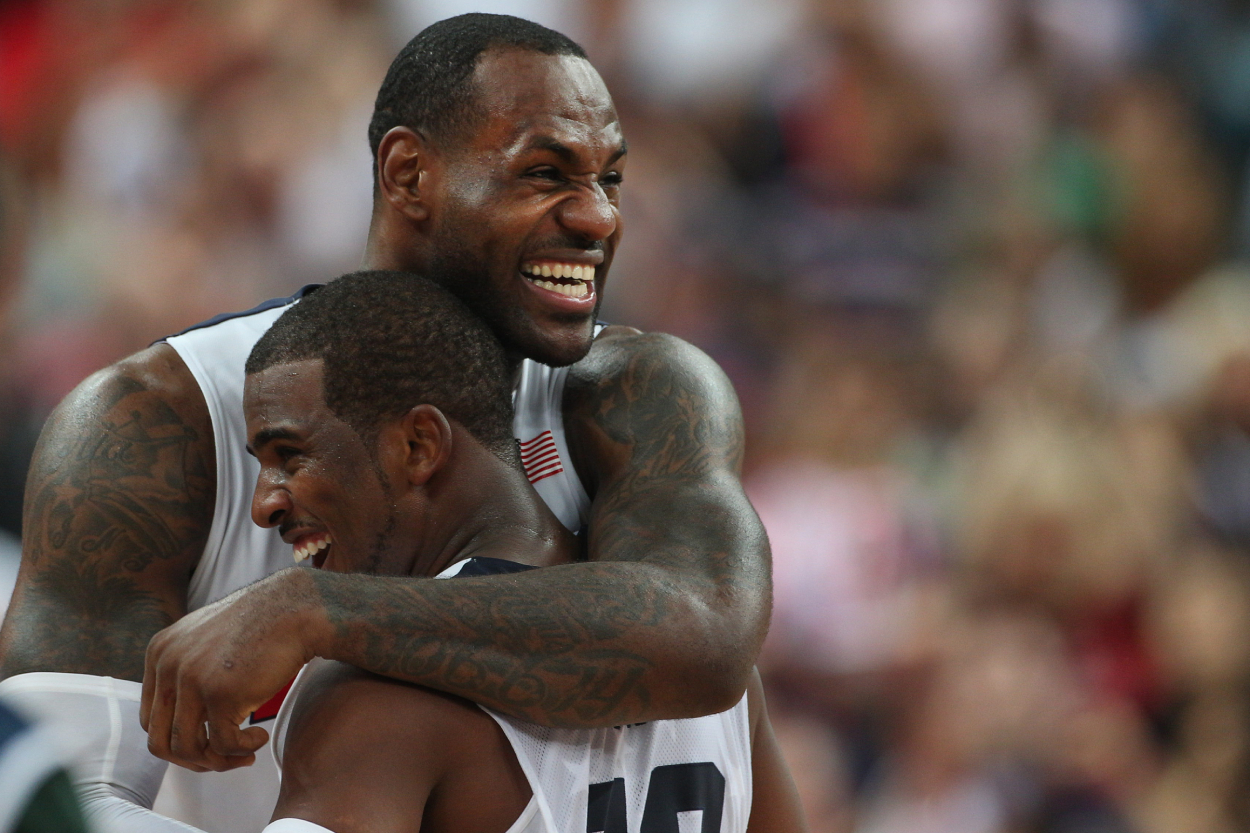 LeBron James and Chris Paul's Relationship Is so Tight That Paul Was There for 1 of LBJ's Most Life-Changing Moments: 'We Were There All Night'
LeBron James and Chris Paul aren't just NBA superstars; they're best friends. James and Paul's relationship actually goes back even further than their professional careers, as they have known each other since they were teens. In fact, the two stars are so close that CP3 was there for one of James' most life-changing moments.
Sure, there have been excellent teams throughout NBA history, but one of the most dominant forces the league has ever seen hasn't played one game together: the Banana Boat Crew.
If you have lived under a rock, the Banana Boat Crew consists of NBA superstars LeBron James, Dwyane Wade, Chris Paul, and Carmelo Anthony. The four future Naismith Memorial Basketball Hall of Famers are great friends who went on a vacation together, and all but Anthony appeared in a photo on a banana boat that ended up going viral.
Although James only played on a team with Wade, and Paul and Anthony played together for a short period, James and Paul actually have a really tight bond. In fact, they are so close that CP3 was there for one of James' biggest life-changing moments.
NBA legends LeBron James and Chris Paul have been friends for years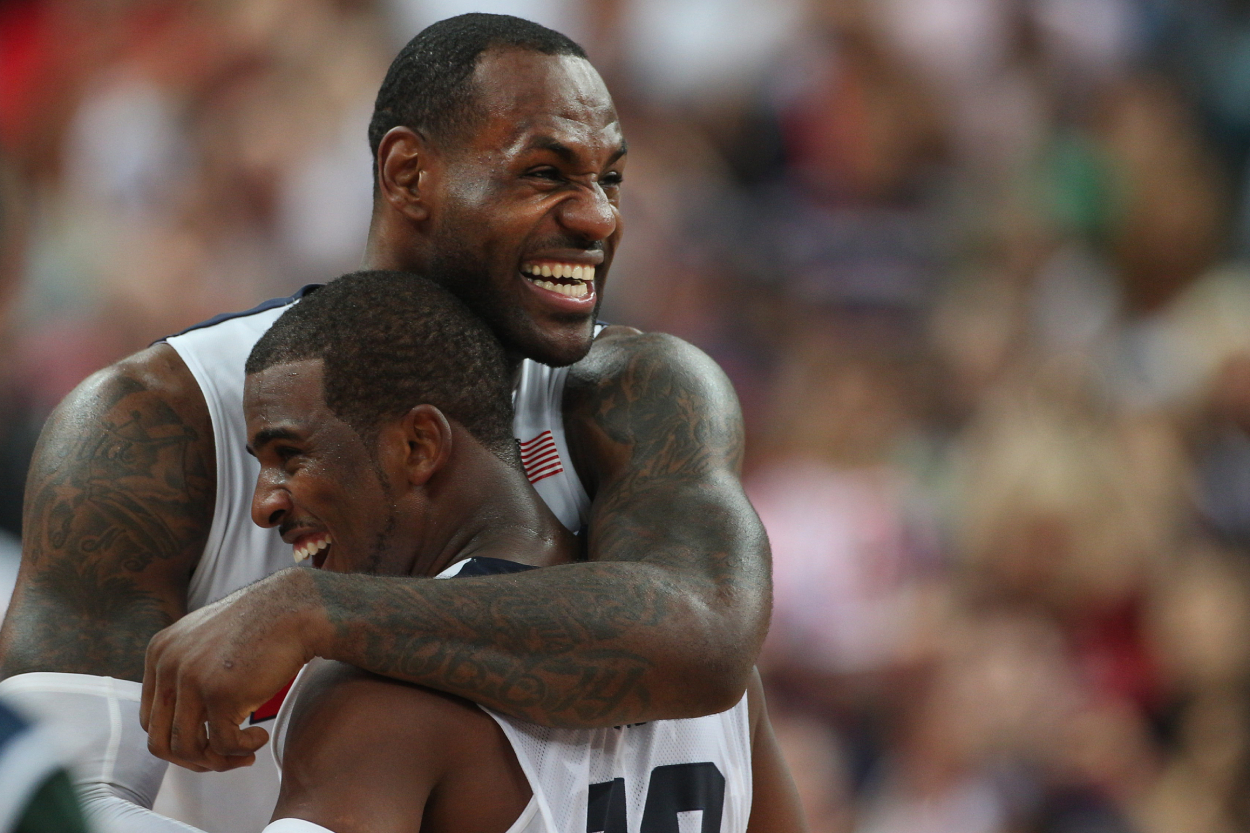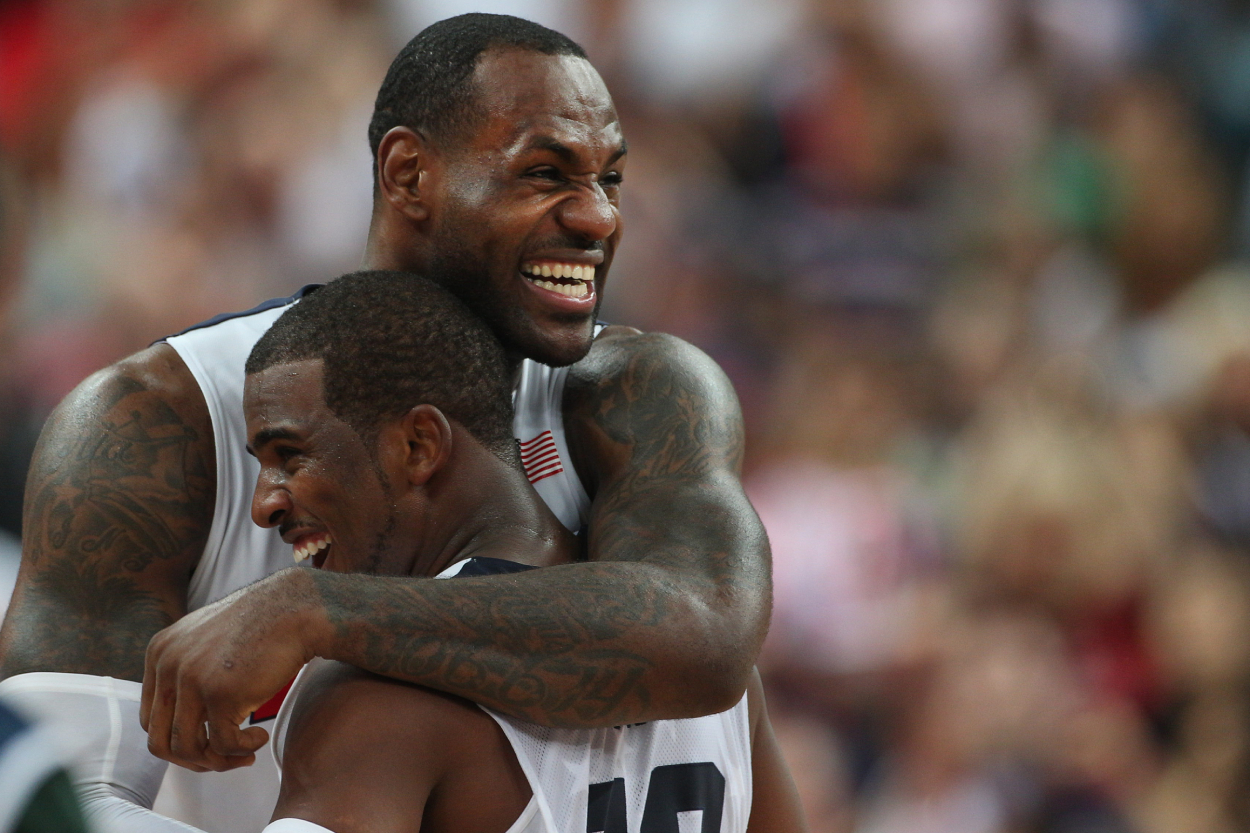 LeBron James and Chris Paul's bond goes back way further than just their NBA careers. Their relationship actually started when they were teenagers.
"That is my brother. We've known each other since my junior year of high school," James said on the July 13 episode of Jimmy Kimmel Live! "…We actually met for the first time when we were in eighth grade. We played in the same AAU national basketball tournament in Orlando, Florida, and then we officially met my junior year."
James and Paul then essentially grew up together in regards to their paths to becoming basketball legends. They were both in the same national high school recruiting class in 2003. James was the top overall prospect, and Paul ranked sixth. James, though, skipped college and went straight to the NBA out of high school. Paul, on the other hand, played in two seasons at Wake Forest before entering the league in 2005.
They both then became stars immediately (James was the 2003-04 Rookie of the Year, and Paul won the award in 2005-06), and have since become future Hall of Famers.
Their bond has remained strong over the years, too.
CP3 was there for the birth of The King's son
During the 2007 NBA Finals, LeBron James and the Cleveland Cavaliers took on the San Antonio Spurs. To support his friend, Paul attended the games and ended up staying with James. However, the night before Game 4, Savannah James — LeBron's wife — went into labor. She was pregnant with LeBron's second son, Bryce, at the time.
"We were at the house," Paul said in 2020 to The Athletic. "And, Vannah had gone to the doctor, and I think called back to the house and said, 'I think my water broke,' or something like that. And me and him got in the car to go to the Cleveland Clinic. We were there all night. Me and LeBron, Randy (Mims), Mav (Maverick Carter), Rich (Paul), his mom, all of us."
Paul continued: "We were there all night, and then just waiting for Bryce to be born. He had Game 4 of the finals the next day. Man, we were playing cards, we were doing all types of stuff. We were waiting, waiting for Vannah to deliver the baby. I remember she had him late, and we went back to the house. It was late, late. Crazy."
LeBron also discussed the moment during his recent appearance on Jimmy Kimmel Live!
"He's the godfather of Bryce," he said. "Bryce came out the night before, and then I went on to precede to get my ass kicked by the Spurs the next day. So, it was no sleep for me then."
The Spurs swept the Cavs in the finals. But that loss hasn't mattered much in the grand scheme of things. James (and Paul) are NBA legends.
LeBron James and Chris Paul are NBA legends
Very few stars have had careers comparable to James' and Paul's.
James is a 17-time All-Star, four-time NBA MVP, and a four-time NBA Finals MVP. He is also third in NBA history in total points with 35,367 and eighth in assists with 9,696. He led the NBA in points per game in one season and averaged the most assists in another.
Paul, on the other hand, has earned 11 All-Star selections and has led the NBA in assists per game four times. He has also averaged the most steals six times. Paul is fifth in NBA history in both assists (10,275) and steals (2,332).
It's hard to imagine a more talented friendship duo in NBA history than James and Paul's. The two stars are future Hall of Famers and NBA legends.
Stats courtesy of Basketball Reference