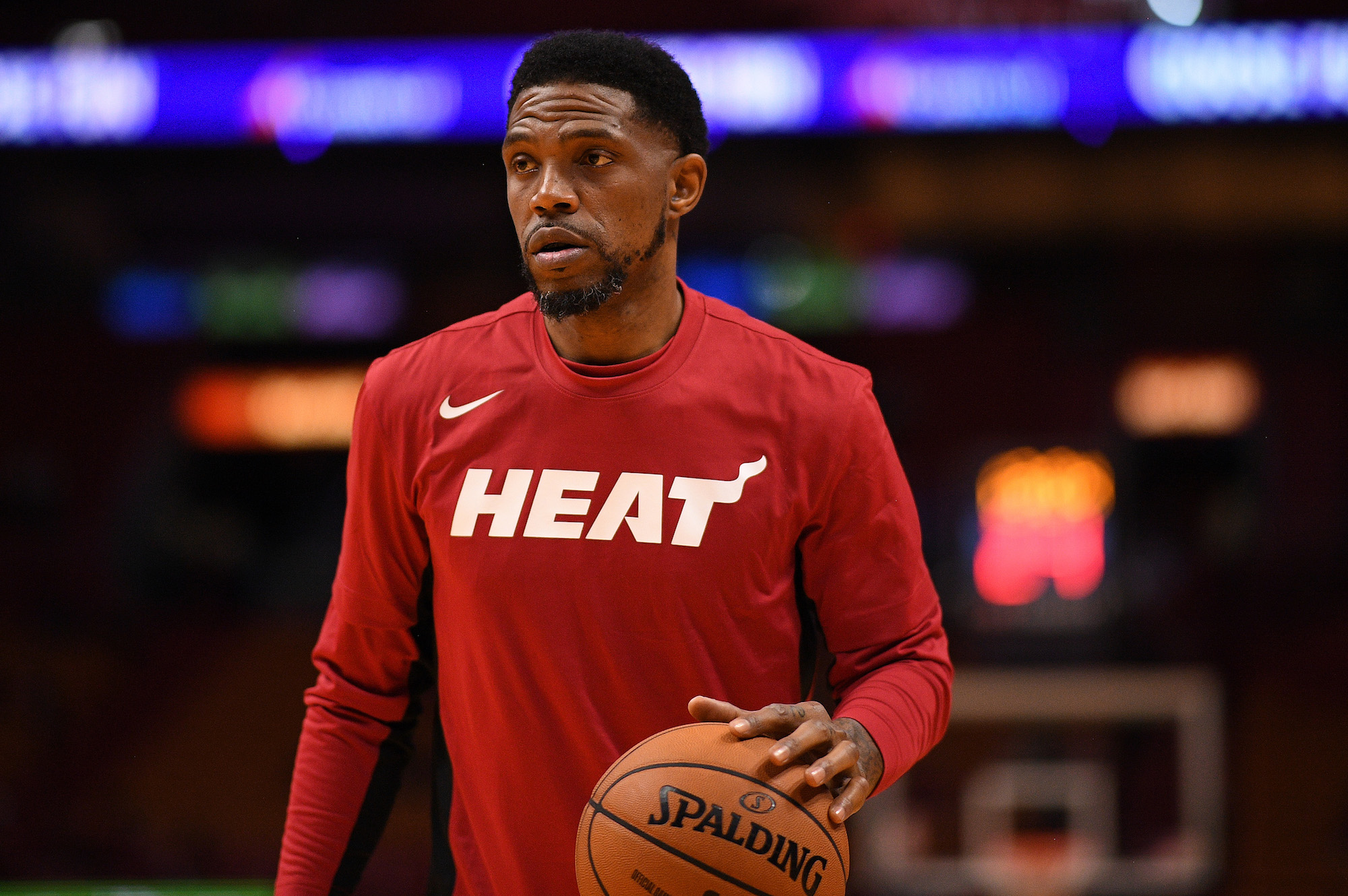 Udonis Haslem Used 'the Simplest Play' to Launch His $60 Million NBA Career
While Udonis Haslem has never been the flashiest player, he used hard work and 'the simplest play' to make more than $60 million in the NBA.
While the Miami Heat might not have the longest franchise history, some pretty big names have taken their talents to South Beach. Udonis Haslem might not have the star power of LeBron James or Alonzo Mourning, but he's been a key part of the franchise for almost two decades. His career, however, didn't always come easily.
After college, Haslem found himself looking for an NBA job. The forward eventually got his big break, however, thanks to some hard work and "the simplest play."
Udonis Haslem's unconventional road to the NBA
During his NBA career, Udonis Haslem has only worn the red and black of the Miami Heat. The forward's Florida roots, however, extend beyond his professional career.
Haslem was born and raised in Miami and made a name for himself at Miami Senior High School. After graduation, he didn't go far and committed to the University of Florida. Working with Billy Donovan, the young big man's stock continued to rise.
Haslem spent four seasons as a started in Gainesville, averaging 13.7 points and 6.4 rebounds per outing. He also served as a team captain during his senior season and became the first player in program history to appear in four consecutive NCAA Tournaments. Despite that resume, though, the forward's career didn't take off.
When the 2002 NBA draft rolled around, no one called Haslem's name; even when the draft was over, no free agent deals materialized. He was deemed overweight, too short, and too poor of a rebounder to make it in the association. Facing a premature end to his basketball career, the forward found himself leaving Florida to suit up for Chalon-Sur-Saône in France.
Earning an NBA job by doing the little things
After spending a season in France, Udonis Haslem returned to Florida, hoping to land an NBA job. After spending a summer with David Thorpe, the forward got his chance, earning an invitation to work out with the Miami Heat.
"It was a great feeling until I walked in the gym, and there's like 50 guys with the same opportunity as me," Haslem explained in an Officialize video. "If you know this business and you know sports, maybe not everybody has an opportunity or a real legit of making the team."
While Haslem wasn't sure if he had a chance to make the roster or was simply there to provide a warm body, he wasn't going to miss his chance.
"For me, it was the simplest play," he remembered. "A shot goes up, ball bounces off. It rolls toward halfcourt. Everybody stops; I just chase it, and I grab it. Coach [Pat] Riley blows the whistle, he looks at me, and he's like 'why didn't you stop?' So, at this point, I thought I did something wrong."
In reality, Haslem's willingness to play to the whistle had caught the veteran coach's eye. By the end of the day, the forward was a member of the Miami Heat.
Udonis Haslem has made good on that opportunity
During that workout, Udonis Haslem worked his way into a job with the Miami Heat. Once he joined the organization, he never left.
The forward has spent 17 seasons with the Heat and still is a part of the club today. While he's never been the most impressive player—Haslem averages 7.6 points and 6.7 rebounds per game for his career—he's been a key part of three title-winning teams. His willingness to do the little things has also paid off from a financial perspective; according to Spotrac, he's earned $63 million in the NBA. As documented by Marc J. Spears of The Undefeated, Haslem is putting that money to good use, opening various food and beverage franchises around Miami-Dade and Broward counties.
Hard work isn't a magic potion; an average Joe won't be able to practice his way into outplaying LeBron James. For Udonis Haslem, however, effort and chasing down loose balls helped kick start a $60 million career.
Stats courtesy of Sports-Reference and Basketball-Reference