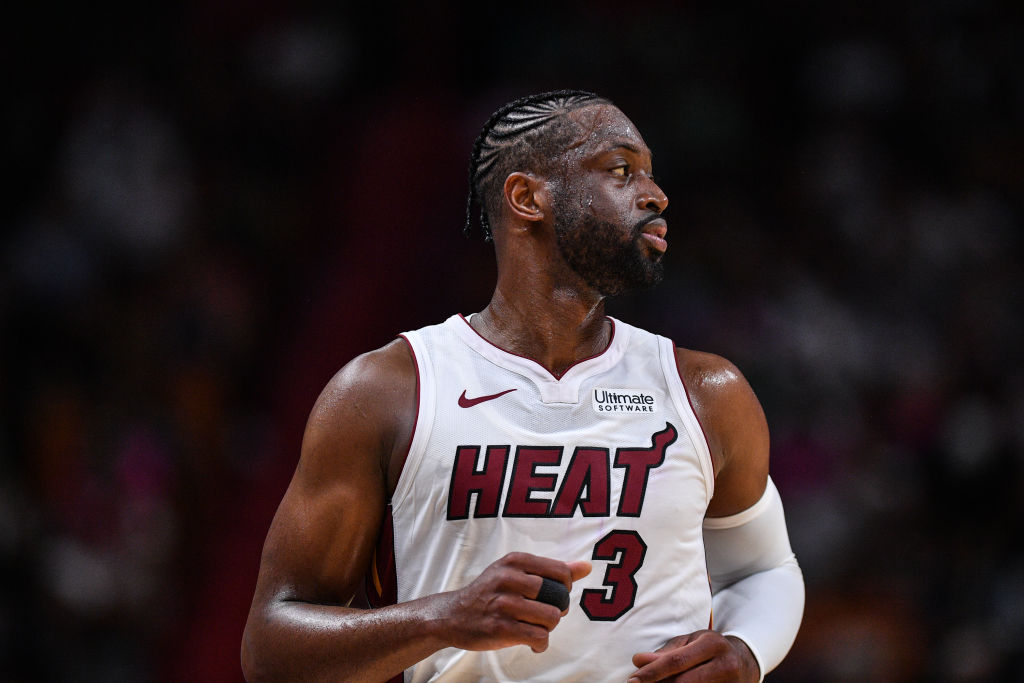 Dwyane Wade Nearly Fought a Teammate Over Jeremy Lin's Shoe
Udonis Haslem nearly started a fight with Dwyane Wade after Jeremy Lin's shoe came off during an NBA game.
Dwyane Wade and Udonis Haslem have spent nearly their entire NBA careers together, which makes for a tight friendship between the two that has also led to a business partnership.
But that doesn't mean that the two didn't get on each other's nerves from time to time while teammates with the Miami Heat. For instance, there was the night they almost got into a fight over an opposing player's shoe.
The time Dwyane Wade picked up Jeremy Lin's shoe
Dwyane Wade and Udonis Haslem engaged in a chat on the NBA's Instagram account this week and recounted some of the odder moments in their long time together as teammates. Naturally, the story about Jeremy Lin's shoe came up in the discussion.
A seemingly harmless gesture by Wade during a game in Atlanta last season nearly led the teammates to fisticuffs.
One of Lin's shoes came off and Wade picked it up, intending to hand it back to the Hawks guard. Much to Wade's disbelief, Haslam slapped Wade's hand. "I picked the man's shoe up and I was giving the man his shoe and you slapped it out of my hand," Wade said. "I'm like, 'UD what the hell?'"
Haslem says Wade wanted to fight him on the court.
"Man, we're in the playoff run, the man's trying to give Jeremy Lin his shoe. I would have picked it up and thrown it in the damn garbage. He's trying to pick it up and hand it to him. I slapped his hand. D-Wade turned around and cussed me out."

Udonis Haslem
Longtime Heat teammates become business partners
The food business has been a second career for Udonis Haslem, a franchisee with Subway sandwiches and Auntie Anne's Pretzels. He's also a partner in a company the operates Starbucks locations and bagel shops.
Haslem and Dwyane Wade went into business together in August 2018 with the opening of a woodfire franchise restaurant in a suburb north of Miami as the first venture of Forty-Three, a company they co-founded.
Wade and Haslem added namesake dishes and power bowls to the pizza menu and expanded the operation by serving brunch. They revealed plans last year to add a second location and intend to keep growing the company. It would be the continuation of a friendship struck up as Miami Heat rookies in 2003.
Wade was a guard out of Marquette taken fifth overall in the NBA Draft and Haslem was an undrafted forward out of the University of Florida. They became workout partners ahead of their first preseason camp and have been nearly inseparable since.
"I remember spending so much time together in the summer where we would go to the track together, then go to the weight room and then go upstairs and do our basketball stuff, then come downstairs and eat lunch and play pickup at Alonzo Mourning's youth center and then come back and do another late-night workout. Literally, we spent seven days a week together that summer and found out how much stuff we had in common, and our relationship just continued to grow."

Udonis Haslem
Dwyane Wade and Udonis Haslem have endured
Dwyane Wade and Udonis Haslem spent 15 seasons as teammates, interrupted only by Wade's one season with the Chicago Bulls and half a season with the Cleveland Cavaliers. Their time together ranks third all-time among NBA duos to the Utah Jazz's John Stockton and Karl Malone (18 seasons) and the San Antonio Spurs' Tony Parker and Manu Ginobili (16 seasons).
Wade announced his retirement last summer after appearing in 1,054 regular-season games, averaging 22.0 points and 5.4 assists. He also averaged 22.3 points in 77 playoff games.
Though largely limited the past five seasons, Haslem has shown impressive staying power despite modest numbers. He has appeared in 857 games, averaging 7.6 points and 6.7 rebounds. Dirk Nowitzki, Kobe Bryant, Tim Duncan, Stockton, and Reggie Miller have spent more seasons in the league with a single team.