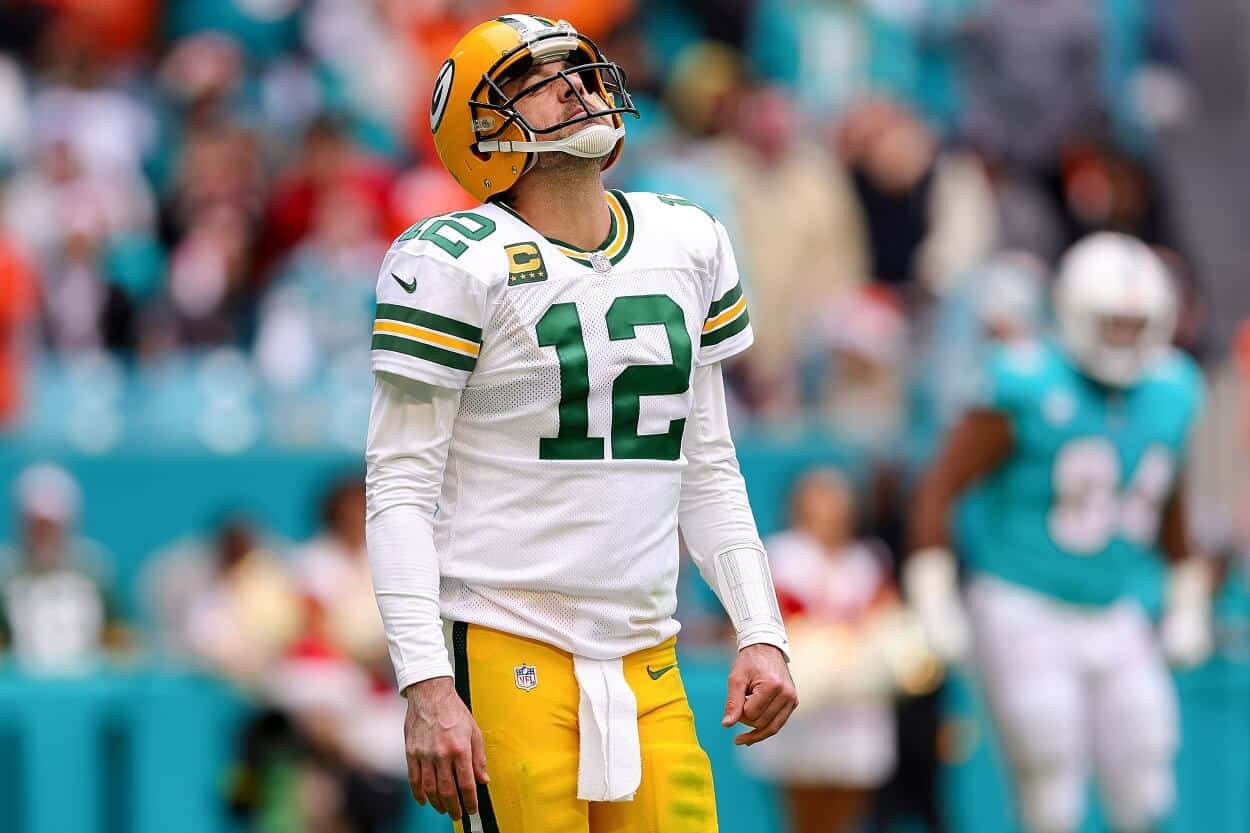 The Packers Could Be Primed to Upset Aaron Rodgers With a Gift to Jordan Love
The Green Bay Packers could select a wide receiver in the first round of the 2023 NFL Draft, which would likely infuriate Aaron Rodgers.
It's certainly no secret that Aaron Rodgers has had his share of problems with Green Bay Packers management over the years. We're certainly not going to get into all of them here today, but we will focus on one thing that allegedly irked him quite often.
Now, in the 15 seasons Rodgers spent as the starter in Green Bay, the soon-to-be New York Jets QB had some great receivers at his disposal, a list that includes the likes of Greg Jennings, Jordy Nelson, Randall Cobb, and Davante Adams.
And what do all of those guys have in common? None of them were selected in the first round of the NFL Draft.
In fact, in the 18 years Rodgers has been with the franchise (remember he sat his first three seasons behind Brett Favre), the Packers have never selected a wide receiver or a tight end in the first round, much to the four-time MVP's dismay.
It actually wasn't until Green Bay visited London in Week 5 of this past season that Rodgers finally threw a touchdown pass to a first-round pick, that being Marcedes Lewis, who was taken with the 28th pick in 2006 by the Jacksonville Jaguars.
Furthermore, the only skill player Green Bay has selected in the first round since they took Rodgers himself in 2005 is the man who will replace him, Jordan Love, whom they took with the 26th pick in 2020. Rodgers even admitted that when the Packers traded up to No. 26, he was thinking about which receivers were still on the board at that time.
Now, nobody can expect Love to be what Rodgers was in Green Bay, especially in year one. He's going to need all the help he can get, and there's a strong chance the Packers will do what they never did for No. 12 — draft a receiver in the first round.
Mock draft says the Packers could give Jordan Love what they never gave Aaron Rodgers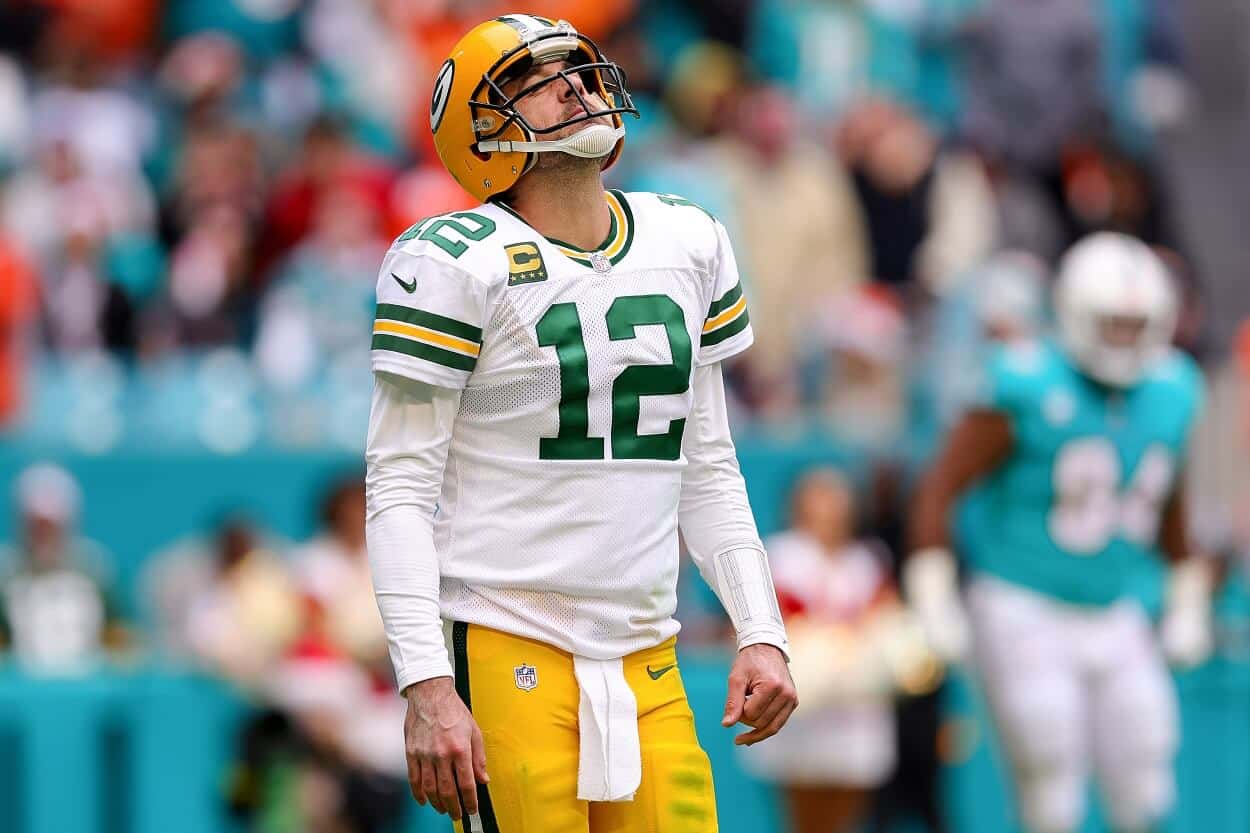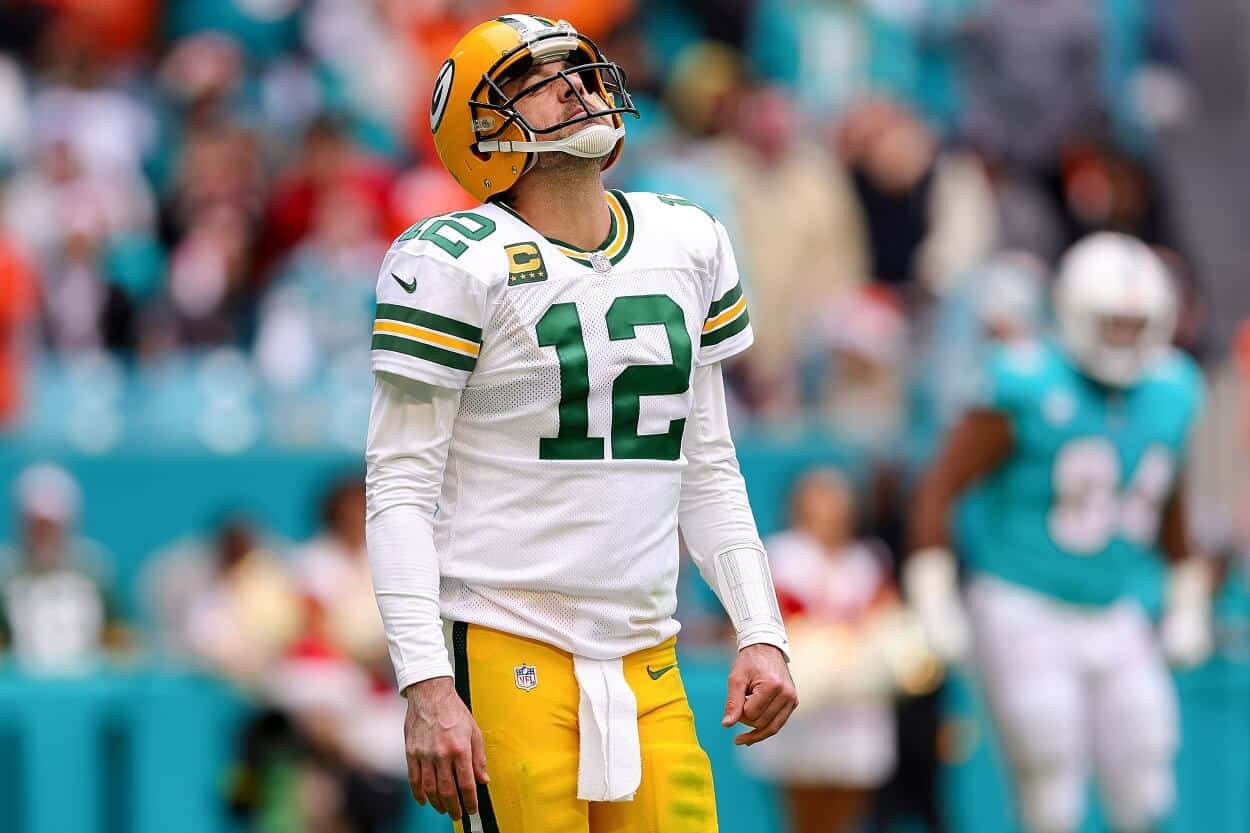 Currently, the Packers own the No. 15 overall pick in the 2023 NFL Draft. And they could certainly go in a number of directions with that selection. They undoubtedly need help at safety and could also go with an offensive lineman.
But, again, Jordan Love is going to need targets, especially since Green Bay's top receiver from a season ago, Allen Lazard, will be catching balls from Aaron Rodgers with the Jets. Also gone is tight end Robert Tonyan, who signed with the rival Chicago Bears.
So could the Packers do what they never did for Rodgers and get Love a receiver in the first round? A recent CBS Sports mock draft says yes, as it has Green Bay taking USC wideout Jordan Addison at No. 15. And that could be a strong pick.
Despite the Trojans having a deep receiving corps last season, Addison, who spent the first two years of his college career catching passes from Kenny Pickett at Pitt, led USC in receptions (59), receiving yards (875), and touchdowns (eight), earning First-Team All-Pac-12 honors.
The Maryland native also earned All-American honors in his second and final season with the Panthers in 2021, catching 100 passes for 1,593 yards with 17 touchdowns, also adding another score on the ground.
So he's got some skills. And he'd be a great addition to fellow young wideouts Christian Watson and Romeo Doubs.
Would the move seem a little petty? Sure. But Aaron Rodgers is clearly ready to move on, and the Packers have to do the same.