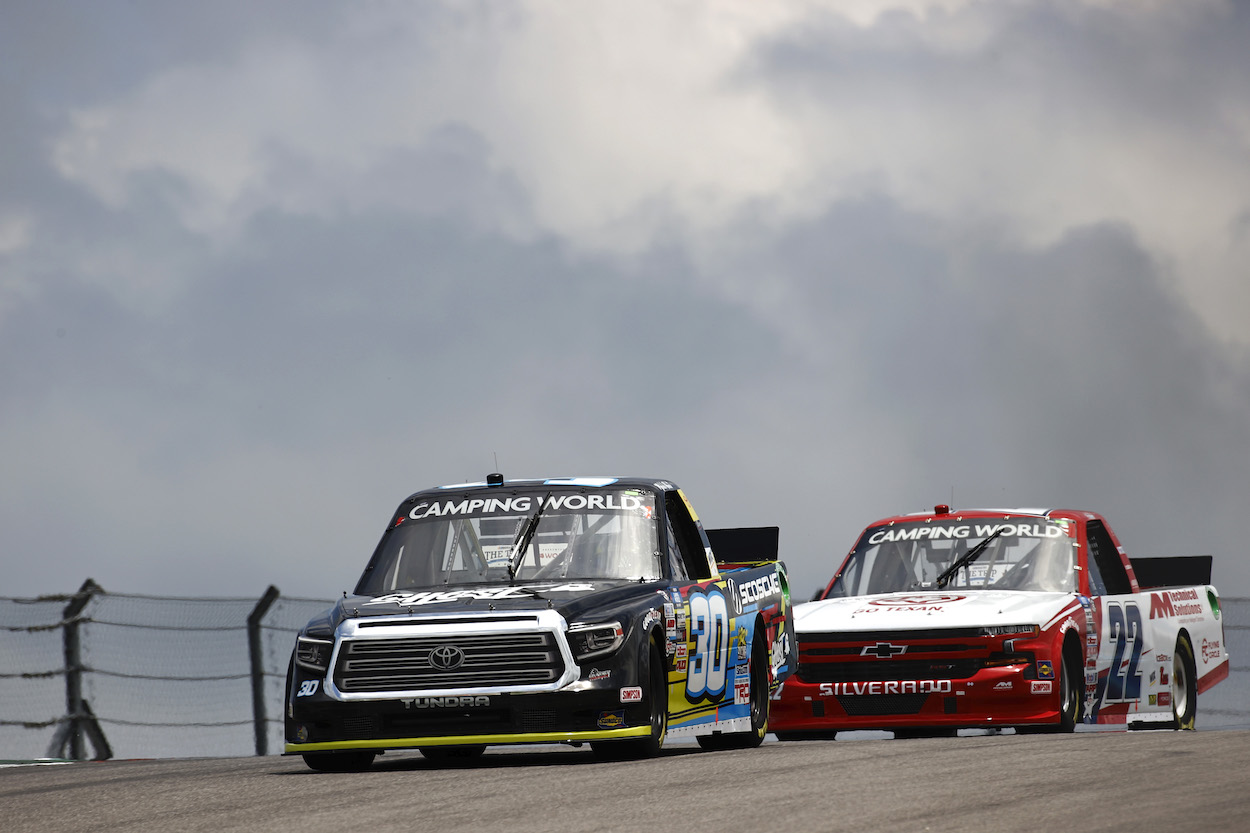 A Pair of Austins Offer High Praise to NASCAR's First Visit to Austin and COTA
Austin Dillon and Austin Wayne Self heaped high praise on NASCAR's first trip to Austin and competing on the world-class track at COTA.
Drivers, fans, and most of the racing community have waited for this weekend with eager anticipation since NASCAR announced the 2021 schedule and revealed all three national touring series would be traveling to Austin for the first time for races on the world-class track at COTA. However, a lot of uncertainties come along with those Texas-sized expectations since most of the drivers have never run a lap on the 20-turn layout.
On Friday, both the Truck and Xfinity Series cars ran practice laps, a novelty in these COVID times. When it was over, who better to get feedback from than a pair of Austins — 2018 Daytona champion Austin Dillon and Austin's own, appropriately enough, Austin Wayne Self, who is competing in his fifth year with the Truck Series. Both drivers heaped high praise on the track for a variety of reasons.
NASCAR comes to Austin and COTA
The 2021 NASCAR schedule generated considerable excitement when revealed, and most interested parties circled two dates in particular — dirt at Bristol and COTA in Austin. 
In late March, and once the biblical floods ended, the Bristol dirt race produced an exciting and clay-filled weekend of racing with Martin Truex Jr. winning in the Truck Series and Joey Logano victorious in the Cup race. 
Since that weekend, the excitement shifted west to Austin and COTA, a world-class facility that opened in 2012, and has hosted the top forms of racing, including MotoGP, IndyCar, and Formula 1, with the United States Grand Prix.
Austin Dillon calls 'awesome track' with 'wildest' elevation changes in all of NASCAR
For most NASCAR drivers, the racing simulator is an important tool in preparing for any race. Admittedly, some drivers use it more than others. However, when it comes to a race track that's never hosted a NASCAR competition, track time in the sim is paramount, especially in these times of COVID when practices have been non-existent. 
At COTA, the Xfinity and Truck Series drivers had practice sessions on Friday. According to 2018 Daytona 500 champion, who is running in the Xfinity Series race on Saturday to get in extra laps before Sunday's Cup race, the sim can only provide so much information. The actual track provides a much clearer picture, and he discovered that during Friday's practice.  
"It's an awesome track. I had fun out there," Dillon said after his practice laps. "Only got a couple of laps with a wiring issue we had going on. Learned a lot. It's a little different than what I thought than on the sim. Obviously, we came here earlier this year in another race car, and it was good laps for us. I think I got a good idea of what I need to do and we'll have some fun tomorrow."
Dillon said when it comes to elevation, it certainly is bigger and more dramatic in Texas. 
"There's not much like it," he admitted. "Sonoma has some crazy elevation and track grip changes, but this is definitely the wildest track that we go to as far as that is concerned."
Austin Wayne Self excited NASCAR showcasing world-class facility in his hometown
Like Dillon, hometown hero and Truck Series driver Austin Wayne Self recently took a few laps of his own around COTA in a Porsche. He said Friday's practice session proved to him that the simulator has its limitations.
"To me, the sim, you never feel the race car. I definitely put it in the wall way more on the sim than I ever would have today," Self said laughing. "Thing handles great. I always think the sim is harder than real life." 
He agreed with Dillon and said the differences in elevation are much more appealing and noticeable when gliding over the rolling Texas terrain at high speeds.
"It's a beautiful race track," he said. "The elevation changes you really notice when you're in the real race car. Especially these stock cars, they've got a lot of power."
The 25-year-old acknowledged he had a special moment during the early first practice laps on his hometown track when he saw his name on top of the leaderboard. Not surprisingly, he had nothing but high praise for COTA:
"It's such a unique race track. I think for me — I'm going to be biased because it's my hometown — but this is definitely, without a doubt, the nicest road course, maybe, in North America. Definitely really special to see stock cars get around this place."
Self will compete in the Truck Series on Saturday at 1pm ET and will be followed by Dillon and the Xfinity Series race at 4pm. 
Like Sportscasting on Facebook. Follow us on Twitter @sportscasting19.