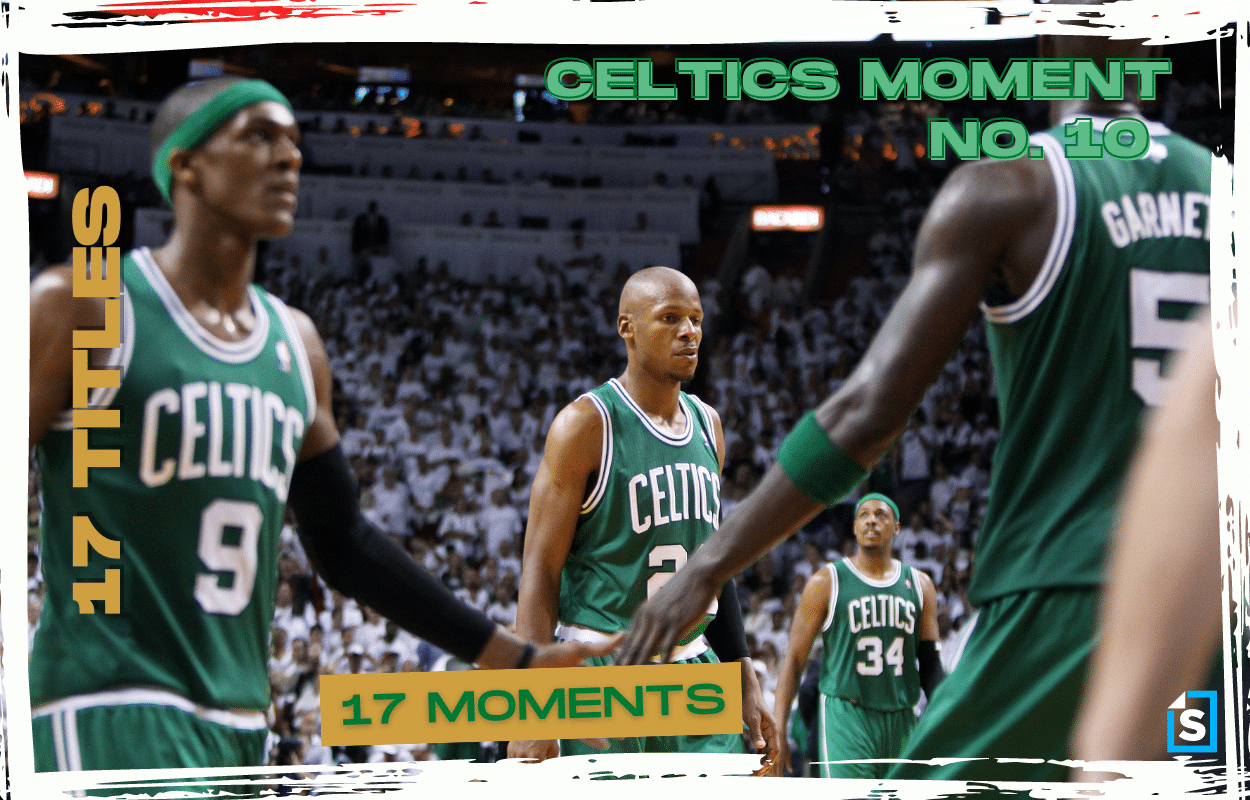 Pair of Offseason Trades Triggers Worst-to-First Season and 1st Title in 22 Years: Boston Celtics Championship History Moment No. 10
The acquisitions of Kevin Garnett and Ray Allen in 2007 turn around a struggling Boston Celtics franchise.
Danny Ainge had seen enough. During the 2005-06 season, the Boston Celtics finished with a 33-49 record. A year later, they managed just 24 victories and finished last in the Atlantic Division. Ainge, the team's former president of basketball operations, then went to work.
Before the 2007-08 season, he orchestrated a pair of trades that led to Boston's first championship in 22 years.
In honor of the Boston Celtics' 17 championships, we're highlighting 17 signature moments, both good and bad, that took the Celtics from a woeful 22-38 BAA debut in 1946-47 to the current iteration of the longtime powerhouse franchise that's now coming off an NBA Finals appearance. The 17-part series on the Celtics' championship history will run through the summer and take us to the beginning of the 2022-23 NBA season, one Boston hopes ends with Banner No. 18.
The Boston Celtics acquire Kevin Garnett and Ray Allen for championship run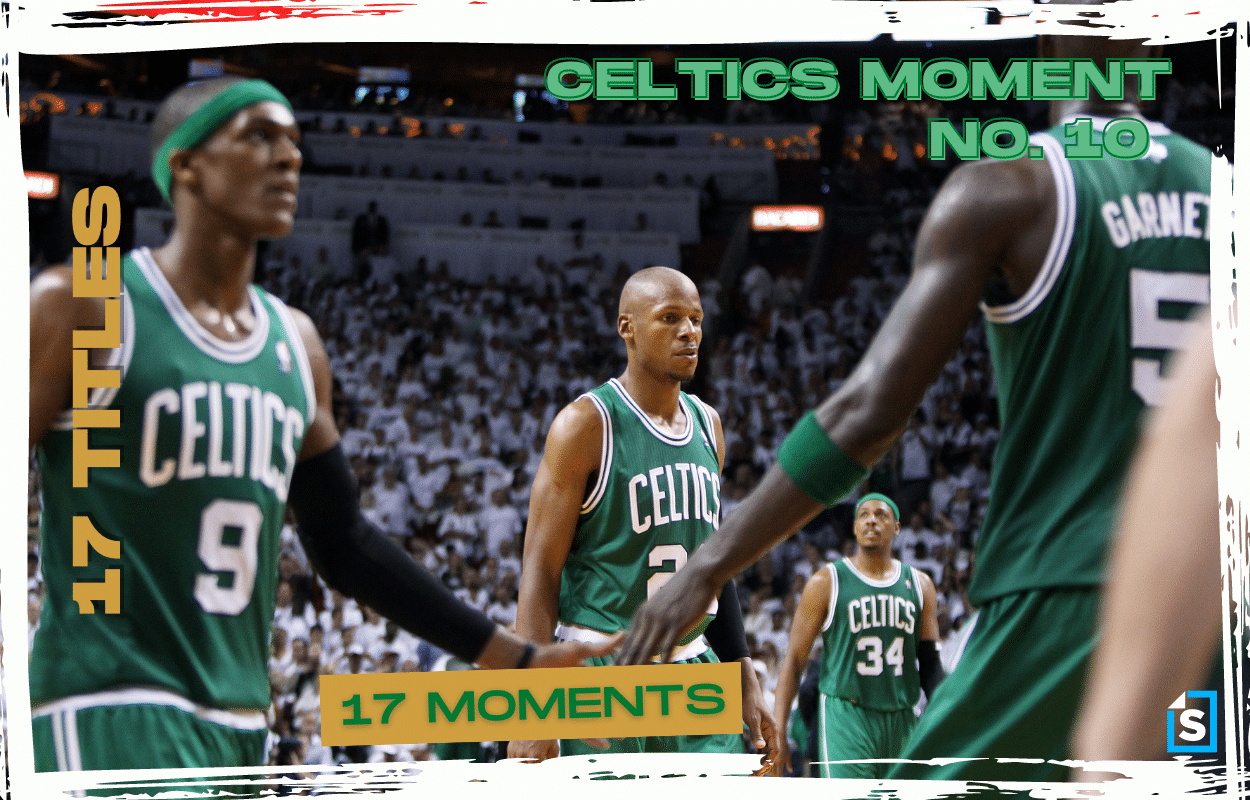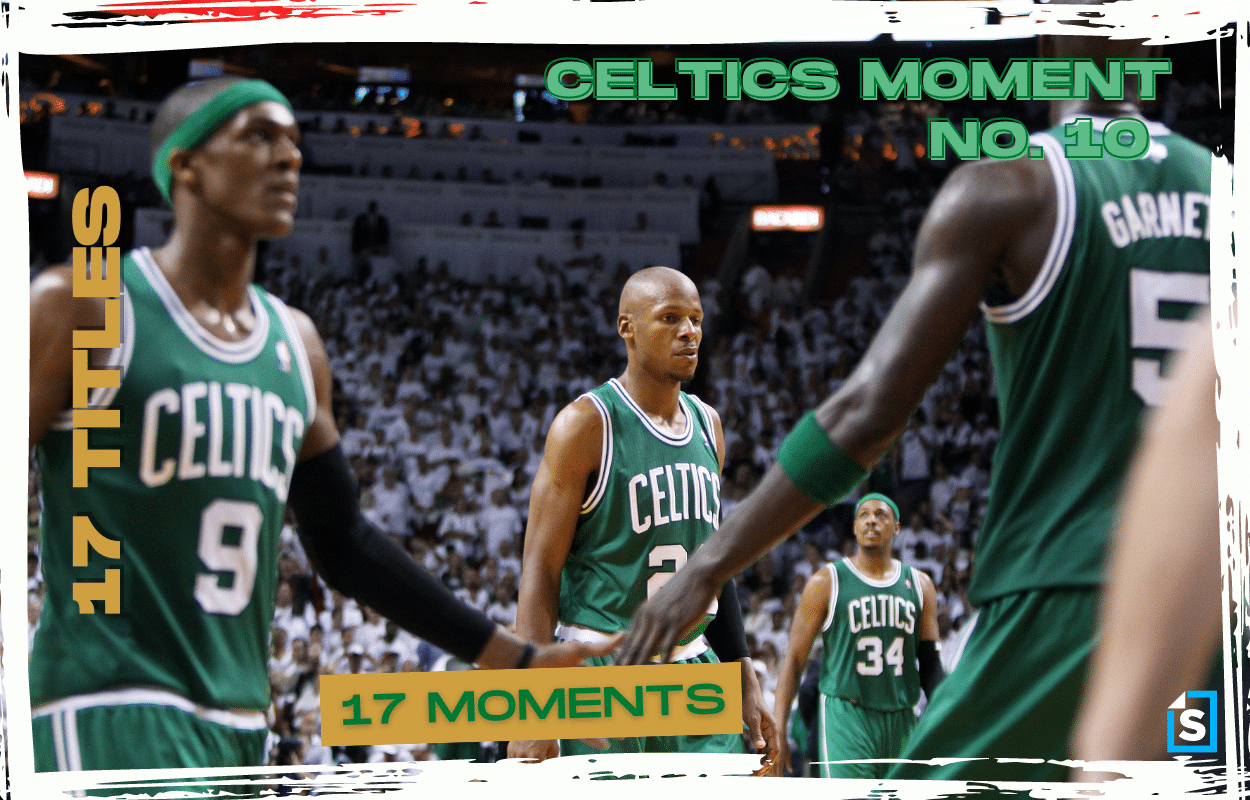 Ainge needed to give All-Star Paul Pierce some help. After two seasons of futility, Ainge pulled the trigger on a trade in late June 2007, sending Jeff Green, Delonte West, Wally Szczerbiak, and a second-round pick for Ray Allen and Glen "Big Baby" Davis.
A month later, he secured Kevin Garnett in a mega deal. Ainge sent prized prospect Al Jefferson, Theo Ratliff, Sebastian Telfair, Ryan Gomes, Gerald Green, and two first-round draft picks to the Minnesota Timberwolves for Garnett.
Garnett, Allen, and Pierce formed Boston's first Big Three since Larry Bird, Kevin McHale, and Robert Parish. In their first season together, they racked up 66 regular-season wins and earned Boston its first NBA title since 1986.
While the Celtics cruised in the regular season, they had to work hard throughout the postseason. The first two rounds, against the Atlanta Hawks and Cleveland Cavaliers, went seven games. After knocking off the Detroit Pistons in six games in the Eastern Conference Finals, they faced Kobe Bryant and the rival LA Lakers in the NBA Finals.
The key game of the NBA Finals came in eGame 4 when the Celtics, leading 2-1 in the series, pulled out a 97-91 victory on the road. The Celtics won in six games, crushing the Lakers in Boston in the series finale, 131-92.
Former Celtics forward Leon Powe said Garnett's intensity filtered through the team
Garnett has always been a high-energy guy. After playing 13 seasons in Minnesota for a team that hadn't had a whole lot of success on the court, he brought his passion to Boston. Former teammate Leon Powe told Sportscasting that Garnett's intensity quickly spread throughout the team.
"KG made everyone step their game up," Powe said. "Everybody came early. The gym was packed way before practice. All these guys were competitive anyway. We hated to lose, and we never gave an inch. KG came in and wasn't afraid to tell everybody what's up."
Powe also said, despite winning just 24 games the previous season, that a championship was on the mind of the Boston players as soon as Allen and Garnett were on board.
"We were thinking about the Finals right away," Powe said. "That was our focus."
With Garnett and Allen, the Celtics returned to the NBA Finals in 2010. Again, they matched up with the Lakers, who outlasted them in seven games.
The addition of Garnett and Allen brought the Celtics back to life. They remained a title threat until 2013, when Ainge shipped Garnett and Pierce to the Brooklyn Nets for five players and three first-round picks, which were used to reshape Boston into the title-contending team it is today.
Like Sportscasting on Facebook. Follow us on Twitter @sportscasting19 and subscribe to our YouTube channel.