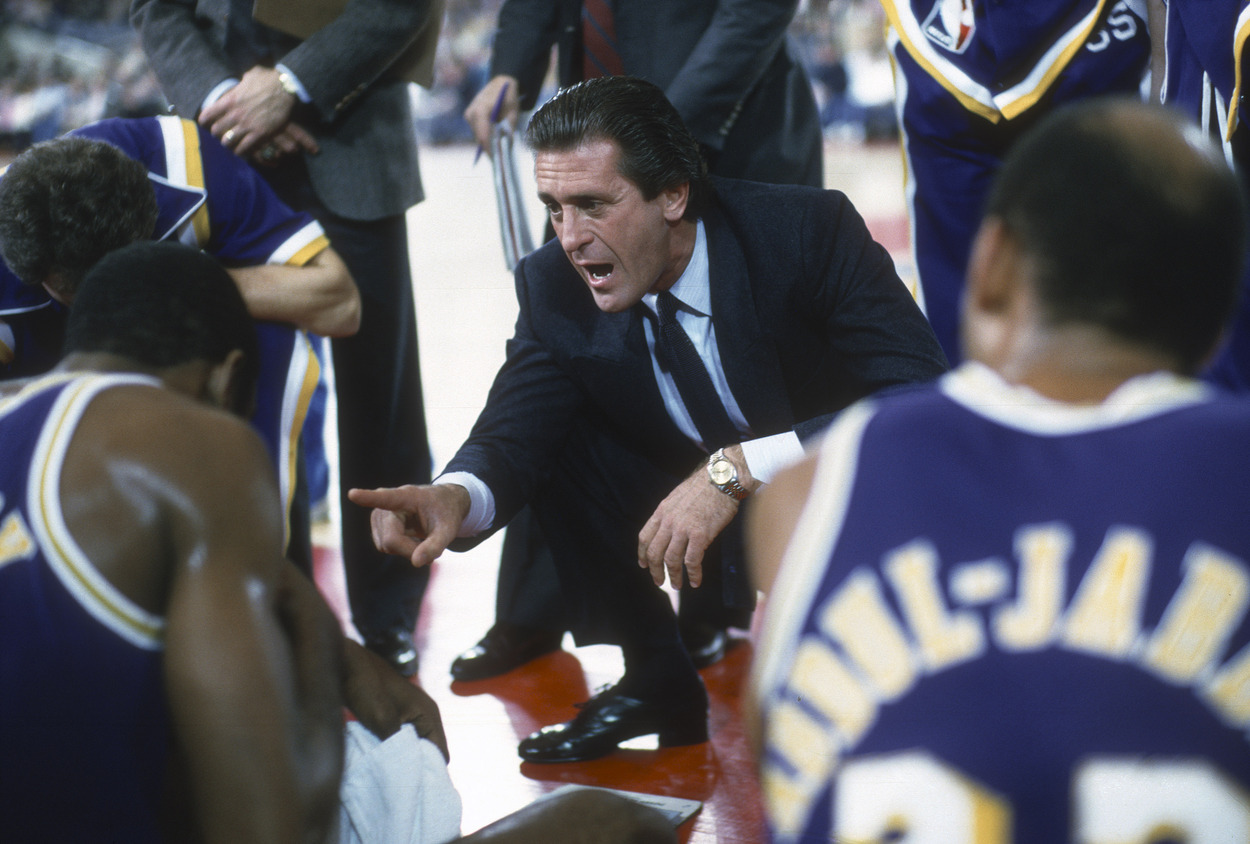 Pat Riley Wouldn't Be Pat Riley if Not for a Freak Accident
Despite the circumstances being less than ideal, Pat Riley was thrown into his coaching duties with the Los Angeles Lakers and managed to thrive.
The "Showtime" Los Angeles Lakers of the 1980s were led by a man known as much for his slicked-back hair and Armani suits than his basketball know-how. From 1981 through 1990, Pat Riley coached basketball's most exciting team and looked cool doing it. His tenure in Hollywood led to four rings, successful stints in New York and Miami, and a reputation as one of the greatest coaches in NBA history.
But believe it or not, Pat Riley was never meant to coach this team. In a parallel universe, Riley is watching the "Showtime" Lakers unfold without having any hand in their success. That very well could have been the case in our universe, if not for a terrible accident involving LA's head coach Jack McKinney.
Pat Riley was a Lakers broadcaster before becoming a coach
Riley had a solid nine-year NBA career but was never close to being a star. His most successful chapter came while wearing the Purple and Gold from 1970 to 1975. In just over five seasons, the former Kentucky Wildcat averaged 7.8 points off the bench and won a title with the legendary 1971-72 Lakers featuring Jerry West and Wilt Chamberlain.
Following a forgettable season with the Phoenix Suns, Riley called it quits in 1976. One year later, he was back in the NBA. But it wasn't as a player or coach.
In 1977, the 33-year-old Riley was hired to join legendary announcer Chick Hearn in the broadcast booth. Despite Hearn's resistance toward having a color man, the duo enjoyed two successful seasons together between '77 and '79.
Just days into his third season on the mic, Riley's world was turned upside down. Soon, the former NBA vet would have to decide whether he was ready to take the leap from the booth to the bench.
A freak accident led to Riley moving into a coaching role
Riley is the head coach most associated with the Magic Johnson-led Lakers. But he was actually the third coach to take the reigns since the start of the 1979-80 season. And he sure wasn't the first to transform LA's offense into the fast-paced juggernaut we all remember.
Shortly after an agreement with Jerry Tarkanian fell through, owner Jerry Buss hired Jack McKinney. The little-known coach had previously served as Jack Ramsay's top assistant with the Portland Trail Blazers, winning a title in 1977. Two years later, he was coaching Magic, Kareem Abdul-Jabbar, Norm Nixon, and a Lakers squad with lofty expectations.
Immediately, McKinney gave Johnson free reign over the offense, allowing the phenom to fully utilize his creativity and captain a fast-paced offense. The results were immediately evident, as LA surged to a 9-4 start. Then … disaster.
One morning, the 44-year-old coach was riding his bicycle to meet assistant coach Paul Westhead at the nearby tennis courts. As he approached an intersection, the gears locked up and the bike suddenly halted, causing the coach to fly forward and crash headfirst into the nearby concrete. He would survive the freak accident but suffered a severe concussion along with a fractured cheekbone, fractured elbow, and multiple bruises.
With McKinney in recovery, Westhead filled in as LA's interim head coach. But he now needed an assistant of his own. Enter Riley, the 30-something broadcaster who was nudged by Hearn to take the job.
"I didn't want to do it," Riley told Sports Illustrated. "But Chick highly recommended that I give it my best shot. Maybe he saw something in me that I didn't see. All I know is that if Chick hadn't advised me to take the coaching job, I wouldn't have done it."
With Westhead and Riley, the Lakers overcame the loss of McKinney to win the 1980 NBA Finals. Westhead became the permanent head coach after the season and coached all the way up until getting fired 11 games into the 1981-82 season. From there, Riley took over and the rest, as they say, is history.
Riley's legendary career never happens if it wasn't for McKinney's accident
When basketball fans think of Pat Riley today, they think of a five-time champion coach and a world-class executive. But what would they think if McKinney's bike never gave out and caused his near-fatal crash?
There was no reason to think that Jack wasn't the right man for the job. After all, he empowered Magic to do what he did best and earned the respect of his players and peers, particularly Buss. Assuming McKinney leads LA to a sustained period of success, that means no championship for Westhead and certainly no championships for the broadcaster Riley.
It also means that Riley wouldn't have taken over the New York Knicks and led them to four straight playoff appearances and an Eastern Conference title. Additionally, you can wonder how the Miami Heat's entire franchise history would have changed without Riley's influence beginning in 1995.
In other words, it's possible Riley would have eventually found a coaching gig somewhere if he wanted one badly enough. But it wouldn't have been with the Lakers, the team that jump-started his entire Hall of Fame coaching career.
Clearly, Riley was an excellent coach. But he was lucky to get that opportunity, one that came at the cruel misfortune of others.
All statistics courtesy of Basketball Reference.