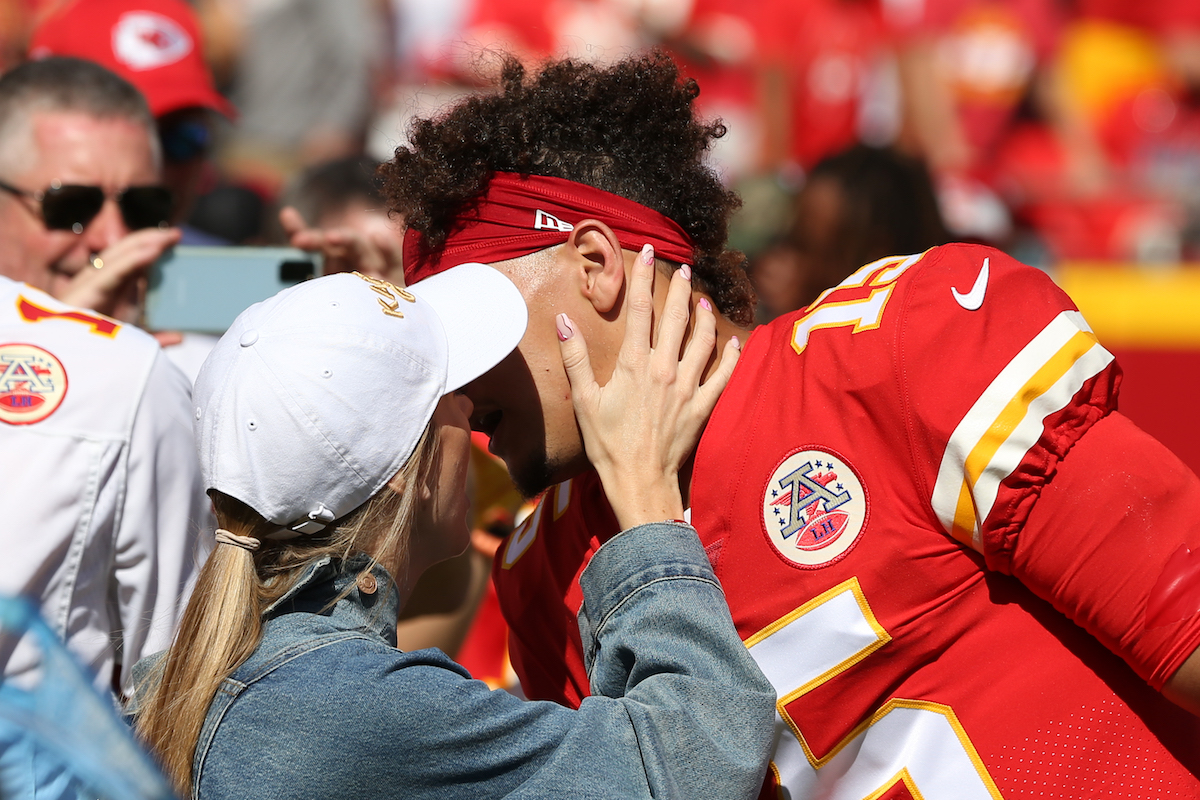 Patrick Mahomes' $1.8 Million House Features a Gym, Wine Cellar, and an Entire Room Dedicated to Shoes
During his time with the Chiefs, Patrick Mahomes has earned plenty of money. A portion of that has gone into a home with some unique features.
Patrick Mahomes is one of the biggest names in the NFL. While he's only been with the Kansas City Chiefs since 2017, the signal-caller has built up quite the resume. He's earned two MVP crowns, won two Super Bowls, and is currently under a 10-year contract worth $450 million, though the total compensation could push past $500 million if he reaches all his incentives. 
And with that sort of security, it's not surprising that Mahomes and his wife, Brittany Matthews, have put down some rather fancy roots in Kansas City. Just how fancy are we talking?
Let's check it out.
Patrick Mahomes has quite the home near Arrowhead Stadium
In the NFL, it's not uncommon to hear talk of coaches and quarterback spending countless hours each week trying to craft the perfect game plan for Sunday. Patrick Mahomes, it seems, has the best of both worlds. Not only does the star QB own a pretty sweet house, but it's also incredibly close to Arrowhead Stadium.
And while location might be important, it's not the only amenity.
Sitting on 1.4 acres, the three-bedroom, two-and-a-half-bathroom home was built in 1953. Mahomes and Matthews have renovated it extensively, though, bringing it into the modern era. It's got four fireplaces, including a striking Art-Deco-inspired one in the living room and smaller ones in each bedroom.
The home also has a huge yard and pool, which are perfect for the Mahomes' two dogs, Steel and Silver, and their two children, Sterling and Patrick III. There's also a sizable kitchen, a wine cellar, a living room wet bar that's been modified to hold a massive TV, and a gym.
One of the more personal touches, however, is an enormous shoe closet. As of a 2019 Bleacher Report video, Mahomes owned 180 pairs of footwear, all of which sit on their own illuminated shelves. There's also space to store sunglasses and a camera to ensure that no one — like Mahomes' brother, Jackson — is taking the sneakers out for an unapproved spin.
And how much did that all cost? According to the New York Post, the couple paid approximately $1.8 million for their not-so-humble abode. Considering Mahomes' NFL salary, that's not a bad deal, especially when you factor in the renovations. Zillow estimates that those upgrades have brought the house over the $2.1 million mark in value.
Patrick Mahomes has made some other big-time purchases tying himself to Kansas City
While spending nearly $2 million on a house might be the limit for most people, being a star quarterback comes with some perks. Chief among those is the financial freedom to make multiple purchases. Let's consider Patrick Mahomes' growing portfolio as an example of that.
As laid out in another New York Post story, the signal-caller owns some additional property beyond his house. He has a Kansas City condo — he lived there before buying his home — a mansion in Westlake, Texas, and a plot of land in Belton, Missouri, on which he's built another house. In total, those properties were pegged at a combined $8 million in February 2023.
Mahomes' spending isn't limited to property, though. He also owns a stake in the Kansas City Royals, the MLS' Sporting Kansas City, and the NWSL's Kansas City Current. The quarterback is also involved with Whataburger, bringing his beloved franchise to the Kansas City area.
That all suggest Mahomes will be in Kansas City for a long time, and Chiefs fans won't complain about that
Thing can be fickle in the world of pro sports. A player can seem like the cornerstone of a franchise one day and be sent packing the next. Even a 10-year contract, like the one Patrick Mahomes possesses, doesn't guarantee much.
With all of that being said, though, the player's will does matter to some degree. While a franchise won't bend over backward to accommodate any demand, it is easier to get a deal done when both parties want the same thing. And, as much as we can parse someone's inner thoughts from their external actions, it does seem like Mahomes has put down roots in Kansas City and is intent on staying a while.
It goes without saying that Chiefs fans will be more than happy to have him for as long as he wants to stay. For decades, Kansas City seemed incapable of finding a franchise quarterback, and No. 15 changed that in the blink of an eye. Beyond the regular season wins and Super Bowl victories — which are obviously important — Mahomes has also brought a sense of confidence to Arrowhead Stadium. Chiefs fans are no longer fearing an inevitable collapse; instead, they're waiting to see what magic Mahomes will work on a given day.
In sports, as in life, it's tough to predict the future. The way Patrick Mahomes' career has been going, though, it's safe to assume that he'll be able to buy plenty more pairs of sneakers and do whatever home renovations it will take to display them properly. Who knows, maybe an entirely new house with an entire shoe floor will be on the cards.