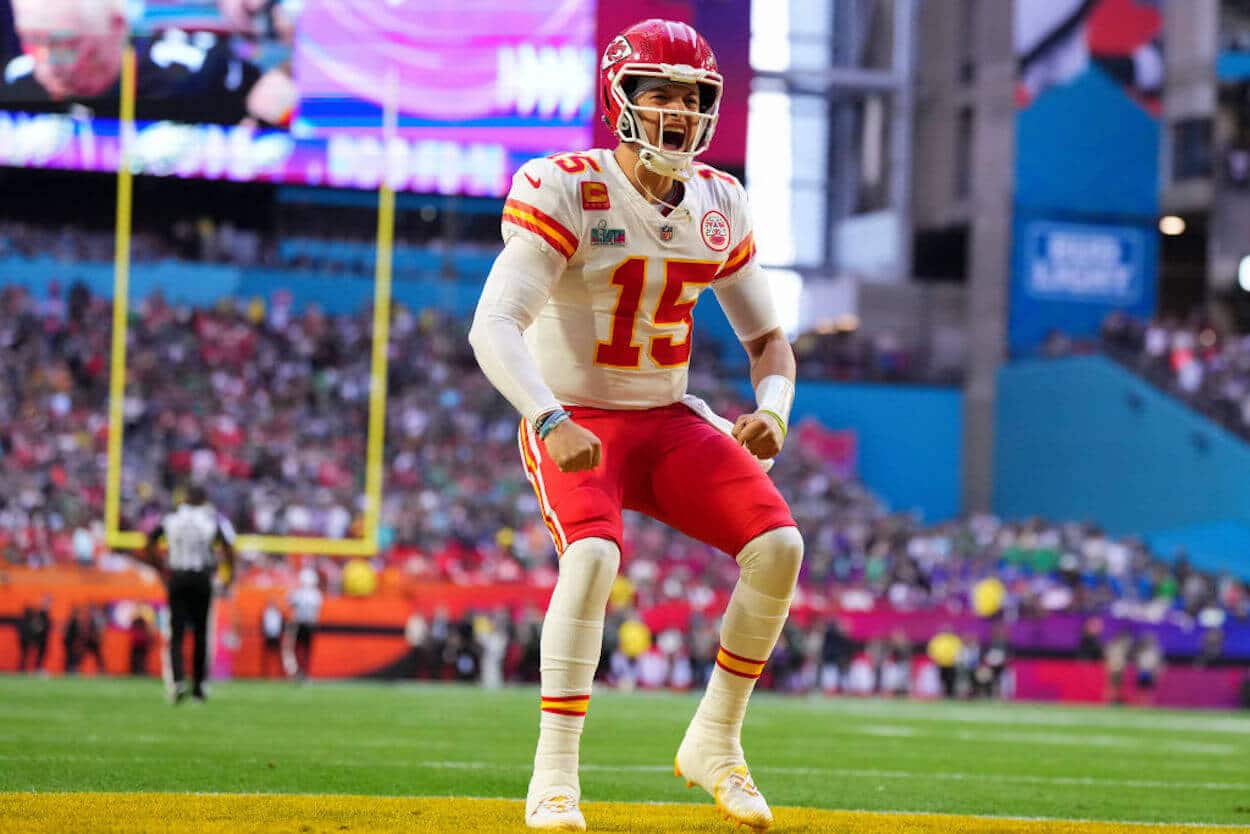 Patrick Mahomes' Ketchup Obsession Has Gone From a Childhood Love to a Big-Time Endorsement Deal
On the NFL gridiron, Patrick Mahomes is known for his incredible arm and improvisation abilities. Off the field, though, his diet has made headlines.
Even if you are not an NFL fan, you are probably familiar with Patrick Mahomes. The 27-year-old Kansas City Chiefs quarterback is pretty good at the whole football thing. By and large, that's made him rather popular; even if you're an AFC rival, you have to respect what the signal-caller is doing. There is a part of Mahomes' story that is rather divisive, though: his extreme love of ketchup.
While pro athletes generally follow strict diets, Mahomes' love of the red stuff goes back to childhood. And while he's probably eating quite a bit better these days, ketchup is still part of his metaphorical playbook. He's happy to use the condiment in a variety of ways and has even turned his passion into part of his business portfolio.
Patrick Mahomes' love for ketchup goes beyond the norm
When you think of ketchup, you probably imagine it accompanying a burger and fries. In some locations, it's considered an acceptable addition to a hot dog or, in desperate circumstances, a mediocre steak. Patrick Mahomes, however, takes things a bit further.
As laid out by Inside Hook, Mahomes' passion for ketchup began at a tender age. He explained that growing up, he often ate sandwiches with ketchup.
That sounds pretty ordinary, right? Well, the quarterback wasn't adding a condiment to an assortment of meats, cheeses, and vegetables. Ketchup was the filling for his sandwich.
"It was a long time ago, but when I was a little kid, I used to just eat ketchup sandwiches that were just ketchup and bread," he explained. "I used to get teased about it all the time because people thought it was very strange that I didn't put any ham, turkey, or anything else on it, just ketchup and bread. I grew out of it, so, I don't do that anymore."
Those meals might not be to everyone's taste — even Mahomes has moved on — but they do help explain the QB's love of ketchup. Everyone has those sentimental foods that transport them back to childhood. Was your mom's meatloaf the best technical meal around? Of course not, but it was special. Well, No. 15 can plug ketchup into that sentence.
And with those sandwiches off the menu, the two-time Super Bowl champ still makes good use of his preferred condiment.
According to a 2018 ESPN post, Mahomes has been known to add ketchup to steak and macaroni and cheese. That's not all, though. During a 2020 radio interview (h/t CBS Sports), he shared that he includes ketchup as part of his Thanksgiving plate.
"Yeah, dude, I mean come on," he explained. "You got to put ketchup on that, turkey and ham."
Mahomes has faced some internet ribbing for his culinary preferences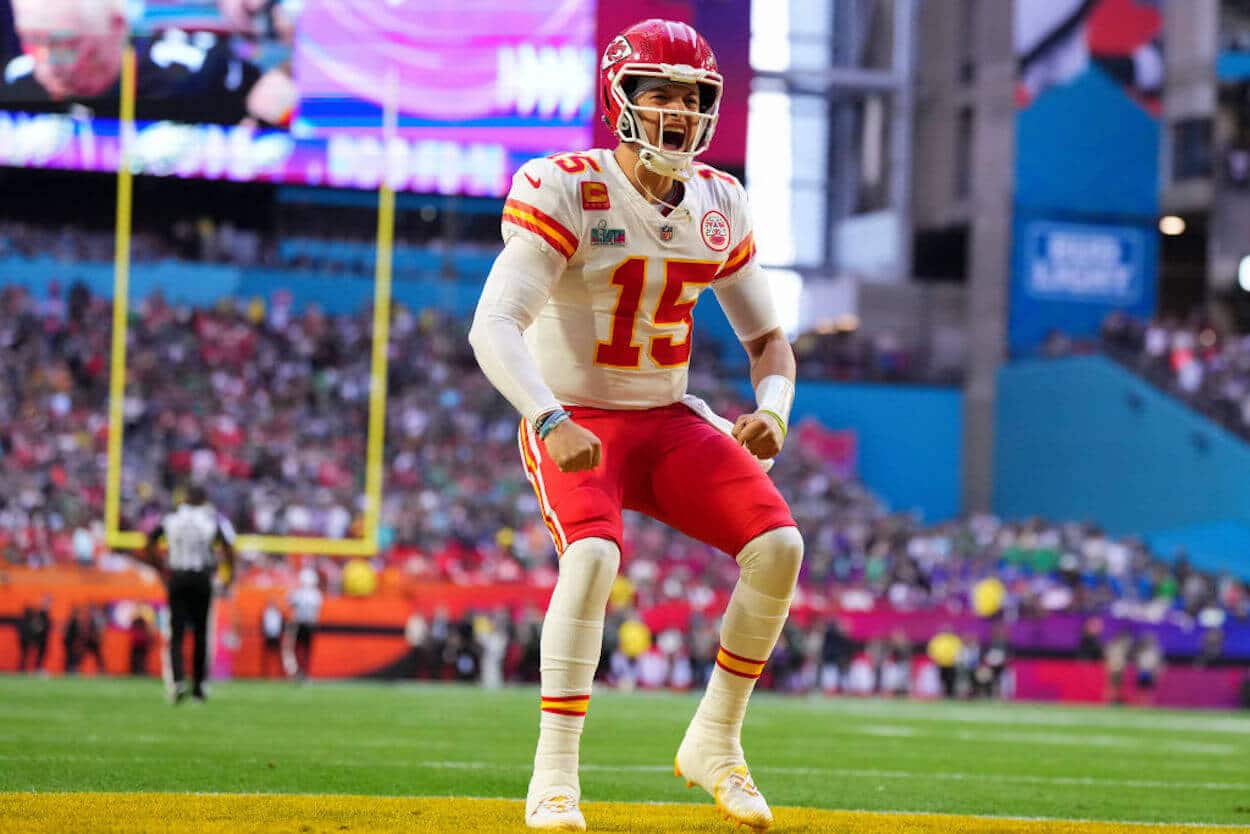 As the cliche says, all's fair in love and war. While sports may not have been included on that list, opposing fan bases are more than happy to pull in all sorts of topics to inform their trash talk. Since Patrick Mahomes has been rather successful on the field, his love of ketchup has been an easy place to target.
Take, for example, a billboard that appeared during the 2020 NFL campaign outside of Buffalo. There was no image; it lacked a catchy slogan. All it said was, "Patrick puts ketchup on his steak." (There was also some branding, but that's not the point.) The implication was clear: Mahomes' culinary tastes, or lack thereof, represent some sort of failing.
A similar topic was raised in a 2018 ESPN feature penned by Seth Wickersham. While it was headlined "The Radical Confidence of Patrick Mahomes," it seems like the public scruitiny had him reconsidering some culinary choices.
The other day, in Mahomes' apartment in the Country Club Plaza neighborhood of Kansas City, his grandfather asked him, "What's it like to be famous?" For one thing, it means he eats less ketchup. He spent most of his life putting ketchup on everything. He would get bottles of it for his birthday. But now that everyone is watching every move he makes, he is sheepish about ordering ketchup. At a restaurant recently, his mom, Randi, recognized an unfilled desire as he dove into a steak. "Just ask for it," Randi said. "I know you want it." Patrick wouldn't. So she asked for the ketchup and slipped it to him.

Seth Wickersham writing for ESPN
With all of that being said, though, we do know of at least one famous person in Mahomes' corner: Guy Fieri.
During an appearance on The Ringer's 10 Questions with Kyle Brandt, the Mayor of Flavortown was asked about Mahomes' condiment usage. He essentially said that as long as you aren't trying to do something that simply doesn't make sense — his example was grinding a filet mignon into a hamburger patty — you can eat what you enjoy.
"But quite honestly, it's your food, and it's your choice, and it's your palate, and that's what you like? Do what you want," Fieri explained. "People impressing their opinion on other people about what they do and what they like — they like mayonnaise, they don't like mayonnaise, they like ranch dressing, they don't like ranch dressing — that's not my game."
Patrick Mahomes has turned his love of ketchup into a business opportunity
Thanks to his incredibly on-field ability, Patrick Mahomes hasn't had any problem earning money in the NFL. His love of ketchup may be divisive, but it has added to that bottom line.
In 2018, the Kansas City Chiefs star joined forces with Hunts as a brand ambassador. That agreement followed in the footsteps of Heinz, the United States' other ketchup giant, tweeting about Mahomes' love of the product.
And while the terms of the Hunts deal aren't publically known, it's safe to assume that they aren't really moving the needle. Mahomes, after all, inked a $500 million contract in 2020, and both his performances and the going rate for a star quarterback have increased since then. The signal-caller, however, probably won't mind.
As the cliche says, if you do what you love — in this case, eating ketchup and playing football — you'll never work a day in your life.