Patrick Mahomes Hopes to Reverse a 23-Year-Old Trend in Super Bowl 57
Aside from a minor ankle issue, Patrick Mahomes is in a pretty good place. The Kansas City Chiefs quarterback is also in familiar territory.
Mahomes, named the NFL's MVP Thursday night, is back in the Super Bowl for the third time in four years. He's now a two-time MVP after just five years as a starter. When he sets foot on the field of State Farm Stadium in Arizona on Sunday for Super Bowl 57, he'll do his best to reverse a trend that's taken place since 1999.
Patrick Mahomes has two MVPs in five years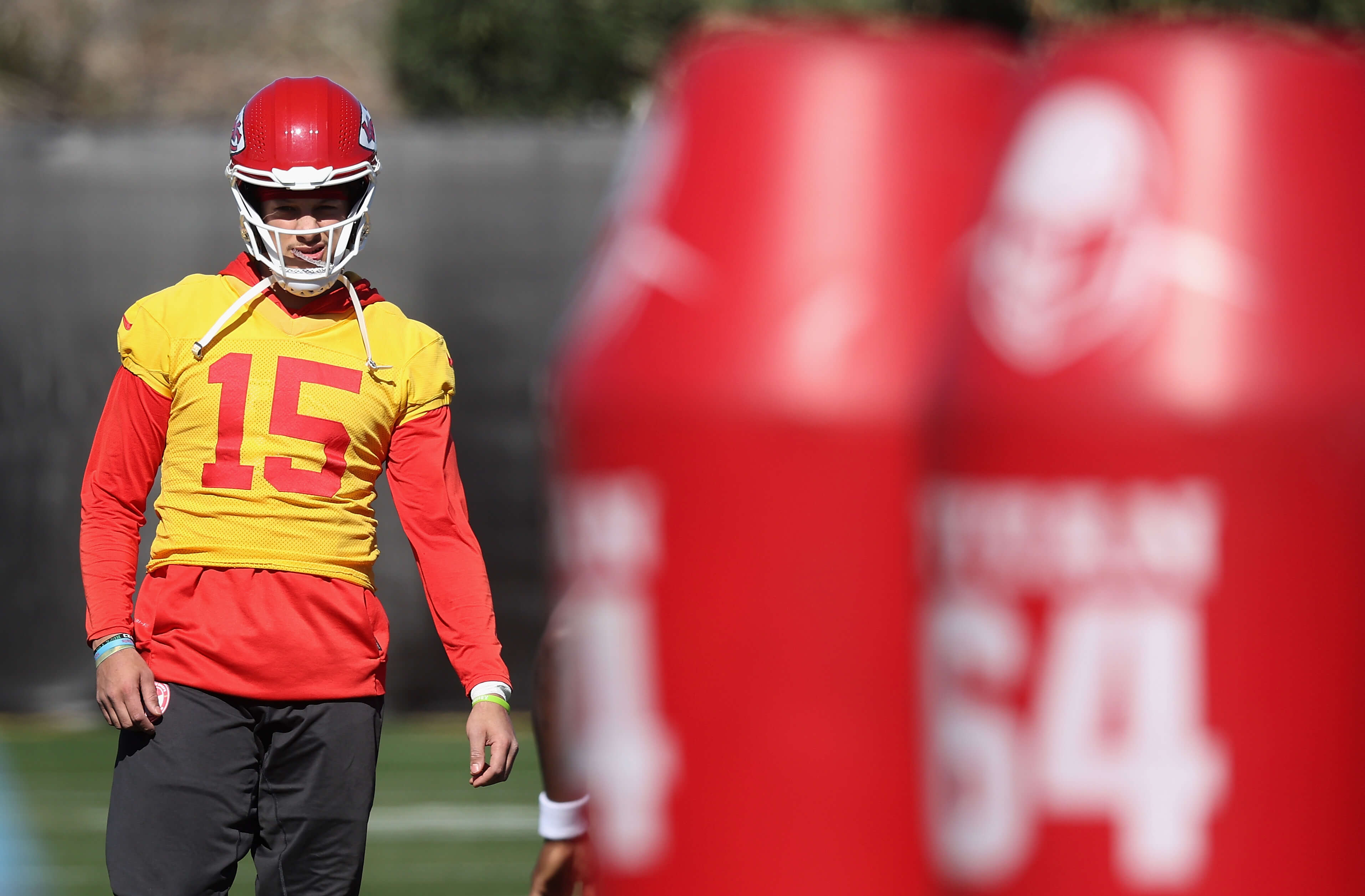 Mahomes leaves no doubt he's the best quarterback in the game today. As a rookie in 2017, he started one game, playing behind veteran Alex Smith. Since then, he's been the best in the business.
In each of the five years he's been the starter for the Chiefs, Mahomes has played in the AFC Championship Game. He's won three times. On Sunday, he'll play in his third Super Bowl, looking for his second championship.
In Mahomes' first season as a starter, he went 12-4 and threw a career-high 50 touchdown passes. He earned his first MVP honor.
The following season, he went 11-3 in his 14 games as a starter, guiding them to a berth in Super Bowl 54. He rallied the Chiefs by engineering a pair of fourth-quarter touchdowns in a 31-20 victory over the San Francisco 49ers. The Chiefs returned for Super Bowl 55 after Mahomes went 14-1 in the regular season, but they lost to Tom Brady and the Tampa Bay Buccaneers 31-9.
After losing in the conference title game last year to the Cincinnati Bengals, a gimpy Mahomes, hobbled by a high ankle sprain, got revenge against Cincinnati in this year's AFC Championship Game. Mahomes earned 48 of 50 first-place votes for this year's MVP Award after going 14-3 with a league-high 41 touchdown passes.
Mahomes hopes to be the first player to win MVP and a Super Bowl since 1999
When Mahomes steps on the field Sunday, he'll be looking to do something that hasn't been done since Kurt Warner's dream season — win both the MVP and a Super Bowl in the same year.
The last time that happened was in 1999 (2000 Super Bowl) when Warner did it in his first year as a full-time NFL starter with the St. Louis Rams. Warner guided the Rams to a 13-3 record. Like Mahomes, he led the league in touchdown passes with 41 and was the league MVP. He then guided the Rams to a 23-16 win over the Tennessee Titans in Super Bowl 34.
Since Warner, nobody has accomplished the feat, although it's happened plenty of times before. It actually happened five times in the 1990s. In addition to Warner, Terrell Davis (1998), Brett Favre (1996), Steve Young (1994), and Emmitt Smith (1993) all did it.
In all, it's been done 10 times. The other players pulling it off are Bart Starr (1966), Terry Bradshaw (1978), Mark Moseley (1982), Lawrence Taylor (1986), and Joe Montana (1989).