Patrick Mahomes Took Home the NFL MVP and $1.25M, but Suzy Kolber's 5th-Place Vote Will Warm Your Heart
Kansas City Chiefs superstar quarterback Patrick Mahomes is officially your 2022 NFL MVP. The award — Mahomes' second — put the QB in some elite company among NFL legends. Winning also made the signal-caller a cool $1.25 million. However, ESPN's Suzy Kolber may have had the best MVP vote on her ballot, recognizing someone who was the MVP of the terrifying Damar Hamlin situation.
Patrick Mahomes walked away with the NFL MVP Award and a $1.25 million bonus
For the second time in his already illustrious six-year NFL career, Patrick Mahomes took home the league's MVP honors.
Mahomes led his team to the best record in the AFC (tied for the best in the NFL with the Chiefs' Super Bowl opponent) and finished first in passing yards (5,250), passing touchdowns (41), and QBR (77.6).
Mahomes' second MVP win puts him in rarified air. Only nine previous players have won multiple MVPs, and Mahomes now joins Joe Montana, Steve Young, and Kurt Warner with two. That puts him one behind Tom Brady, Brett Favre, Jim Brown, and Johnny Unitas, two behind Aaron Rodgers, and three behind Peyton Manning.
The win also earned Mahomes a cool $1.25 million thanks to an incentive clause in his contract. Not bad for a QB who already made over $40 million this season.
To capture the 2022 NFL MVP Award, Patrick Mahomes beat out a crowded field that included Philadelphia Eagles QB Jalen Hurts (second), Buffalo Bills QB Josh Allen (third), Cincinnati Bengals QB Joe Burrow (fourth), and Minnesota Vikings WR Justin Jefferson (fifth).
Mahomes received 48 of 50 first-place votes, with one going to Hurts and one going to Allen.
There was also one vote-getter who didn't make the final list, but the sentiment behind the vote will touch your heart.
Suzy Kolber had the best vote on her MVP ballot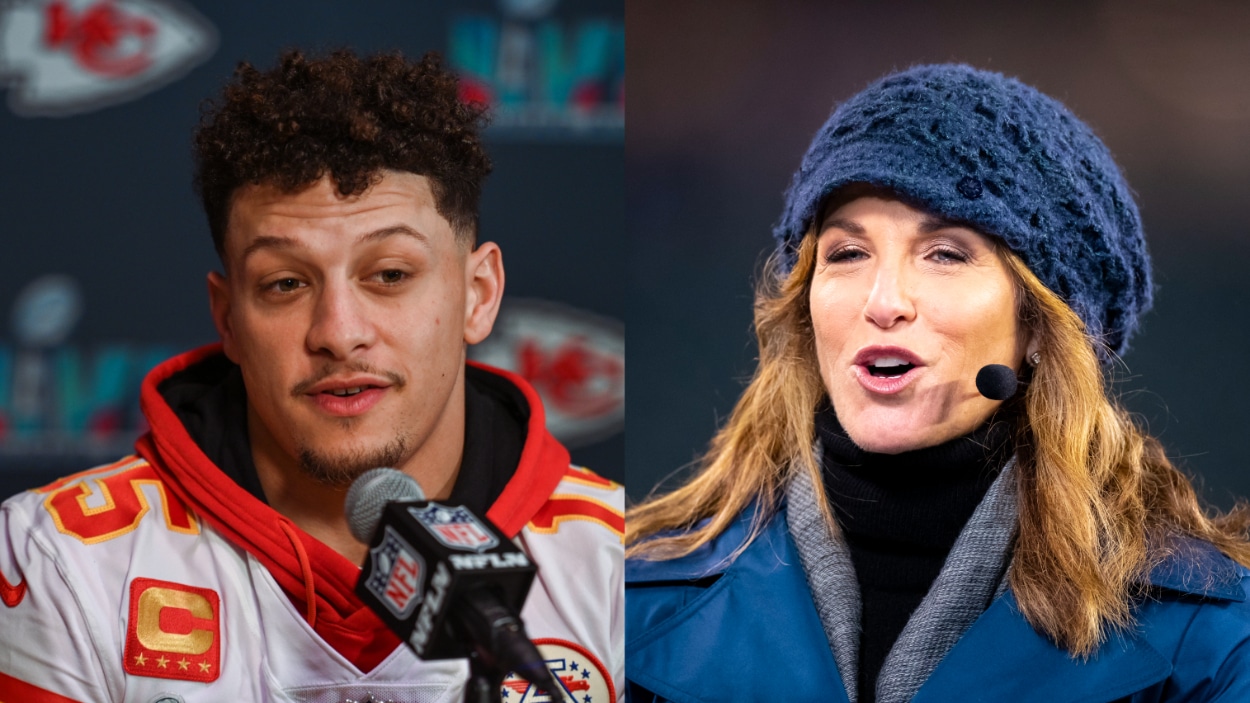 NFL MVP voters get to rank their candidates one through five, and the player with the highest weighted total wins the award.
This season, ESPN reporter and host Suzy Kolber decided to use her MVP ballot to shine a light on the one person who came up bigger than anyone else in the NFL this year in crunch time.
In the fifth-place spot on Kolber's ballot, she wrote the name Denny Kellington.
If that name isn't familiar to you, that's probably because he's not an NFL player. Kellington is the Bills assistant trainer who sprung into action when Damar Hamlin collapsed in cardiac arrest during his team's Week 17 game vs. the Bengals.
Kellington gave Hamlin the life-saving CPR on the field that allowed him to survive the ordeal. And since that night, everyone from Bills coach Sean McDermott to Hamlin himself have praised Kellington for his courageous, life-saving measures.  
And while Denny Kellington might not be the most valuable "player," Suzy Kolber is right. No one came up bigger on an NFL field this season than the Bills trainer, and it's nice she rewarded that with a vote.