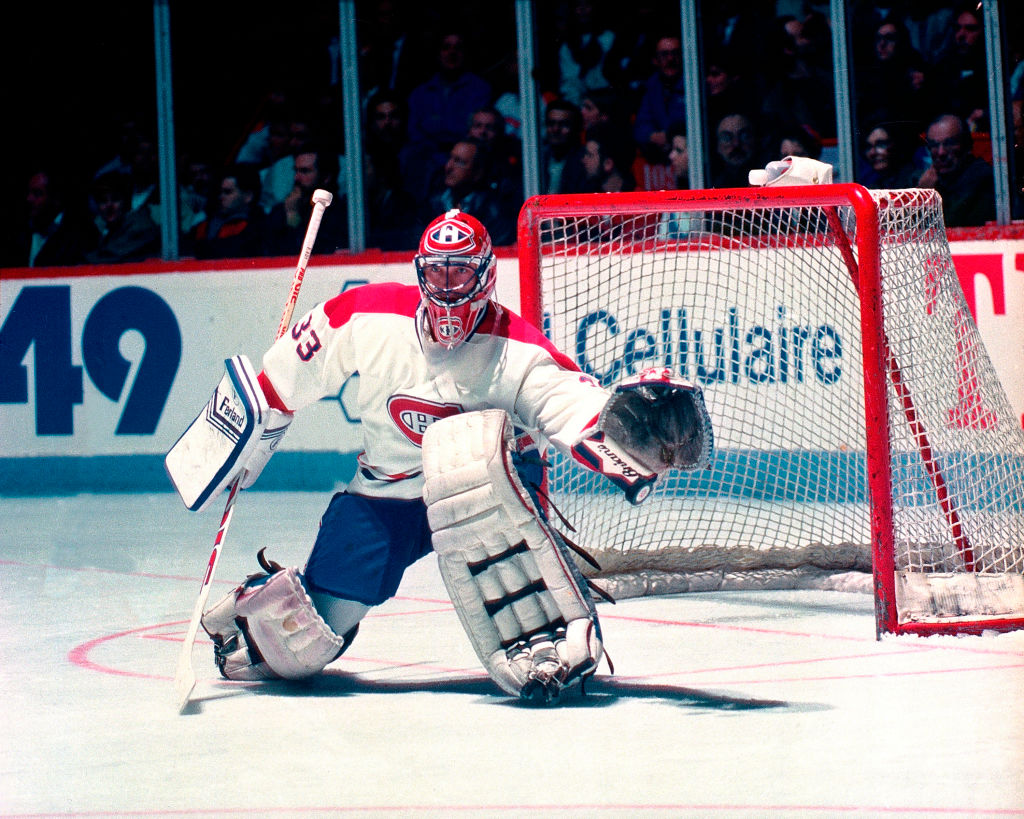 Patrick Roy Had One of the Strangest Superstitions in All of Hockey
Former Montreal Canadiens and Colorado Avalanche goalie Patrick Roy may have had the strangest superstition in all of hockey.
Patrick Roy is known for his play on the ice. A legendary goaltender in the National Hockey League, Roy was dominant during his 19-year career that led him to a place in the Hockey Hall of Fame. He was inducted in 2006. Voted in 2017 as one of the NHL's top 100 players of all-time, it's clear Roy made an impact between the pipes. Roy was also known for his superstitions, one of which may be the quirkiest ever in hockey.
Patrick Roy's Hall of Fame career
Patrick Roy was drafted in the third round by the Montreal Canadiens in the 1984 NHL entry draft. Roy played one game in the 1984-85 season for the Canadiens, making two saves in one period of action. Roy became a regular in net for the Canadiens the following season at the age of 20, playing in 47 games and registering 23 victories. He also won the first of his three Conn Smythe Trophy Awards for the MVP of the Stanley Cup Playoffs.
Roy was also a three-time Vezina Trophy winner, an award given to the NHL's top goalie. He earned that distinction in three out of four years from 1988-1992. Roy also collected the William Jennings Trophy on five occasions as the goalie who gave up the fewest goals during the regular season.
In four seasons, Roy led the league in save percentage and went on to capture four Stanley Cup championships. He later went on to become the head coach of the Colorado Avalanche, the team he spent his final eight years with.
Roy's trade to Colorado
Roy played the first 12 seasons with the Canadiens before he and newly hired Canadiens coach Mario Tremblay began to clash. On Dec. 2, 1995, Roy took part in a home game against the Detroit Red Wings in which the Canadiens were handed an embarrassing 11-1 loss.
Roy gave up the first nine goals, highly unusual for a top-notch goalie as they are usually pulled from the game to avoid further embarrassment. After letting up five first-period goals, Roy was sent out for the second period and gave up four more. The home crowd mocked him when he made an easy save.
After the second period, Roy angrily walked past Tremblay and team president Ronald Corey and said, "this is my last game in Montreal." Four days later, Roy was traded to the Colorado Avalanche.
Patrick Roy's superstitions
Patrick Roy was known for his superstitions on and off the ice. He was known to have the same routine before the game and he was also known for never skating over the blue or red lines. None of those superstitions, however, compare to his weirdest one.
Roy would always speak to his goalposts. Conversations took place before, during and after the games. It's uncertain what's stranger about this situation – the fact he talks to them or the reason why. "They're my friends," he said. "And I thank them for being my friends."
What exactly would he say to the goalposts? "Come on guys help me out," Roy once said. "Before the game, I give them direction. The goalposts are always with me. They talk back to me. Some nights they say 'bing.' But some nights they have a bad night, too."