Patriots Legend Tedy Bruschi Boldly Urges Bill Belichick to Break a Promise He Made to Himself Years Ago That Would Completely Alter NFL History: 'You Got Mac Jones, Bill. Go for It!'
Tedy Bruschi boldly suggested that Bill Belichick should break a promise he made to himself years ago for the sake of NFL history. The reason? Mac Jones, of course.
New England Patriots fans watched Tedy Bruschi develop into one of the most productive and beloved players in franchise history during the course of his decorated career. For over a decade, the hard-hitting linebacker earned a living by tackling ball-carriers, blitzing quarterbacks, and punishing receivers who dared to run across the middle of the field. And by helping Bill Belichick establish a dynasty through his strong leadership and steady play, the three-time Super Bowl champion earned widespread respect and millions of dollars.
Now a member of the media, Bruschi gets to praise (and criticize) his former boss when he sees fit. And while he doesn't get paid to give career advice, the 48-year-old retired NFL player openly urged Belichick to break a promise he made to himself that would completely alter NFL history.
And to no surprise, Bruschi's bold suggestion has everything to do with his former team's promising rookie quarterback.
Bill Belichick has quieted critics by turning the Patriots back into legitimate Super Bowl contenders
Bill Belichick's stock took a serious hit after the 2020 season. And even after the Patriots went on an unprecedented spending spree and selected Mac Jones in the first round of the 2021 NFL Draft, he looked in danger of losing more supporters. Despite possessing a better roster than a year ago, New England got off to a 2-4 start that raised serious questions about whether Belichick should remain in charge of personnel.
Luckily for the future Pro Football Hall of Famer, patience, improved practice habits, and total buy-in from every member of the team have drastically shifted the tenor of the conversation surrounding the future of football in Foxborough.
While it's impossible to ignore the improvement on offense, the turnaround on the other side of the ball deserves more attention. Even after trading All-Pro cornerback Stephon Gilmore to the Carolina Panthers for a measly sixth-round pick, the Patriots have become an elite defense that excels at putting pressure on opposing quarterbacks and generating turnovers.
Second in points allowed (16.1 per game) and sixth in points scored (27.3 per game), Belichick's squad looks capable of competing against any team in the AFC. Needless to say, a five-game winning streak has made the idea of New England competing for a Super Bowl title a realistic possibility.
And with a legitimate franchise quarterback finally in the fold, the thought of anyone else coaching the Patriots anytime soon doesn't sit well with Tedy Bruschi.
Tedy Bruschi urges his former boss to break a promise he made to himself that would completely alter NFL history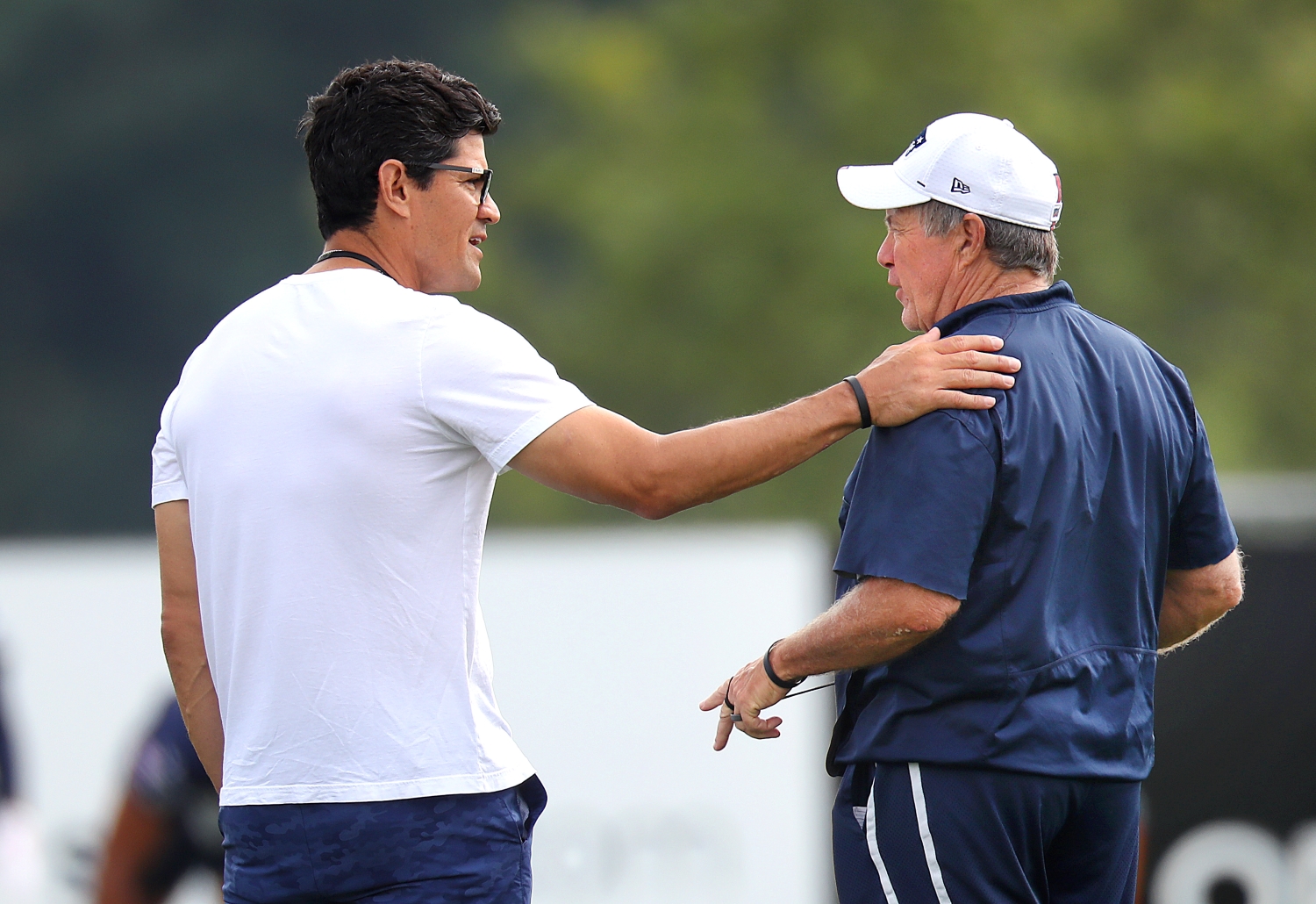 At 69 years old, Belichick boasts decades of experience and a wealth of knowledge about every aspect of the game of football. At the same time, though, the fact he's the second-oldest head coach in the NFL behind Pete Carroll raises obvious questions about his longevity. After all, even though he still has the ability to draw up game plans designed to expose an opponent's biggest weakness, he's clearly close to the end of his career.
Just don't tell Bruschi that.
On the contrary, the beloved Patriots legend believes Belichick should stick around in New England even longer in order to shake up NFL record books. However, that would require the aging coach to break a promise he made to himself years ago.
In the aftermath of the Patriots' 25-0 victory over the Atlanta Falcons on Thursday Night Football, Bruschi urged his former boss to reconsider his career plans.
"Bill always said he wasn't going to coach as long as Marv Levy. Marv Levy coached until he was 72. Bill is 69. You got Mac Jones, Bill. Go for it!" he tweeted.
Levy, who led the Buffalo Bills to four consecutive AFC titles, holds the record for being the oldest head coach in NFL history. While Belichick previously stated he had no desire to coach as long as the 2001 Pro Football Hall of Fame inductee, don't be surprised if he pivots from that stance.
On one hand, it certainly helps to have stability at the most important position in sports. Jones' arrival and rapid development give the Patriots a chance to compete for Super Bowl titles. And considering Belichick used a first-round pick on the ex-Alabama star, he should be fully invested in doing everything possible to set him up to succeed.
Bruschi obviously thinks highly of Jones, and there's no doubt New England secured a key piece of a championship puzzle in April. If Belichick wants to add another ring to his collection and make a run at Don Shula's all-time wins record, he can't afford to walk away just yet.
The upside of building around Mac Jones should convince the legendary coach to continue to call Foxborough home for years to come
Wouldn't it be ironic for Belichick to extend his career into his mid-70s after moving on from Tom Brady mostly due to his age? Then again, since coaches don't need size, speed, or strength to do their jobs effectively, perhaps it would be fitting for the greatest coach in NFL history to outlast the greatest quarterback of all time.
Nobody can predict the future, but with New England trending in the right direction, it's certainly not unreasonable to think Belichick could still be standing on the sidelines with a headset on in 2025. That should make the rest of the AFC terrified, especially since it seemed like the Patriots were destined to fall into the depths of mediocrity not long ago.
Now, though, they own a 7-4 record and continue to climb up power rankings. Mac Jones' strong rookie season has revitalized a franchise that desperately needed to find a worthwhile successor to TB12. And the roster features young players on the rise and old faces who continue to make clutch plays.
Sounds familiar, right?
And if Bill Belichick listens to Tedy Bruschi's advice, Robert Kraft won't have to hire a new head coach anytime soon.
All statistics courtesy of Pro Football Reference.