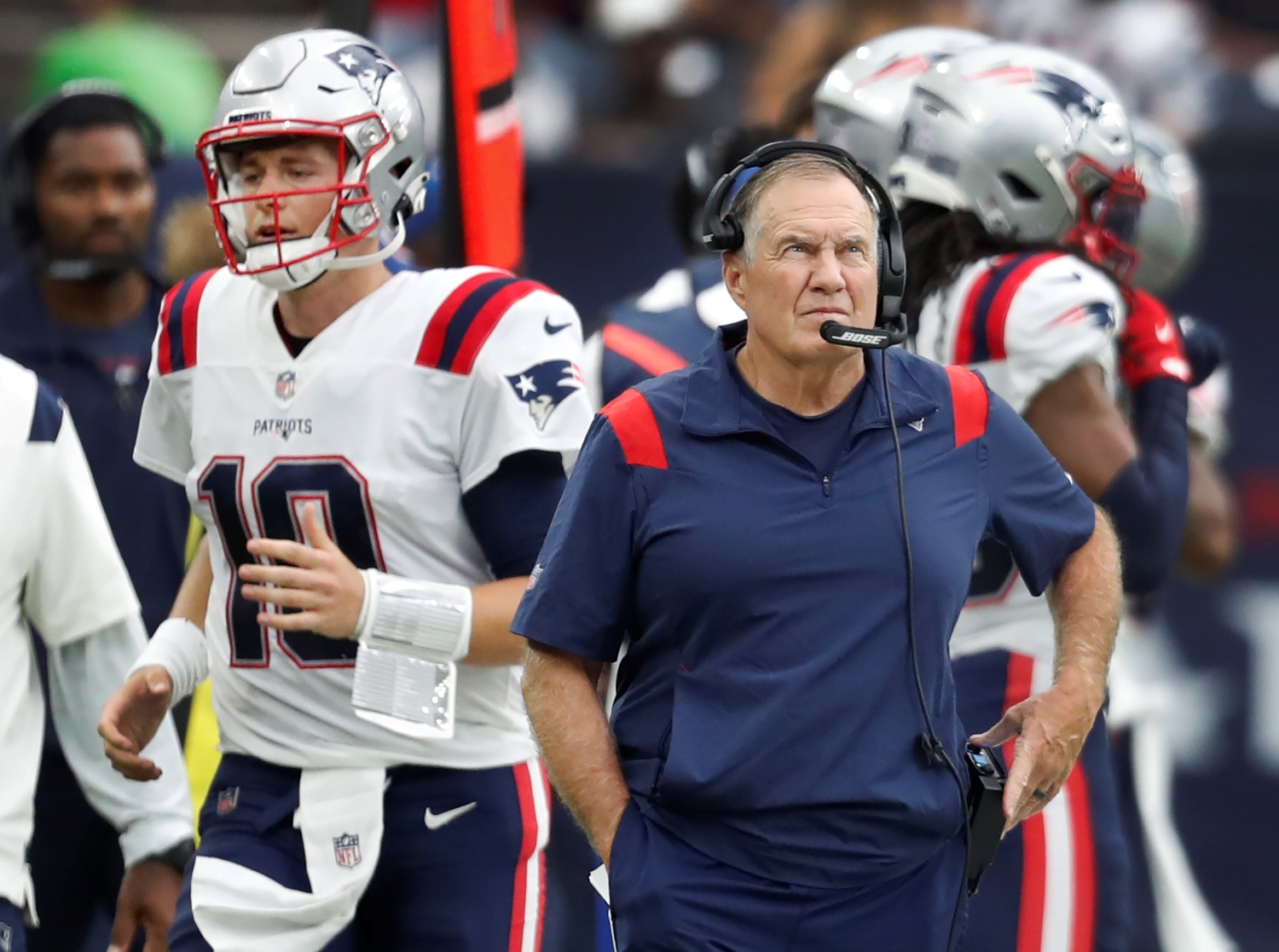 The Patriots' Path to Upsetting the Cowboys Boils Down to an Even Bigger Matchup Than Dak Prescott vs. Mac Jones
Will the Patriots spoil the Cowboys' trip to Foxborough? While most eyes will be on Dak Prescott and Mac Jones, a different matchup will have more of an impact than the battle between the two quarterbacks.
A week ago, the New England Patriots barely beat a Houston Texans team led by a rookie quarterback.
Maybe that had something to do with putting all of their energy into trying to take down Tom Brady in his return to Gillette Stadium. Perhaps it had more to do with the fact Mac Jones played behind a makeshift offensive line. Or maybe it had more to do with allowing Davis Mills to look like a seasoned pro in the first half of his third NFL start.
Ultimately, though, the Patriots' 25-22 victory against a Deshaun Watson-less Texans squad did little to inspire confidence about their chances of defeating the Dak Prescott-led Dallas Cowboys. With an offense that still lacks an identity and a defense that remains a work in progress, it's difficult to project what lies ahead for New England.
However, even though they have shown inconsistencies on both sides of the ball, the Patriots certainly aren't a team devoid of talent. After all, Bill Belichick spent a boatload of Robert Kraft's money this offseason to upgrade a roster that lacked enough starting-caliber players in 2020. And with the way Jones has played thus far, it's clear he has has a bright future ahead of him in Foxborough.
But the showdown between America's Team and a franchise that won six Super Bowl titles across the last two decades doesn't revolve around the Prescott vs. Jones matchup.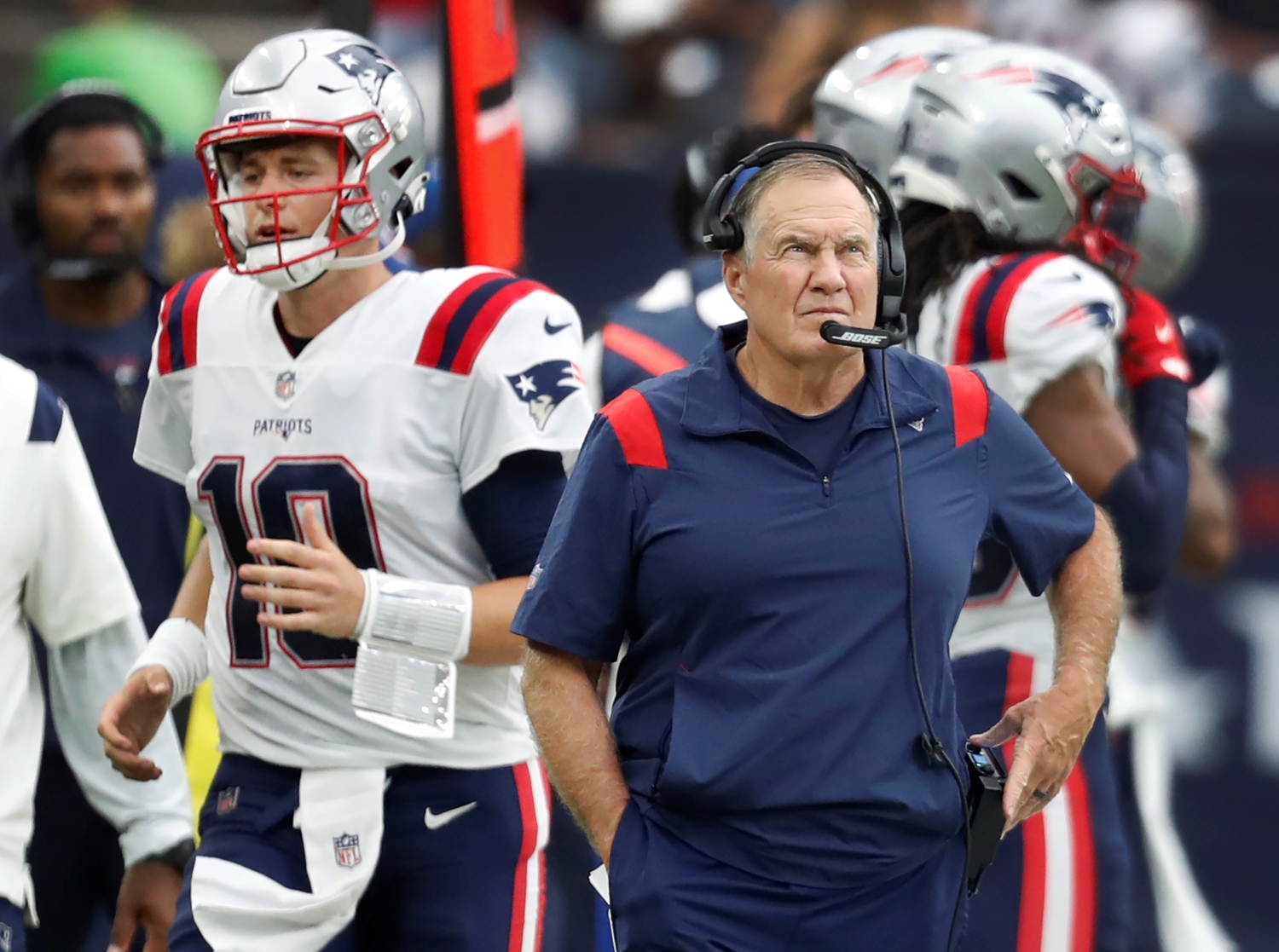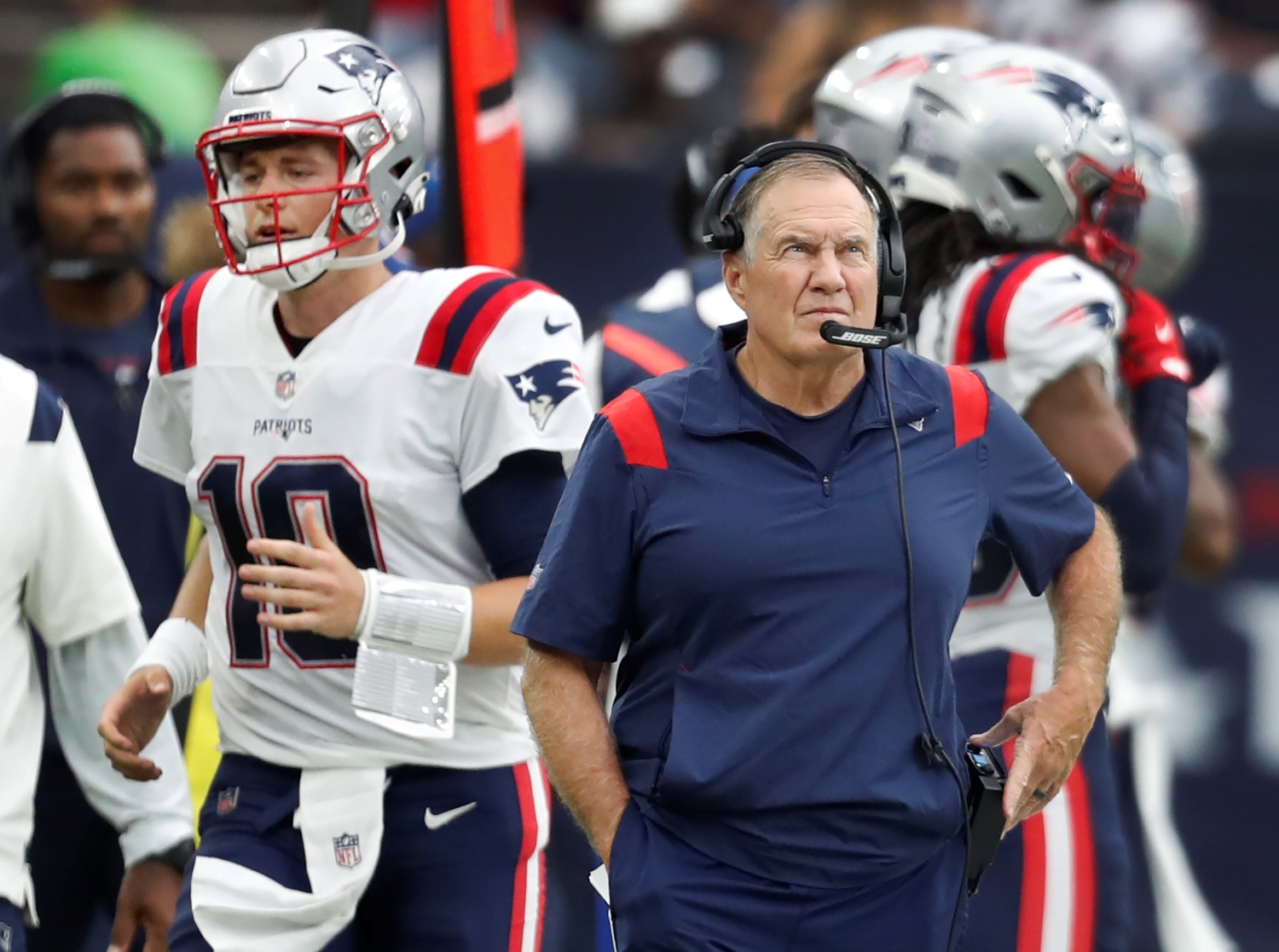 Instead, the Patriots' path to upsetting the Cowboys boils down to a different battle: Belichick vs. the Dallas coaching staff. And while he won't go it alone, there's no doubt the 69-year-old faces a monumental test of his skills going up against Mike McCarthy, Kellen Moore, and Dan Quinn.
On one hand, Belichick should have the advantage in the head-to-head matchup against McCarthy. Unlike his peer, New England's longtime head coach excels at managing the clock and making smart decisions late in games. When it comes to situational awareness and knowing what to do in crunch time, Belichick comes out way ahead of McCarthy. So, if the Patriots manage to keep things close into the fourth quarter, that will only ramp up the pressure on the Cowboys' oft-criticized head coach to not make a mistake.
What will be most fascinating to watch, however, is the battle between Belichick and Dallas' two coordinators.
Kellen Moore has boosted his stock significantly by bringing out the best of the Cowboys' overwhelming amount of offensive talent. The quarterback-turned-coach does a masterful job of creating space for his playmakers, and he's shown no hesitation about switching things up. Moore can just as easily run the offense through the two-headed running back tandem of Ezekiel Elliott (452 yards on 85 carries) and Tony Pollard (325 yards on 51 carries) as he can through Prescott.
With an incredibly diverse and balanced attack, the Cowboys present major matchup problems for most defenses.
And that's what makes Sunday so significant for Belichick.
Widely viewed as one of the best defensive minds of all time, can he put together a game plan to slow down Moore's offense? Belichick successfully slowed down Brady two weeks ago, but the Tampa Bay Buccaneers don't have anything close to Dallas' running game. A re-tooled front seven that recently added Jamie Collins back to the mix needs to control the line of scrimmage, stay disciplined, and make at least a few plays in the backfield against the run.
Meanwhile, what will Belichick do to hold Prescott in check?
In his first season back from a gruesome ankle injury, the veteran quarterback has easily been one of the best players at his position. Part of that has to do with his natural ability, and part of it has to do with Moore designing an offense that lets Prescott shine as a true pocket passer. However, since the star signal-caller possesses solid mobility and overall athleticism, he's also a threat as a runner.
Does Belichick take the approach of putting a spy on Prescott? Does he trust his secondary to play man-to-man coverage? Does he want to send rushers after a quarterback who can escape pressure and pick up yards with his legs?
Even with a better defensive lineup than a year ago, the Patriots don't have nearly the same star power as the Cowboys' offense. But if Belichick brings his A game from a coaching and game-planning perspective, that might not matter. New England has won a few big games before despite not having the most talent — just ask The Greatest Show on Turf about that.
Of course, the battle of Belichick vs. Quinn also looms large.
The two squared off directly in Super Bowl 51, and Falcons fans need no reminder of how that experience went. While Quinn has rehabbed his stock by helping the Cowboys get off to a surprisingly decent start on defense, don't forget he had one season in Atlanta in which his defense finished top-10 in points allowed. In fact, after ranking eighth in that category in 2017, the Falcons plummeted to 25th the following year before bumping up two spots in 2019.
Luckily for Quinn, he has better players in Dallas. Micah Parsons and Trevon Diggs have quickly become top-flight players, and the Cowboys' defense plays with an edge that's undoubtedly inspired by their new coordinator.
How will Belichick respond?
The Patriots have struggled to run the ball, which certainly hasn't made life easier for their rookie quarterback. At the same time, their passing game has not looked particularly crisp, at least not on a consistent basis. Plus, the offensive line has undergone massive changes due to injuries.
But after showing signs of life in the second half against the Texans, could Jones and Co. be on the cusp of a breakout? The Cowboys may rank 14th in points allowed, but they've surrendered the most passing yards per game (311.0) of any team in the NFL. Belichick has to figure out a way to get better production out of Jonnu Smith and Hunter Henry, and this matchup might be the answer.
In a game that will feature plenty of big names, the difference between winning and losing for the Patriots comes down to whether their coach can outduel the trio of McCarthy, Moore, and Quinn.
And if Bill Belichick delivers a vintage performance, New England should score a much-needed upset that could lead to something that's become foreign around Foxborough: a winning streak.
All statistics courtesy of Pro Football Reference.