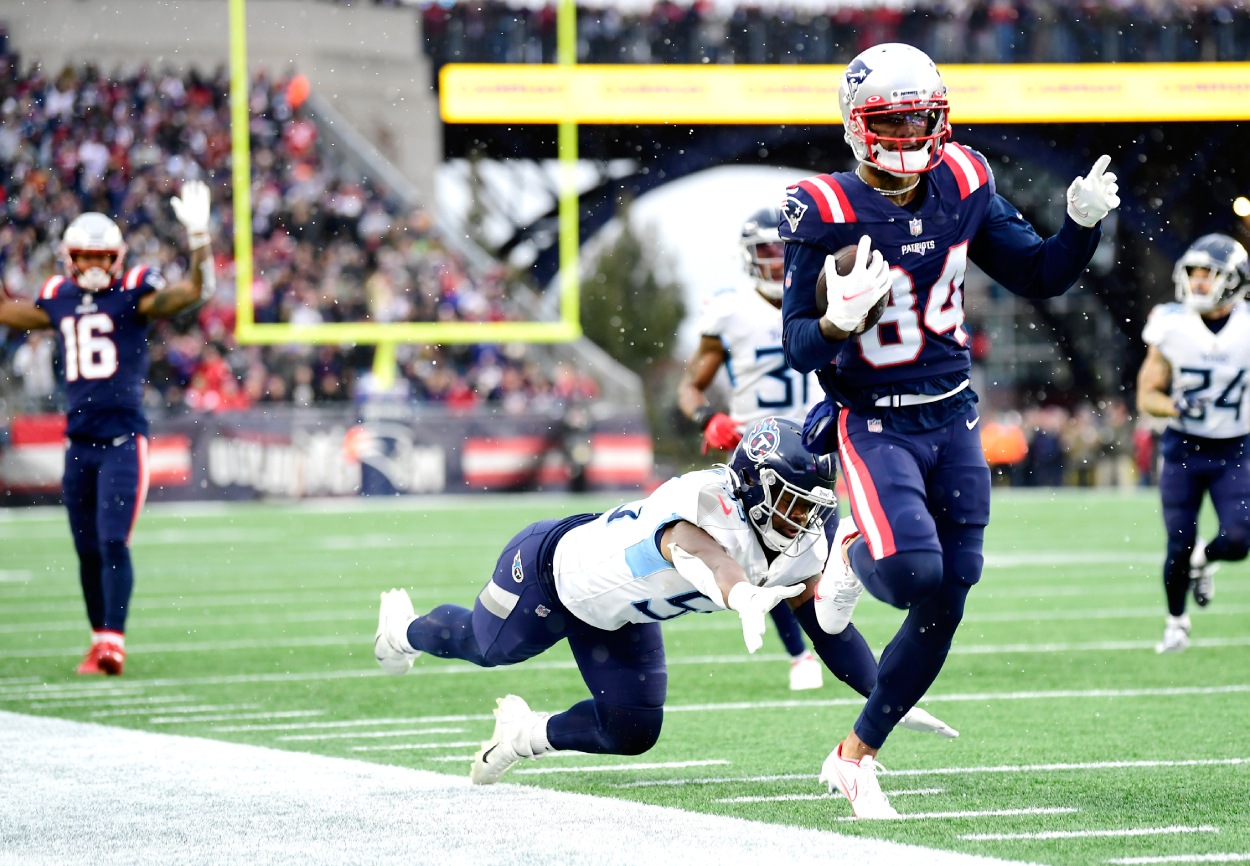 Patriots WR Kendrick Bourne Laughs Off 'One-Dimensional' Dig By Colts Linebacker
New England Patriots wide receiver Kendrick Bourne can only laugh in response to Colts' linebacker Bobby Okereke's recent comment.
On Monday, Indianapolis Colts linebacker Bobby Okereke announced his team's defensive game plan for Saturday night's game against the New England Patriots. He said the Colts wanted to focus on New England's run game and make the Patriots one dimensional, forcing rookie quarterback Mac Jones to step up. Patriots wide receiver Kendrick Bourne couldn't help but laugh at Okereke's comments.
Kendrick Bourne leads a no-name collection of Patriots wide receivers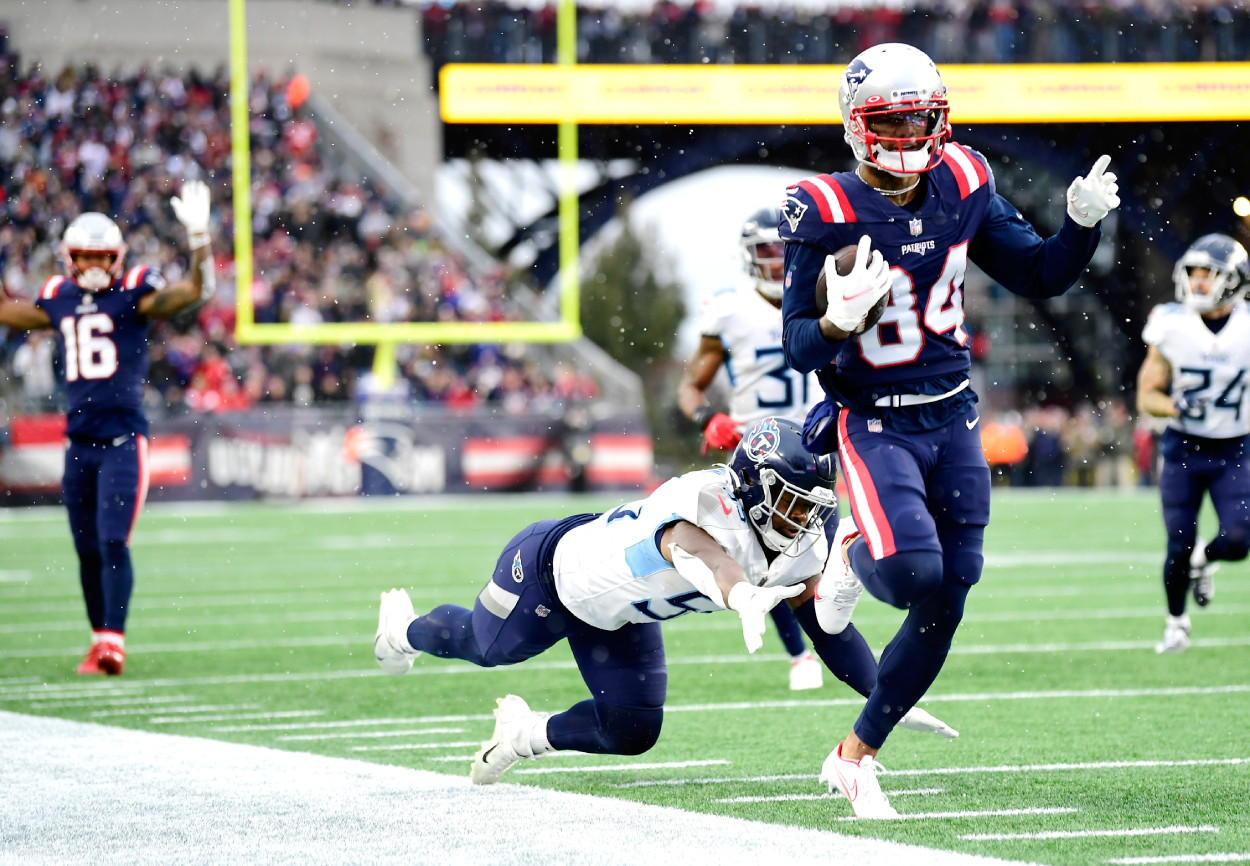 After suffering through their first losing season since 2000 last year, Bill Belichick and the Patriots went on a spending spree to reshape their roster. Offensively, they added two of the top free-agent tight ends in Jonnu Smith and Hunter Henry. They also picked up wide receivers Kendrick Bourne and Nelson Agholor as part of the nearly $160 million in guaranteed money spent this offseason.
It was a puzzling move for the normally-frugal Pats, especially with Cam Newton still on the roster. New England, however, selected Jones with the 15th overall pick and the Pats have quickly turned things around.
Bourne and Agholor have teamed with Jakobi Meyers to form a wideout trio that isn't going to scare anyone. Although they aren't perennial All-Pro players, they've been more than effective, even with a rookie at the helm.
Bourne leads the wide receivers with 623 receiving yards and five touchdowns, while Meyers leads the trio with 59 catches. They might not be the flashiest group in the NFL, but they have found a way to lead the Patriots to the top seed in the AFC at 9-4.
Kendrick Bourne laughs at Bobby Okereke's comment about the Patriots
On Monday, Okereke said the Colts' plan was to stop the run and make Jones and the passing game beat them.
"I think he's good," Okereke said of Jones, according to WEEI in Boston. "He's confident back there. He's got a good command of the offense. But we're really going to try to make the game one-dimensional and see what he can do.
"They figured out (the running game) is a big strength for them. They can run the (ball) and man-on-man, match up well physically against teams. That's a pride point for us, and we're just ready to attack the run and really make them one-dimensional."
When Bourne heard the comments, he could do nothing but laugh.
"I think that's just funny," Bourne said, per WEEI. "Obviously, we're not a one-dimensional team. Last week (against Buffalo), we ran the ball, but conditions are conditions. So that's just a funny comment to me."
Bourne insisted you don't have to be a star in New England
Are the Patriots overachieving or are they this good? They are riding a seven-game win streak after starting the season 2-4. Their schedule hasn't been the toughest, but they've done whatever they needed to do. Bourne said despite the lack of big names on offense, he is confident the team can continue to win.
"I feel like we can do anything," he said. "We're in control of what we do. It's literally not about any other team. It's about us."
He also said he has faith in his rookie quarterback.
"Mac knows the looks, we know the looks, we've practiced different looks, so nothing is a shock," he said. "Nothing is new. It's like, OK, we've seen this look, we've seen this look, how do we adjust to the look? That way, you can't make us one-dimensional, because we know every look, or we've at least practiced or tried every look.
The Patriots might be underrated in name, and that's OK with Bourne.
"I definitely do think we're under-respected," Bourne said. "Overall, I think we are. But our receiver group, yeah, we don't have top guys that they say or whatever, but New England's kind of the place where you don't need superstars. You don't need the star. You just need the disciplined role player that can be a star in his own role, and that's kind of how I look at myself. … I think our group has flown under the radar, but winning and everything else speaks for itself, so I think that's what it's ultimately about."