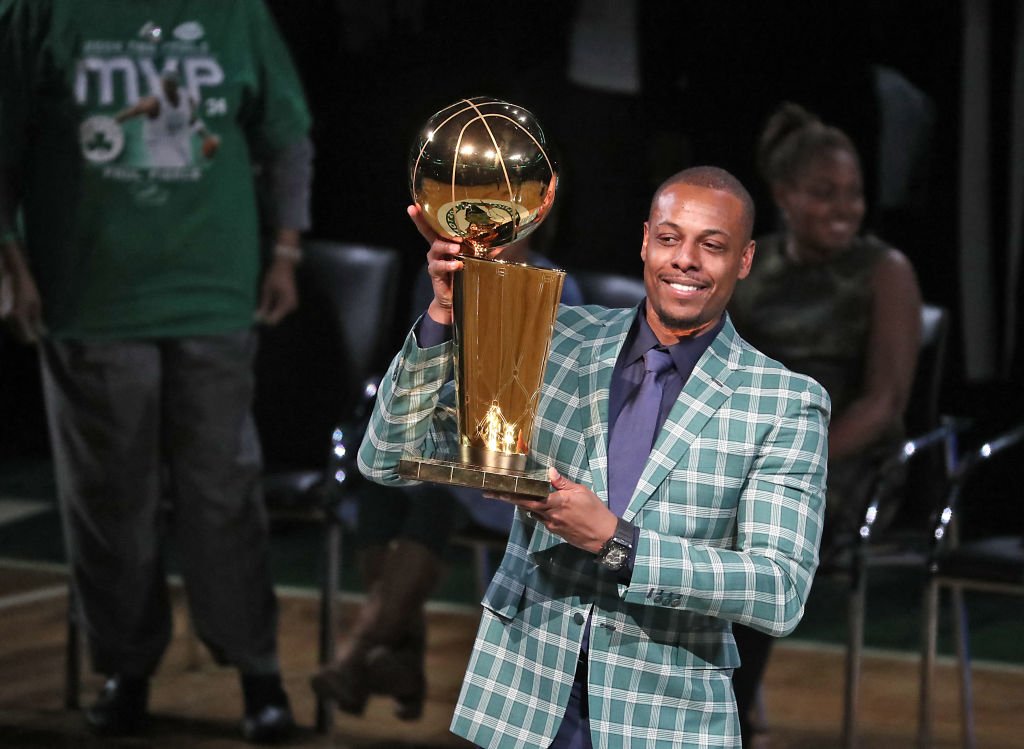 Paul Pierce Has the Craziest Idea to Finish the NBA Season
Paul Pierce believes the NBA should finish its season by playing at the most unlikely of locations: Area 51. Is The Truth on to something?
During his playing days, Paul Pierce showed no fear in taking on challenges. The longtime Boston Celtics star routinely faced off against star wings like LeBron James and Kobe Bryant during his 19-year NBA career. Fittingly nicknamed The Truth, Pierce certainly can drop a lot of NBA wisdom after playing 1,343 regular-season games.
With the sports world at a standstill due to the coronavirus pandemic, there has been rampant speculation about how the NBA will finish its season. A number of out-of-the-box proposals have been thrown around. But in the case of Pierce, his innovative idea is truly out of this world.
NBA considering H-O-R-S-E competition
The NBA takes the lead when it comes to unique ways to engage with fans. With the basketball season on hold, that hasn't stopped players and the league from crafting new ways to keep the game alive. According to ESPN reporter Adrian Wojnarowski, the NBA and ESPN are working on a televised H-O-R-S-E competition that would involve a few of the league's most prominent superstars.
Discussions have been ongoing among the NBA, NBPA and ESPN about a competition among several players in isolation — presumably using home gyms — that would include them competing shot for shot in the traditional playground game, sources said.

While the details of the proposed H-O-R-S-E competition have yet to be finalized, the thought alone represents a fantastic attempt by the NBA to still bring excitement to its loyal audience. Because the NBA's isolation protocols prevent players from competing in a single location, this idea seems to circumvent that issue.
Mark Cuban thinks an NBA season without fans is possible
The proposed H-O-R-S-E competition still doesn't take away from the mystery about the return of actual NBA games. Dallas Mavericks owner Mark Cuban has been at the forefront of the coronavirus-related issues. The savvy businessman has not been shy about sharing his opinions during this trying time. Cuban did offer some insight into how the NBA could finish out its season. The outspoken owner thinks the league could resume play in May, albeit with a major caveat: no fans.
From a safety standpoint, that measure makes absolute sense. At the same time, it's fair to wonder how professional athletes will respond to playing in front of empty arenas. It certainly wasn't an issue Paul Pierce had to face back in his playing days.
Financially speaking, the lack of fans would also have a major effect on the NBA's bottom line. Still, Cuban has never tried to put the business side of the issue ahead of the humanitarian one.
Paul Pierce and his out-of-this-world idea
If it were up to Paul Pierce, the idea of playing in front of an empty crowd or on a cruise ship just doesn't add up. The former Celtics captain proposed Las Vegas hotels as a possible destination. And while that idea probably won't happen, that wasn't even his craziest proposal.
Pierce's plan includes asking the government for permission to use Area 51 as an NBA site. Now, nobody truly knows what goes on behind those doors, but it's safe to assume there aren't full-sized NBA courts installed somewhere on the mysterious compound. Then again, maybe the monsters from Space Jam are secretly holed up practicing their 3-point shooting before the pros take over. Unless Paul Pierce has some seriously high-level government connections, an Area 51 tournament will never take off.