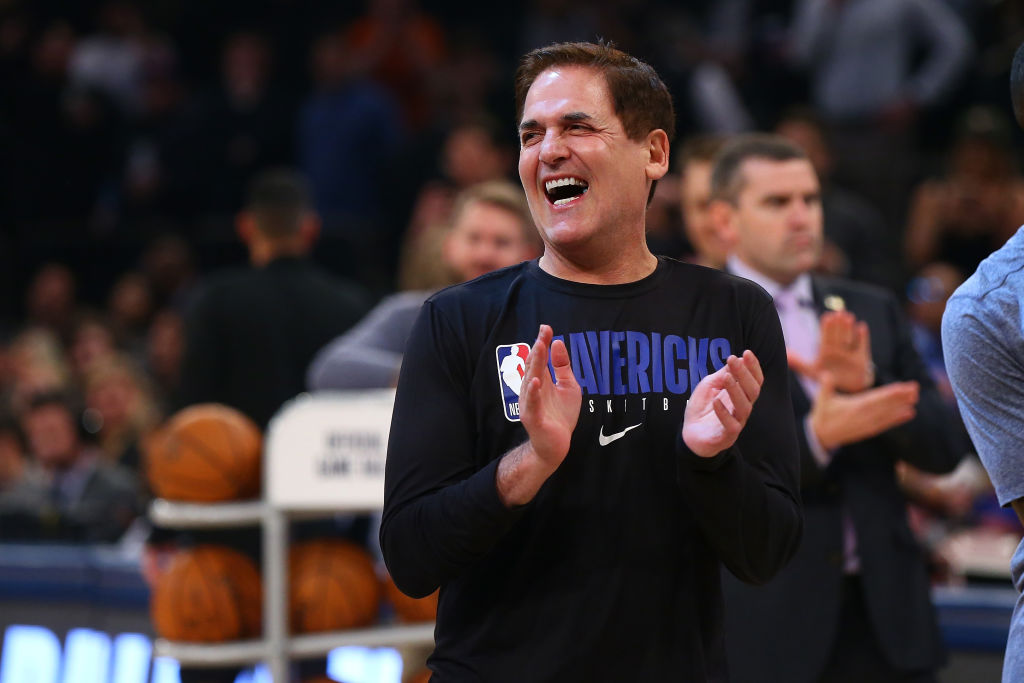 Mark Cuban Thinks the NBA Could Return in May With 1 Condition
Dallas Mavericks owner Mark Cuban is bullish on the possibility of the NBA resuming its schedule in May.
Dallas Mavericks owner Mark Cuban believes that the NBA could return sooner than people think even if the early games are played in empty arenas. And the billionaire owner doesn't have money in mind as for the reason the sport should resume so quickly.
Mark Cuban thinks the country needs the NBA
If the NBA is playing again as early as Mark Cuban thinks is possible, it would likely be the first major sports league to resume action.
"Hopefully by the middle of May, we're starting to get back to normal and the NBA is playing games," Cuban told WFAA-TV. "Maybe not with fans, but we're playing it because sports plays such an important role. You know, people want something to cheer for, people want something to rally around, people want something to be excited about."
Every NBA team has played between 63 and 67 of its scheduled 82 games. Playing the remaining 15 to 19 games for each team would require about five weeks and involve travel.
One possibility that might condense the schedule and address logistical problems with travel during the coronavirus pandemic would be having multiple teams congregate in a handful of cities for the early portion of the resumed schedule and play on fewer days of rest. The rationale is that the home-court advantage would be insignificant with no fans present and the reduced travel would be less taxing on players.
A postseason that stretches into mid-August is less of a concern than it was when the league suspended its schedule since the 2020 Tokyo Olympics, in which multiple countries intended to rely on NBA players, have been postponed.
Mark Cuban puts one condition on his optimism
The well-being of players and others involved in the sport or attending games is of utmost concern to Dallas Mavericks owner Mark Cuban, so his optimism about a relatively quick return to NBA action has a condition attached to it.
"One thing we've got to get to (is) a point where our scientists have come up with not a cure, but a therapy that we know minimizes the impact of the virus," he said, "so that if we get this into a person quickly enough that they are not going to die and be hopefully they won't be scarred or damaged for life."
Cuban thinks such a breakthrough could be within reach.
"We're getting closer and closer. Once we have a medical light at the end of the tunnel, where we know what the worst case is, then we can start venturing outside and being in groups of 10 and instead of being by ourselves right and then groups of 25 and then 50 and go from there."

Mark Cuban
Mark Cuban is impressed with the NBA commissioner
The NBA has shown leadership in several aspects of what has become an international crisis. It was the first major U.S. league to halt its schedule, and its players and owners were early leaders in donations to assist arena workers and other employees who are losing paychecks while the games are on hold.
Mark Cuban has been fined numerous times by NBA commissioners over his criticism of the league and its officials since buying the Dallas Mavericks in 2000. But he makes a point of crediting Adam Silver for his leadership during the coronavirus pandemic and keeping the league poised to pick up its season.
"I mean you know, no one has perfect information right now, and so all decisions are tough. But, you know, if I had to guess based off the people I've talked to at the CDC and other places — I would say that the over-under would be June 1, and I'm taking the under."

Mark Cuban