Pelicans VP David Griffin Sends a Dire Warning to the NBA About Zion Williamson
Zion Williamson lived up to the immense hype in his rookie season, but New Orleans Pelicans executive vice president of basketball operations David Griffin believes he's about to take another leap forward in year two.
Griffin spoke to the media on Monday ahead of the 2020-21 NBA season, and he gushed about Williamson's development so far. With Williamson coming into the season fully healthy, Griffin believes the basketball world will finally see 'the real Zion' this year.
Zion Williamson had a terrific but injury-riddled rookie season
Zion Williamson had sky-high expectations entering his rookie season after being drafted No. 1 overall in the 2019 NBA draft. Unfortunately for him and the Pelicans, Williamson underwent knee surgery to repair a torn right meniscus before the season even began, and he spent the first three months of the year on the bench.
When he did finally return to the court, Williamson immediately proved he was worthy of the first pick in the draft. He scored 22 points and grabbed seven rebounds in his NBA debut in just 18 minutes of action. He went on to average 22.5 points and 6.3 rebounds per game in his first campaign as a pro.
Williamson led the Pelicans into playoff contention with his stellar play, but New Orleans eventually fell short of a postseason berth.
Pelicans VP David Griffin warns the NBA about 'the real Zion'
On Monday, Pelicans executive vice president of basketball operations David Griffin spoke to the media ahead of the 2020-21 season. When asked about what he expects from Williamson this season, Griffin said the best is yet to come.
"Once he gets to the point where he's healthy enough to play his game, play with the ball more, play more as a slasher and less as a post-up presence, I think you're going to see the real Zion come to the floor," Griffin said.
Griffin said the only thing that can hold Williamson back from dominating in year two is his health.
"I think it's hard to identify the things he needs to make the most improvement on other than his availability," Griffin said. "We're going to need to keep him healthy and let him grow as a player."
David Griffin thinks Zion Williamson can expand his game even further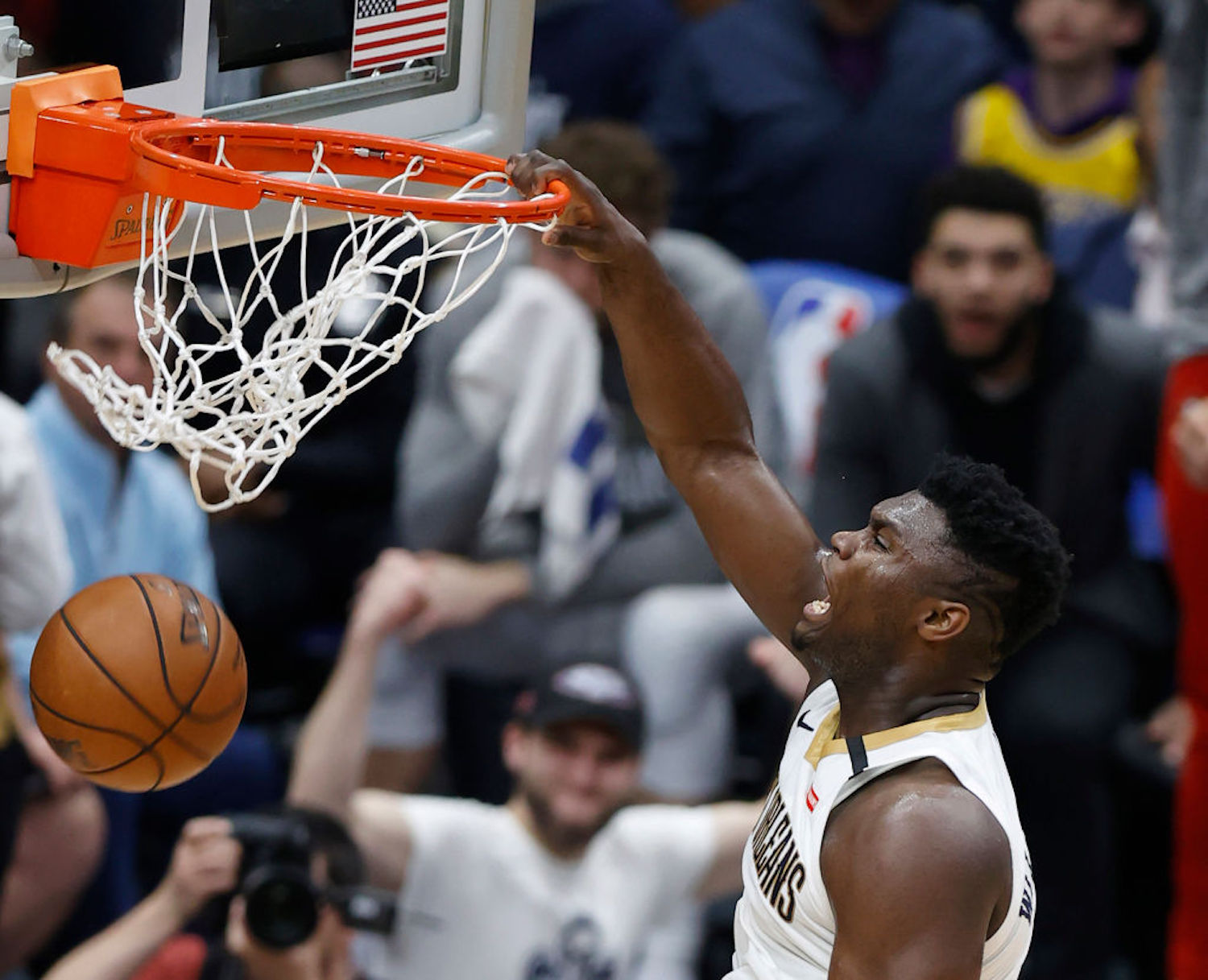 It's hard to imagine Williamson improving on his impressive rookie season, but Griffin believes the star 20-year-old will become an even more versatile player this year.
"People I think unfairly look at him as a big and being limited to being a 4 or 5," Griffin said. "When we drafted Zion, the thing that excited us the most was the positionless nature of his game. We really very much envision a time where Zion is going to be playing the 3 and defending the 3 and he's going to be on the handle."
Although Williamson enjoyed a historical rookie campaign, Griffin thinks he will improve even further as long as he stays healthy.
"Everything he did, he did at a historically efficient level," Griffin said. "And frankly, I would tell you it's the things he enjoyed the least on a basketball court. And he was historically good at it. That's not a function of his improvement, that's more of a function of his opportunity to stay on the floor and be used in those interchangeable ways."
All stats courtesy of Basketball Reference