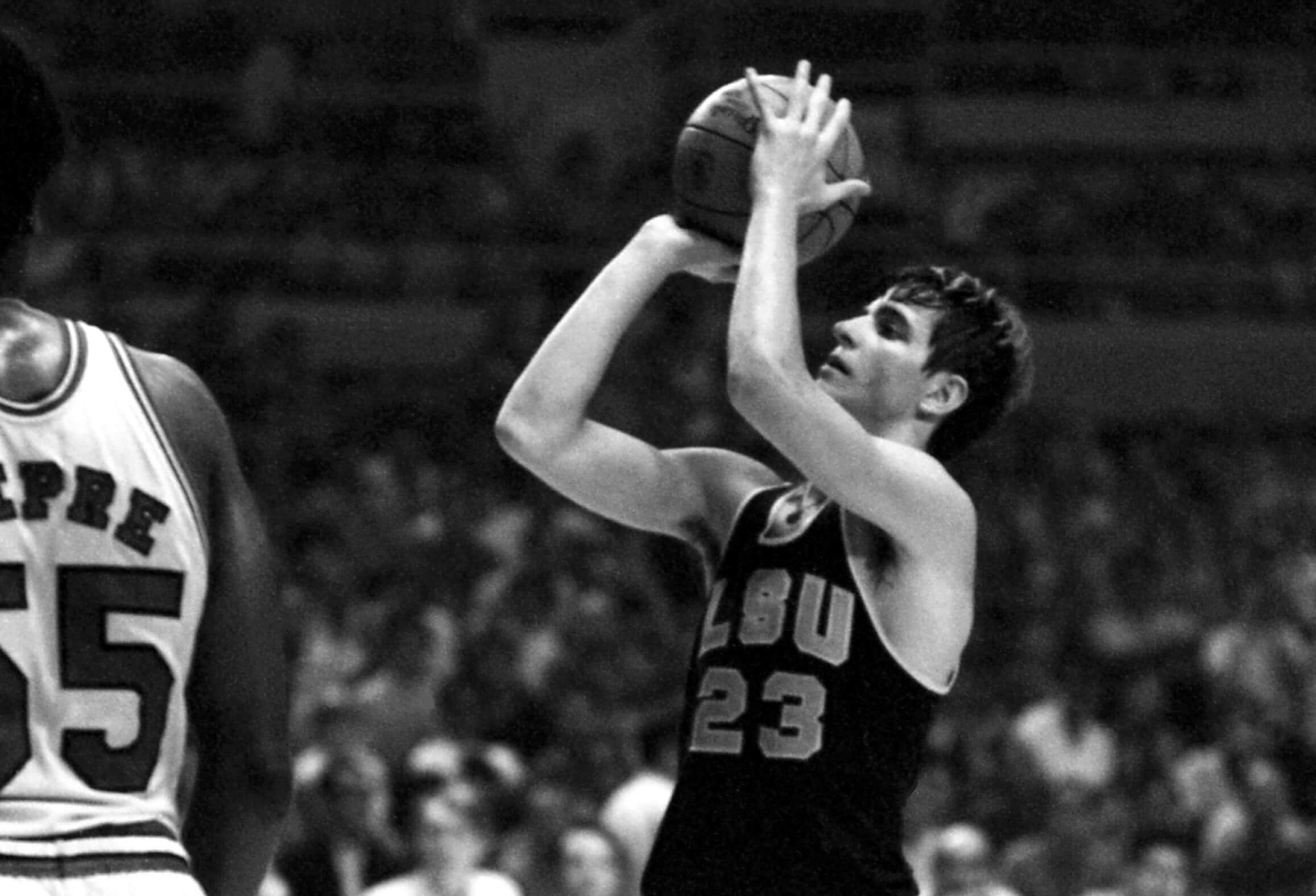 Pete Maravich Handled Pressure Well at LSU, but It Followed Him Into the NBA
Pete Maravich dealt with a lot of pressure at LSU, and it followed him throughout his NBA career.
Pete Maravich goes down as arguably the best college basketball player of all time. The 6-foot-5 guard out of LSU remains the NCAA Division I men's basketball top scorer after 53 years. "Pistol Pete" dazzled college basketball fans to the tune of 44.2 points per game over his three-year career with the Tigers.
When all was said and done, Maravich was drafted third overall by the Atlanta Hawks in the 1970 NBA Draft. Pressure followed Maravich into the NBA but didn't intensify until the Hawks pulled the trigger on a deal with the expansion New Orleans Jazz.
Pete Maravich had to do plenty by himself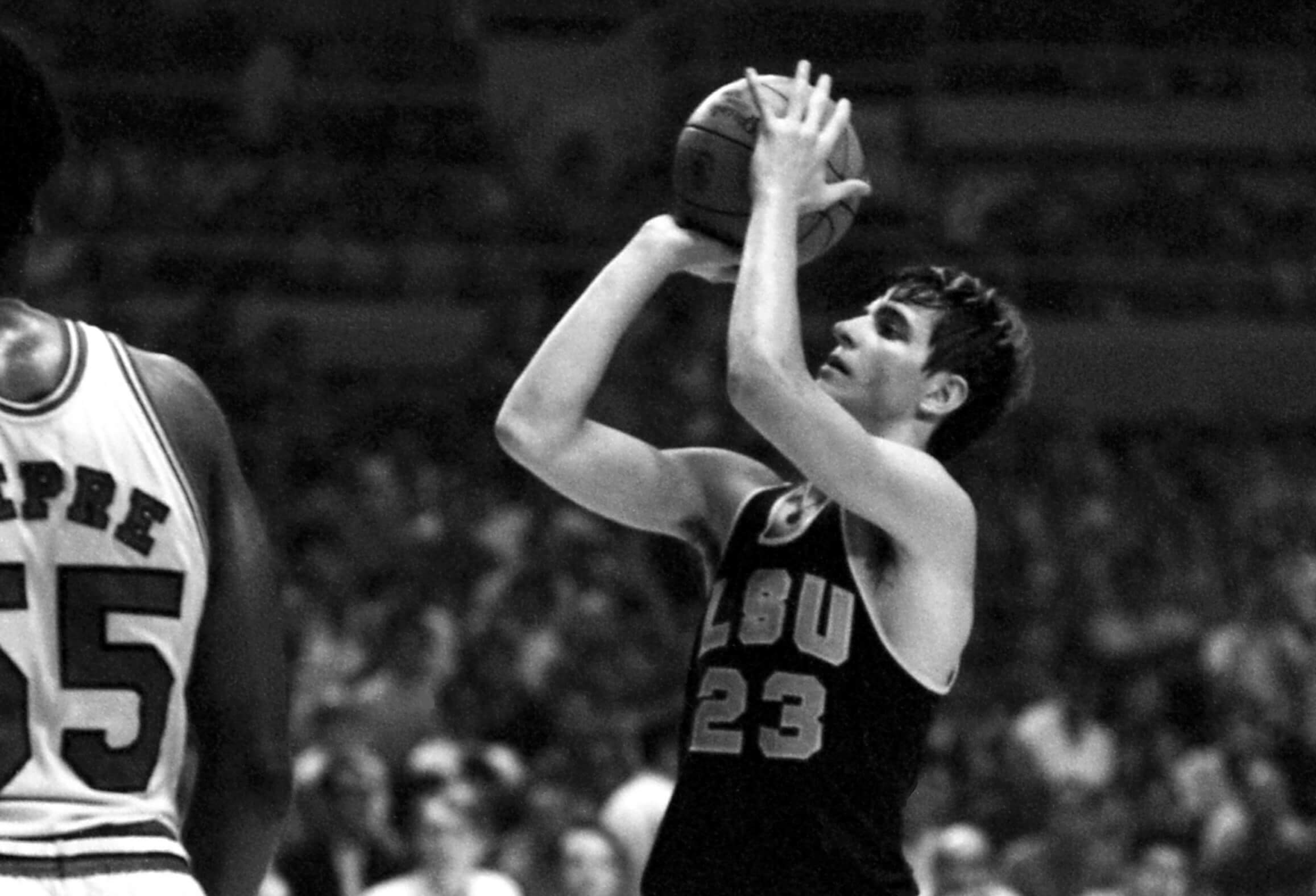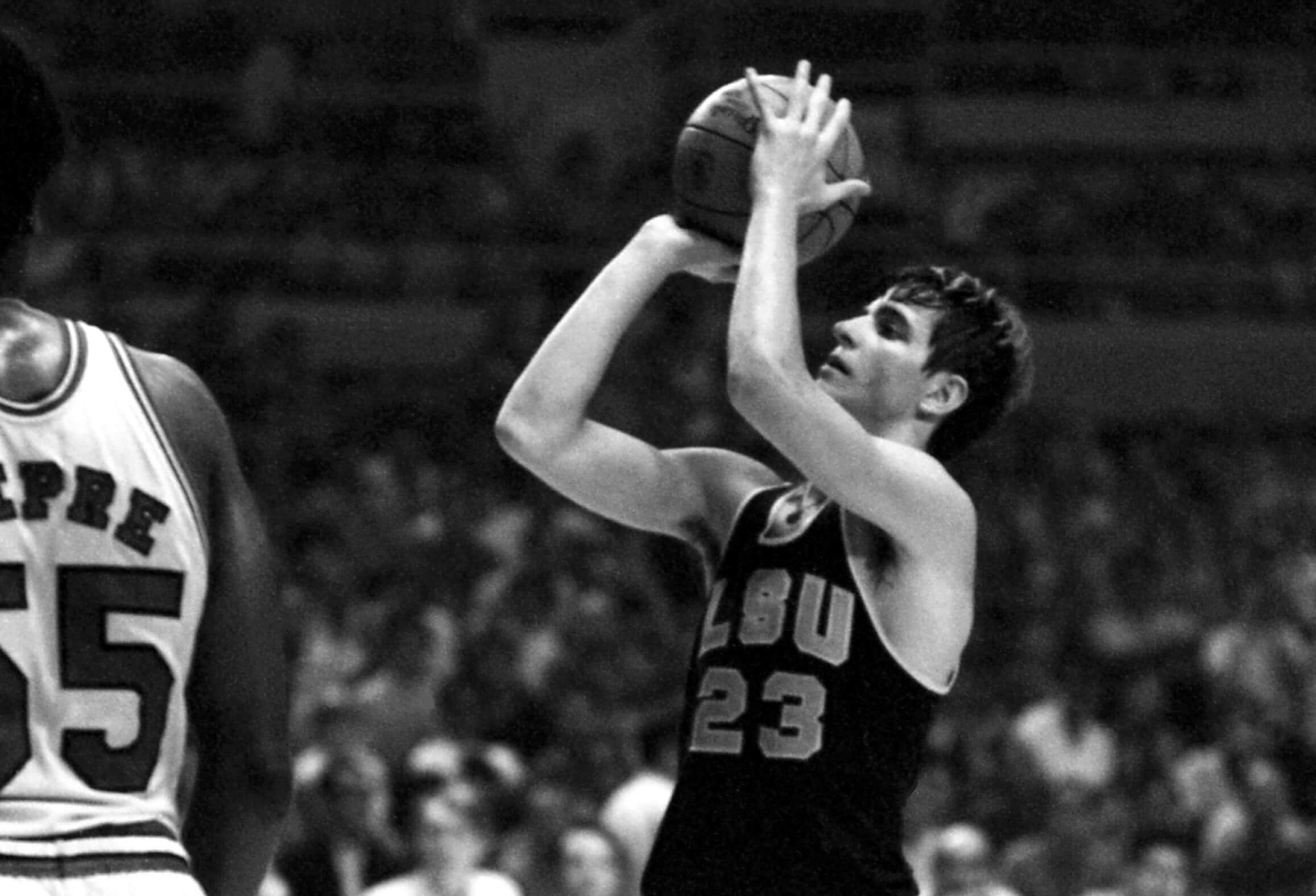 When Pete Maravich played at LSU, he joined his father, Press, in order to help turn around a struggling program. Back then, freshmen weren't allowed to play at the varsity level. In Maravich's freshman year, the LSU varsity went 3-23.
When Pistol Pete played varsity for the first time as a sophomore, the team improved to 14-12. He played more than a significant role in the turnaround as he averaged 43.8 points over the 26 games. The Tigers then went 13-13 and 22-10 in Maravich's final two seasons. For his career, he averaged 44.2 points in 83 games. Without the benefit of a three-point line and a shot clock, Maravich racked up 3,667 career points, a record that still stands.
"Press came out one year and said that Pete's going to have to shoot 40 times for us to win," former Maravich teammate Ralph Jukkola told Sportscasting last week. "That was kind of a downer for us to hear. I think it may have burned some bridges. I didn't like it. It was almost like telling us we ain't worth a darn.
"Then when you play against him or play with him, you find out what he can do. He was legit. His talent was above and beyond what we had."
Maravich had to do plenty by himself in the NBA as well. Rarely did he have a strong supporting cast around him. That became evident when the Hawks traded him to the expansion New Orleans Jazz. In six seasons with the New Orleans/Utah Jazz, Maravich never had a winning record, yet he led the NBA in scoring at 31.1 points during the 1976-77 season.
Pressure followed Maravich throughout the NBA
Because of Maravich's success at LSU, the New Orleans Jazz thought he would be the perfect player to have on the roster when they came into the NBA as an expansion team for the 1974-75 season. The Jazz sent two players and five draft picks to acquire the hot-shot guard.
If playing for your father who told your teammates you needed to shoot 40 times a game to have a chance wasn't enough pressure, playing for an expansion team that mortgaged its future for you certainly was.
Maravich wasn't crazy about leaving Atlanta. In his first season in New Orleans, the Jazz went an NBA-worst 23-59. The team struggled mightily and mortgaged much of their future to get Maravich. He heard a lot of negativity over that deal.
"That trade," said Maravich in February 1975, per Sports Illustrated. "I didn't make the trade. Why do people ask me about it? People have to criticize something and when I'm around, it's usually me.
"I can't understand why everything is negative, negative, negative. Guess it says a lot about human nature that people would rather read about Pete Maravich the ball hog, not Pete Maravich the ball hawk. I shoot 30 times a game and I'm a gunner. I shoot only eight times and I'm over the hill. What really slays me is that people actually believe all that stuff written about me. They don't know me, yet they think they do.
"Look, I'm just one share. There are 12 shares on a team. One man never has won nor ever will win a championship by himself. Yet people say, 'You can't win with Pete Maravich.' Win where? Lord knows I came into the pros with a lot of pressure on me. No matter what I did it would never be enough. But put me on the Celtics and suddenly everyone would think I was the greatest player alive. Look, Pete Maravich has grown up. Well, it would still be me, the same Pete Maravich playing the same way."