Pete Maravich Record: The CBI Does the Right Thing
In 144 games, Detroit Mercy guard Antoine Davis couldn't do what Pete Maravich did in 83, but it appeared the 14-19 Titans just might be able to purchase a 145th so Davis could become No. 1. That won't happen.
Detroit Mercy is not in the College Basketball Invitational's field of 16 teams. Davis, a fifth-year guard, is three points from tying Maravich's long-standing NCAA scoring record of 3,667 points, and it looks like that's how he'll end his illustrious college career.
Pete Maravich has held the NCAA scoring record for 53 years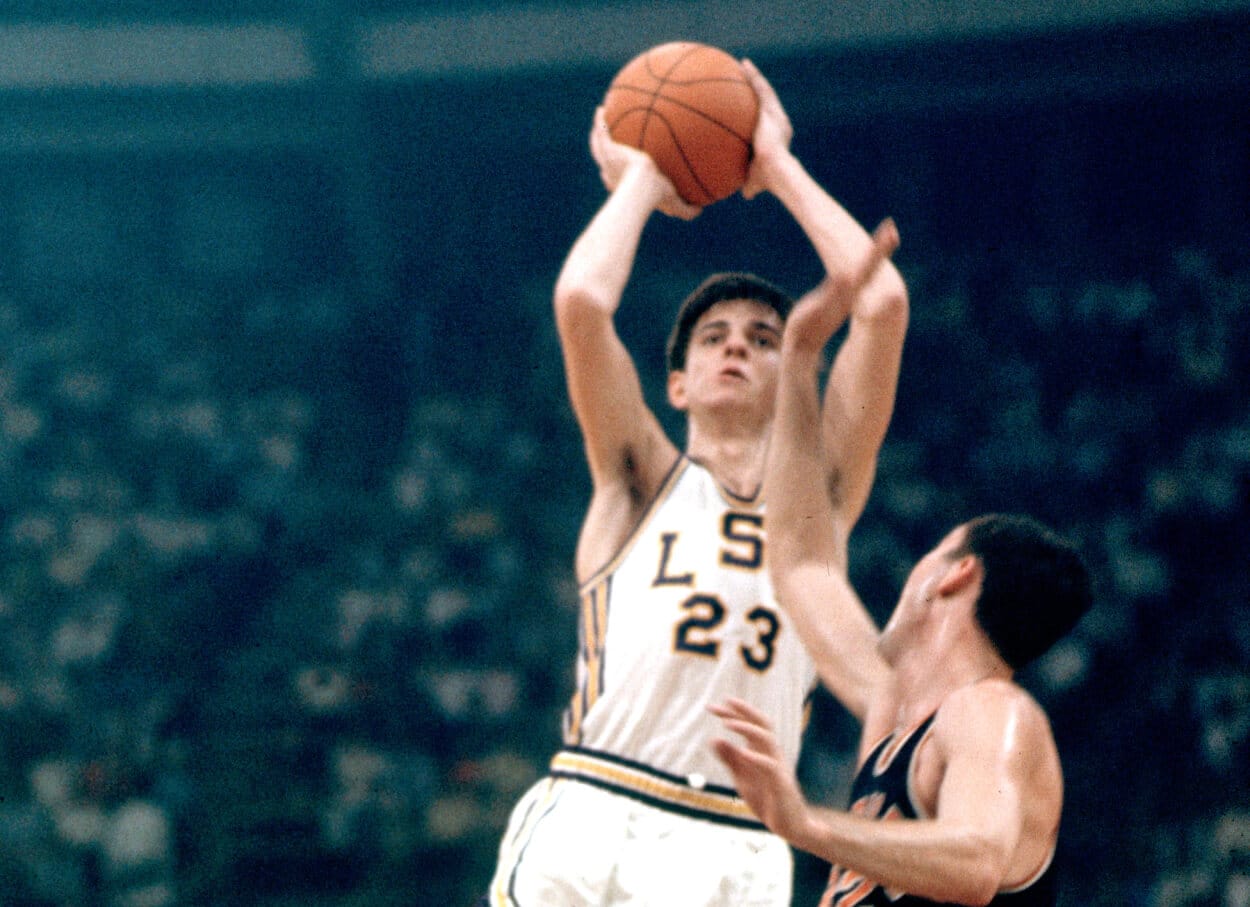 Let's put Maravich's record in perspective. As a freshman at LSU, Maravich, like all first-year players, wasn't allowed to play at the varsity level, so the 43.6 points per game he put up with the freshmen don't count as part of his career totals. 
In three seasons, Maravich racked up 3,667 points. He averaged 44.2 points in those three years, and it took him 83 games to collect those points. Maravich never benefited from having a three-point line, nor did he play with a shot clock.
Davis has had five full seasons. He was granted an extra year, even though he still managed to take part in 22 games in that "lost" season. He's put up 3,664 points in 144 games. He's made 588 three-point shots in his college career. 
Davis needed 26 points last Thursday in the quarterfinals of the Horizon League tourney to break Maravich's mark. He finished with 22. The loss ended the Titans' season at 14-19. With no shot at qualifying for the NCAA tourney or NIT with that record, it appeared Maravich's record was safe, but then the CBI came into play.
There was a chance Detroit Mercy could have bought an extra game for Antoine Davis
According to Tony Paul of The Detroit News, Detroit Mercy donors were going to fund the $27,500 entry fee for the Titans to enter the CBI. In the end, however, the CBI did the right thing and didn't extend a formal invitation to the school.
The CBI is a 16-team field that has no win-loss requirement to enter. It's by invitation only, and the team invited must pay the entry fee. With Davis being four points away from breaking a record that has stood since 1970, the CBI had a chance to extend an offer to Detroit Mercy for the sole purpose of attracting viewers to watch Davis break the record. The organization chose integrity over greed and allowed 16 deserving teams a place in the CBI field. 
There was plenty of talk that Detroit Mercy was seriously considered for tourney play. If Davis wasn't four points from history, the Titans, at five games below .500, wouldn't have been a thought for a CBI invite. They finished ninth — NINTH — in the 11-team Horizon League.
Davis had one heck of a run, extra season or not. He's a kid who just wanted to play basketball, and he'll go down as the No. 2 scorer in NCAA Division I men's basketball history.