Pete Maravich Was a Flashy Showman but Wasn't Crazy About the Spotlight
Not only could the legendary Pete Maravich score, pass, and dribble, but he was also an entertainer. The NCAA Division I men's basketball all-time scoring leader was a fan favorite and arguably the most entertaining college basketball player ever.
As high-scoring and flashy as he was, he wasn't always comfortable in the spotlight. That was evident during his final days playing at LSU.
Is Pete Maravich the best college basketball player ever?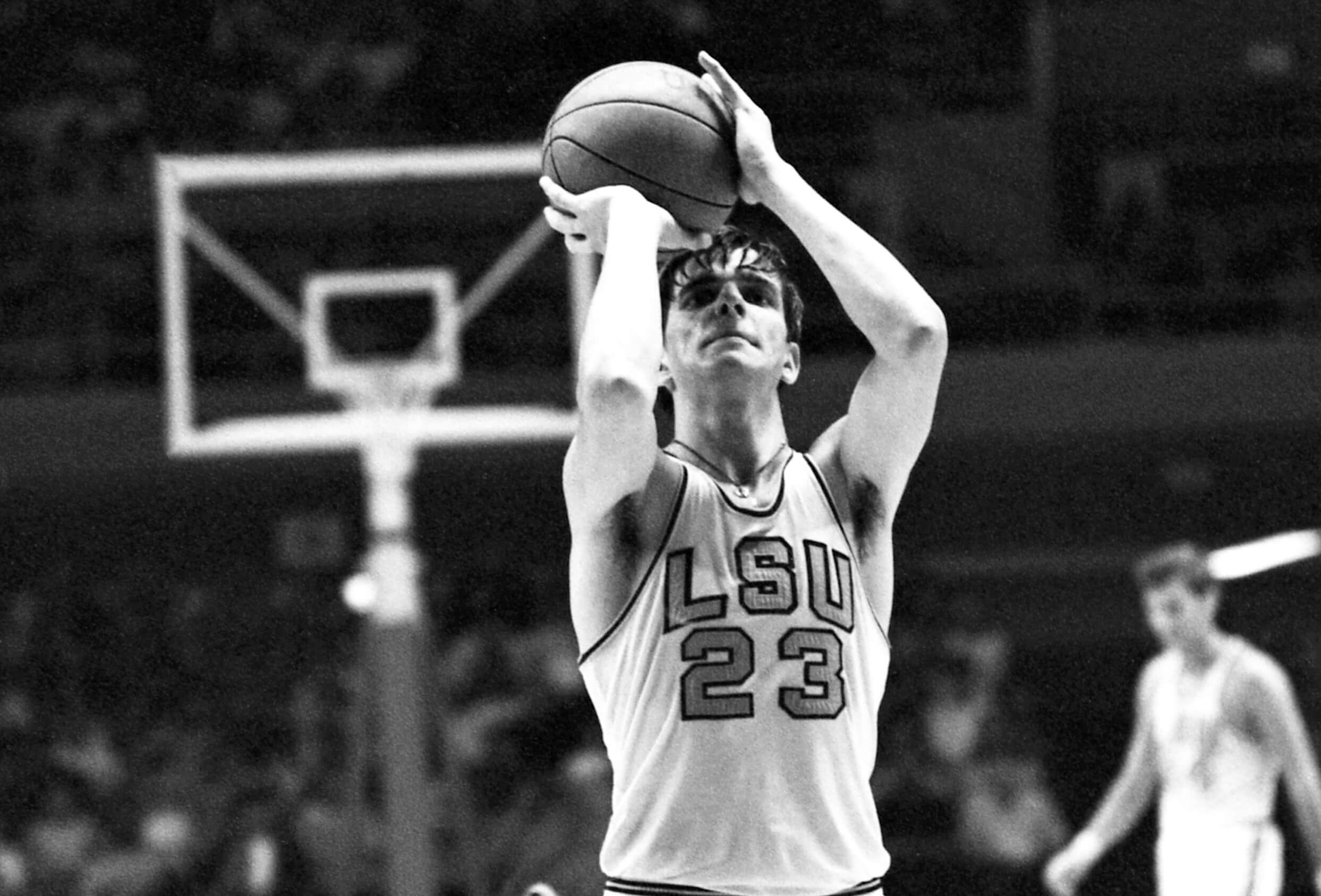 You're not wrong if you have Pete Maravich as the top player in college basketball history. If you have Lew Alcindor, Bill Walton, or Oscar Robertson atop that list, you can't go wrong, either.
Back in Maravich's era, freshmen weren't allowed to play at the varsity level. Still, the man known as "Pistol Pete" managed to put up 3,667 career points by averaging 44.2 points per game over those three seasons. His record for most points in a college career has stood for 53 years.
In his first varsity season at LSU, where he played for his father Press, he averaged 43.8 points in 26 games. In the next two seasons, his numbers got even better.
Maravich averaged 44.2 and 44.5 points in his final two years with the Tigers. His 3,667 career points came in just 83 games. He also did it without the benefit of a three-point line and a shot clock.
Maravich wasn't too crazy about being in the spotlight
Maravich never played in the NCAA tourney. He did get a taste of big-city exposure in his final year when LSU reached the Final Four of the NIT, playing under the bright lights of Madison Square Garden in New York. His nine-day trip to the big city didn't go so well.
According to Sports Illustrated, Maravich suffered from a stomach ailment that caused him to lose 10 pounds. He also suffered a bruised hip, a strained ligament in his leg, and a sprained ankle. LSU finished fourth, and he sat out the consolation game.
"I didn't want to risk hurting myself further," he said. "I wanted to come here and win for my dad, but everything was a disaster. Man, I've had enough of this place."
In his New York debut, Maravich struggled. He was hounded all game. LSU defeated Georgetown 83-82, but Maravich finished with 20 points, well below his average.
"I was pitiful, I was terrible, I stunk," said Maravich. "It was one of my worst, no doubt about it. How many shots did I take? Sixteen? That's about 90 under my average, but I had nowhere to go. When I play that bad, I try to forget it. I'll just go hide in my little corner."
He finished with 37 points in a 97-94 win over Oklahoma, but then Marquette ousted LSU in Maravich's final game. With college over, Maravich had to worry about what's next. Was it the ABA? The NBA? Where would he play?
"Aw, man, the pressure is just beginning," he said. "I tell you, everybody thinks I've got it made but, you know, it's not worth it. There is so much pressure, and people — every day, every day. You know when I've had the most fun? When I went to Daytona all by myself last year and just took it easy. Nobody knew me. Sometimes I wish I could be an accountant or something, man, so I could live right for a change."