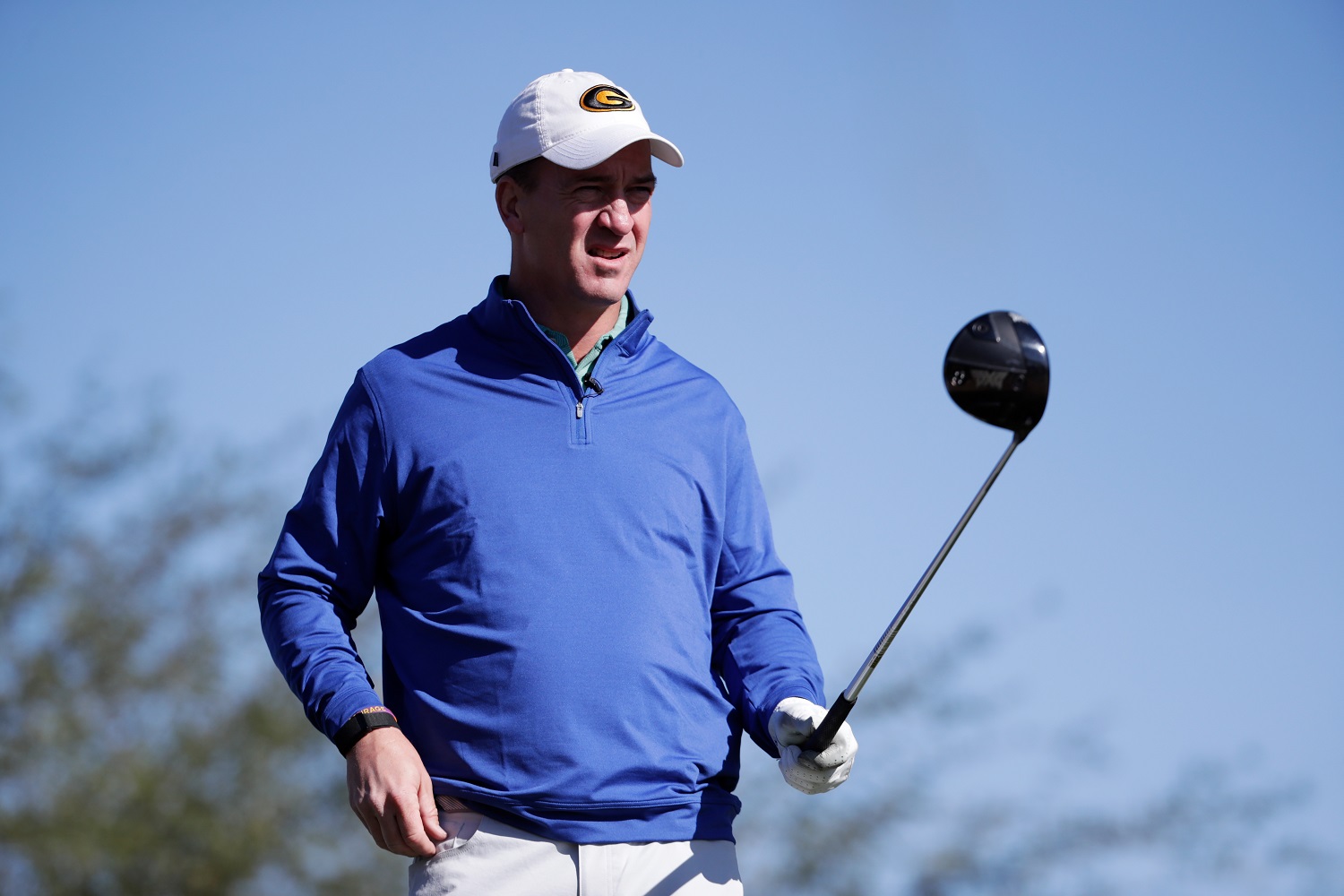 Peyton Manning's Sons Have a Favorite Quarterback Other Than Dad
All-time great NFL quarterback Peyton Manning says his twin sons are fans of Patrick Mahomes of the Kansas City Chiefs.
"What have you done for me lately, dad?" No, we're sure that Peyton Manning's sons aren't that fickle. Still, it's got to bother Manning that he doesn't seem to rank No. 1 on the list of his sons' favorite quarterbacks.
After all, he is their father. And he was pretty good back in the day.
Another famous NFL father apparently ranks higher, a sentiment that Marshall and Mosley Manning wear on their sleeves. Chalk it up to them being too young to have witnessed some of dad's finest work for the Indianapolis Colts and Denver Broncos.
Peyton Manning's boys are too young to recall his greatness
Peyton Manning won a pair of Super Bowls and has been elected to the Pro Football Hall of Fame. However, he retired after the 2015 season, and his 9-year-old twins, Marshall and Mosley, are too young to remember even their father's farewell tour.
After quarterbacking the Denver Broncos to a 12-4 regular-season record, Manning beat the Pittsburgh Steelers and New England Patriots in the AFC playoffs. Manning was a modest 13 of 23 for 141 yards and no touchdowns in the 24-10 victory over the Carolina Panthers in Super Bowl 50, but he rose off into retirement as a champion.
Manning spent his first 13 NFL seasons with the Indianapolis Colts before finishing up with four years with the Broncos. But if there are a few old jerseys from those playing days, the boys aren't wearing them. It might have something to do with Indianapolis being in the distant past and the Broncos not putting on much of a show on the field lately – four straight losing seasons with a combined 23-41 record.
Peyton Manning: 'You've just got to suck it up'
One of Peyton Manning's projects in retirement is Detail, a series available on ESPN+. In the most recent episode, Manning was looking at footage of Kansas City Chiefs quarterback Patrick Mahomes in the AFC championship game last month against the Buffalo Bills.
In a stream-of-consciousness moment, Manning mentioned that he had gone to the division-round game between the Chiefs and the Cleveland Browns a week earlier and that his twin sons wore Chiefs gear.
"They got Mahomes on, they got Tyreek Hill. (When) your kids are wearing Chiefs jerseys, you've just got to suck it up," he kidded.
According to KCNC-TV in Denver, Manning segued into a story about how the Chiefs' wolf mascot approached him to request a picture with the retired quarterback. With the Broncos-Chiefs rivalry too fresh in his mind, Manning declined. But he allowed his boys to take one with the mascot.
"The nerve of that mascot to ask me," he said, "but my kids wear Chiefs jerseys to a football game, and then we go skiing this past weekend, and my son's in a Mahomes jersey to ski in and his buddy Zack is wearing a Mahomes Texas Tech jersey."
"I mean, everywhere I go, it's Mahomes, Mahomes, Mahomes. Tells you what kind of great player he is if he's got some huge 9-year-old fans out here in Denver, Colorado."
Will Patrick Mahomes have this problem down the road?
Kansas City Chiefs quarterback Patrick Mahomes has played in two Super Bowls and won in his debut. At just 25 years old, he could have 15 more seasons in the league ahead of him.
Mahomes and fiancée Brittany Matthews experienced their own Super Bowl moment over the weekend with the birth of their first child, a girl. Mahomes announced the arrival of Sterling Skye Mahomes on social media.
The Chiefs star could easily still be playing by the time Sterling Skye reaches her teens, meaning she should go through life with lots of memories of dad on the field. We'll know one day whether that's enough to keep her from favoring some other superstar quarterback of the day over her pop.
Like Sportscasting on Facebook. Follow us on Twitter @sportscasting19.