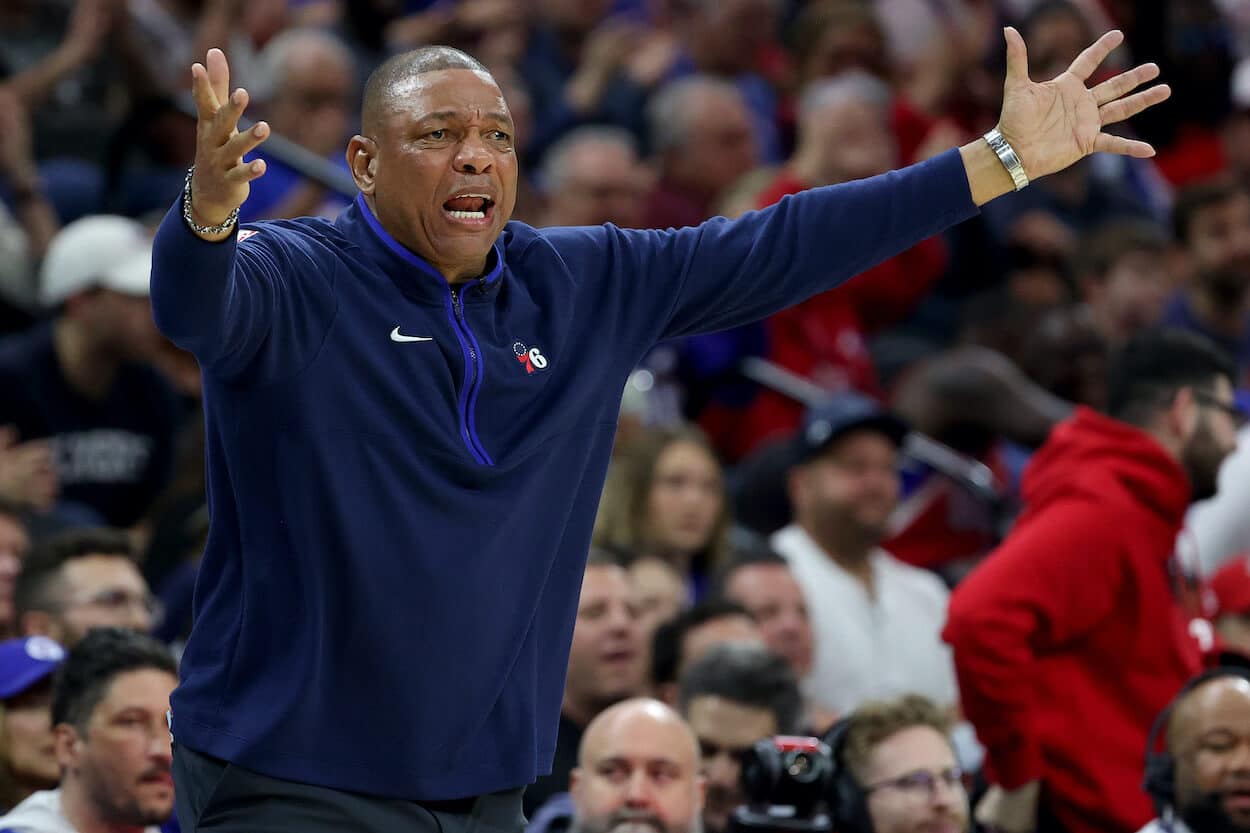 Philadelphia 76ers: Gilbert Arenas Told Team Not to Hire Doc Rivers
Gilbert Arenas warned the 76ers not to hire Doc Rivers in 2020, and he was eventually proven right.
Doc Rivers is out as the Philadelphia 76ers' head coach just three years after accepting the job in 2020. The veteran coach failed to lead the Sixers past the second round of the playoffs in all three seasons, so his short tenure in Philly will be remembered as a massive failure.
If the team listened to Gilbert Arenas' advice when it first hired Rivers, though, it never would've offered him the job in the first place.
Arenas has become an opinionated personality within the sports media landscape. From blasting Frank Vogel to chiming in on the Ben Simmons trade saga, the three-time All-Star hasn't been shy to share his opinions since retiring from the NBA in 2012. When the Sixers hired Rivers in 2020, Arenas predicted exactly how he would "ruin" the team."
Gilbert Arenas warned the 76ers against hiring Doc Rivers
In 2022, Doc Rivers' name started floated around as a potential candidate to coach the Los Angeles Lakers. Rivers was still with the Sixers at the time, but the Lakers seemed interested in prying him away.
However, Gilbert Arenas didn't think hiring the 2008 NBA champion would be a good move.
"I think I'm gonna be a Clipper fan if Doc Rivers is gonna [become] head coach of the Lakers," Arenas said on an episode of his No Chill With Gilbert Arenas podcast. "… It's those gimme championships that solidify some of these coaches, and I be like, 'Well, wait, hold on. He was a losing coach before you gave him rock stars. And then he won a championship; now, his legacy is built on a championship.' … After he won a championship, what did he do after that? Nothing. What has he done since then? Nothing."
Arenas pointed out how Rivers — who had just lost in the conference semifinals with Philly — has had significant talent on all his teams since 2008 but has yet to do anything with it. He then revealed what he told 76ers general manager Elton Brand before the team hired Rivers in 2020.
"I said, 'Doc is gonna ruin that team, and Ben Simmons is gonna be out of there because he doesn't know how to coach him,'" Arenas said. "… I said, 'He's gonna ruin the team; he's gonna ruin a team, and Ben's gonna be out of there.' And that's exactly what happened."
Arenas currently predicted the demise of the Rivers-led Sixers, and the head coach lasted only three years before getting canned.
Gilbert Arenas was dead right about Doc Rivers
Is Gilbert Arenas' assessment of Doc Rivers correct? He may have been a bit harsh, but Rivers' 2008 championship run with the Boston Celtics can't carry his underwhelming coaching resume forever.
After the Celtics added Kevin Garnett and Ray Allen to a team with Paul Pierce in 2007, Rivers reached two NBA Finals in five seasons with Boston between 2007-08 and 2011-12. The Cs also won it all during that first season.
However, he hasn't made it past the conference semifinals once outside of those five years and has only made it past the first round six times. In fact, his overall playoff record is 111-104. Without those five seasons on his resume, it would be 57-64. That's not even considering the fact he is the only coach in NBA history to blow three series in which his team led 3-1.
Is Doc Rivers a good coach? Yes. Was he the right choice for the Sixers in 2020? No, and Arenas knew it.