The Philadelphia Eagles Just Confirmed Miles Sanders' Departure Without Saying 1 Word
The Eagles have signed their first outside free agent of the offseason.
It's been a discouraging start to free agency for the Philadelphia Eagles, to say the least. The reigning NFC champions have already lost DT Javon Hargrave, LB T.J. Edwards, LB Kyzir White, S Marcus Epps, OT Andre Dillard, and OT Brett Toth in the first two days of free agency, and more players are sure to follow in the coming days. Philadelphia was able to re-sign veterans Jason Kelce and Brandon Graham, but there have been more losses than gains so far.
The Eagles finally got on the board Tuesday by signing their first outside free agent of the offseason, but by doing so, they quietly waved goodbye to running back Miles Sanders.
Eagles sign RB Rashaad Penny
The Eagles have been quiet in the first two days of free agency. Heading into Tuesday afternoon, general manager Howie Roseman hadn't signed any outside free agents to address the numerous losses all over the roster.
That finally changed when the Eagles signed former Seattle Seahawks running back Rashaad Penny to a contract, as first reported in a tweet by Ian Rapoport of NFL Network. Dave Zangaro of NBC Sports Philadelphia later reported in a tweet that the deal is for one year. The monetary value of the contract hasn't been reported at this time.
Penny is a great low-risk, high-reward signing for Philadelphia. The talented running back is just 27 years old, and he rushed for an NFL-best 6.3 yards per carry two seasons ago. In his last 15 games played for Seattle, Penny rushed for 1,095 yards and eight touchdowns on 176 carries.
When healthy, Penny is one of the most explosive running backs in the NFL. He hits the hole hard and possesses elite breakaway speed when he finds the open field. Behind this offensive line, Penny could be in for a career year if he can just stay off the injury report.
The Eagles wave goodbye to Miles Sanders without saying a word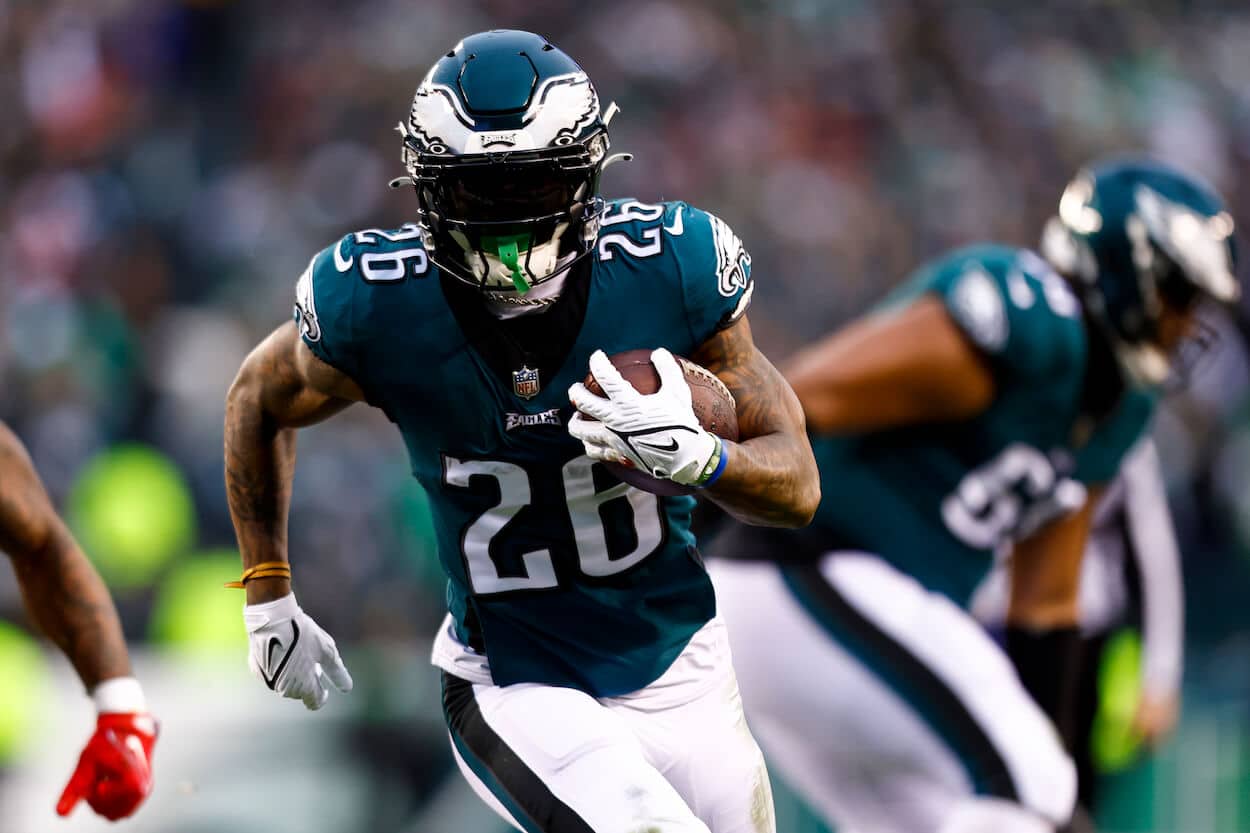 Penny becoming the first signing for the Eagles in free agency isn't a coincidence. The move likely signals that Miles Sanders, who's also a free agent this offseason, will be hitting the open market.
That isn't necessarily a surprise for Eagles fans. Roseman has proven time and time again that he doesn't value running backs as much as other positions, so he was never going to pay Sanders the massive raise he's seeking this offseason. Does he deserve one after his first 1,000-yard rushing season? Absolutely. He was just never going to find it in Philadelphia.
The Eagles still have Kenneth Gainwell under contract for two more years, and they'll have the ability to re-sign Boston Scott to a smaller deal if they please. Add a healthy Penny in the mix, and this backfield can be just as effective as it was last year with Sanders running the show.