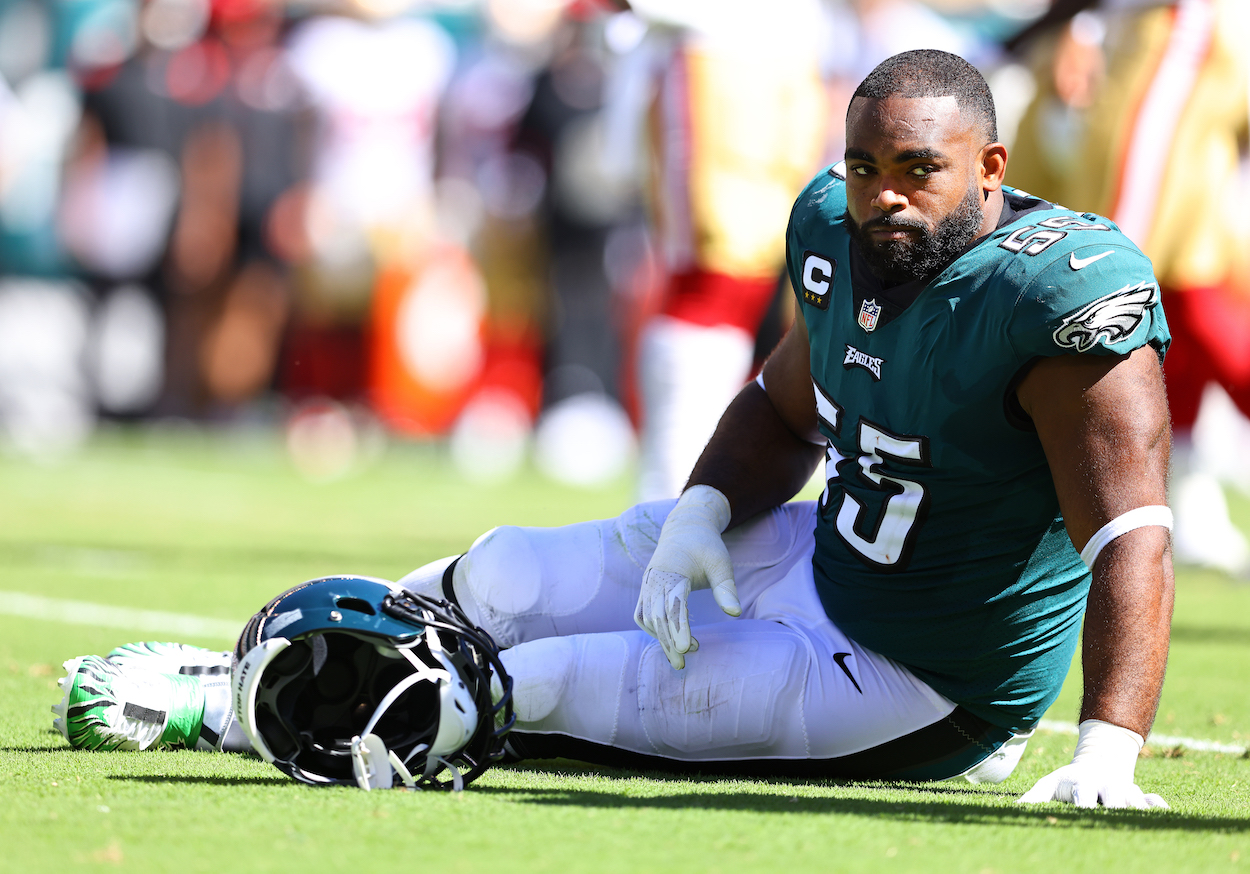 Philadelphia Eagles Suffered 2 Catastrophic Injury Blows That Capped Off a Nightmare Sunday Afternoon
Eagles DE Brandon Graham and OG Brandon Brooks both suffered possible season-ending injuries in Sunday's loss.
The Philadelphia Eagles followed up their dominant Week 1 victory over the Atlanta Falcons with a stinker of a performance against the San Francisco 49ers on Sunday. Despite outgaining the 49ers and outplaying them for a majority of the game, the Eagles managed only 11 points and made crucial mistakes all afternoon that ultimately led to their first loss of the 2021 season.
But the defeat on the field pales in comparison to the two devastating injury blows to key players on both sides of the ball. Defensive end Brandon Graham and offensive guard Brandon Brooks both left Sunday's game after getting hurt, and both could be out for the remainder of the season.
Eagles suffer two injury blows to Brandon Graham and Brandon Brooks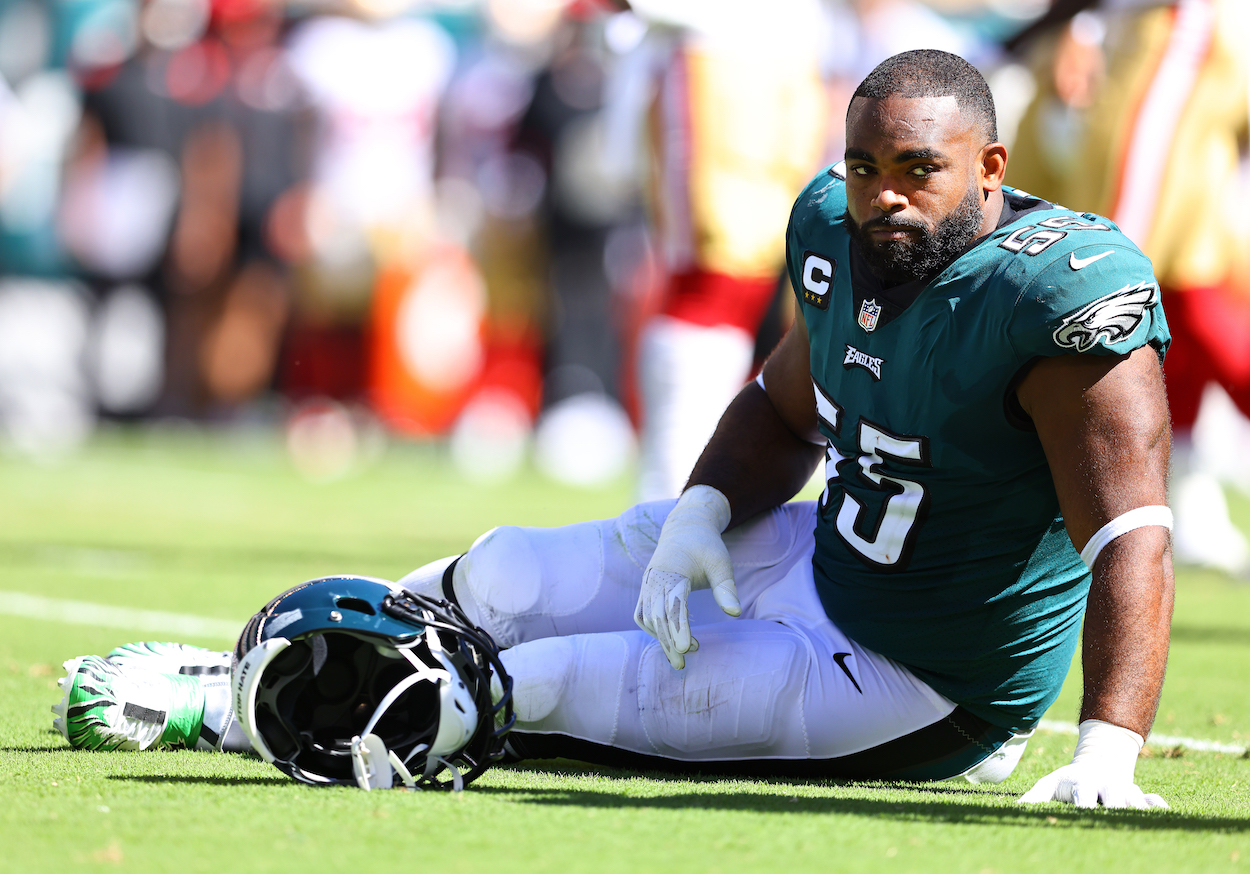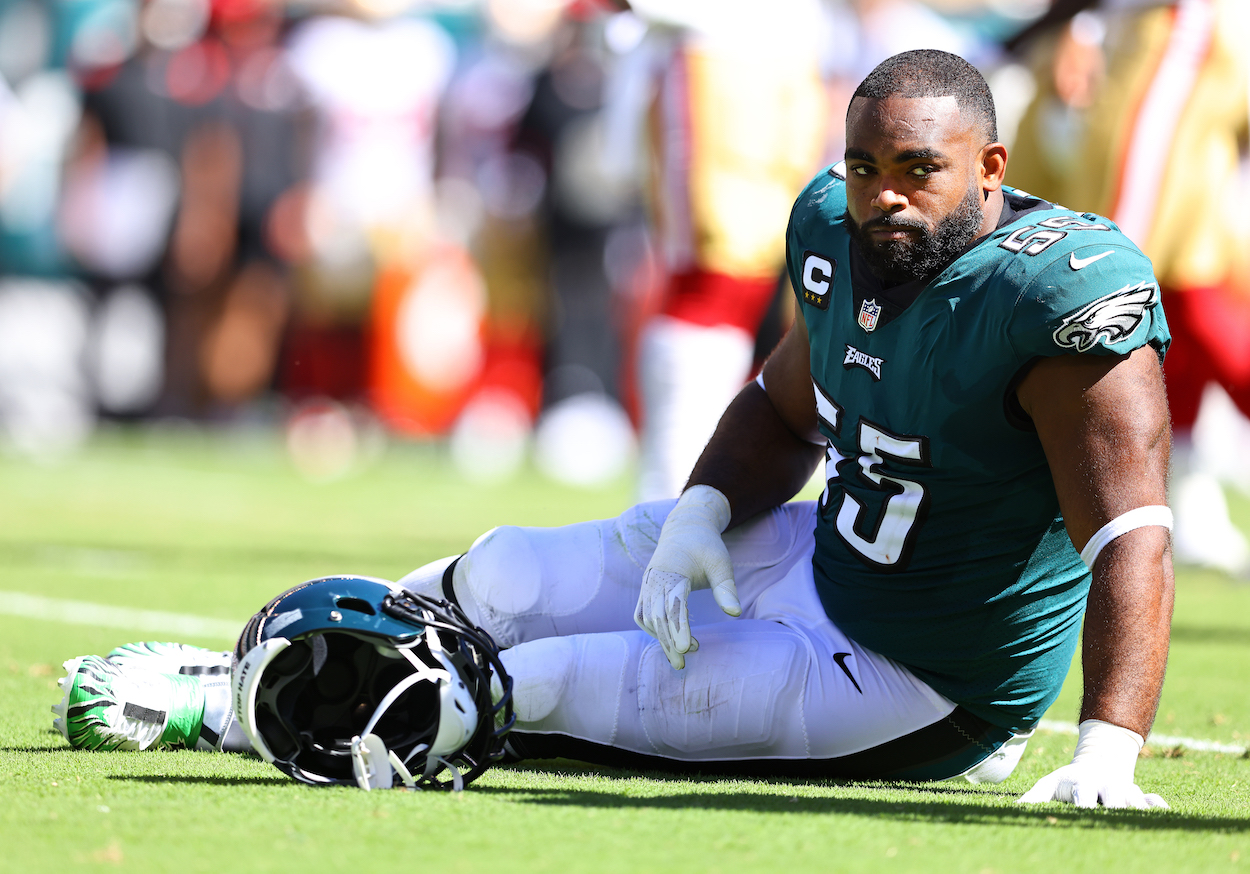 The story of the last few Eagles seasons has been widespread injuries across the entire roster. Philadelphia survived Week 1 without any major losses, but that wasn't the case in Week 2.
During the team's 17-11 loss to the 49ers, both Brandon Graham and Brandon Brooks left the game with what looked to be major injuries. After the game, Adam Schefter of ESPN reported in a tweet that the Eagles believe Graham tore his Achilles and will be out for the rest of the season.
Shortly after, Ian Rapoport of NFL Media reported in a tweet that Brooks suffered an injury to his pectoral muscle. He will undergo an MRI on Monday to determine if it's a full tear or just a strain. Brooks might be able to return later this year, but a full tear would likely end his season as well.
Two catastrophic losses on both sides of the ball
The impact of losing both Graham and Brooks to major injuries goes far beyond just their play on the field. Graham is a defensive captain and the leader of the defensive line alongside Fletcher Cox, and Brooks is one of the most beloved figures in the locker room.
After losing both veterans on Sunday, other Eagles players expressed their disappointment and put into perspective just how devastating these injuries are moving forward.
"It was a pretty emotional moment for me to see BG limp off the field," Cox said after the game. "Me and Brandon have played so much ball together, and to see him walk off the field was pretty rough for me."
"It's terrible," offensive tackle Lane Johnson said of Graham's injury. "He's probably one of the greatest humans that I've had the pleasure of playing with. He's really the heartbeat of this team by the way he conducts himself, the way that he leads, and the way that he plays. I'm heartbroken for him."
"You can't replace those type of players," Johnson continued. "Younger guys have to step up, and we have to press on. It's terrible because Brooks is one of my best friends, he's been the best guard in the league for a long time, and he was doing well so far this season.
"Not having him out there is a tremendous loss for us."
It's one thing to lose two of your best players to major injuries, but it's another to lose two beloved veteran leaders on the same day. This season could begin to spiral out of control if Philly isn't careful.
How can the Eagles replace Brandon Graham and Brandon Brooks?
It won't be easy to fill the voids left by Graham and Brooks on the defensive and offensive lines, but the Eagles do have some capable backups at their disposal this year.
Veteran pass rusher Ryan Kerrigan will now see more playing time in the absence of Graham, and sixth-round rookie Tarron Jackson will also be forced into a more prominent role. Rookie offensive guard Landon Dickerson took Brooks' place at RG on Sunday, and he'll be expected to hold that starting spot all season.
As Johnson said after the game, these losses are tremendous, but they will open the door for younger players to see valuable playing time and carve out a role on this team for years to come. Let's see if they can soften the blows even a little bit.