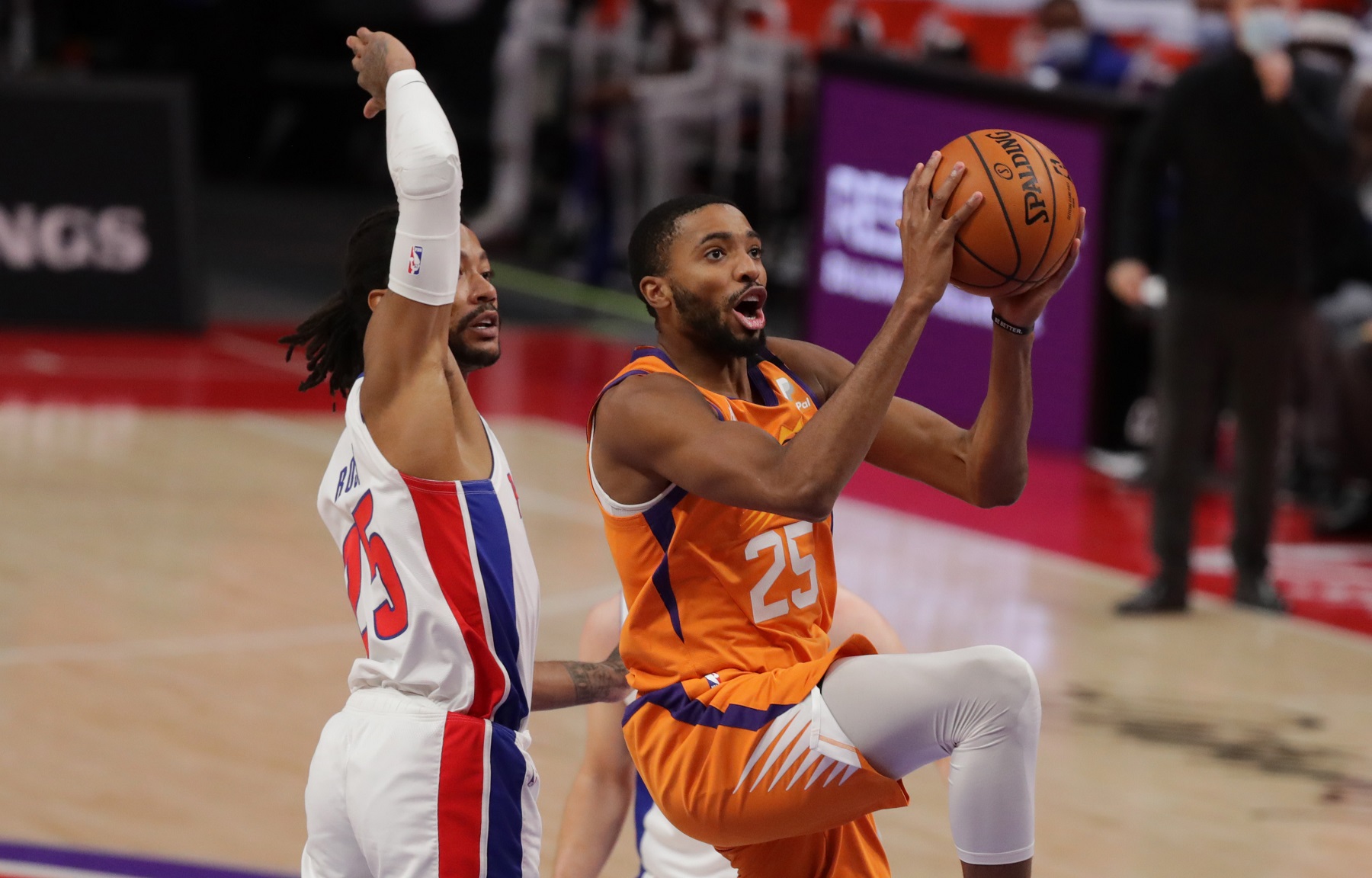 Phoenix Suns Forward Mikal Bridges Eats Free at Chipotle Every Day
Third-year forward Mikal Bridges of the NBA's Phoenix Suns eats free at Chipotle every day.
Forward Mikal Bridges of the Phoenix Suns enjoys the perks associated with being one of the roughly 500 men good enough to play in the NBA. He earns a nice salary, travels first-class and sleeps in fine hotels when the team is on the road, and dines in the finest Chipotle restaurants around the country.
That's right. The 24-year-old standout in his third pro season eats at Chipotle every chance he gets. And Chipotle comps him for doing so.
The Phoenix Suns found a winner in Mikal Bridges
Villanova coach Jay Wright didn't let Mikal Bridges slip past him. Bridges attended school in nearby Malverne, Pennsylvania, and began attracting attention from recruiters in 11th grade. He had just turned 18 upon enrolling at Villanova and sat out his first season while adding muscle to his 6-foot-6 frame.
Bridges averaged 20 minutes a game coming off the bench in the 2015-16 season, posting 6.4 points and 3.2 rebounds. He went on to start 73 of a possible 76 games over the next two years and blossomed as a redshirt junior with averages of 17.7 points (shooting 43.5% from beyond the arc) and 5.3 rebounds in helping the Wildcats to their second NCAA Tournament title in three years.
Bridges gave up his final season of eligibility to enter the 2018 NBA draft. For just an instant it appeared that he would be staying home after the Philadelphia 76ers made him the 10th overall pick. That same night, however, the Sixers shipped Bridges to the Phoenix Suns for Zhaire Smith and a 2021 draft pick.
Bridges has been a steady contributor for the Suns from the start. He started 56 games as a rookie and averaged 8.3 points and 3.2 rebounds. He upped those numbers to 9.1 and 4.0, respectively, last season while showing marked improvement in his shooting accuracy. Bridges finished at 51.0% from the field and 36.1% on 3-pointers.
The start of the 2020-21 season has been a good one for Bridges. Through 11 games, he is shooting 45.3% from beyond the arc to boost his scoring to 15.1 points a game. The Suns have already exercised their option on him for next season at a little more than $5.55 million.
The road can be a grind
Playing major-college basketball goes a long way toward preparing top players for NBA careers. Those players receive some of the best coaching available and get as many as 40 games a season under their belt, sharpening their skills against others who were pursued by multiple Division I colleges.
Aside from the college season maxing out at half the number of games that the pros play, travel is the big difference between Division I and the NBA. The major-college teams stack their schedule with home games. When they do travel, some of the shorter trips are same-day bus trips. Other games are overnighters, but extended road trips are rare.
In those situations, the team is usually on a tight schedule, so players eat their meals together at the hotel or nearby. In the pros, however, Mikal Bridges discovered that he had a lot of discretion on where to eat most meals on five- and six-day road trips.
And that suits him just fine. Every city that is large enough to have an NBA franchise is almost certain to have a Chipotle restaurant or two – something he realized during the grind of his rookie season.
"I was big in just kind of ordering room service and stuff," Bridges said, "but now kind of like going out, getting dinner with a couple of my teammates. Say we're staying in LA tomorrow night and maybe the next day, I'll get Chipotle. If you have practice, come back, shower, and meet on a bus at this time. … Trust me, I always get Chipotle, especially if we stay in the city and we leave and go to the flight."
Mikal Bridges eats free every day at Chipotle
Phoenix Suns forward Mikal Bridged explained in a video last spring that his obsession with the food at Chipotle began in high school when curiosity finally got the best of him.
"My friends were going for months and I literally was like, 'Nah, it's probably not going to be that good. I'm not going to even try it. Whatever,'" he said. "And then I tried it with one of my friends and literally got it every day since."
The summer ritual became hard workouts followed by meals at Chipotle, where his go-to order is a white rice bowl with chicken, hot salsa, corn, cheese, guacamole, and lettuce.
Bridges' fondness for Chipotle caught the attention of someone up the food chain at the food chain, and a pleasant surprise arrived in the mail: A letter attached to a gift case. Inside the case was a card that entitles the emerging NBA star to one free meal per day at the restaurant.
"Only other person I know in the league that has one is my teammate. Frank Kaminsky," he said. "Frank is probably the only (other player) that comes close to eating Chipotle all the time."
All stats courtesy of Basketball Reference.