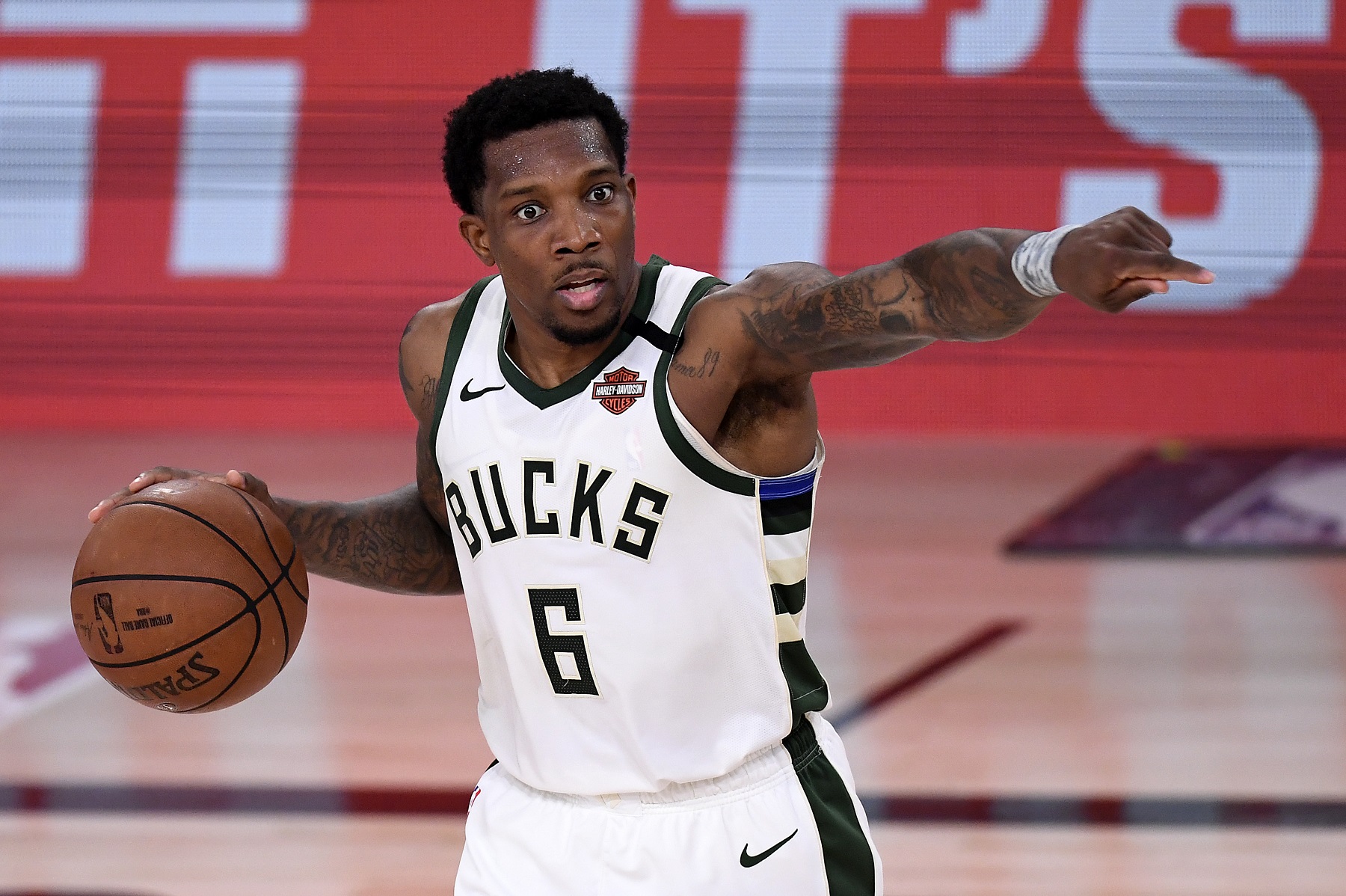 Eric Bledsoe's Hair-Raising Tweet Saved His NBA Career
Stuck on a terrible Phoenix Suns team, Eric Bledsoe forced a trade with a five-word tweet that he hilariously claimed was misunderstood.
Houston Rockets star James Harden obviously wants a trade on the eve of the new NBA season, but he's being too subtle. Harden, an eight-time All-Star, should take a page from Eric Bledsoe, who combined the direct approach with plausible deniability to escape the Phoenix Suns three years ago and now plays for the New Orleans Pelicans.
It would help bring an end to a tedious story detracting from what should be an exciting NBA season.
James Harden wants to leave the Houston Rockets
The bigger the contract, the more complicated the trade. That's one of the truisms of player movement in the NBA. With most teams either up against the salary cap or squirreling away money to sign free agents next year, general managers usually have to offset the contracts they're acquiring by getting rid of contracts of roughly the same value.
That's one hurdle hindering the Houston Rockets as they try to move James Harden, who has three years and almost $133 mission left on his contract (not to mention a 15% trade kicker), according to Spotrac.com. The other obstacle has been that Harden was reported to be dictating where he would go – namely the Brooklyn Nets or Philadelphia 76ers.
Had Harden been less fussy about where he could go and started asking to get out of town sooner, the messy situation could have been resolved by now. It could have made a difference, too, since the Rockets might not have made moves to pick up John Wall and DeMarcus Cousins.
In short, then, Harden would have been better advised to take the Eric Bledsoe route to relocation.
Eric Bledsoe earns his keep
To be clear, not many NBA fans go to the arena or flip on the TV because they're excited to watch recent New Orleans Pelicans acquisition. Eric Bledsoe play. Bledsoe, a 6-foot-1 point guard who was a one-and-done for Kentucky coach John Calipari, is about to begin his 11th NBA season. That being said, Bledsoe's production is right-sized for a guy coming off the first season of a four-year, $70 million contract.
Bledsoe's career averages are 14.2 points, 4.8 assists, and 4.0 rebounds a game. At 2.6 turnovers a game, his ratio is a little below par. But Bledsoe shoots 45.7% overall and 33.6% from beyond the arc, which is enough to force defenses to play him honestly. His own defense is top-notch.
Bledsoe entered the league in 2010 with the Los Angeles Clippers as the No. 18 overall pick and has played 631 regular-season games with three teams. After three years as a role player with the Clippers, he was shipped to the Phoenix Suns, who've been wandering through the Arizona desert in search of a playoff berth since 2010.
By the end of his fourth season, Bledsoe had seen enough.
Five words saved Eric Bledsoe's career
Eric Bledsoe was just days into the 2017-18 season with the Phoenix Suns when the third straight loss to open the season persuaded him he needed a change of scenery. A 130-88 loss to the Los Angeles Clippers, the second lopsided loss in four days, prompted Bledsoe to tweet five words the following afternoon:
"I Dont (sic) wanna be here."
Laughably, Bledsoe claimed he was referring to being at a hair salon. A furious Suns GM Ryan McDonough benched Bledsoe while looking for a trade partner. Two weeks later, he found one. The Suns traded Bledsoe to the Milwaukee Bucks for Greg Monroe and a pair of draft picks.
Milwaukee was the right place for Bledsoe and saved his career. He averaged 16.3 points and 5.3 assists in three seasons for a contender. This week, he starts over with the New Orleans Pelicans following a four-team trade that brought the Bucks Jrue Holiday.
Bledsoe will have to fight for his minutes in New Orleans, where the Pelicans are building around Zion Williamson. However, Bledsoe and rookie Kira Lewis Jr. give the Pelicans a more viable future at the point than Lonzo Ball or J.J. Reddick over the long term.
All stats courtesy of Basketball Reference.