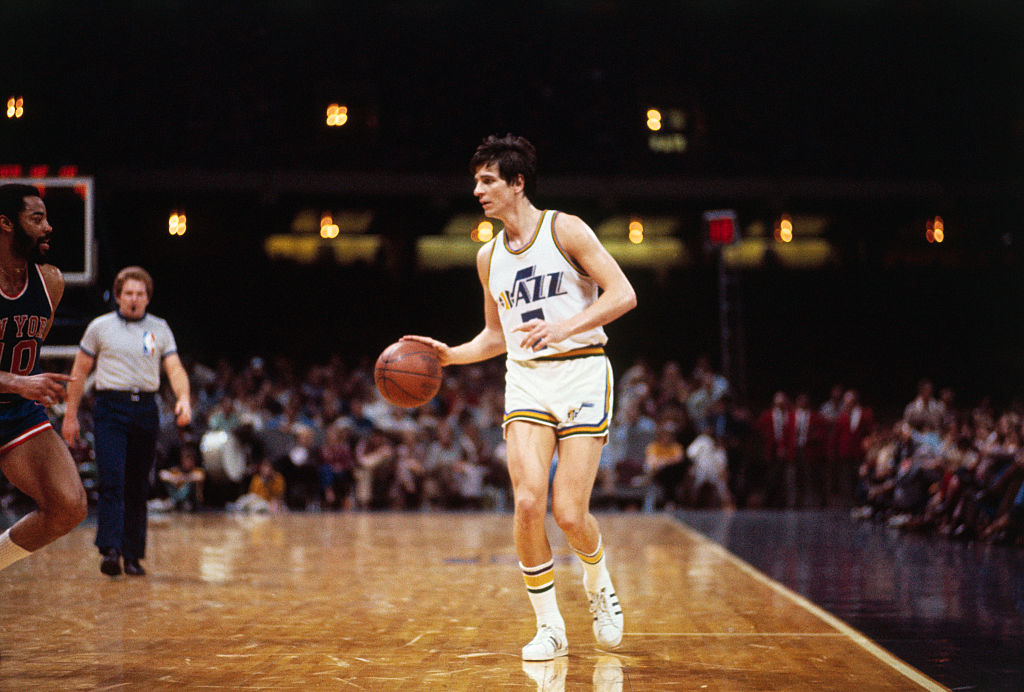 Pistol Pete Maravich's Tragic Death After Hall of Fame Career
Pete Maravich saw his Hall of Fame career was cut short due to injuries, which was followed by a tragic death in retirement.
Many legendary players have graced the floor and left an unforgettable mark on NBA history. Among them was Hall of Famer "Pistol" Pete Maravich, whose career earned him recognition as one of the greats and helped shape the league into what it has become today.
The former Utah Jazz guard was well ahead of his time as a highly-skilled offensive talent, but he had a tragic ending to his life at a young age.
Pete Maravich's collegiate career
Before stepping into the NBA, Pete Maravich had an incredibly productive collegiate career at LSU, earning recognition as one of the country's best talents.
In his three-year collegiate career, Maravich earned numerous accolades. He was a two-time College National Player of the Year, a three-time Consensus First-Team All-American, and a three-time SEC Player of the Year, he led the nation in scoring three times, and he finished as the NCAA Division I all-time scoring leader.
Maravich was a scoring machine, averaging 44.2 points for his career, and he posted north of 43 points per game in each of his three collegiate seasons. He accomplished all of that before the three-point line came around, and Maravich also wasn't allowed to play for a full quarter of his freshman year due to an NCAA rule that didn't let him take part in varsity competition.
All of this set the stage for a promising NBA career.
Pete Maravich's illustrious NBA career
Pete Maravich was taken third overall by the Atlanta Hawks in the 1970 NBA Draft, and he quickly became a star in the NBA. He played 10 seasons with the Hawks, New Orleans Jazz, and Boston Celtics, racking up five All-Star selections, two All-NBA First Team nods, two All-NBA second team nominations, a scoring title (1977), and jersey retirement by three separate organizations.
Maravich did have defensive holes in his game, but he was a bonafide scorer who averaged 24.8 points. He broke the 20-point-per-game barrier in eight seasons, and his scoring title came as he averaged 31.1. He tallied over 40 points 13 times, including 50-plus on four occasions. His 68-point outing against the New York Knicks was the most points scored by a guard in any game.
Maravich's career began heading south in the 1977-78 campaign as he missed 32 games due to injuries to both knees. Such injuries continued to limit him. He played in only 49 games during the 1978-79 season. The following year was his last campaign, as his knee issues only worsened.
He played only 17 games with the Jazz before the team placed him on waivers. Maravich signed with the Boston Celtics, led by star rookie Larry Bird. The Celtics fell short in the playoffs, and he retired after the season at age 32
Pete Maravich's tragic death
Pete Maravich moved into retirement and away from the game of basketball.
He chose to pursue yoga and Hinduism before becoming an Evangelical Christian. But his story took a devastating turn on Jan. 5, 1988, as Maravich collapsed and died of heart failure at age 40 while playing a pickup basketball game in the First Church of the Nazarene in Pasadena, California. The autopsy revealed a rare congenital defect that led to his right coronary artery becoming enlarged.
Maravich is remembered as one of the game's best scorers during his prime. Although that prime was short-lived due to nagging knee issues, he had an everlasting impact on basketball and the NBA.
Stats courtesy of Basketball Reference