Remember the Game When Pete Maravich Was Outscored by an LSU Teammate? Ralph Jukkola Does Because He Did It
Pete Maravich averaged better than 40 points per game in each of his three seasons at LSU. He was the college basketball player everyone wanted to see, and rarely did he disappoint. He set the NCAA Division I men's record for most career points with 3,667, a record that still stands 53 years later.
Ralph Jukkola was a teammate of the man known as "Pistol Pete" for two seasons at LSU. He recalls many memorable performances by Maravich, but there was also that game when Jukkola pulled off a rarity by outscoring Maravich in a game against Tennessee. Sportscasting caught up with Jukkola this week.
Pete Maravich remains college basketball's top scorer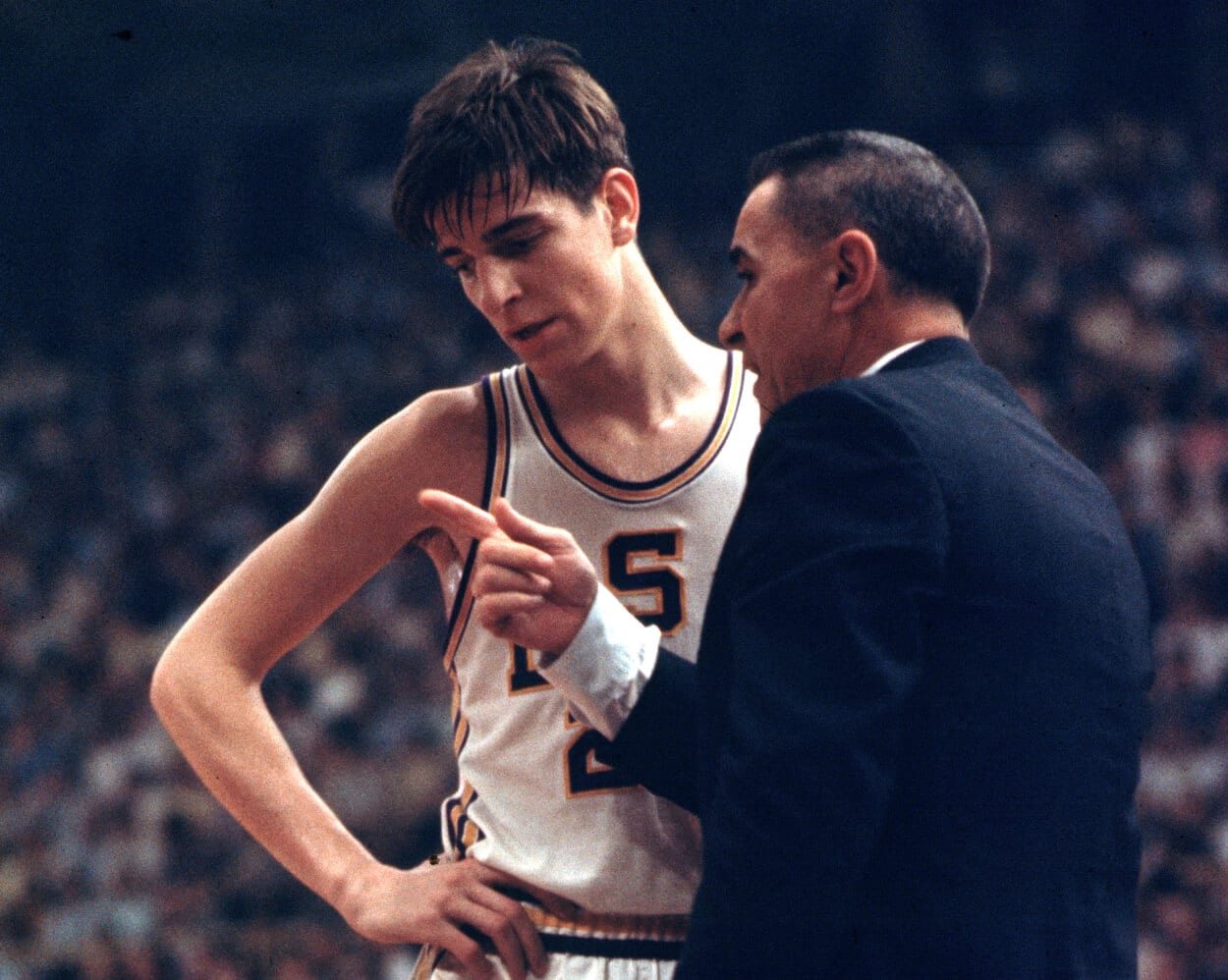 Maravich's numbers are off the charts. Freshmen weren't allowed to play on the varsity back in his days, so Maravich only has three years of statistics on his official college resume. That's more than enough.
Since he finished his LSU career in 1970, he's held the NCAA record, but Antoine Davis of Detroit Mercy flirted with the mark this season. Davis, however, played five years of college basketball. He was granted an extra season because of the COVID-19 pandemic. He had quite a career with the Titans, finishing with 3,664 career points. With no three-point line or shot clock, Maravich racked up his points in 83 games. Davis played in 144 games.
Davis nearly got an unjust 145th. After the Titans finished 14-19 and ninth in the 11-team Horizon League, there was zero chance of an NCAA or NIT berth. There was talk, however, that Detroit Mercy could get invited to the College Basketball Invitational, a tourney with no win-loss requirement. All that's needed to join the CBI's 16-team field was an invitation and a check for $27,500 to cover the entry fee.
Last Sunday, the CBI did the right thing. The organization did not extend an invitation to Detroit Mercy, and Maravich's record remains safe.
"That would have been downright dreadful," Jukkola told Sportscasting on Wednesday when asked his thoughts on his former teammate's record possibly being broken with a 145th game for Davis. "It's one thing if he did it in the regular season. To me, he would've been buying the record."
Jukkola reflects on the game when he outscored Maravich
Jukkoka, known by many as "Yuk" (pronounced Yuke), recalled a headline from one of the local papers that lumped him together with Maravich.
"It said something like 'Pete and Yuk are No. 1,' meaning he was the nation's leading scorer and I led the nation at the time in field-goal percentage," Jukkola said.
Jukkola then added that he didn't think he had enough field-goal attempts to qualify as No. 1 when the season ended. He still finished that 1967-68 season by making 63.8% of his shots.
"When you play with Pete Maravich, you're probably not going to get many opportunities to shoot," Jukkola, a 6-foot-3 forward, joked.
The more impressive moment of Jukkola's career came on March 2, 1968, when LSU tangled with Tennessee in Knoxville. It was the only time when Maravich was outscored by a teammate during the regular season. Maravich fouled out with 8:02 left in the game and finished with 17 points in a 74-71 loss to the Volunteers.
"There was no shot clock then," Jukkola said. "Tennessee, Kentucky, Vanderbilt were powerhouses. Tennessee slowed the ball down in that game, thinking if we hold the ball, Pete can't score. He struggled that game. They threw all kinds of defenses at him, and I think it frustrated Pete.
"He fouled out, and Tennessee went back to man (defense), and I just kept getting open. I made four, five straight shots, and I'm sure they were thinking, 'Who is this guy?'
Jukkola finished with a team-high 22 points to become the first and only teammate to outscore him in the regular season. According to Sports Illustrated, LSU teammate Danny Hester, a 6-foot-8 center, had 30 during a win over Georgetown in the NIT in Maravich's senior year. A banged-up Maravich finished with 20 that game.
Jukkola said there was no real fanfare about his feat. In fact, he didn't know he was the only teammate to outscore Maravich until someone mentioned it to him at a football game.
"I found out at a football game," Jukkola said. "Someone came up to me and said that nobody had done that in high school or college."