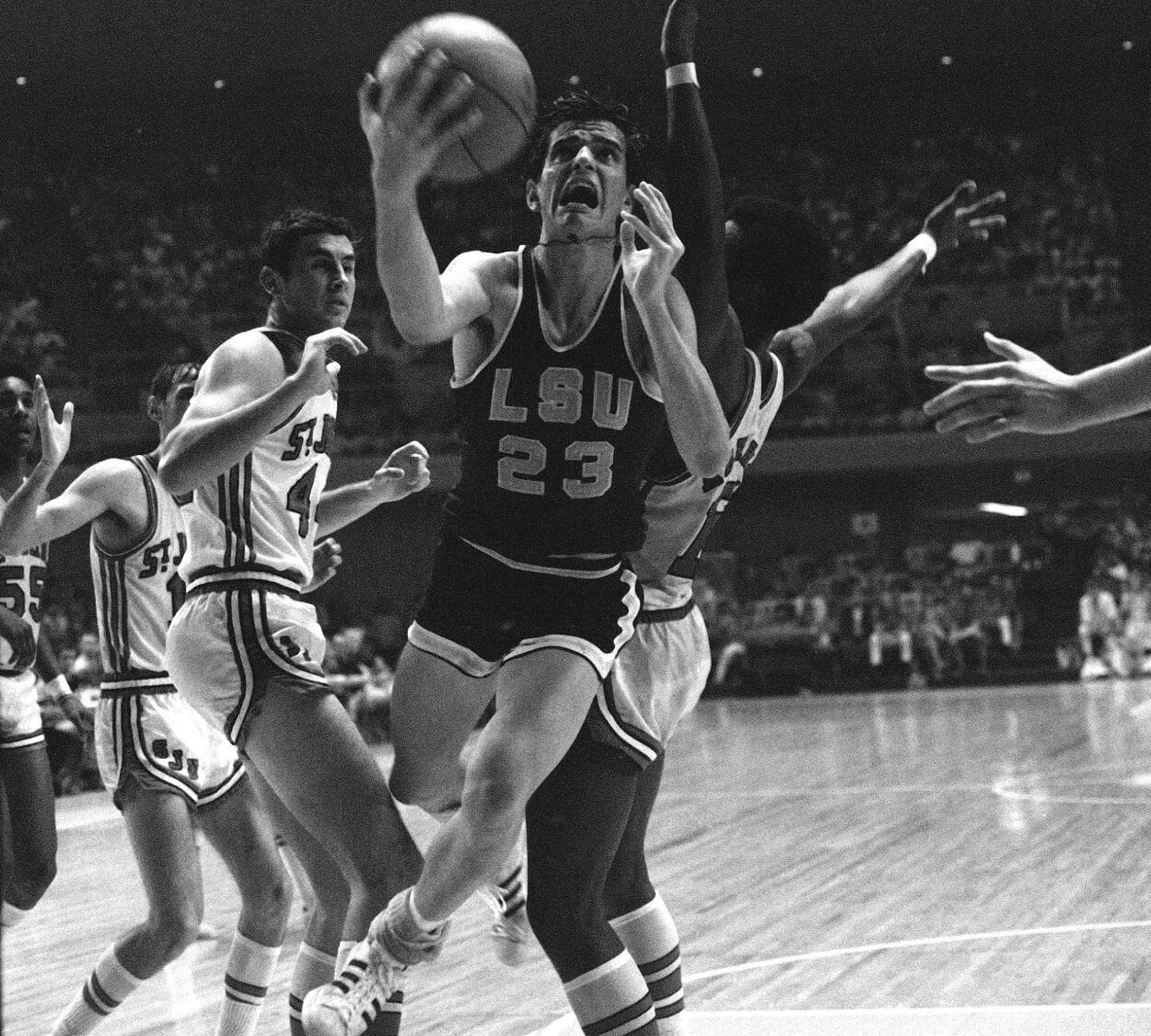 Pete Maravich Once Explained Why the National Scoring Title Wasn't His Most Important Accomplishment
Despite setting college scoring records, Pete Maravich once said shooting wasn't what he liked to do most on the court.
Pete Maravich made scoring look easy. While he took his fair share of shots, he shot 44% from the floor in his three years of college. He set three straight NCAA single-season scoring records, racking up better than 1,000 points each year at LSU.
Maravich finished his illustrious college career as the all-time leading scorer with 3,667 points. It's a record that still stands today. Despite his scoring ability, Maravich once said those scoring titles were not what meant the most to him.
Pete Maravich was must-see basketball at LSU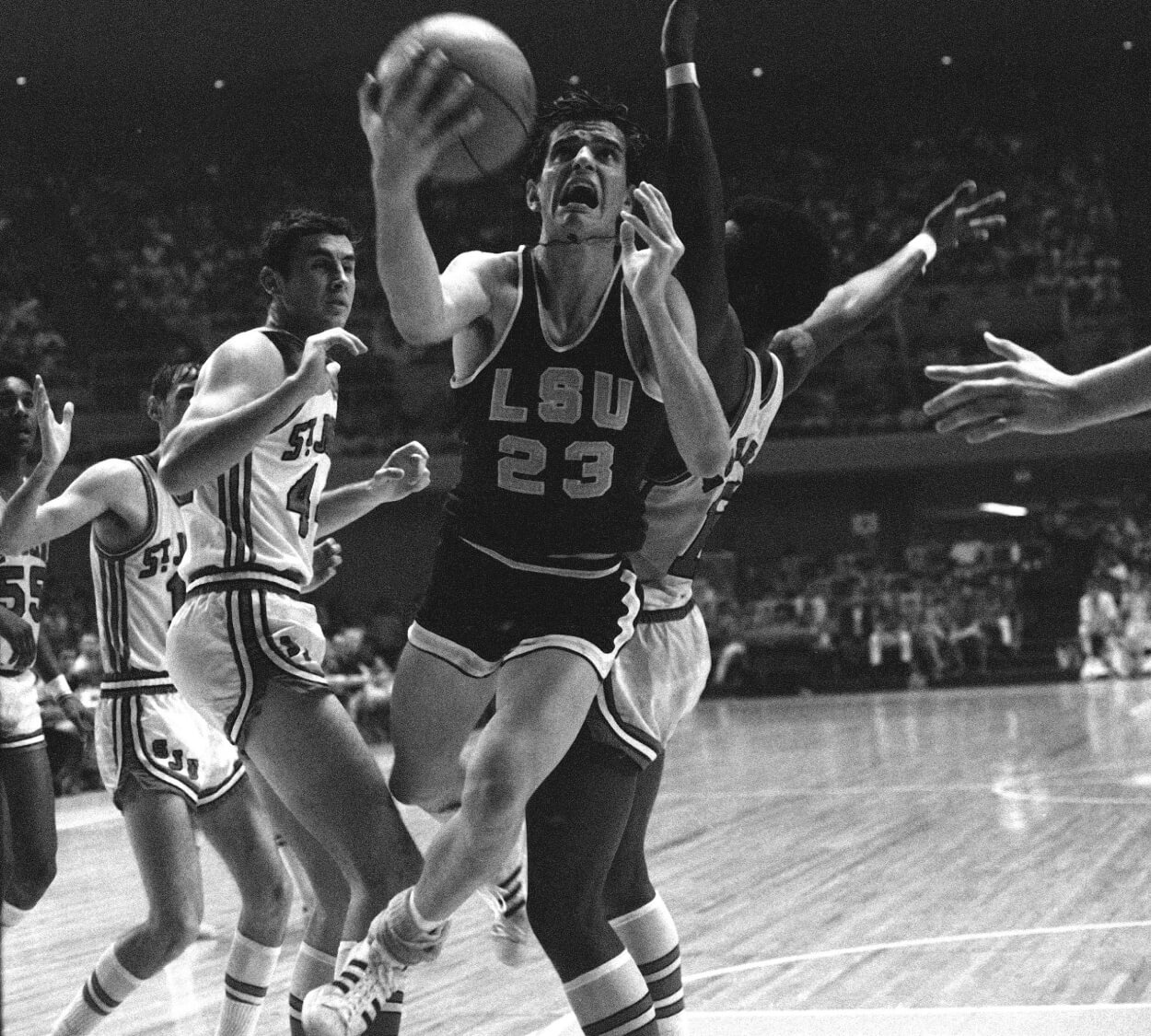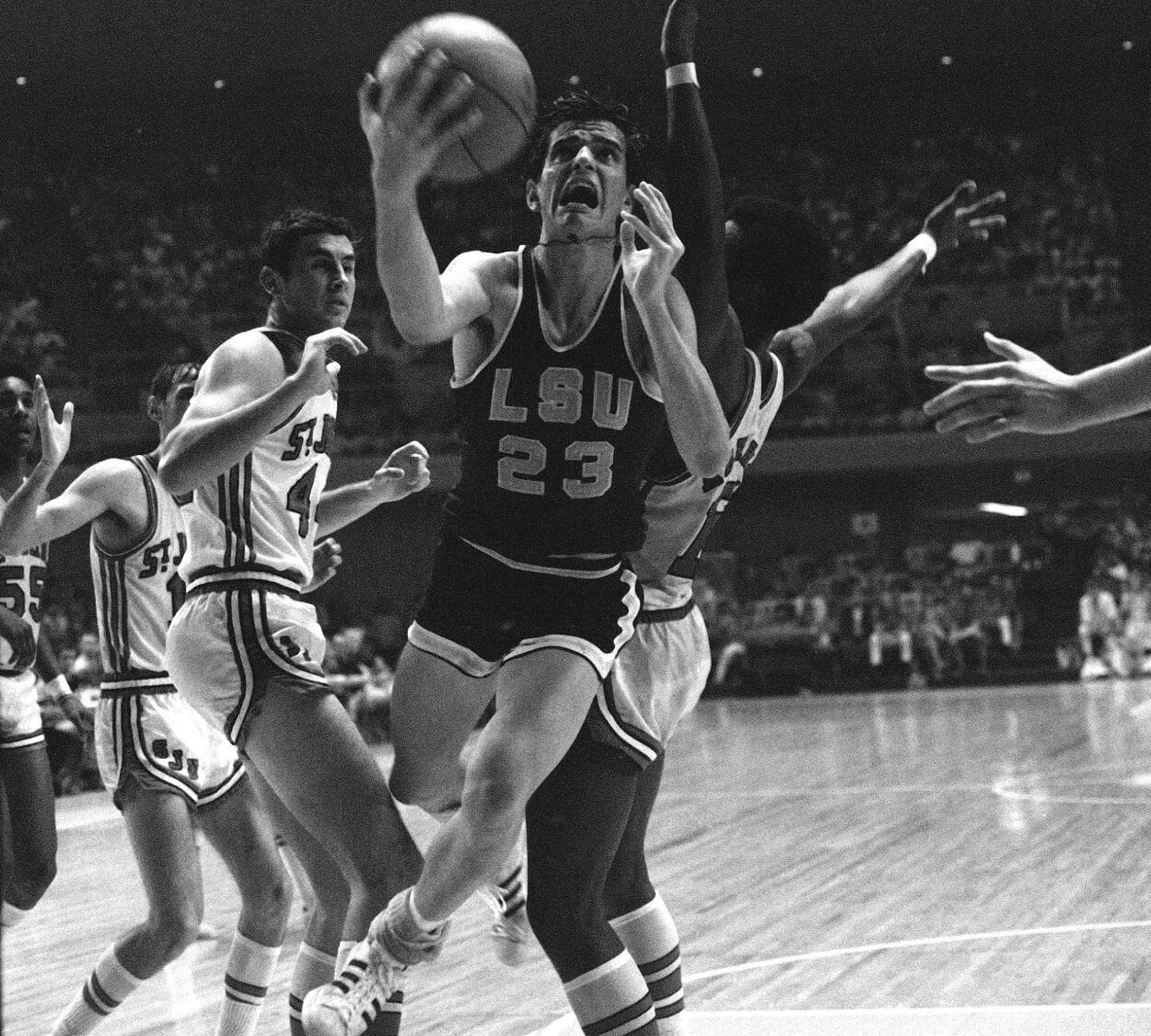 Maravich and his father, Press, came to LSU together for the 1966-67 season. Freshmen weren't allowed to play at the varsity level then, so "Pistol Pete" didn't play during that year when they went 3-23.
He made his LSU debut the following season, and what a debut it was. The 6-foot-5 guard with the floppy socks played 26 games, averaging 43.8 points. He also pulled down 7.5 rebounds and dished out 4.0 assists. He finished the year with 1,138 points.
With Maravich running the show, the Tigers finished the season 14-12. It was the first winning year at LSU since the 1961-62 season.
The follow-up was even more impressive. As a junior, Maravich averaged 44.2 points as LSU went 13-13. In his senior year, LSU reached the NIT and finished fourth overall in the tourney. The Tigers went 22-10, and Maravich won his third straight NCAA scoring title after collecting 1,381 points to become the all-time scoring leader.
Not only was Maravich a prolific scorer, but he put on quite a show with his no-look passes. Maravich was must-see basketball, and fans from all over flocked to see him play.
Scoring wasn't what Maravich liked doing best
Maravich took an average of 38.1 shots per game at LSU, but that was more out of necessity than anything. While he was known for piling up the points, it wasn't what he liked doing best.
Maravich once said he preferred setting up his teammates. Passing the ball, whether it was a traditional pass or a behind-the-back one, was what he loved most. In a first-person Sports Illustrated article written ahead of his senior year in 1969, Maravich said he needed to clear up something.
"There's one misconception I'd like to clear up," Maravich wrote. "When most people hear the name Maravich, all they think of is a skinny kid who shoots all the time. Well, I do shoot a lot. But, and this may sound funny, shooting is not really my game. Passing is. Passing and ball handling and dribbling. That is the most exciting part of my game, the most devastating part, the part that people come out to see, the part I like to talk about."
He went on to explain why winning the Star of Stars Award in the East-West All-Star Game after his sophomore year was so important to him.
"At the end of my sophomore year, I played in the East-West All-Star Game in Indianapolis and won the Star of Stars award," Maravich wrote. "It certainly wasn't for my shooting. I only scored 16 points, but I had 11 or 12 assists that were right out of the show.
"From the coaches' and writers' standpoint, these seemed to be the highlight of the game. I know that's what the fans liked best. That award meant much more to me than either of the national scoring championships I won. Any time you win over guys that are all All-Americas, it has to be the best. And it was all passing."