Did Pete Maravich Shoot Too Much? Pistol Pete Explained the Reason for His 38 Attempts Per Game in College
It's not a misprint. Pete Maravich averaged 44.2 points per game over his three years at LSU. Without the benefit of a three-point line or a shot clock, "Pistol Pete" became the NCAA Division I men's basketball all-time leading scorer with 3,667 career points. It's a record that's stood for 53 years.
Maravich also displayed strong court awareness, showing a flashy style of play with behind-the-back passes that helped make him a fan favorite. While he's arguably the best college basketball player ever, he took his share of criticism. Among them was that he shot too much. He once explained why he did just that.
Pete Maravich has been the NCAA Division 1 all-time leading scorer since 1970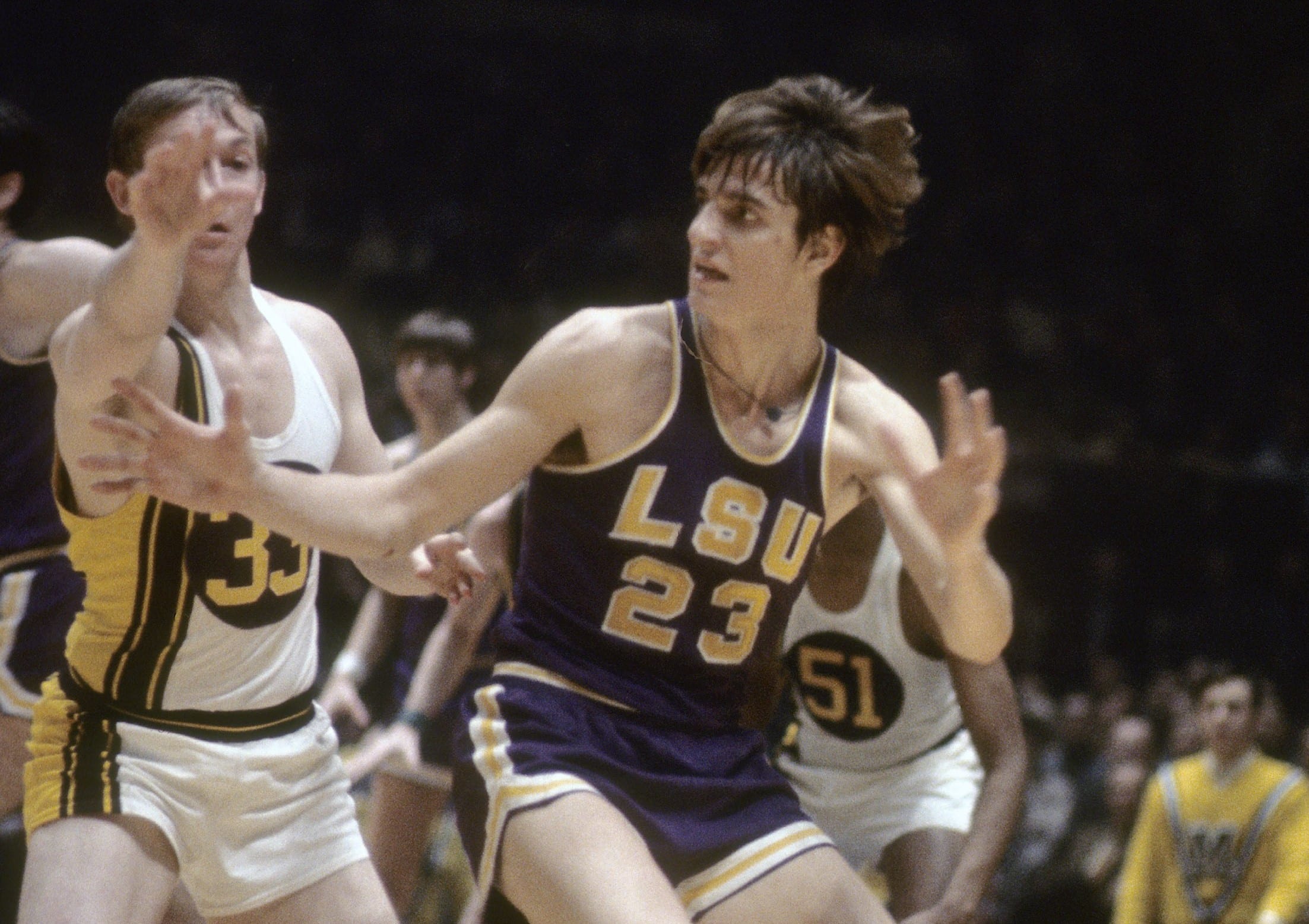 Pete Maravich made it look easy. It only took him 83 games to set his scoring mark. He didn't have the benefit of a freshman season as freshmen weren't allowed to play at the varsity level back then. Pistol Pete averaged 43.8 points in his first varsity season with the Tigers, and that was just the beginning.
The 6-foot-5 guard averaged 44.2 and 44.5 points in his final two seasons. His 3,667 points have been the record since 1970, but now that mark could be in danger.
Detroit Mercy guard Antoine Davis, a fifth-year guard, finds himself three points shy of tying the mark. Because of the COVID-19 pandemic, Davis was granted a fifth season and has made the most of it. In the quarterfinals of the Horizon League tourney, Davis needed 26 points to break Maravich's mark. He finished with 22 in a loss, a loss that seemingly ended the Titans' season at an unheralded 14-19.
With no chance at the NCAA tourney or the NIT, it appeared Davis was finished with an impressive 3,664 points. Then the College Basketball Invitational came into play. The CBI is a 16-team invitation-only tournament. If you're invited, you're also slapped with a $27,500 entry fee. Since the CBI is an unknown tournament that scoops up college leftovers, it will likely invite Detroit Mercy, with one of the most prestigious records on the line.
In other words, Detroit Mercy can pay its way into the tournament to break a 53-year-old record. It doesn't matter if the Titans are 14-19. Eyes will be on them, at least until Davis gets his four points.
What Davis has done is impressive. If he had broken the record Thursday, an asterisk still would have been placed by his name because of his fifth year. If no record was on the line, Detroit Mercy wouldn't even be considered for this tournament. Should the Titans pay their way for Davis to get four points, the record would be significantly tarnished. Just ask Jaeson Maravich, Pete's son.
"It's a terrible look," Jaeson Maravich told Sportscasting on Wednesday. "It's bush league or whatever you want to call it. Nobody will take it seriously if you have to have 18 asterisks."
Did Pistol Pete shoot too much during his career?
Davis is playing by the rules. Jaeson Maravich has never said a bad word about the Detroit Mercy star. The problem lies within the CBI, inviting the Titans for all the wrong reasons. It also would lie within the school, should it accept the invitation they normally wouldn't receive.
Davis will likely get his share of criticism if he breaks the mark. Personal attacks on him are unfair. He's playing the game that's put out in front of him. Despite that, he'll likely hear how tarnished the record is wherever he goes.
If Pete Maravich ever received any criticism, it might have been that he shot too much. Maravich was never blessed with a tremendous supporting cast, so he needed to shoot.
"It's very simple. Pete has to shoot 40 times a game in order for us to win," Maravich's college teammate Jeff Tribbett told Sports Illustrated in March 1968. "He just has to."
Maravich was aware some said he shot a lot, but he also explained why he did. He said he was able to find ways to get open and never had to force anything.
"I'm conscious of what people say about my shooting so much, but there's a lot of difference between shooting 40 times a game and being able to shoot 40 times," he said to Sports Illustrated. "I can get open that many times, I don't care who's playing. Some other people would have to start throwing over their heads to get it up there 40 times."
For a guy who supposedly shot a lot, he also made 44% of those shots. Pistol Pete may have shot more than the average player, but Maravich was also far better than the average guy.