The Pittsburgh Steelers Have Only Played 1 Preseason Game but a Top Draft Pick Already Wants Out
The Pittsburgh Steelers looked good in the Hall of Fame Game, the first NFL preseason game of the year. They took down the Cowboys 16-3 and got out of Canton, Ohio, without any significant injuries. After the game was a different story, however, as fourth-year wide receiver James Washington promptly requested a trade.
James Washington is part of a talented Pittsburgh Steelers wider receiver group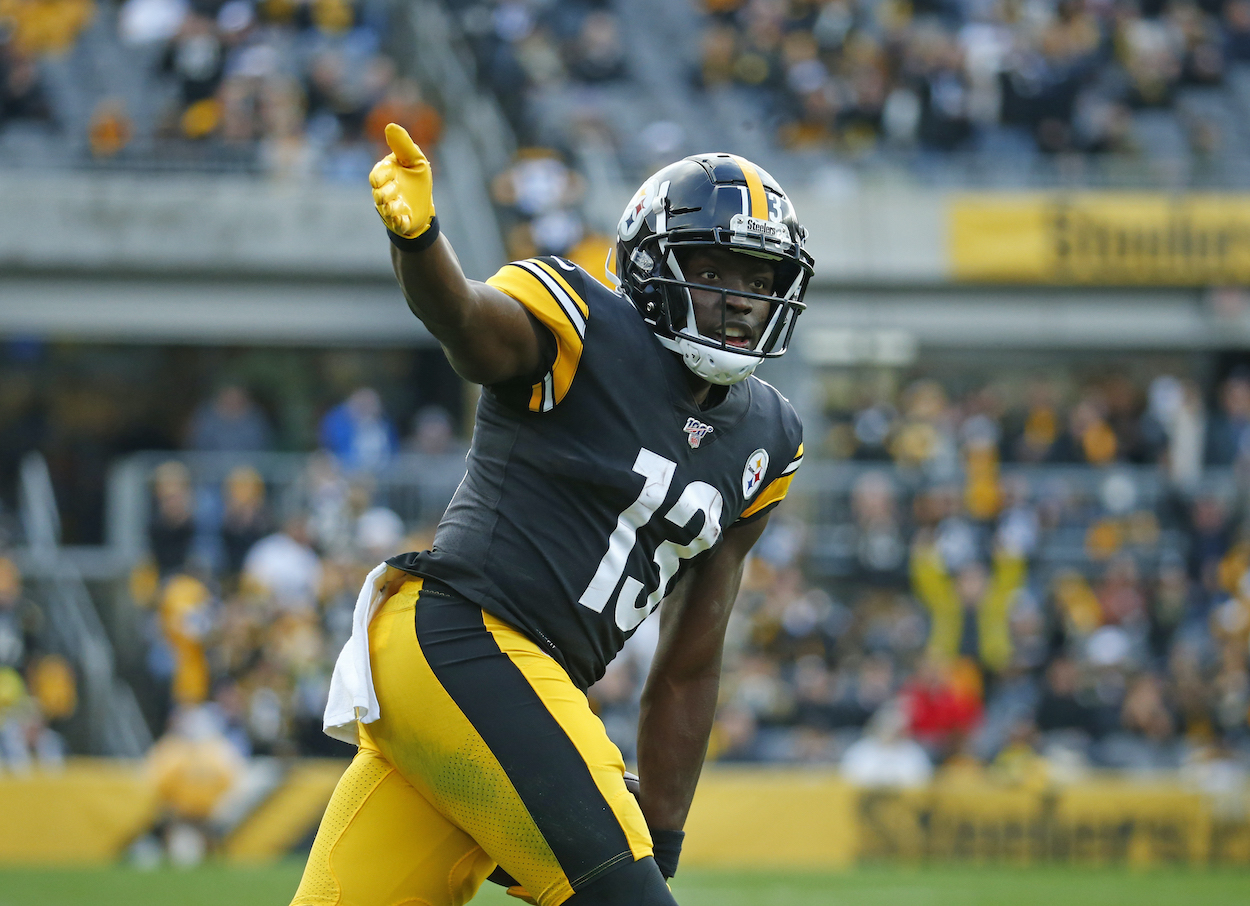 The Pittsburgh Steelers took the 5-foot-11, 213-pound Washington out of Oklahoma State in the second round of the 2019 NFL Draft. The diminutive Texan dominated as a Cowboy. In 2017, he led all FBS pass-catchers in receiving yards (4,472) and TD catches (39) and ended his Oklahoma State career as the school's all-time leading receiver with 4,472 career yards.
In his rookie season, Washington only produced 217 yards and a touchdown on six catches behind two thousand-yard-plus receivers, Antonio Brown and JuJu Smith-Schuster. Washington stepped up, though, in 2019 when Brown left and Smith-Schuster was injured. He became the team's leading receiver with 735 yards on 44 catches.
Despite his seemingly upward trajectory with the organization, 2020 was a disappointment for Washington. His snaps decreased from 634 (64%) in 2019 to 486 (44%). His yards and touchdowns also dwindled to just 392 yards on 30 catches, dropping him to the fifth-leading receiver on the team.
Much of this drop-off can be attributed to the emergence of second-year receiver Dionte Johnson and rookie Chase Claypool to go along with a healthier Smith-Schuster. With these three receivers as quarterback Ben Roethlisberger's unquestioned top targets in 2021, Washington is already not happy.
Washington is requesting a trade
Washington suited up in the black and yellow for the Hall of Fame Game to kick off the 2021 season. He only saw two targets all night, though.
The day after, ESPN's Adam Schefter reported that he had sources telling him that Washington officially requested a trade out of Pittsburgh:
The source said that Washington, who is entering the final year of his rookie deal, is unhappy with his limited playing time last season and so far this preseason.

ESPN report on James Washington's trade request
This trade request is a blow to the Roethlisberger and the Steelers, who are counting on Washington. Behind Claypool, Johnson, and Smith-Schuster, the team doesn't have much depth at wide receiver. Outside of Ray-Ray McCloud, who has 113 career receiving yards in three seasons, the rest of the Steelers' depth chart at the position consists of six undrafted free-agent rookies.
This could be a serious problem for new offensive coordinator Matt Canada who comes from the spread offense ranks of college football where major receiver rotation is the norm.
Pittsburgh Steelers takeaways from the Hall of Fame Game
There is only so much you can take from any preseason game, let alone the very first one. There may be even less you can take away from a Pittsburgh Steelers game where Roethlisberger doesn't play, and most starters didn't make it past a few series.
All that said, if you are a Steelers fan, there were some positive and interesting developments during this game that may tell you some things about the upcoming season.
The first takeaway is that first-round pick Najee Harris and the revamped offensive line looked good. Harris plowed his way to a nice run, and a first down on his first-ever NFL carry. The O-line also didn't allow a sack on starter Mason Rudolph in its short time on the field. The Pittsburgh offense did this against an anemic Cowboys defense, but it's a good sign nonetheless.
The other thing to note from the game is who came out on top in the backup QB battle. The incumbent Rudolph got the start. However, former first-rounder Dwayne Haskins – who selfie-ed his way out of Washington – looked slightly better between the two. While Rudolph put up marginally better stats, Haskins led the team on two impressive scoring drives.
This battle is vital because Roethlisberger is 39-years old has only played 16 games once in the last six seasons.
All stats courtesy of Pro Football Reference