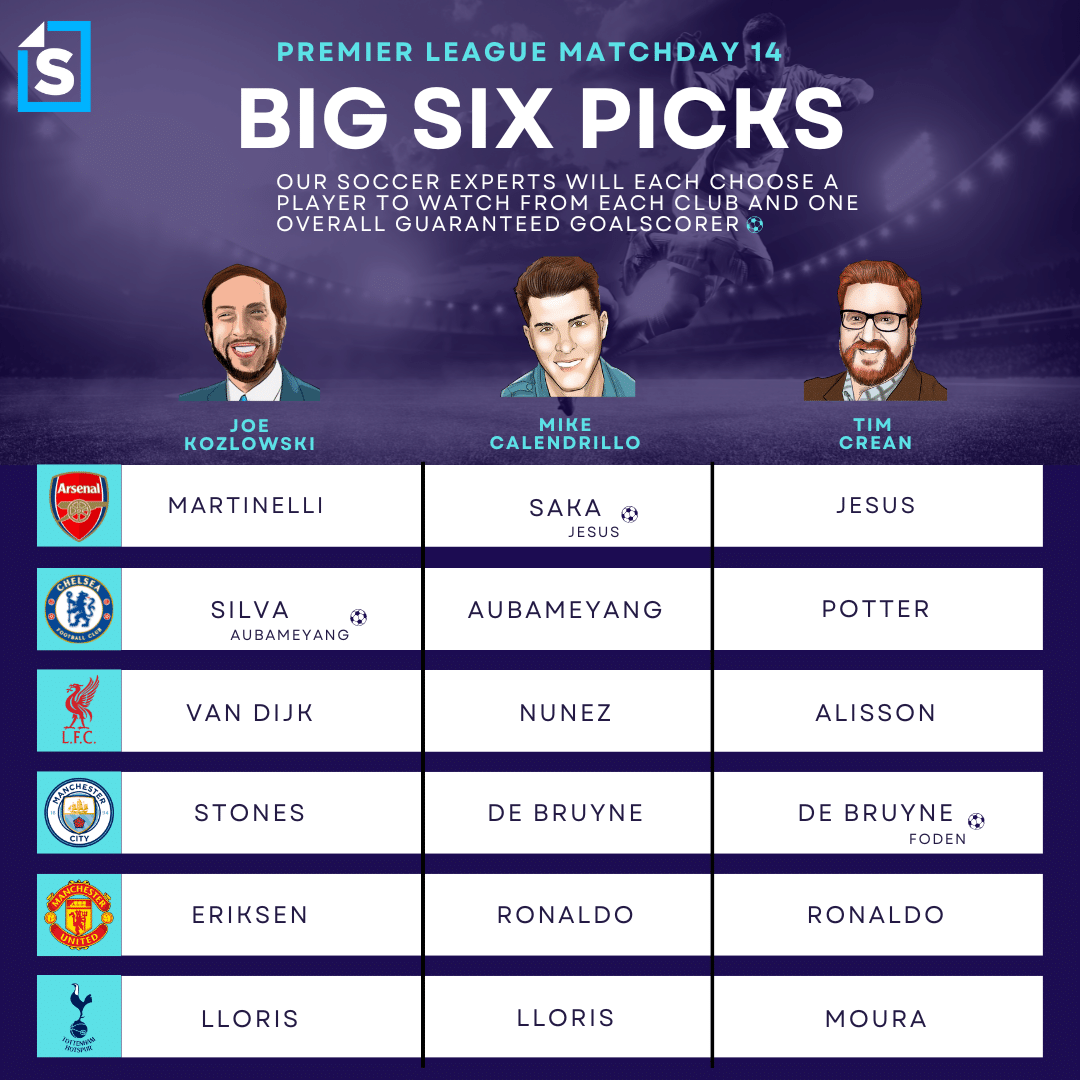 Sportscasting Big 6 Picks: Premier League Matchday 15
As the Premier League heads toward its World Cup break, here is what to look for during this weekend's matchday 15.
The English Premier League is now in the home stretch of the first half of the English soccer season before going on an unprecedented mid-season World Cup break. Each EPL side has two more league matches before breaking until the festive period at the end of the year. That leaves few chances for these clubs to leave with a good taste in their mouth, and that challenge starts this weekend. It won't be easy for several Premier League clubs as Matchday 15 features some heavyweight matchups like Liverpool vs. Spurs and a Chelsea vs. Arsenal London Derby.
Premier League Big 6 Picks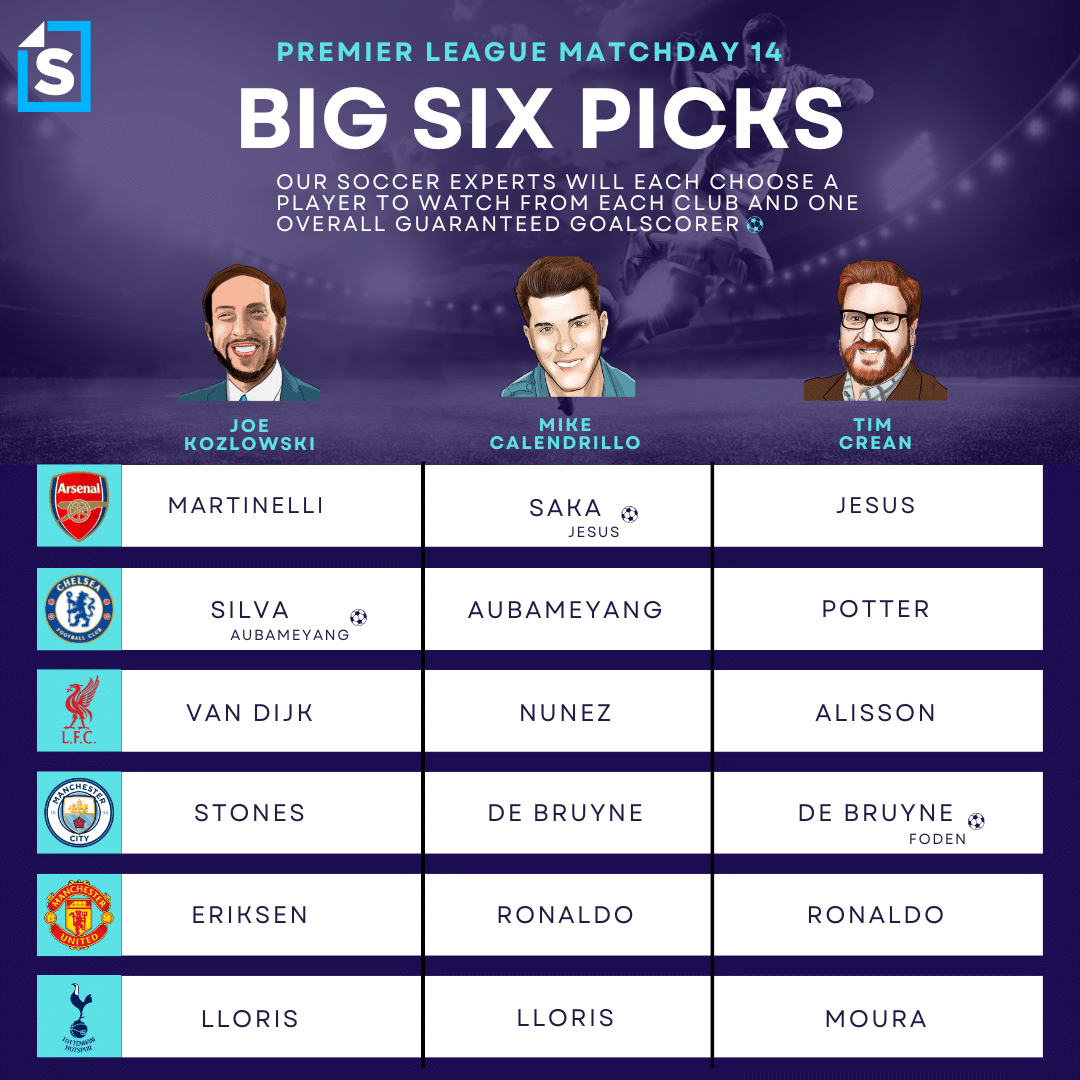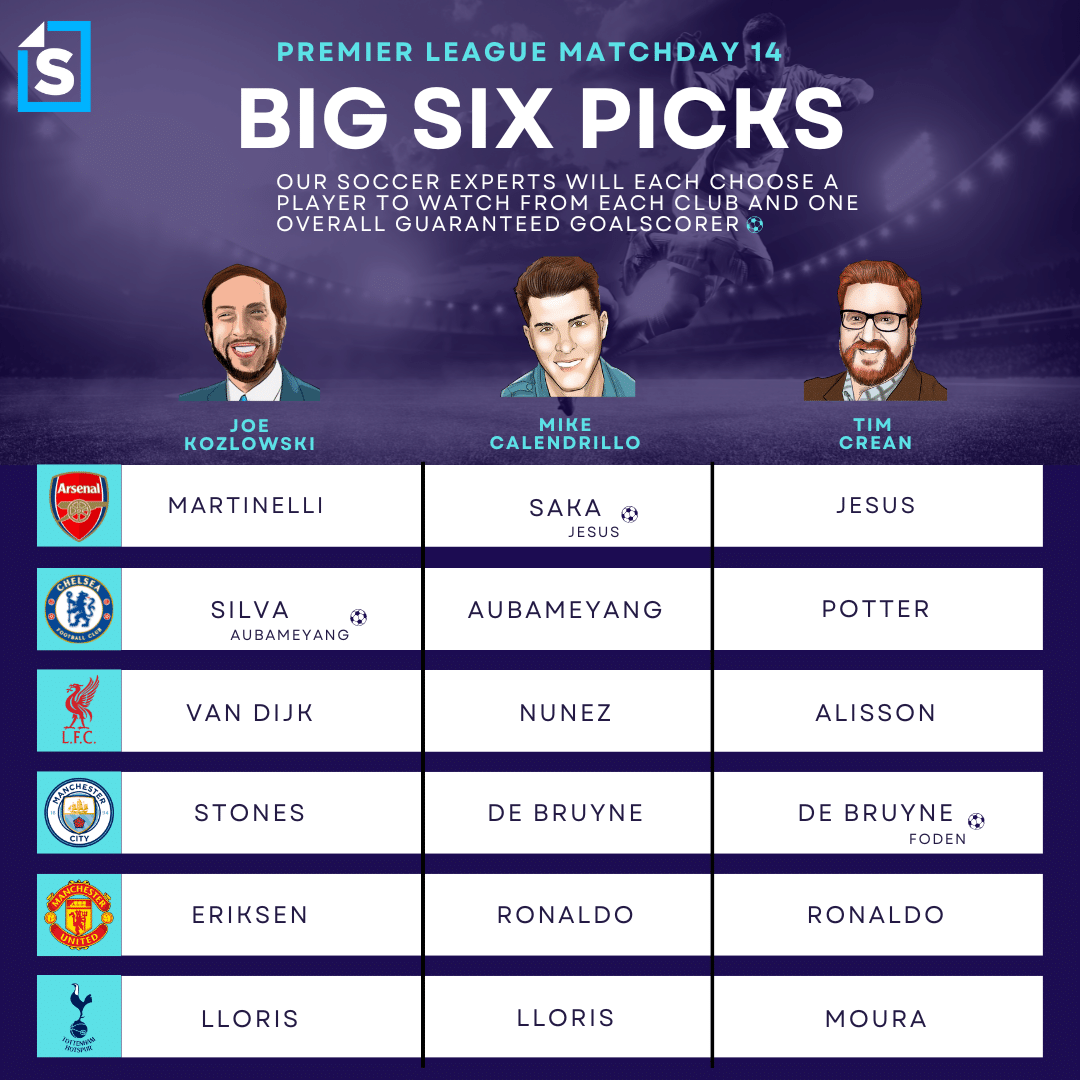 Manchester United vs. Aston Villa
Joe Kozlowski: Christian Eriksen – With Bruno Fernandes suspended due to red card accumulation, United's creative burden will fall on the Dane. And while the Red Devils should see plenty of the ball, Aston Villa should be fired up (and defensively stable) with Unai Emery taking over. If this squad is serious about pushing for the top four, this is a match they should be looking to control and, in turn, win.
Mike Calendrillo: Cristiano Ronaldo – Man United are unbeaten in their last five league matches (3 wins, 2 draws). However, last season, Aston Villa were able to secure four points, the same amount they had in their previous 17 league games. With Unai Emery taking over Steven Gerrard on the Villa touchline, perhaps we'll see another familiar face in Cristiano Ronaldo start from the opening whistle. Losing Bruno Fernandes to suspension, who had a brace in this exact fixture, will hurt – so,  why not unleash CR7, who has scored more Premier League goals against Villa (8) than any other English side.
Tim Crean: Cristiano Ronaldo – United will be short up front against Aston Villa this weekend as well, with Anthony Martial, Jadon Sancho, and Antony all likely out. That means it's time for Christiano Ronaldo to step up and show he's still got it with a goal in this first match of a unique Premier League/Carabao Cup double-dip vs. Villa. 
Liverpool vs. Tottenham
Joe: Virgil van Dijk – Say what you will about Tottenham's style, but Spurs can 1) score on the counter-attack and 2) Find the back of the net via Harry Kane. Virgil van Dijk will be responsible for stopping both of those from happening. Some have suggested that VVD is too concerned about looking good this year; Sunday will be a chance for him to get his hands dirty and defend.
Mike: Darwin Nunez – Liverpool have taken more shots than any other side in the league this season (122). Yet, their conversion rate of 10.9% is their lowest since 2006-07 when they only achieved 10%. Coming off a heart wrenching 89th minute Leeds goal, Jurgen Klopp needs more from his No. 9's, especially Darwin Nunez, who has yet to live up to the hype or price tag since arriving from Benfica last summer (3 goals in 8 league appearances). 
Tim: Alisson – In these two teams' last meeting, Liverpool's Brazilian keeper made a major mistake that Son Heung-min turned into a goal. Jurgen Klopp's team has such a small margin for error these days — especially in big games ' that Alisson needs to be on point this weekend. 
Arsenal vs. Chelsea
Joe: Gabriel Martinelli – While it remains to be seen if Bukayo Saka will play, I expect Gabriel Martinelli to create chaos on the opposite flank. Chelsea really don't have an ideal defensive option on the right side – without Reece James, they have to make due with either Cesar Azpilicueta or someone who's really an attacker like Christian Pulisic or Ruben Loftus-Cheek – which isn't ideal for facing an opponent who will run, press, and prod for 90 minutes. Martinelli has also scored a big goal at the Bridge before, removing any fear factor that could exist.
Mike: Bukayo Saka – Arsenal have scored more goals in the opening 30 minutes of league games this season than anyone else (11) – starting strong has been a huge reason why they currently sit at the top of the table. Each of the Gunners' last six Premier League goals versus the Blues were scored by Bukayo Saka, Emile Smith-Rowe and Eddie Nketiah – all Englishmen. Stopping any one of this impactful trio is easier said than done due to Chelsea's stuck in the mud defending. 
Tim: Gabriel Jesus – The Arsenal striker hasn't scored in a Premier League match since October 1 vs. Spurs. However, he did contribute two assists for the club in the last EPL match vs. Nottingham Forest. As the World Cup ad January window approaches, Jesus needs to leave for his break on a good foot, or it could be tough when he gets back. 
Chelsea vs. Arsenal
Joe: Thiago Silva – As I suggested in the Arsenal note, Chelsea's defense will probably have their hands full on Sunday. If we know one thing about the Gunners, it's that they'll try and exert pressure on their hosts. That will shine a spotlight on Thiago Silva, the centerpiece of Chelsea's backline. Can he handle the heat and guide the Blues through a tricky contest? Or will he look a step slow like he did against Brighton?
Mike: Pierre-Emerick Aubameyang – Chelsea were beaten up by Graham Potter's former side, 4-1, last time out. Luckily, they're back home, where they are unbeaten in nine league matches (5 wins, 4 draws) since last April – when they lost to Arsenal! Potter must hope that Pierre-Emerick Aubameyang can punish his old mates (68 goals in 128 league games) as Auba could become just the second player to score for both clubs in this fixture (not counting OG), after Cesc Fabregas
Tim: Graham Potter – The last time we saw Chelsea in the Premier League, they were getting smoked by Graham Potter's former club, Brighton. This week, they face an Arsenal team clicking on all cylinders in a London Derby. Potter needs to figure something out this week to at least make the derby respectable. If not, his time in West London could be shorter than most. 
Manchester City vs. Fulham
Joe: John Stones – Fulham may not have a boatload of world-class talent, but they do have a dangerous striker in Aleksandar Mitrovic. His aerial ability and sheer strength make him a threat from set pieces and, whether he's playing at center-back or right-back, John Stones will play a key role in limiting the Serbian's chances. 
Mike: Kevin De Bruyne – Oh boy, Fulham, it could be a long afternoon. Man City are unbeaten versus the Cottagers in their last 14 league matches, winning 11, including nine in a row with five straight clean sheets. Though Erling Haaland is expected to miss Saturday's contest, Kevin De Bruyne and his long-range bangers will be on hand. Did you see last week's goal against Leicester?! The Belgian has now been involved in 29 goals in 2022 (13 goals, 16 assists), which is second only to Harry Kane's 32. 
Tim: Kevin De Bruyne – Manchester City's stars got a nice break in the team's final UCL Group Stage match vs. Sevilla, so most should be ready to kick off the side's final three matches before the World Cup break. KDB needs to lead the charge for the team to finish strong and help the team keep up its hot scoring streak if Erling Haaland is still not available. 
Tottenham vs. Liverpool
Joe: Hugo Lloris – There's two ways we can look at Lloris' task against Liverpool. Either he'll be under pressure and have to make some big saves, or he'll play a key role in helping Tottenham beat the press. Given his inconsistencies in both departments – he's either an incredible or awful shot-stopper, depending on the day, and isn't a natural with the ball at his feet – the Spurs' netminder could be a key player in this one.
Mike: Hugo Lloris – This is the first time Spurs will face Liverpool while sitting above them in the table, despite not beating the Reds in their last nine meetings (6 losses, 3 draws). With a backline that is oftentimes hit or miss, much of the focus will be put on the 35-year-old hands of Hugo Lloris. Set to appear in his 100th consecutive Premier League game exclusively for Tottenham, just five shy of Ian Walker's record, Lloris and the back three need to act more confident during the first 45 – the exact opposite of what they did versus Bournemouth. Spurs have won more points (10) than any other side in the league this season. They need to change that narrative ASAP. 
Tim: Lucas Mora – Here's a blast from the past for you With Son Heung-min out with facial surgery and Dejan Kulusevski out with a long-term injury, Antonio Conte will have to turn to Lucas Mora to play up front. While he's been tough for Spurs at times over the years, he's also stepped up in big spots, and this could be one of them. 
Guaranteed Goalscorer
Joe (2-8 record): Pierre-Emerick Aubameyang – This is purely a tactical play. As an Arsenal supporter, a painful goal from Auba seems to be written in the stars. If he converts, at least I'll get credit for being right here. If he fails to find the back of the net, hopefully, that bodes well for the Gunners. It's a win-win.
Mike: (8-2): Gabriel Jesus – He hasn't scored a goal in over a month. However, Jesus is still leading the Premier League with 124 touches in the opposition's box. That's 10.7 such touches per 90 minutes. He may be overdue, but he's in position to slide one home this weekend versus Chelsea. 
Tim: (7-3): Phil Foden – With Erling Haaland likely still out, the Man City goals need to come from somewhere, and Foden is the team's second-leading scorer with seven goals. He hasn't put one in for a few matches, so he's due.
Have thoughts on this topic? Keep the conversation rolling in our comments section below.