Premier League VAR Is Reaching a Dangerous Point of No Return
No sports fan has ever been excited to talk about instant replays and video reviews. Sometimes, however, circumstances force you to get into the weeds and discuss some less-than-ideal topics. That's exactly what happened this weekend in the world of soccer, as Premier League VAR made itself the center of attention.
For the record, I'm generally in favor of technology and can largely accept that there will be some hiccups along the way. This past weekend, though, has even pushed me to my logical limits. And when you start to lose those who were always on your side, that's a dangerous place to be.
Premier League VAR made 2 admitted errors, and 1 of them could have major implications on the title race
If you've spent any time watching professional sports, you'll know that referees are generally tight-lipped about controversial calls. When you get (more or less) a public admission of guilt, things have clearly gone wrong. During this past weekend of Premier League action, things went even further.
Without relitigating the entire situation — ESPN's Dale Johnson breaks things down step-by-step in his regular "The VAR Review" column — both Arsenal and Brighton were affected by mistakes. In the former, an apparent offside was never checked ahead of Brentford's tying goal. In the latter, a goal was disallowed because the offside line was drawn in the wrong position.
While the PGMOL (Professional Game Match Officials Limited, which, to place things in an American context, is essentially the referees union) confirmed on social media that "Chief Refereeing Officer Howard Webb has contacted both Arsenal and Brighton & Hove Albion to acknowledge and explain the significant errors in the VAR process in their respective Premier League fixtures on Saturday" and attributed those decisions to "human error," that does little to change what happened.
Both Arsenal and Brighton drew their respective matches. Although it's impossible to know how things would have played out had the VAR made the proper decisions, it's certainly reasonable to say the refereeing affected the results.
At this point, Premier League VAR is getting close to a dangerous reality: being seen as completely untrustworthy
Before going any further, I want to get a disclaimer out of the way. Refereeing is an incredibly hard job. Those who undertake it are signing up for a no-win situation where someone will always blame them for a result, regardless of what they did or didn't do. And, no matter what sort of calls are made, officials are real people who don't deserve abuse. With that being said, though, Premier League VAR is in a bad place.
As I mentioned above, I'm generally pretty understanding of instant replay and its limitations. Is it annoying to see a great goal chalked off because someone's toe was an inch ahead of the play? Of course, but I'll generally point the finger at the rule itself — maybe we should update the Laws of the Game as technology advances — rather than the person making the final call. That's not what happened this weekend.
Not only were both offsides calls obviously wrong, but they were made by officials who are solely responsible for video review. As Dale Johnson noted, Lee Mason, who was the VAR for the Arsenal match, "was the Premier League's first full-time VAR and is into his second season, but has made six confirmed mistakes this campaign." Neil Swarbrick, who made a controversial call that's beyond the scope of this discussion (Chelsea should have had a penalty, but more of a case of bad judgment than a blatantly missed call), is literally "the Premier League's head of VAR."
It's one thing for the on-pitch referee to miss a subtle shoulder barge or a marginal offside call, but it's another when experienced officials, who have all the benefits of technology, are making clear errors. Those sort of decisions set the stage for farcical "who will review the review" discussions.
The problems are further compounded by the fact that these mistakes don't seem to matter on the referees' side of things. While some repercussions have already been handed down — John Brooks, who misplaced the line and disallowed a good Brighton goal, is off VAR duty for two matches — those punishments don't seem to amount to anything beyond a few days out of the spotlight. As Johnson noted, Lee Mason has already made multiple mistakes this season, including two in a single weekend. That didn't keep him out of the booth on Saturday, though, where he potentially changed the course of Arsenal's title challenge.
All of that combines to create a situation where there's no trust. At the risk of sounding corny, all of sports is based on the idea that rules exist and they're enforced as uniformly as possible. No one is happy when the referee blows the whistle, but there's a general acceptance that things work out. Maybe you get a bad break today, but you'll get a marginal call in your favor next week. It's not perfect, but it's pretty apropos for life.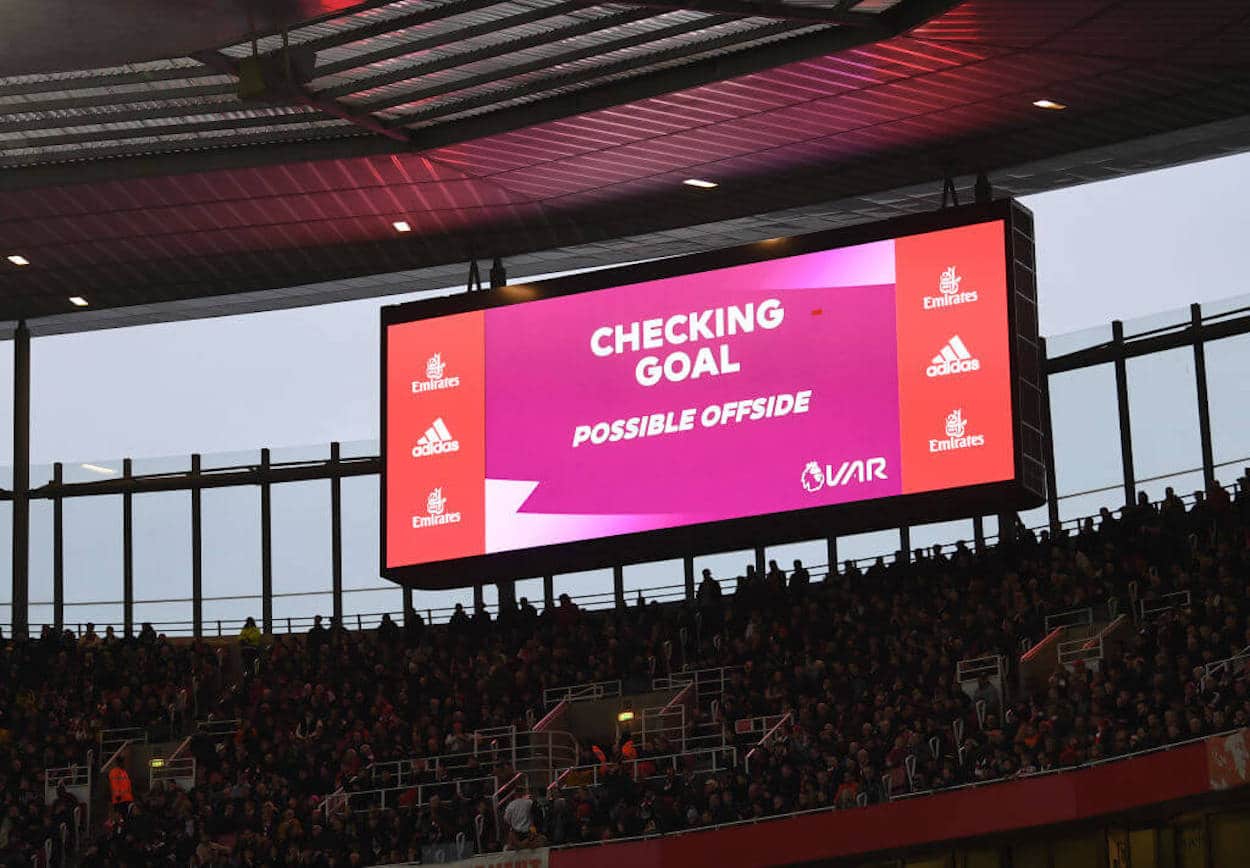 When the Premier League VAR is missing clear errors, though, the entire system starts to break down. Given that we literally saw an offside line be drawn in the wrong place, why would anyone believe that next weekend's calls are correct? Why would you watch the game if you're not confident it will be officiated properly (and, again, I'm willing to accept human errors without deeming an entire game improper)?
Do I expect some sort of mass protest or anything else that will force things to change? No. I've been around long enough to know that asking fans to give up their beloved sport is a virtually insurmountable obstacle. At the same time, though, you can't just hand-wave the issues away because viewership numbers are strong.
When the integrity of the game starts to break down — and, to be clear, this is incompetence we're talking about, not match-fixing — nothing good can follow.