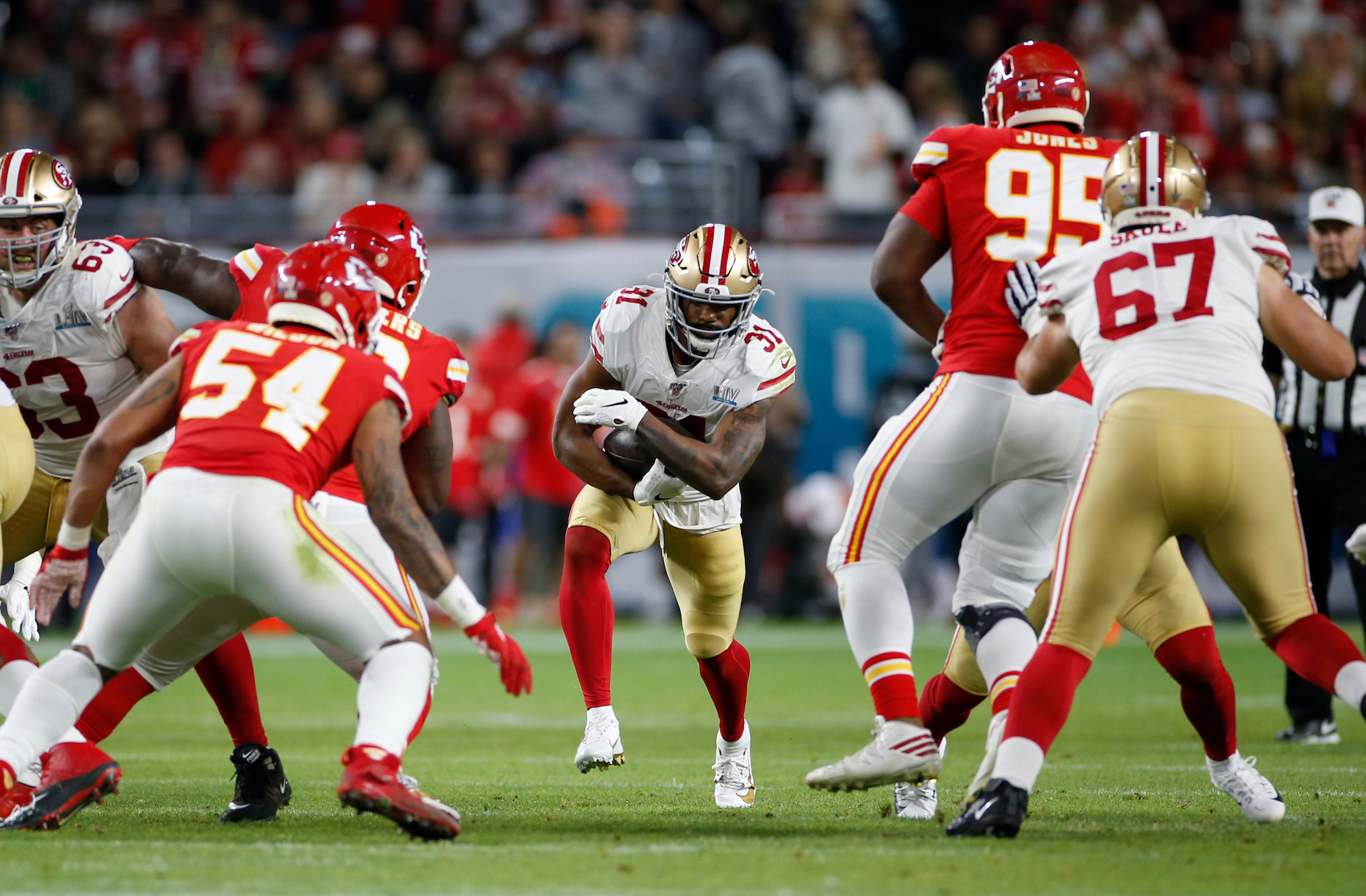 Raheem Mostert Could Have Signed a Professional Surfing Contract Instead of Playing in the NFL
Long before his current contractual issue and trade demand, San Francisco 49ers running back Raheem Mostert turned down a pro surfing contract.
If you followed the San Francisco 49ers run to the Super Bowl, you probably noticed Raheem Mostert. The running back proved to be a force down the stretch and during the postseason, helping his club come within touching distance of the Lombardi Trophy. On the back of that success, he's looking for a new contract or, since that doesn't seem to be forthcoming, a trade.
Long before he became an NFL player, though, Mostert almost signed a different sort of contract. During his teenage years in Florida, he could have inked a deal to become a professional surfer.
Raheem Mostert's career on the gridiron
If you only watched the tail end of the 2019 NFL campaign, you might assume that Raheem Mostert was an established star. In reality, though, the running back struggled to find any success before landing in San Francisco.
During high school, Mostert lined up as a receiver and made a name for himself with his blazing speed; unsurprisingly, he also starred on the track team. He showed enough potential to earn a scholarship to Purdue, where he continued to strut his stuff.
In addition to success as a sprinter, Mostert spent four years on the football team. He primarily acted as a return man, piling up more than 2,000 special teams yards during his college career, but also saw some limited action as a running back.
That career wasn't enough to land Mostert an NFL job, though. He signed with the Philadelphia Eagles as an undrafted free agent in 2015, but failed to make the active roster; he also spent time with the Browns, Ravens, and Dolphins that season, bouncing between the practice squad and the waiver wire. He started the following campaign with the Bears, but was released and landed with the San Francisco 49ers. He's been in the Bay Area ever since, primarily serving as a special teams player until seizing the spotlight in 2019.
Passing up a potential surfing contract
Given their overall athletic talent, it's not surprising that plenty of pro athletes played a variety of sports growing up. Raheem Mostert, however, wasn't content with the ordinary options of peewee football and little league baseball.
As a native of New Smyrna Beach, Florida, Mostert spent plenty of time surfing and skateboarding. While he didn't participate in any organized competitions, he apparently showed enough talent to earn a contract from Billabong during his teenage years.
"I'd be out there surfing or skateboarding on my own, not really trying to make a scene or anything," Mostert told Matt Barrows of The Athletic. "And this guy came up to me and wanted to offer me a contract. He was intrigued, basically."
While he didn't sign the deal—Mostert had his heart set on football—those formative experiences still help him on the gridiron.
"You're in a wave, and at that moment, you want to make a decision whether you want to do a trick — flare up, do a nice trick and land — or just ride the wave out," the running back explained. "That's the same thing with football: there are a lot of different angles. Sometimes, you have to split two defenders. Sometimes, you don't want to go out of bounds because you can get an extra three or four yards. So you plant a foot and head up field."
Raheem Mostert is looking for a new NFL contract
Years ago, Raheem Mostert passed up a surfing contract to chase his dream of playing professional football. Now that he's had his breakout NFL season, however, he's after a new contract.
On Wednesday, Mostert's agent, Brett Tessler, tweeted that his client wanted a trade. Tessler and Mostert had apparently been pushing for a new contract—the 49ers signed Mostert as a special teams player and, consequently, were paying him less than $3 million per season—but hadn't been able to make any progress.
On the surface, however, it's tough to take too much issue with either party. Mostert had a career year and, given his previous experience bouncing between practice squads, is entitled to make as much money as he can while his stock is high. At the same time, it's reasonable for the 49er to be a bit skeptical; Mostert doesn't have much of a track record at running back, and Kyle Shanahan may believe his success was a product of the San Francisco system.
During his youth, Raheem Mostert turned down a lucrative contract to chase his dreams. He'll be hoping that this trade demand leads to similar success.
Stats courtesy of Sports-Reference and Pro-Football-Reference