Rangers All-Star Outfielder Joey Gallo Threw a No-Hitter in High School and Then Took a Hall of Fame Pitcher's Daughter to Prom That Night
Texas Rangers slugger Joey Gallo once threw a no-hitter in high school and then took Greg Maddux's daughter to prom that same night.
While Texas Rangers outfielder Joey Gallo is known for bashing home runs, he was apparently also a pretty solid pitcher back in his high school days in Las Vegas. The future MLB All-Star actually even once threw a no-hitter for Bishop Gorman one afternoon and then got to chat about it with four-time Cy Young Award winner Greg Maddux that very night when he came to pick up the Hall of Famer's daughter for prom.
Wait, what?
Joey Gallo put up crazy numbers in high school as a hitter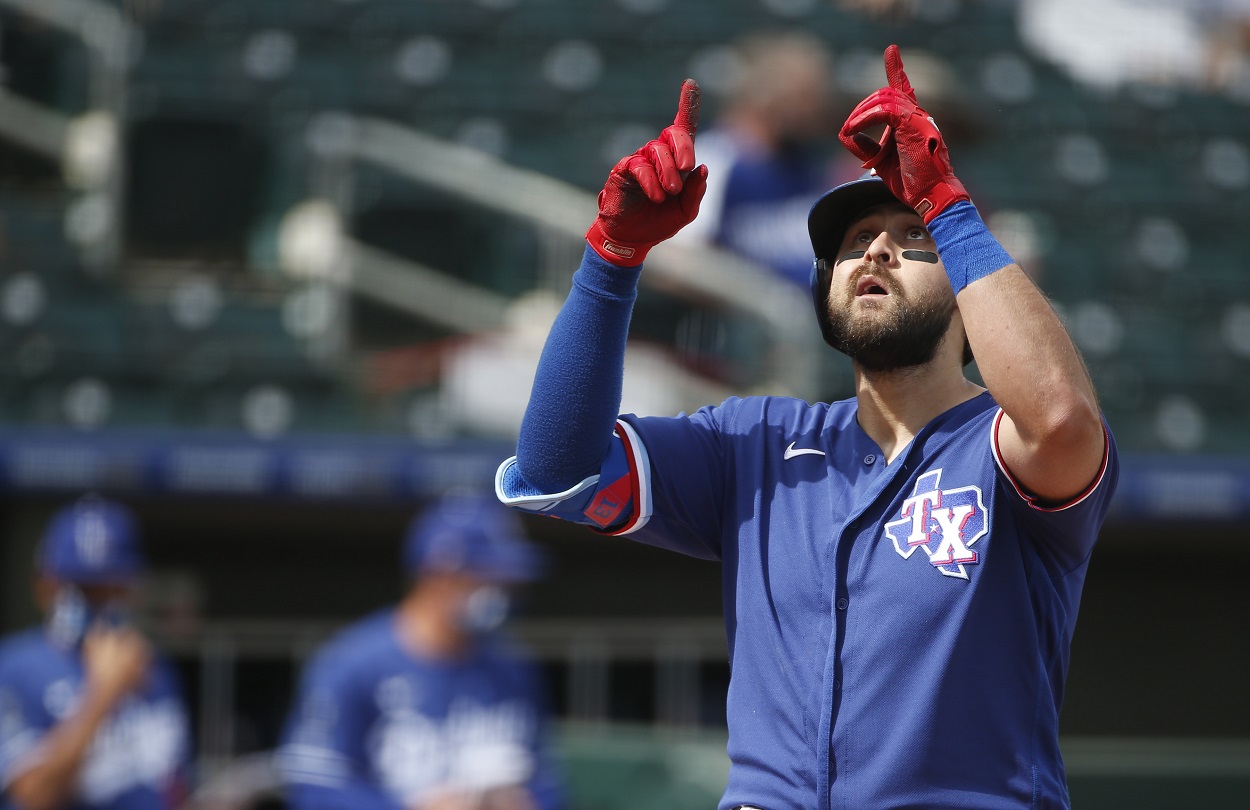 As a four-year starter on the varsity team at Bishop Gorman High School in Las Vegas, Joey Gallo was able to put up some monster numbers in his prep days. He never once hit below .400 in a season and actually hit .509 as a senior in 2011-2012, a year in which he also hit 21 home runs and drove in 80 runs in 40 games, earning him All-American honors from USA Today, ESPN, and MaxPreps. Gallo was also named the Nevada Gatorade Baseball Player of the Year.
Gallo played 160 games over the course of four seasons at Bishop Gorman, nearly the equivalent of a full Major League Baseball season, and had a slash line of .466/.563/1.038 with 208 hits, 67 home runs (a state record), and 249 runs batted in. He also recorded 34 doubles, 10 triples, and scored 215 runs.
He also made 21 appearances as a pitcher
Joey Gallo also made 21 appearances as a pitcher at Bishop Gorman, including six starts. In those 21 appearances, he pitched a total of 58.2 innings and had a 4-4 record while also recording two saves. He had an ERA of 3.40 with 78 strikeouts against 38 walks, hit eight batters, and gave up three home runs.
These certainly aren't phenomenal numbers by any means but they're certainly not bad for a power hitter, right? And there was, of course, that no-hitter, which is always impressive at any level.
Joey Gallo threw a no-hitter in the afternoon and then took Greg Maddux's daughter to prom that night
In a recent appearance on MLB Network, which you can view above, Joey Gallo told the incredible story of how he threw a no-hitter one afternoon and then took Greg Maddux's daughter to prom that very same night. The one-time All-Star says chatting with Maddux, who actually never threw a no-no during his 23-year MLB career, was intimidating but that the no-hitter was a good way to break the ice.
"We actually had a game earlier that day, and I pitched and I threw a no-hitter that day, and then I ended up going to prom later that night with Paige Maddux. So it was an interesting day. It was really fun. But, you know, showing up and having to talk to Greg for 20 minutes and taking his daughter to prom was pretty nerve-wracking for a 17-year-old.

"It (the no-hitter) was kind of an icebreaker, but I think he was at the game for a little bit because he was always helping out around the school with our team, so he actually talked to me about it and was talking to me about pitching and I didn't really want to pitch coming out of the draft, either, so I was more just talking about hitting… so it was pretty interesting."

Joey Gallo
So throw a no-hitter, chat up Greg Maddux, and then take his daughter to prom? We're betting Ice Cube would say Joey Gallo had a good day.
Stats courtesy of MaxPreps