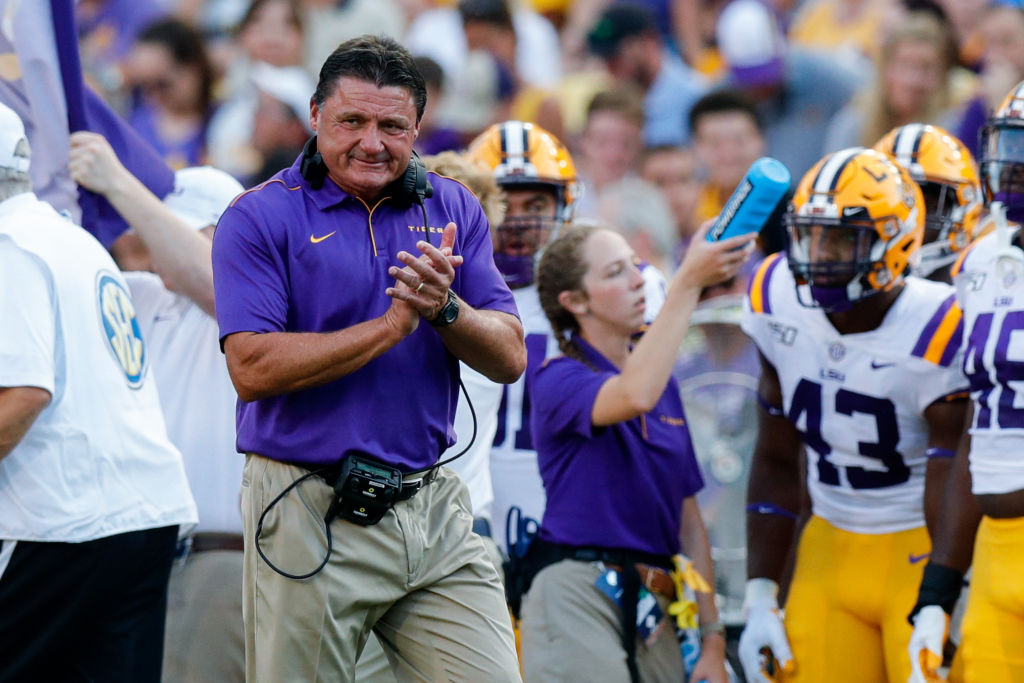 College Football: 5 Reasons LSU is a National Title Contender With Coach Ed Orgeron
Ed Orgeron has LSU primed to be a major player in the College Football Playoff this season. Here are five reasons the Tigers are contenders.
The LSU Tigers are playing like one of the top teams in college football to start the 2019 season. The offense under Ed Orgeron doesn't look anything like it did under former head coach Les Miles, and there's a ton of talent on both sides of the ball.
Could the Tigers really contend for a national title? Keep reading to see five reasons we think LSU can win the College Football Playoff in 2019-20.

1. Recruiting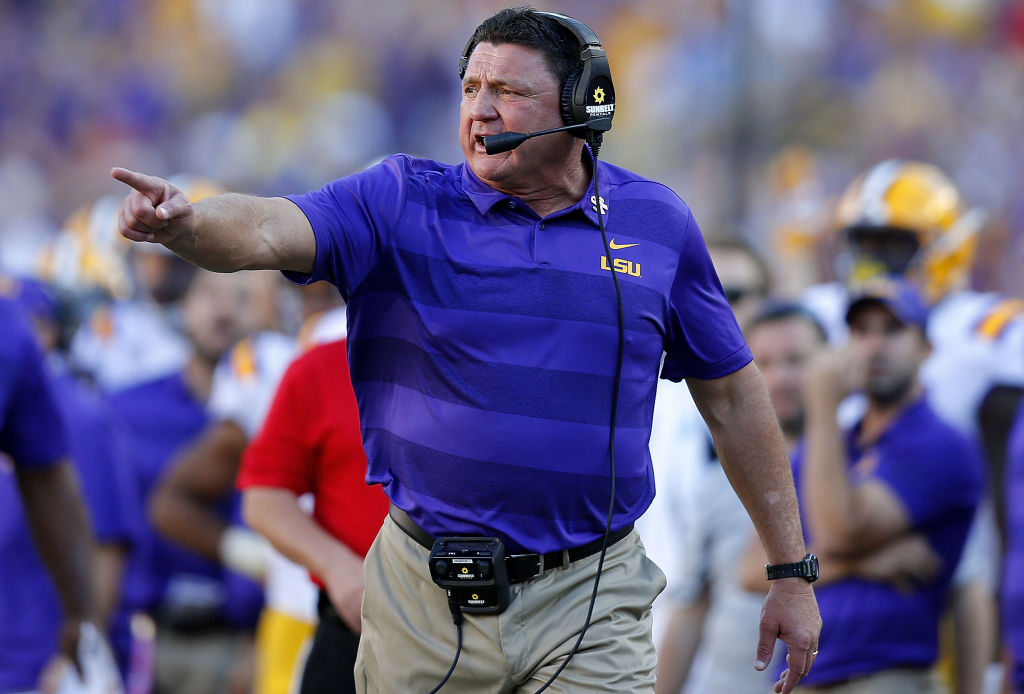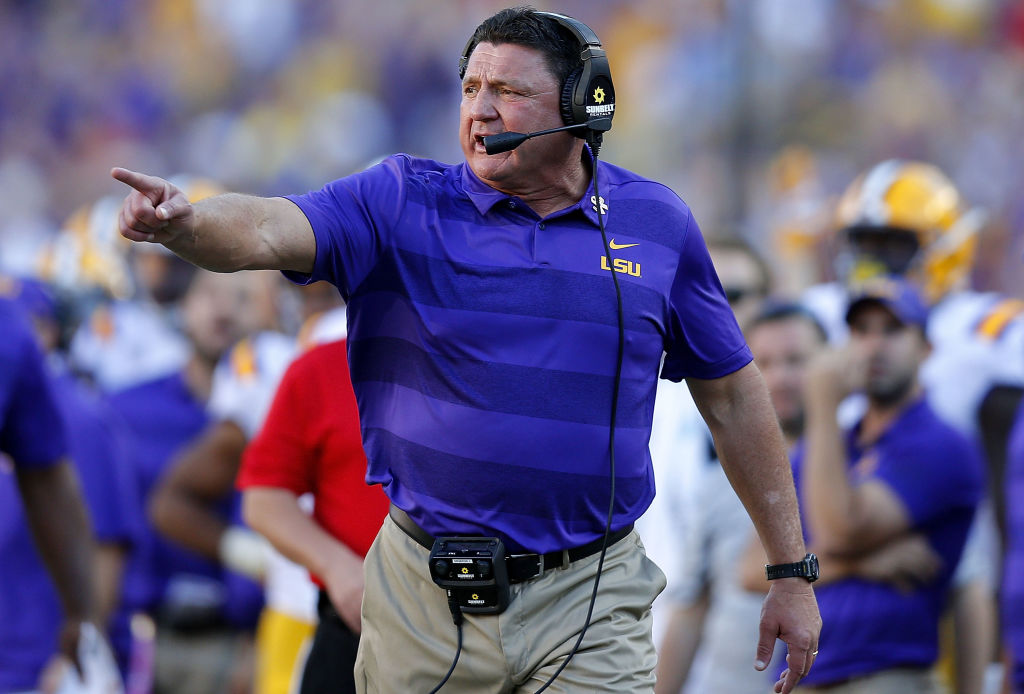 One thing Ed Orgeron is known for is his ability to recruit top talent wherever he coaches. During USC's heyday under Pete Carroll, he was considered one of the top recruiters in the country, and he has done the same at LSU. 

The Tigers final rankings under Coach O? According to Rivals.com, they have finished with the Nos. 5, 8, 14, 3 classes, with eight five-star players signed in four seasons. 

You need the players to contend for a title, and LSU certainly knows how to bring in top tier talent.

2. Strength of schedule
The Tigers received a huge boost to their playoff chances with a 45-38 win over then No. 9 ranked Texas in Week 2. That gives them a little breathing room in case they stumble during conference play. The SEC West is arguably the toughest division in college football at the top, and Alabama has shown that a loss within the division could be a way to backpedal into the playoff without having to play in a conference championship game.

LSU currently has four more games against top-10 opponents, including Auburn and Alabama in back-to-back weeks. If the Tigers have a stumble or two, they still could stay in the conversation in the games are close.

3. Explosive offense?
Yes, the Tigers have played two cupcake games on their schedule, but the win over Texas shows how good their offense can be against top-25 competition. Ed Orgeron has made it a point to build a solid offense to go along with LSU's usually-stout defense.

Quarterback Joe Burrows struggled at times last season, but he seems to be thriving in the offense this year. He threw for 471 against the Longhorns and has completed an unbelievable 83% of his passes.

The Tigers also have an excellent one-two punch at wide receiver, with Terrace Marshall Jr. and Justin Jefferson combining for 10 of Burrows 11 touchdown passes. 

4. Talented defensive line
The Tigers' front-four has been excellent so far in 2019. They have given up just 241 yards on the ground in three games, with an average of 2.4 yards per carry. It could be one of the best defensive lines in the country. With relative lightweights Vanderbilt and Utah State up next before their matchup against Florida, this defense will be riding a wave of momentum into the second half of the season.

5. Weaker Power 5 conferences
The final reason we believe Ed Orgeron and LSU will be in contention for the national title is the weakness of other Power 5 conferences. 

For argument's sake, let's say the SEC, ACC, and Big 12 all earn a spot with Alabama, Clemson, and Oklahoma, respectively. That leaves the Pac-12 and Big Ten also fighting with the SEC for the last spot. 

Would the committee pick a one-loss LSU team over a one-loss Big Ten or Pac-12 team? At first glance, you would say no, but look at Alabama during the 2017-18 season.

The Crimson Tide lost to Auburn in their annual rivalry game. That meant that Auburn faced Georgia in the SEC Championship game. Georgia defeated the Tigers, but Alabama finished third in the final college football playoff rankings, ahead of Ohio State (10-2, finished fifth) and Wisconsin (sixth). 

Alabama later upset Clemson and then defeat Georgia in the championship game.
If any conference champion finishes the regular season with two losses or more, it will be hard to include them in the playoff over a one-loss SEC team that didn't play for its conference championship, as we saw happen just a few seasons ago.

Do you think LSU is a national title contender?
Are you expecting Ed Orgeron to lead the LSU Tigers into the hunt for the national championship? We feel Orgeron has done a phenomenal job rebuilding this program, and the matchups against Auburn and Alabama will be the measuring stick for the entire season. Win one or both of those games, and we could see LSU playing for college football's big prize this season.