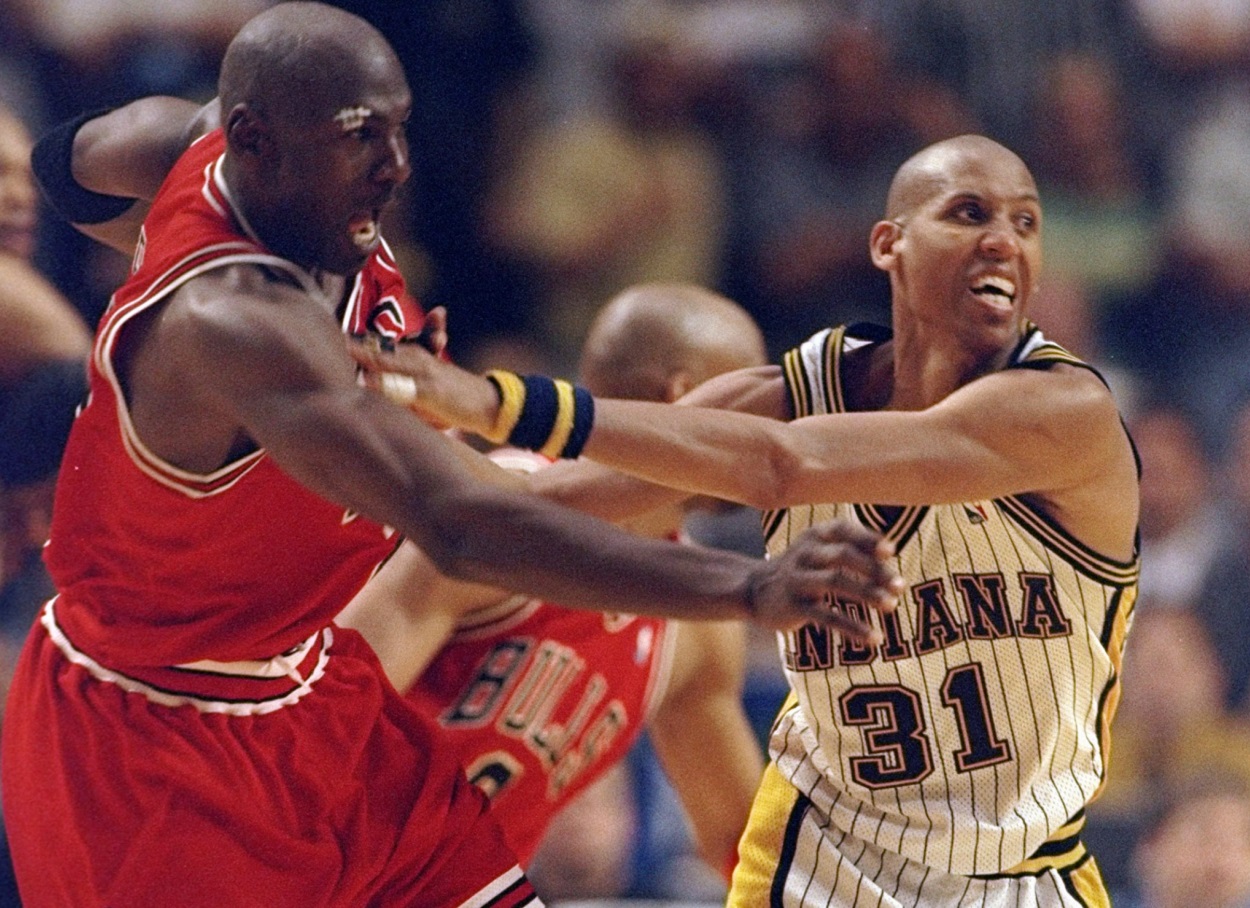 Reggie Miller Discusses Scenario in Which He'd Have Told Michael Jordan to 'Go F*** Himself,' Reveals the Lone Team He Could Have Played For Besides the Pacers
Reggie Miller reveals a team for which he may have considered leaving the Pacers while also discussing a scenario in which he'd have told Michael Jordan to "go f*** himself."
Legendary Indiana Pacers sharpshooter Reggie Miller "never came close" to leaving the Hoosier State for another team during his 18-year NBA career (although he did recently reveal the one team he may have considered) and emphatically got the point across that he never would have joined Michael Jordan and the 1990s Chicago Bulls had he been recruited like many ring-chasing players are in today's NBA.
Reggie Miller lost his lone NBA Finals appearance to the Lakers, the only team for which he might have considered leaving the Pacers
Over the course of 18 NBA seasons with the Indiana Pacers, Reggie Miller was a five-time All-Star (a surprisingly low total), a three-time All-NBA selection, made 2,560 regular-season 3-pointers (he retired as the all-time leader but has since been passed by Ray Allen and Stephen Curry), and is a member of the highly exclusive 50-40-90 club.
The Pacers made the postseason in 15 of Miller's 18 seasons with the franchise and made six appearances in the Eastern Conference Finals. However, Miller & Co. reached the NBA Finals just once, losing to Shaq & Kobe's LA Lakers in 2000 in six games.
And speaking of the Lakers, Miller recently stated in an interview with ESPN that while he "never came close" to leaving Indiana, the only place he would have wanted to go if he actually left the Pacers was LA as he was born in Riverside and played his college ball at UCLA. And he did specifically say the Lakers, not the Clippers.
His best chance to win a title with the Pacers was thwarted by Michael Jordan and the Bulls
While Reggie Miller and the Indiana Pacers reached the NBA Finals in 2000, their best chance at a championship was actually two years earlier. Nobody's saying that those Pacers were a bad team by any means but they were never going to beat young Shaq and young Kobe. It just wasn't happening.
No, their best shot at a championship was in 1998 when Miller & Co. gave Michael Jordan and "The Last Dance" Chicago Bulls all they could handle in the Eastern Conference Finals, which the Pacers lost in seven games.
In the six seasons in which Jordan and the Bulls hoisted the Larry O'Brien trophy, they only went to seven games in a postseason series twice, first against the Knicks in the 1992 Eastern Conference semis, and then in the 1998 Eastern Conference Finals against Reggie Miller's Pacers.
If you recall, Phil Jackson stated during The Last Dance documentary that the seven-game battle with Indiana was the toughest series those Bulls ever had, which is certainly saying something. Many people, including this writer, believe those 1998 Pacers would have beaten the Utah Jazz in the NBA Finals. But that's just another one of those "what if" scenarios that we'll never have an answer to.
However, another one of those "what if" scenarios came up recently and Miller definitely told us what would have happened with that one.
Reggie Miller says he would have told Michael Jordan 'to go f*** himself' had he tried to recruit Reggie Miller to the Bulls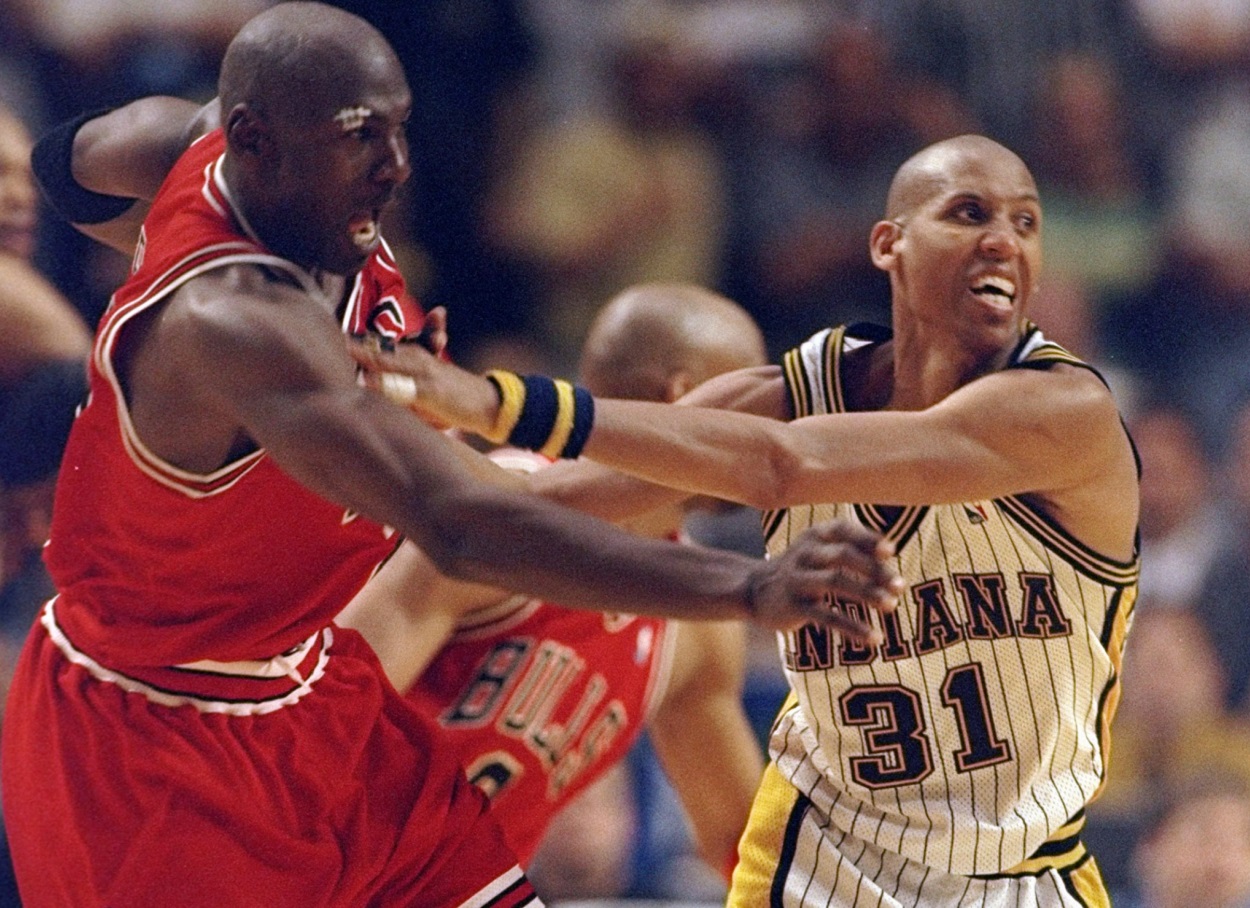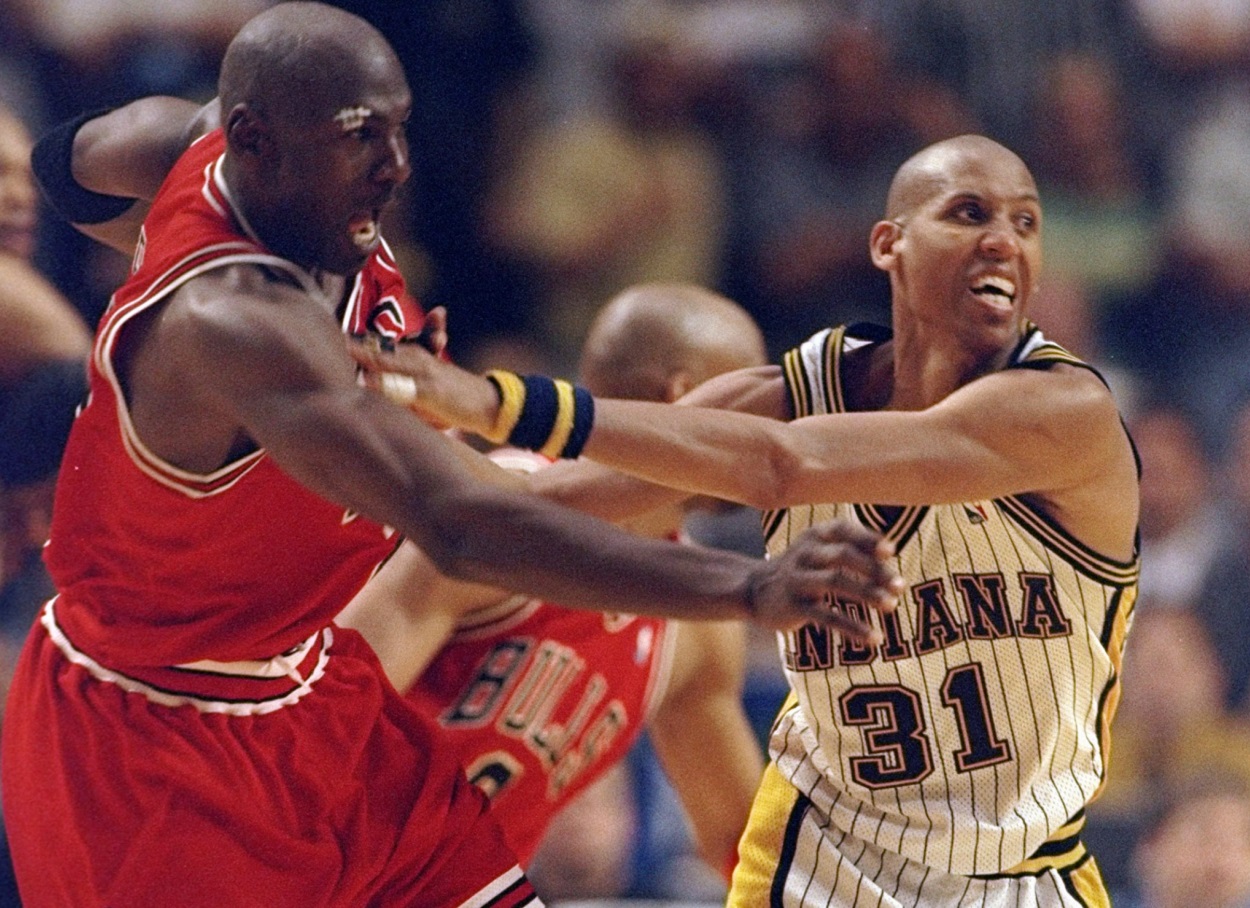 Now, I don't think there's a person alive that would ever think Michael Jordan would have ever tried to get Reggie Miller to leave the Pacers to join the Bulls. But just in case anyone was wondering, Miller definitely wants people to know that he never would have gone.
During that same interview with ESPN, just before discussing the Lakers (and that he couldn't go to the Knicks), he was asked if there'd been any attempt by another superstar to persuade him to leave Indiana. And this was his answer:
"No. And if Michael Jordan ever would have called me and tried to sway me to come to Chicago, I would have told him to go f*** himself! I'll be coming to see you on I-65 or whatever that highway is there. I'll be down to see you."

Reggie Miller
So there's that. Miller went on to explain that he was just too competitive to join another team, even if it meant getting that elusive championship ring. He says it's "incredible" that some of today's players "get like six or seven teams" and that it's now about "jewelry over loyalty."
You know, one of these days, Reggie Miller is going to open up and tell us all how he really feels.