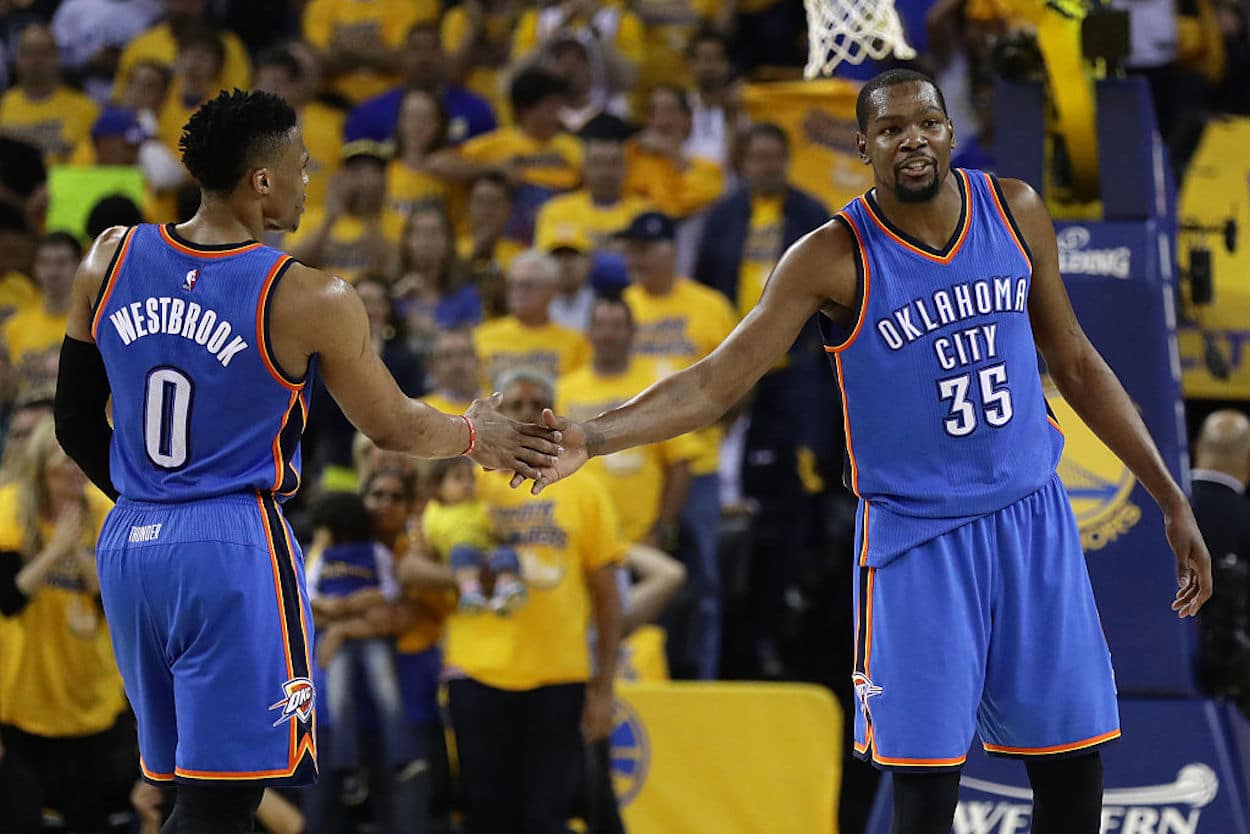 Remember When Russell Westbrook Made More 3-Pointers in a Single Season than Kevin Durant Ever Has?
Kevin Durant may be a deadly all-around scorer, but did you know that Russell Westbrook has made more threes in a single season than the Slim Reaper ever has?
While Russell Westbrook and Kevin Durant used to play together, the two stars' paths have diverged since their days in OKC. The former enjoyed some individual success with the Thunder before short spells in Houston and Washington. He most recently suffered through an unhappy campaign in Los Angeles, where he was pilloried as the source of the Lakers' problems.
Durant, on the other hand, jumped ship to win two championships with the Golden State Warriors. He's since joined up with the Brooklyn Nets, where, despite a lack of team success, he's remained an elite talent.
Although those trajectories might paint Durant as superior to Westbrook in every way, one historical tidbit does run counter to that notion. Believe it or not, Westbrook has converted more three-pointers in a single campaign than KD ever has.
Russell Westbrook converted 200 3-pointers during the 2016-17 campaign, which gives him the edge over Kevin Durant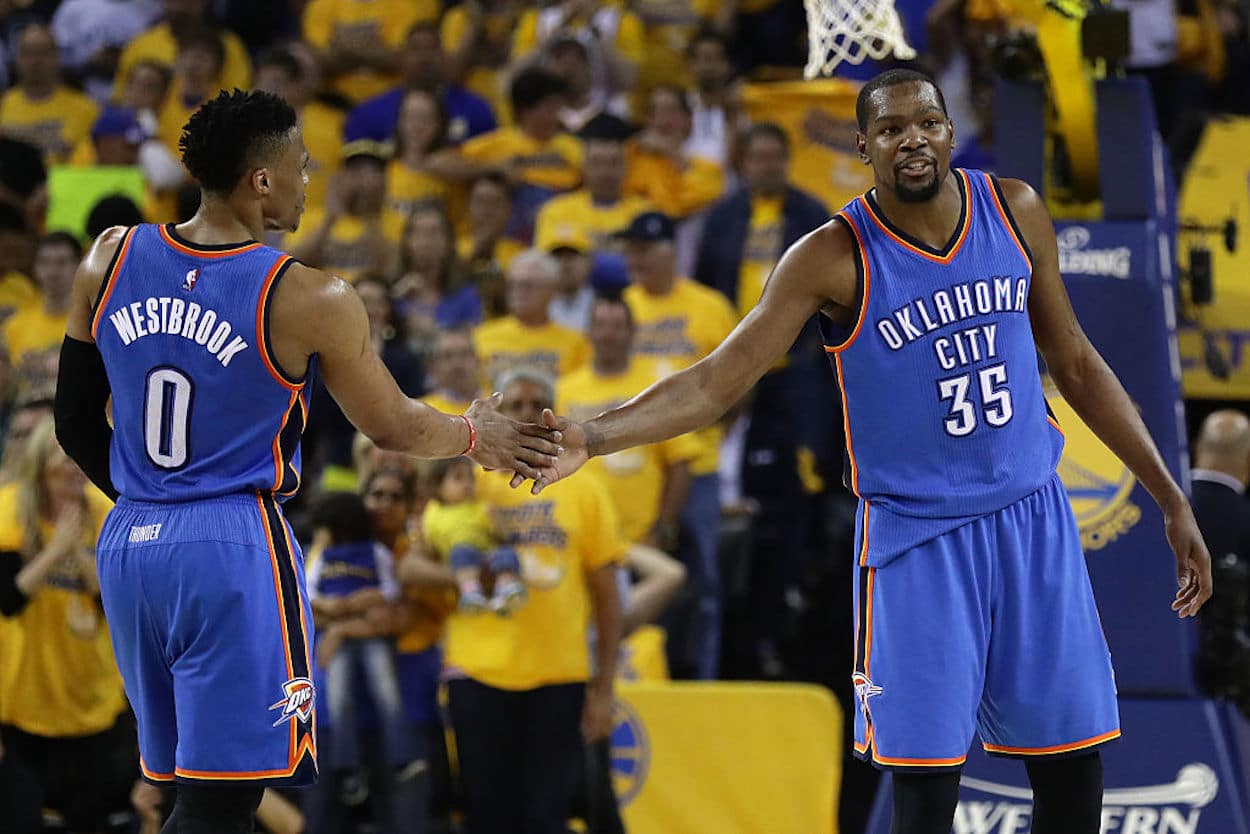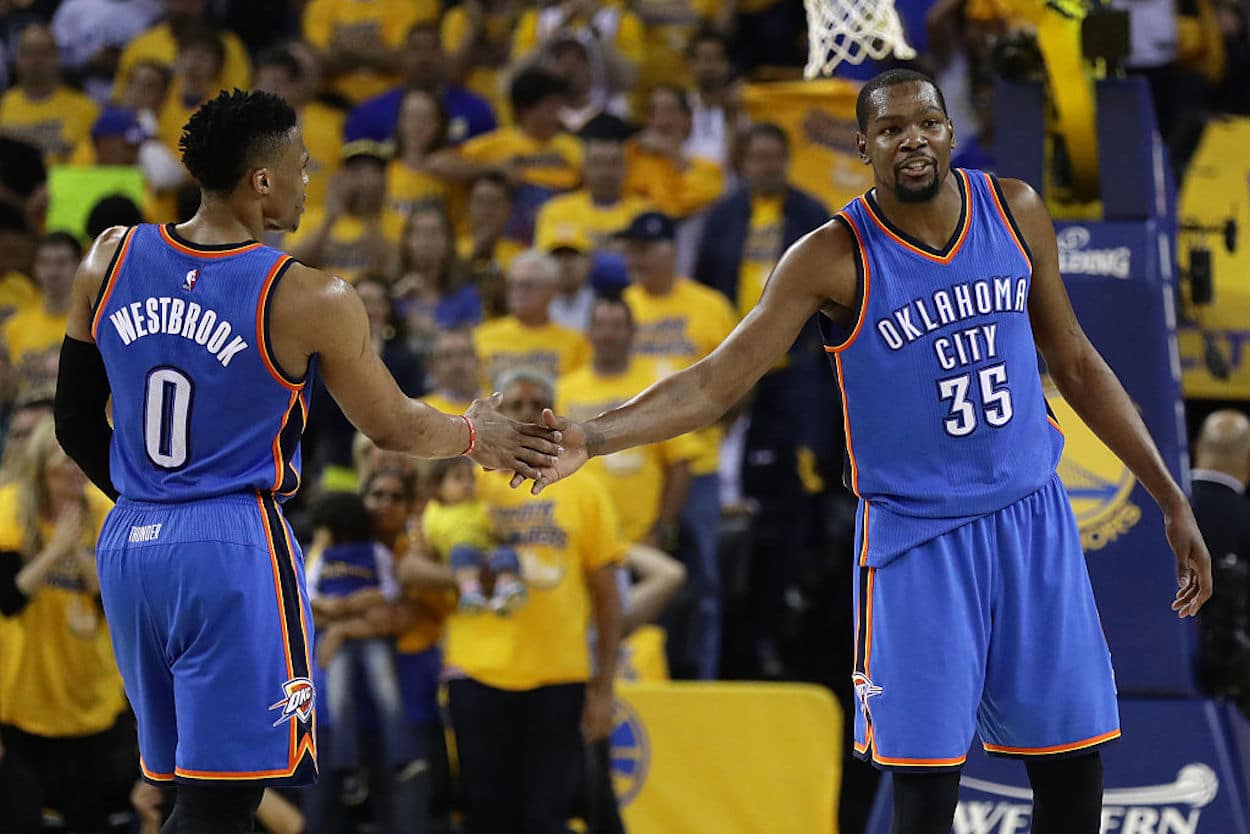 During his disastrous 2021-22 Lakers campaign, one of Russell Westbrook's biggest problems was his poor three-point shooting. Historically, though, the guard hasn't been afraid to fire away from long range. On occasion, he's even found some success.
During the 2016-17 season, Westbrook actually converted 200 long-range shots. While that might sound like an incredible total — his second-place season featured 119 makes — the campaign comes with a couple of caveats.
First, the guard attempted 583 three-pointers that year, meaning he shot 34.3% from deep. That's a solid number, but if the primary offensive talent is taking that many shots, you'd hope he's making a respectable number. For perspective, the league average in 2016-17 was 35.8%.
Secondly, that campaign was somewhat of a statistical aberration. Westbrook has converted 30.5% of his long-range attempts for his career, with some individual seasons dipping into the 29% range. It's not as if he cracked the code during the 2016-17 campaign and has been a lights-out shooter ever since.
Jumping across the aisle, Durant has been a better shooter across his career even if he hasn't converted 200 three-pointers in a single season, in large part because injuries have interrupted so many of his prime years.
His highest one-off total is 192 makes during 2013-14. He did attempt a career-high number of threes that year (491) while shooting 39.1% from long range. That's a shade above his career average (38.4%), but it still isn't the most accurate season of his career.
Those numbers underscore the risk of historical metrics based on a single stat
Taken in isolation, neither Westbrook nor Durant made NBA history during their best three-point-shooting seasons. Their numbers, especially the eye-catching nature of the round "200," though, can still be emblematic of a larger trend.
If you've spent any amount of time watching sports, you've probably heard all sorts of single-season records. They're clean, they're digestible, and they fit perfectly into soundbites or TV graphics. Everyone immediately understands that it's (theoretically) impressive if a player did something X amount of times during a single campaign.
Those numbers, however, are devoid of context. While it's all well and good to know that a player did whatever feat more than anyone else, that doesn't tell the whole story.
Returning to the Westbrook and Durant example, saying that only the former has made 200 three-pointers in a single campaign would likely suggest that he's the better long-range shooter. The campaign in question, however, wasn't especially efficient and was likely a perfect storm of good form and plenty of attempts.
Over the course of their respective careers, Durant has both attempted and converted more three-pointers per outing. He doesn't have a one-off number that appears to prove that point, though.
To be clear, that's not to suggest all counting number-based records should immediately be thrown into the metaphorical trash can. I'd equate them to GOAT debates. It's fine for a friendly debate in the bleachers or at a sports bar, but you need to acknowledge their shortcomings and avoid losing sight of the bigger picture.
So the next time you hear a pundit break out a one-off historical record, remember what Homer Simpson once said: "You can come up with statistics to prove anything."
Stats courtesy of Basketball Reference.