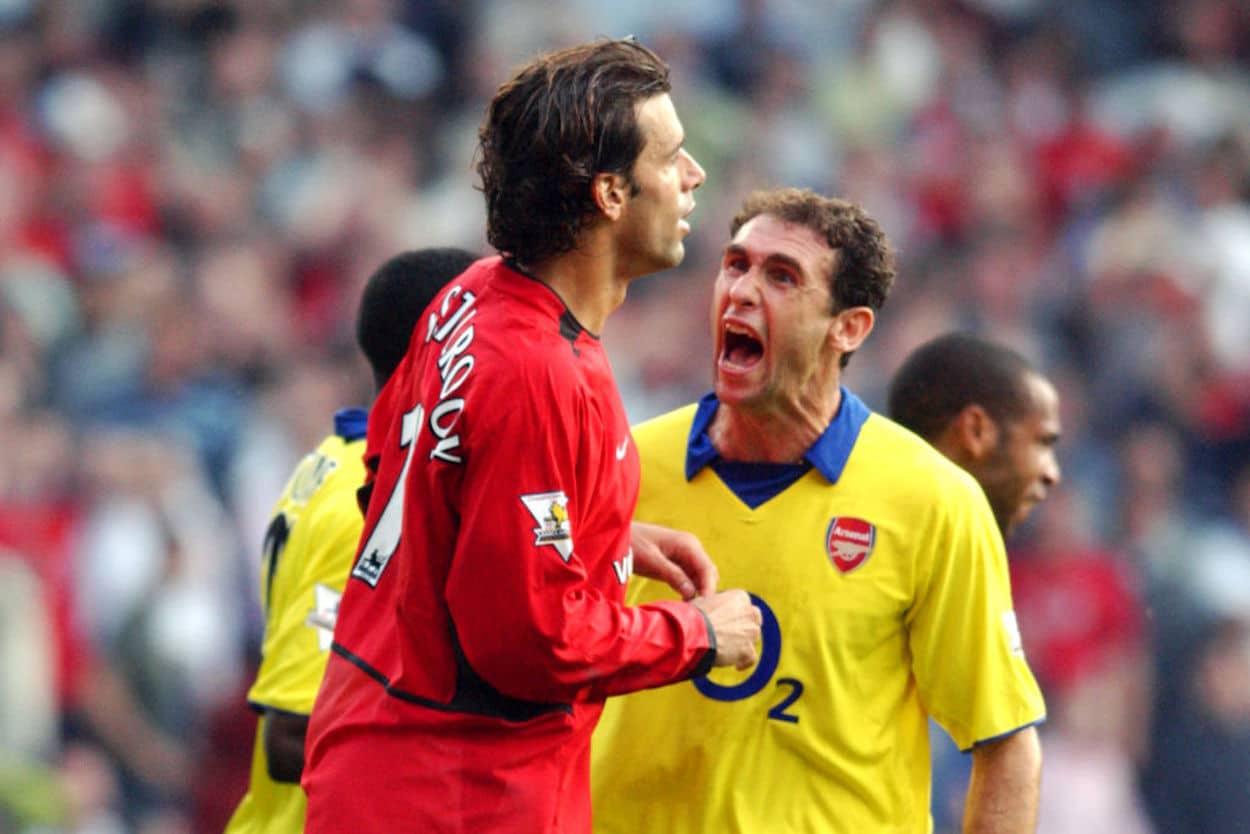 Remembering Ruud van Nistelrooy and His Famous Tangle With Martin Keown and Arsenal
During 2003, Ruud van Nistelrooy wrote his name into Arsenal history, despite playing for Manchester United.
In the world of soccer, Manchester and Arsenal loom large. While both clubs have slipped a bit since their glory days, there was a time when they were fighting tooth and nail for any advantage over the other in the race for trophies. It was at that time when Ruud van Nistelrooy became public enemy number 1 in North London.
While the Dutch striker proved to be a lethal finisher, Arsenal supporters remember him for something different. In September 2003, he played a pivotal role — including missing a penalty kick — during what became known as the Battle of Old Trafford.
Ruud van Nistelrooy figured into one of the most memorable Arsenal moments in recent memory
In 2002, Arsenal boss Arsene Wenger famously made headlines by saying his team could go an entire season without losing a single match. While that didn't come to pass — the Gunners lost six times — things didn't go too poorly. The North London club finished the campaign in second place, only behind Manchester United.
It was in that context that the two clubs met at the start of the following season. In September 2003, a match-up at Old Trafford was the perfect chance to set down an early marker.
The game was an understandably feisty affair, and things escalated within the final 15 minutes. Arsenal captain Patrick Vieira was booked in the 77th minute and, a few minutes later, tangled with Ruud van Nistelrooy. The United striker jumped for a bouncing ball and landed on the Frenchman's back, knocking him to the floor. The Arsenal captain then kicked out at his opponent; the boot wasn't really close to connecting, but van Nistelrooy still jumped back.
Was he protecting himself? Or did he want to make sure the referee saw what happened? Your view will probably be influenced by your rooting interests, but the result is simply a matter of historical fact: Vieira was handed a second yellow card and sent off.
As if Arsenal and their supporters weren't frustrated enough, referee Steve Bennett gave a controversial penalty during stoppage time. Van Nistelrooy stepped up to the spot but fired his kick off the bar. Martin Keown, the Gunner who had conceded the penalty, jawed at the United striker. After the final whistle blew, confirming a 0-0 draw, the defender famous leapt behind van Nistelrooy before some other Arsenal players closed in. Some pushing and shoving ensued, helping to ensure that the match was remembered as the (first) Battle of Old Trafford.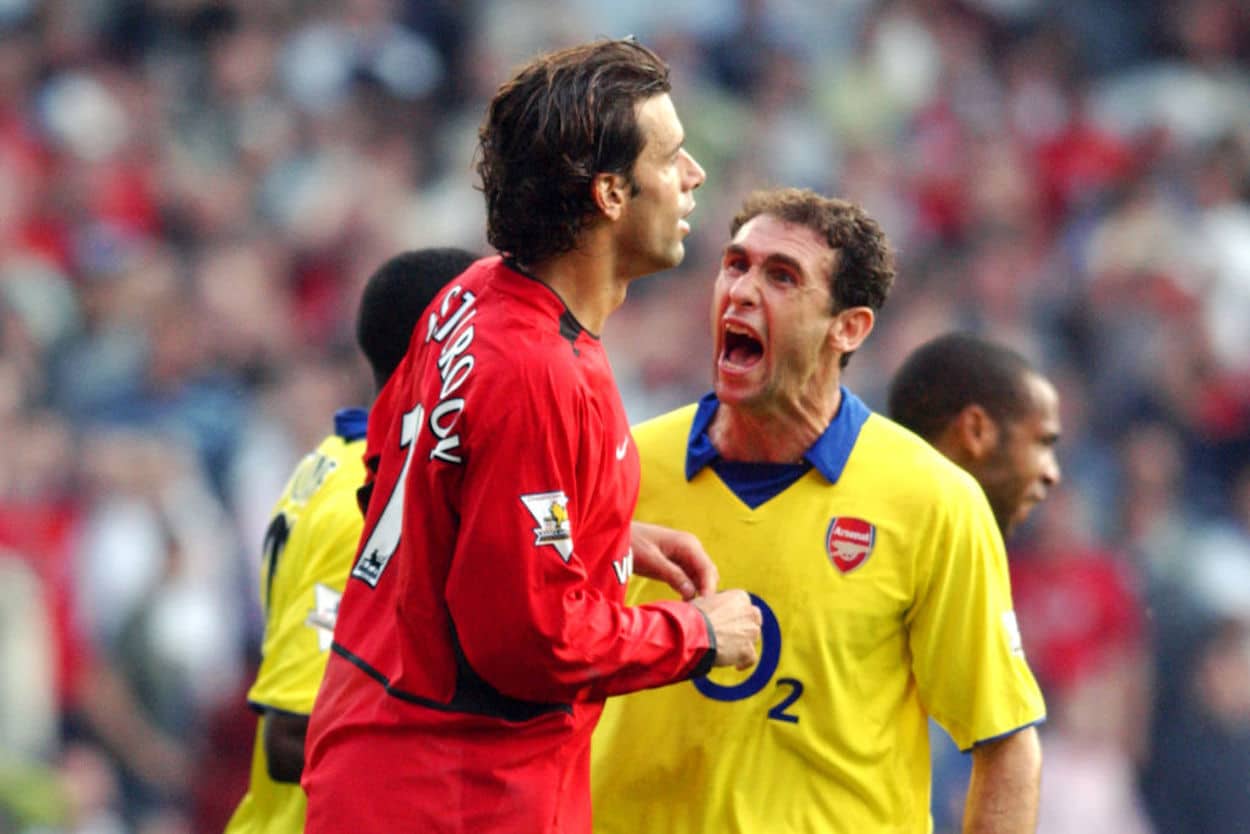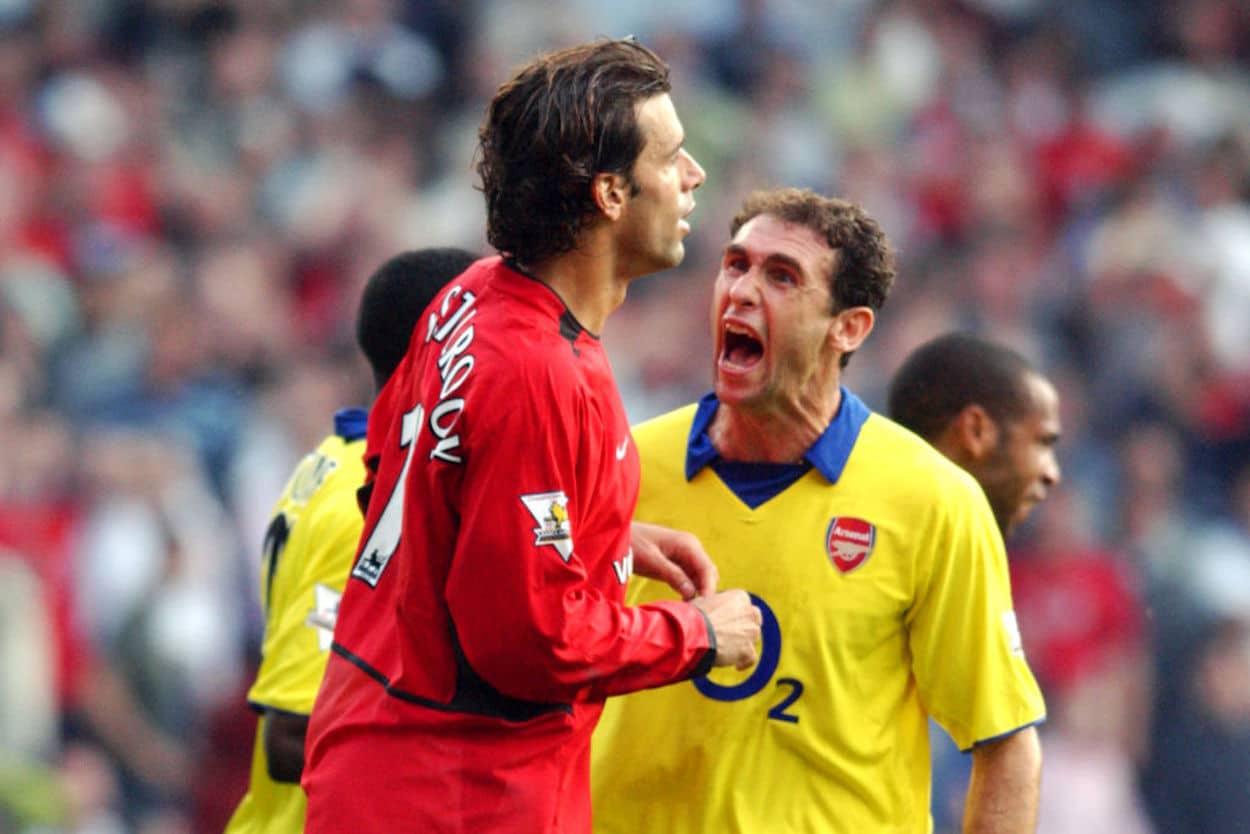 "I felt like justice had been served and so did my team-mates," Keown explained in a 2022 Daily Mail story. "Looking back, perhaps we could have toned down our reaction. But it happened in the heat of the moment and I don't regret anything I did."
And while the moment may have seemed a bit unsavory to some, it proved to be a crucial moment for Arsenal. Not only were the Gunners galvanized, but they ended up running the table and finishing the 2003-04 season with an unblemished record. Had van Nistelrooy's penalty been a few inches lower, that historic run would have ended before it even got off the ground.
So, whether you hated his antics or silently thanked him for missing that penalty, no Arsenal fan will forget the name Ruud van Nistelrooy.
Have thoughts on this topic? Keep the conversation rolling in our comments section below.