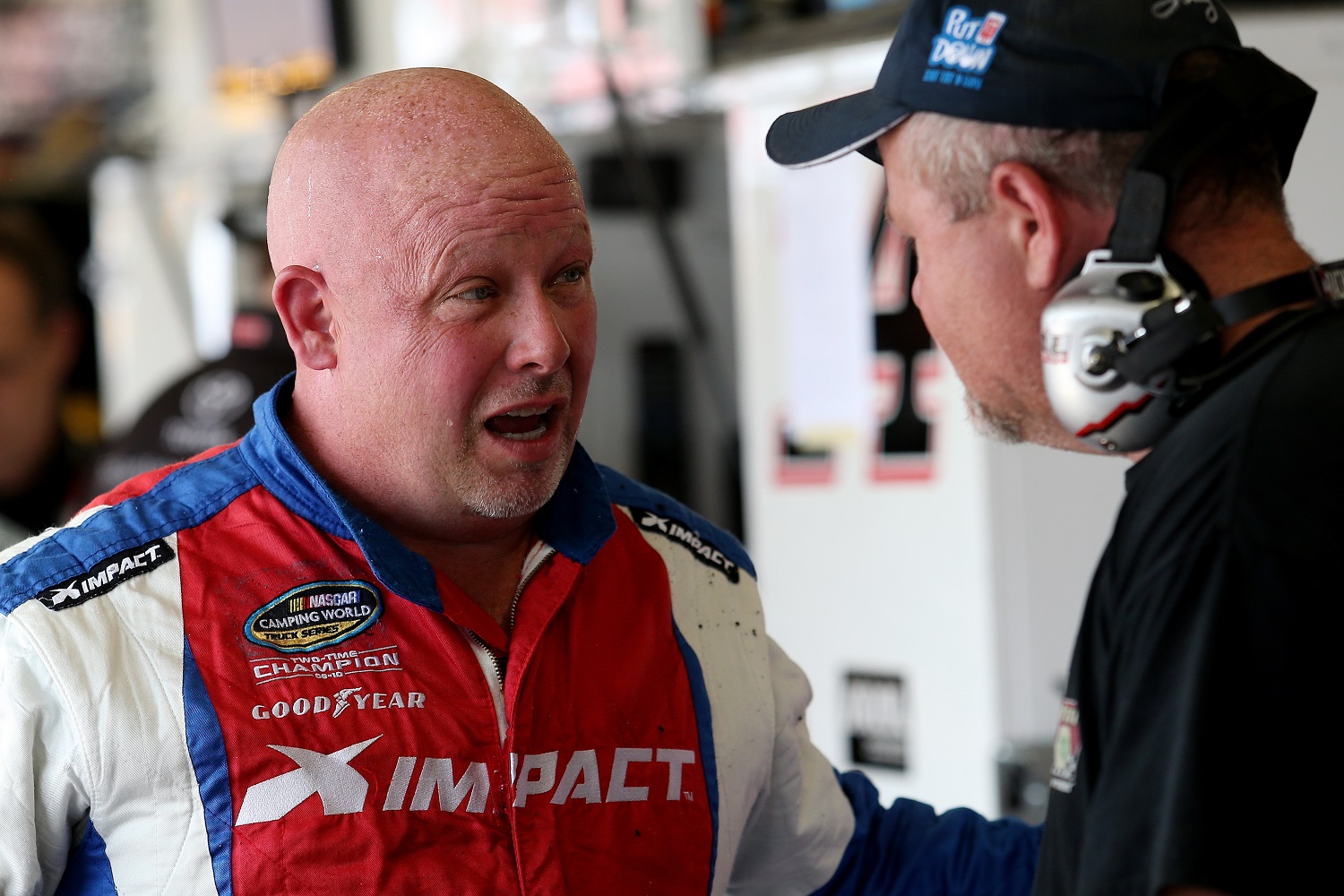 The Return of 'The Onion' Will Add Intrigue to NASCAR's 2022 Truck Series as He Pursues a Milestone
Todd Bodine hasn't competed in NASCAR since 2017 but will return for six races in 2022 to reach a significant milestone.
Article Highlights:
Todd Bodine is making a return to racing in 2022 to reach 800 career NASCAR starts
Bodine is the youngest of three brothers who have appeared in more than 2,000 combined races
He has won 37 times in the Xfinity and truck series
Todd Bodine understands he can't go home again, at least not to reach the milestone that he's pursuing. However, the NASCAR veteran found the next-best way to hit the magic number and wrap up a long and successful career.
Todd Bodine is the youngest in a respected racing family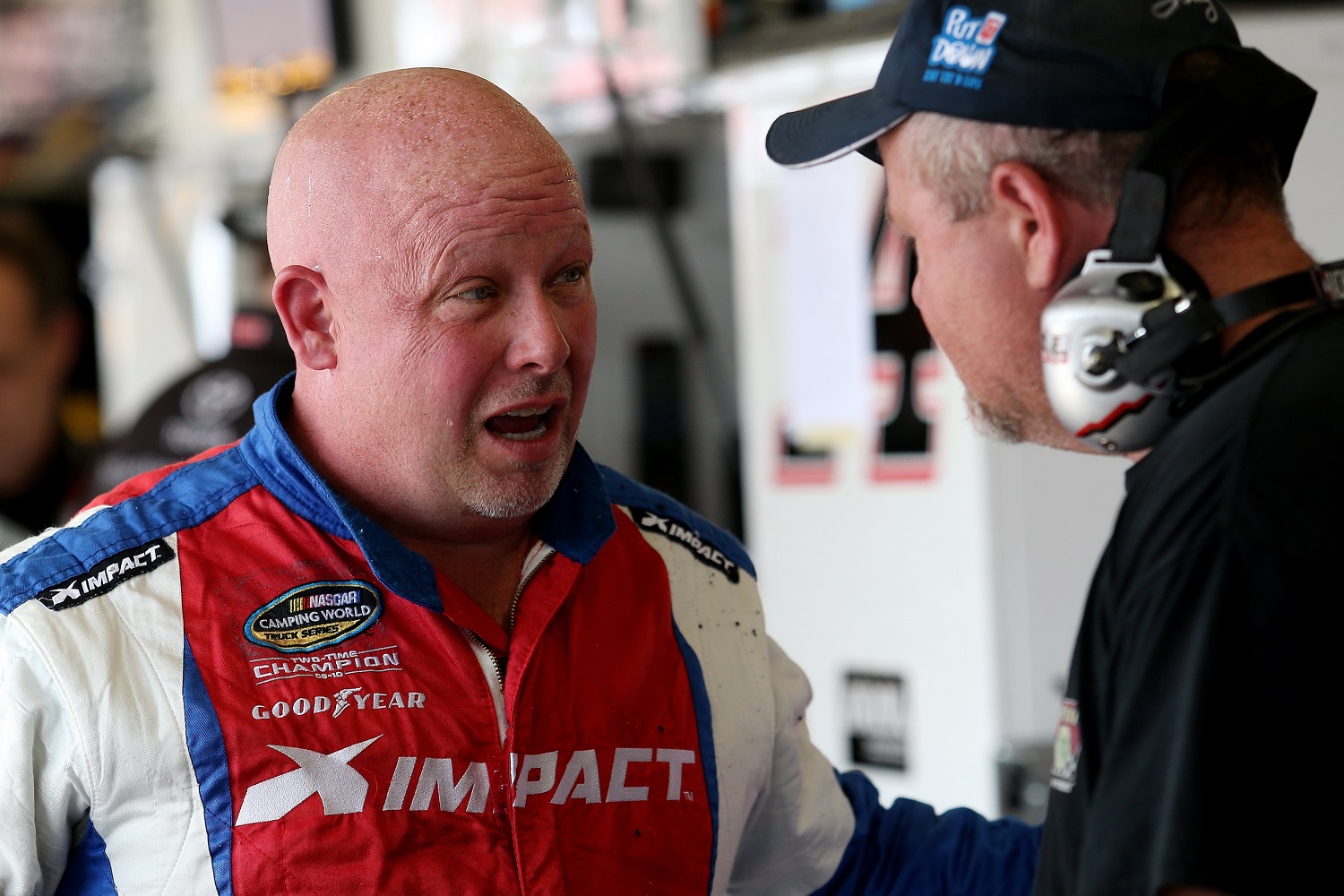 Todd Bodine last drove in one of NASCAR's three major series in 2017 when he finished 30th in an Xfinity Series race at Charlotte. That was five seasons after Geoffrey Bodine drove in the Cup series for the final time and 14 years after Brett Bodine last competed.
Together, the three brothers raced 2,045 times in the Cup, Xfinity, and truck series.
Geoffrey, born in 1949, scored the most success in the Cup Series with 18 victories in 575 starts. The last triumph came in 1996 at Watkins Glen, a stone's throw from his native Chemung, New York. Two of his six Xfinity victories came at Daytona in the mid-1980s in season-openers.
Brett, born in 1959, also spent the majority of his career in the Cup Series. His only victory in 480 starts came at North Wilkesboro in 1990, but he tacked on five wins in just 77 Xfinity starts.
Todd, born in 1964, never won in 241 Cup Series appearances, but he owns more than half the trio's triumphs. He rolled onto victory lane 15 times in the Xfinity Series and 22 times while driving trucks. He won multiple races in 2006 and '10 on his way to the season championships in the latter.
'The Onion' has lined up his 800th career NASCAR start
Todd Bodine is on a path to becoming the 28th driver in NASCAR history to make 800 starts in the three major series. Aside from the 241 Cup Series races, he appeared in the Xfinity Series 333 times and in the Camping World Truck Series 220 times.
That puts Bodine, who acquired his nickname of "The Onion" because of his shaved head, six races short of 800. However, Halmar Friesen Racing is changing that. The truck series team has announced Bodine will drive one of its Toyota Tundras six times between March 4 at Las Vegas Motor Speedway and July 23 at Pocono Raceway.
With nearby Watkins Glen not hosting a trucks race, the final appearance will serve as both a farewell and a homecoming since Pocono is two hours south of his native Chemung.
Camping World CEO Marcus Lemonis helped push Todd Bodine toward No. 800
Todd Bodine going for 800 NASCAR starts is not the result of a spur-of-the-moment decision. The conversation with businessman Marcus Lemonis, whose Camping World business sponsors the truck series, began last year.
"When Marcus tweeted back in October that he needed 800 reasons for the fans to make this happen, the fans responded back with thousands of reasons," Bodine told NBC Sports. "We are excited for the opportunity to reach the 800-start mark with top equipment from the team at HFR. It's also great to be back with Toyota."
Though he hasn't raced since 2017, Bodine isn't going in blind. He's been working as a racing analyst at Fox Sports and knows many of the drivers he'll be competing against.
"I have already heard from several Camping World Truck Series drivers who have never raced against me in the past," he said. "They sound as excited to race me as I am to come out of the Fox Sports studio for these six races and race them."
Winning any of the six races in 2022 is unlikely, but the entertainment value of Bodine, 57, competing against some drivers who are a third of his age should be immense.
All stats courtesy of Racing Reference.