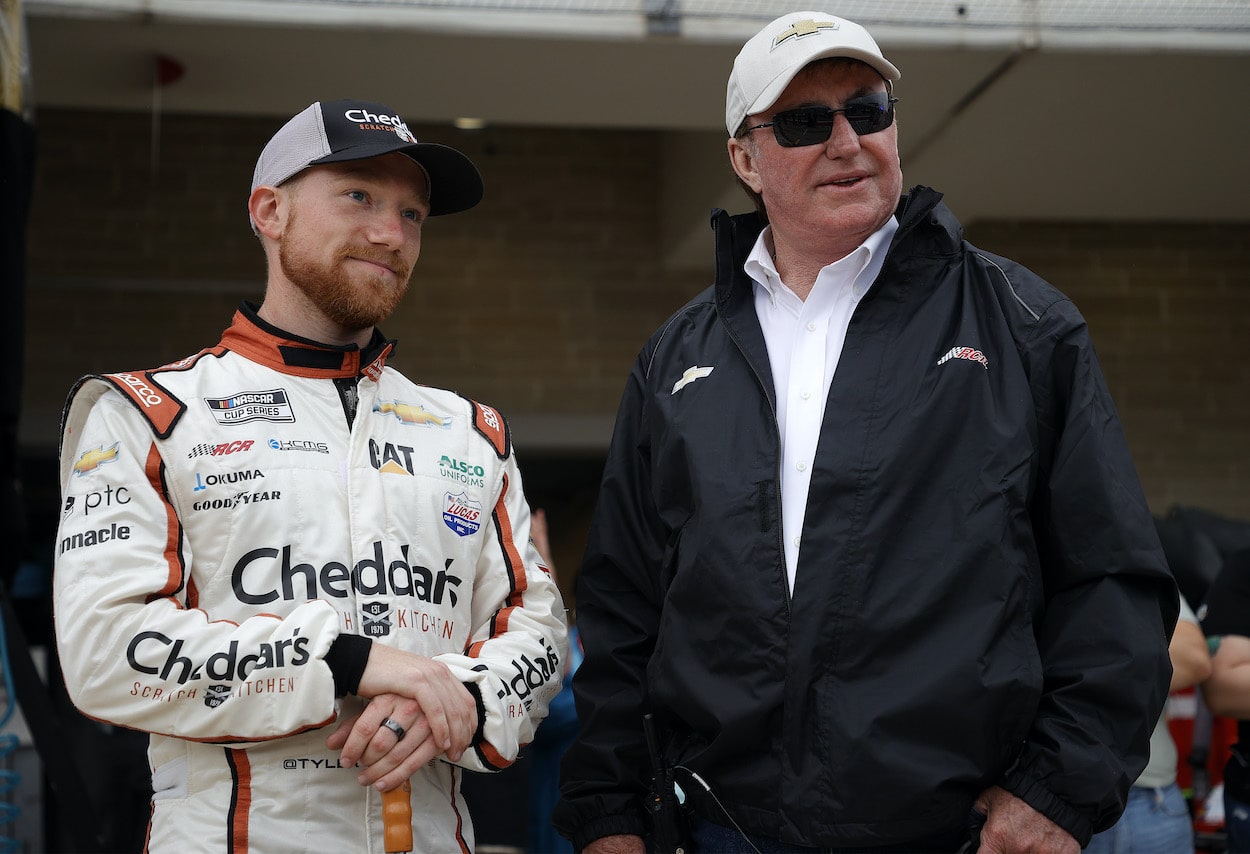 Richard Childress Doesn't Hold Back on Tyler Reddick Situation, Calling It Disrespectful and 'Very Unprofessional,' and Raises Doubt About Driver Returning to RCR in 2023
Richard Childress doesn't mince words when talking about Tyler Reddick situation, saying it was "very unprofessional" and disrespectful to him and the team.
Richard Childress Racing made it clear that the organization was not pleased when Tyler Reddick announced he was joining 23XI Racing in 2024. It's been several weeks since that big announcement.
This past weekend Childress was asked about the departure of his driver and didn't mince words, describing what happened as disrespectful and unprofessional. He also added some fuel to the speculation fire that Reddick might not be back in the No. 8 car in 2023.  
Richard Childress loses Tyler Reddick in 2024 and team responds
Tyler Reddick shocked the NASCAR world earlier this month, less than a couple of weeks after winning his first-ever Cup Series race with Richard Childress Racing, when he joined Denny Hamlin and announced that he would be competing with 23XI Racing in 2024.  
The unexpected news generated a massive response from the NASCAR community due to its ripple effects throughout the sport. RCR responded via a simple statement on Twitter and revealed it was unhappy with Reddick's decision.  
"We're proud of the success Tyler Reddick has found at Richard Childress Racing," the statement read. "We're focused on winning a championship in 2022 and 2023, although timing of this announcement could not be any worse."  
Childress doesn't hold back, calling it 'very unprofessional' 
While everyone understood the Childress organization being disappointed to lose what has been their best driver in 2022, the word choice was puzzling. The "timing of this announcement" sounded odd because RCR has an 18-month runway to find a replacement.
However, Childress clarified the timing element this week when he visited with Fox's Bob Pockrass. And the 76-year-old owner didn't sugarcoat what he thought about the situation and how it was handled.
"The biggest surprise was when he came to us less than one hour before the announcement. I don't think it showed any respect for his race team or everyone who got him where he is," Childress said. "Less than one hour before the announcement? A lot of stuff swirls around an 18-month announcement.
"The biggest thing is you should come to me respectfully and say, 'Hey, I've signed, I want to do something, how do you think we should make a joint announcement?' None of that happened. I'm not upset he's going wherever he's going. But the way it was handled was very unprofessional."
Returning in 2023 not certain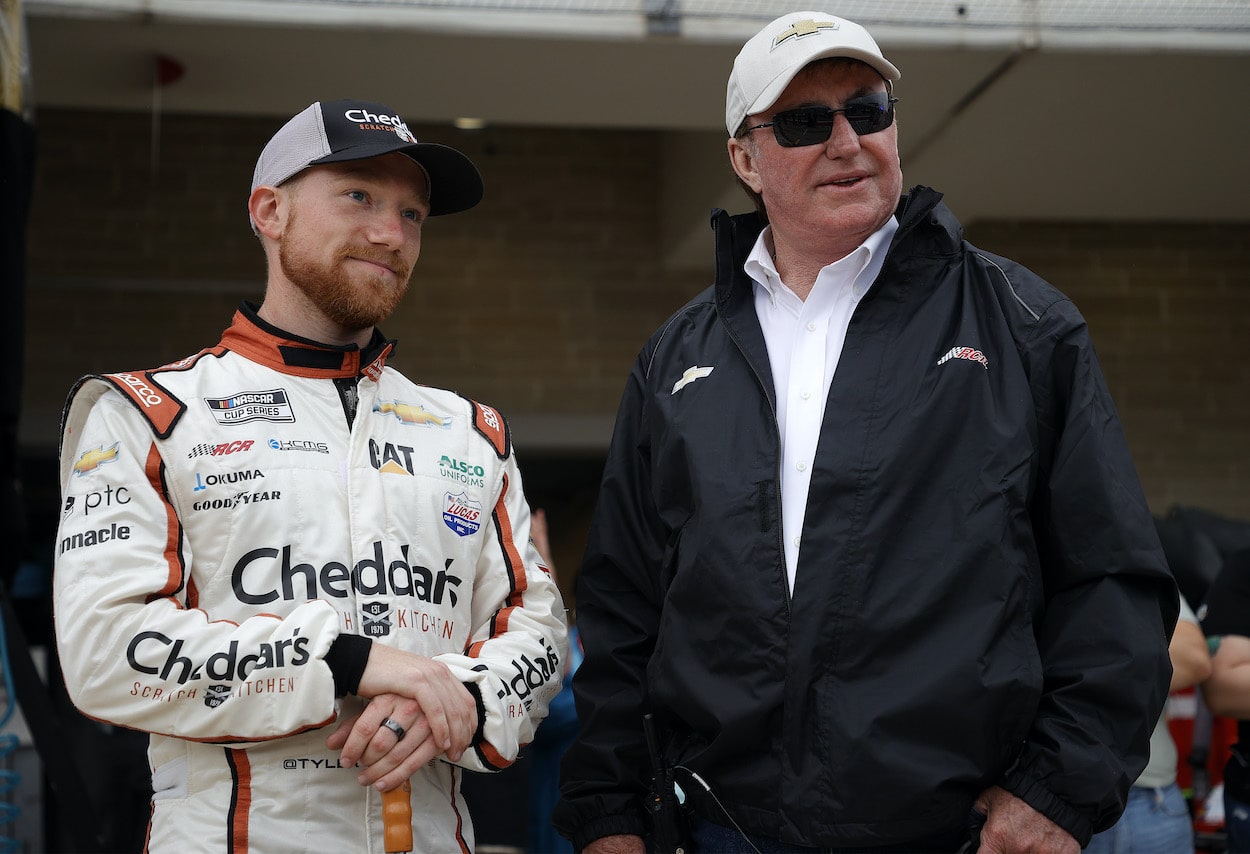 With that news behind them, Childress and Reddick are focused forward and trying to win a championship in 2022. But what about 2023? Is there any truth to the speculation that Childress might find someone else to drive the No. 8 car next season? 
"I have a contract with him in 2023. He'll be at RCR in 2023," the owner said. When Pockrass pointed out that he didn't say the No. 8 car specifically, Childress coyly replied: "You said that, not me."
During the same conversation, he offered another interesting response when asked about Reddick in 2023.
"Next year is a long time off," Childress said. "I committed to his team to give them everything they needed to win the championship and to go out in 2023 and give them everything they need to win the championship. I've committed that to our race team."
Childress has been in NASCAR for more than 50 years. He's seen almost every situation play out. He knows when you have a lame duck that you have to keep your options open and be willing to adapt. That sounds like what he's doing here. 
Time will tell if the owner finds a different driver for the No. 8 next year. If he does, Reddick shouldn't expect to get much notice.
Like Sportscasting on Facebook. Follow us on Twitter @sportscasting19 and subscribe to our YouTube channel.